Sunscreen protects your skin against burn from the sun or suntan and premature aging. So, For all skin types, it is necessary to include it in the skincare routine.
Sunscreen products can be a significant part of protecting our skin from the sun's ultraviolet radiation, also called UV radiation. We all need protection from the sun's harmful rays.
But which sunscreen provides the greatest protection? So, today we will talk about one well-known brand Sun Bum Moisturizing Sunscreen lotion SPF 50. Let's see, does it help to protect against both UVA and UVB rays, or does it let some wavelengths through?
Sunscreen doesn't completely block UV rays. But by using the right product and in combination with other measures including wearing sun-protective clothing, you can reduce your risk of skin cancer and early skin aging.
To start providing adequate protection, sunscreen products should have a Sun Protection Factor – known as SPF – of at least 15. But that's not enough. This will stop some UVB rays but may not stop UVA rays. To protect against both UVA/UVB, you need broad-spectrum protection.
About the brand:
It offers a line of sunscreen, lip balms, sunscreen sticks, Original Sunscreen line, and skin therapy lotions. Sun bum products made in the state of Florida.
Sun Bum Sunscreens are tested, approved, and suggested by The Skin Cancer Foundation (SCF). The SCF does not support or approve to higher risk products that do not fulfill their stringent standards.
About Sun Bum Moisturizing Sunscreen Lotion
Product details
It has a Moisturizing Sunscreen Lotion formula. This water-resistant Sunscreen will protect you from harmful UVA/UVB rays. It enriched your skin with vitamin E, an antioxidant that assists with killing free radicals, which are the main cause of skin aging.
Price: $15.99, 8.00 fl oz (237 ml)
Ingredients
Active: Avobenzone 3.00%, Homosalate 10.00%, Octisalate 5.00%, Octocrylene 10.00%
Inactive: Water, Butyloctyl Salicylate, Dimethicone, Hydrated Silica, Styrene/Acrylates Copolymer, Polyester-8, Ethylhexyl Stearate, VP/Hexadecene Copolymer, Trideceth-6, Glyceryl Stearate, PEG-100 Stearate, Sodium Polyacrylate, Behenyl Alcohol, Caprylyl Methicone, Ethylhexylglycerin, Fragrance, Dimethyl Capramide, Xanthan Gum, Polyaminopropyl Biguanide, Trimethylsiloxysilicate, Disodium EDTA, Tocopheryl Acetate, BHT, Methylisothiazolinone
Ingredients callouts: Free from Paraben, Gluten, PABA, Cruelty, Oxybenzone & Octinoxate,
What It Is:
An oil-free, broad-spectrum sunscreen
Broad-spectrum sunscreen protects against both harmful rays, UVA(aging rays), and UVB(burning rays). UVA rays damage the skin at the cellular level. UVB rays harm the external layers of the skin. They are the main cause of sunburn and play a major role in skin cancer.
What It Does:
Protects skin from sun exposure and hydrates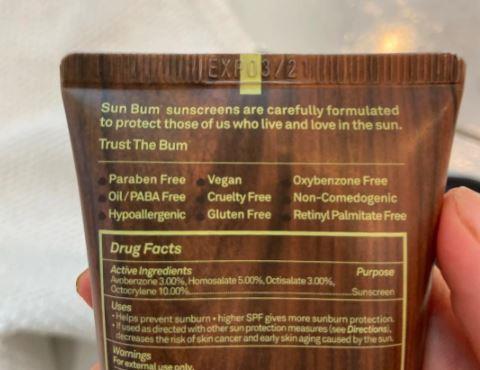 My write-up on Sun Bum Moisturizing Sunscreen Lotion
Finally, I have a sunscreen that I can use on my face that doesn't give me breakouts or a white cast because it's non-comedogenic, so it won't clog pores. I've used Sun Bum Moisturizing Sunscreen Lotion on the face and other parts of the body and I haven't had any burnouts or irritation due to it.
It really hydrates my skin a bit. For my dry skin, I need to put body lotion on my face to keep it from flaking, so my minimum requirement here is that the sunscreen doesn't dry me out, very similar to Neutrogena's.
With sunscreen, my aloe and gluten allergies make it extremely hard to track down something I can utilize. I was additionally enchanted to find that this product is cruelty-free and vegan, as well.
It feels clean on the skin and is perfect for any beach or sunshine full trip, As it doesn't leave skin feeling sticky or oily like other sunscreens spray. No allergic reactions and redness from sunburn occur using sun bum sunscreen products.
Packaging:
The sunscreen has a flip-top cap in a yellow-brown colored tube. The tube is traveled friendly as I did not face any leakage issue. The tube makes it convenient to carry and also easy to squeeze out when the product is getting low.
How it feels/smells:
This silky white color cream spread easily and absorbed quickly into the skin. It has a delicious coconut scent and it's not very thick consistency.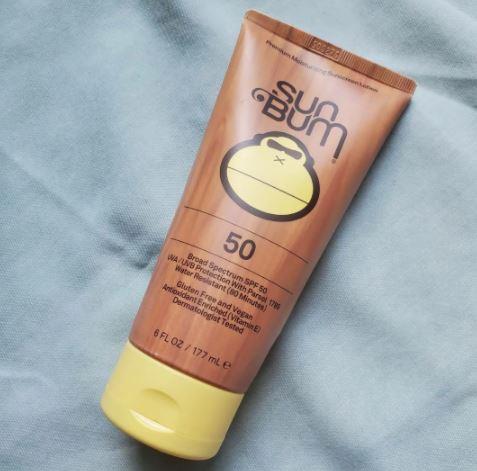 Some mineral sunscreens make my entire body look too white, won't rub into my skin, and if they get on my clothes will even stain them, depending on what it is.
Some of them feel greasy and I can feel it sliding throughout the day. Not this one. It actually absorbs into the skin and smells good. It's like putting on lotion, not a greasy sunscreen like water gel sunscreen.
This burns so bad when it gets on the eye area and nostrils. It caused me to blurry and watery eyes. The added fragrance is quite strong which can be an issue for sensitive skin.
If you have sensitive skin, I would suggest a fragrance-free choice for the face, yet it generally comes down to preference.
Sun bum moisturizing sunscreen lotion does not feel oily like other sunscreens and absorbs into my skin quickly. The level of protection is incredible as I'm very fair-skinned and burn easily.
Sometimes I have to reapply at the beach throughout the day but overall one application works great. Sun Bum is by far the best sunscreen I've ever used.
This was a decent trade-off between the chemical sunscreens and the mineral. Although not 100% chemical-free, it has less active ingredients than most brands and it works.
Normally Physical or mineral sunscreen contains zinc oxide and titanium dioxide as active ingredients. The active ingredients in this sunscreen are octocrylene, Octisalate, homosalate, and avobenzone, which are not reef safe. It doesn't contain two common UV-blocking chemicals oxybenzone and octinoxate, So you can say that it is reef-friendly or reef safe.
Why we like it:
Its dermatologist tested and oil-free, water-resistant (80 minutes), and fast-absorbing—all good things. The formula is lightweight and leaves skin soft and smooth, not oily or chalky. It provides UVA/UVB Broad Spectrum Protection and it is Hypoallergenic, vegan, and Reef Friendly. It has Sun Bum Original Scent.
How to use:
15-20 minutes before going outside, apply all areas of the skin, and avoid eye contact. For best results reapply after 80 minutes of sweating. To deliver maximum sun protection apply every 2 hours.
Benefits of Sun Bum Moisturizing Sunscreen Lotion
Most chemical sunscreen brands or nanoparticle sunscreen use oxybenzone. But this sun bum is totally oxybenzone free. Because It causes photosensitivity and an allergic reaction to oxybenzone or another sunscreen ingredient.
This water-resistant and reef-friendly SPF 50 lotion delivers UVA/UVB protection and is packed with Vitamin E.
It gives effective protection even after a few hours of surfing under the sun.
Premium Moisturizing Sunscreen Lotion provides proper protection for premature skin aging.
Dermatologist approved, this non-comedogenic sunscreen works well for all skin types.
Pros
Non-greasy formula
Spreads easily and absorbs quickly
Paraben-free
Vegan
Suitable for sensitive skin doesn't break me out
Sweatproof
Doesn't leave skin sticky or oily
Cons
Stings eyes
Doesn't come in travel size
Shelf life: 3 years
Overview
This product does not leave feeling sticky, but still moisturizes well and protects the skin from burning. It doesn't leave a white cast or greasy film.
Would I recommend and repurchase Sun Bum Moisturizing Sunscreen Lotion SPF 50?
Yes, definitely I recommend and repurchase it again.
Hope you found this review useful. Kindly do comment about your experience and for any suggestions.
You may also like