Do you want to achieve an efficient and convenient manicure? Are you looking to purchase a decent electric nail drill online that is both affordable and of great quality?
Not sure which to purchase or even which to select? You'll get a few ideas from this article today. Continue reading!
Best Electric Nail Drill Machine
1. Brief introduction
Maryton professional nail drill is a manicure tool that allows you to create perfect manicures. It shapes, polishes, and smoothes your nails using a variety of interchangeable spinning tips.
You can use it to trim or scrape your cuticles or to create a smooth surface on your nail.
An electric nail drill can also remove the toughest gel nail polishes and help you remove acrylic polishes.
The electric nail drills are very simple to use and provide a choice of bits. The fastest and best bits run at a variety of programmable revolutions per minute (RPM).
2. Features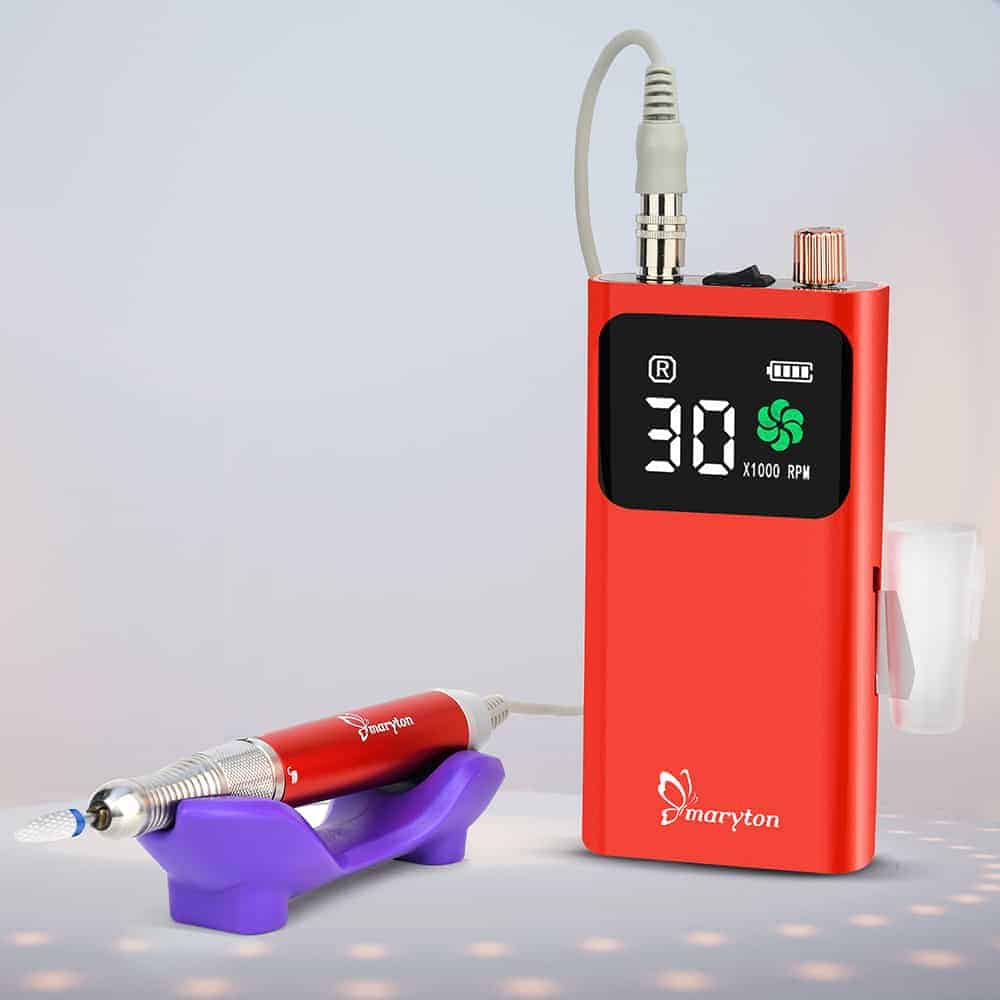 As we can see in the pictures, this electric nail drill is made of a rechargeable control box and a handpiece. The features are described in further detail as follows:
Rechargeable Control Box
Using the full-view LCD panel, you can always control how the machine is operating. It operates effortlessly by turning the speed control knob at a high & customizable speed (1,000-3,000 RPM).
The body case's belt clip enables you to hang it around your waist and belt while simultaneously packing it into a case or backpack for travel.
When not in use, the handpiece could be stored in a handpiece fixture, which could be mounted to the left or right of the control box. The handpiece's antiskid construction ensures that it will never fall out.
Three-pin plug that prevents fall-off, pauses drilling, has forward and reverse functionality, etc.
Powerful & Lightweight Handpiece
Ultra-smooth, quiet, low-heat, vibration-free brushless motor handpiece for lapping and heating treatments.
come with a powerful torque that prevents stopping occasionally when the proper pressure is applied.
The 165g handpiece's small weight makes it easy to wear about your waist and prevents your hand from going numb from prolonged use.
The safety lock switch for nail bits and the maximum 2m stretchy handpiece cable make it easier and safer to operate.
3. Technical characteristics:
To help you better understand the nail drill machine, we also list the specific technical characteristics.
Control Box:
Charging Time: 3H
Input Voltage: DC5V/2A, Type-c Port
Battery Capacity: 12.6V / 2000mA
Battery Life: 8H
Output Voltage: 12V 0.3~2A
Size: 136mm x 69mm x 26mm
Weight: 275g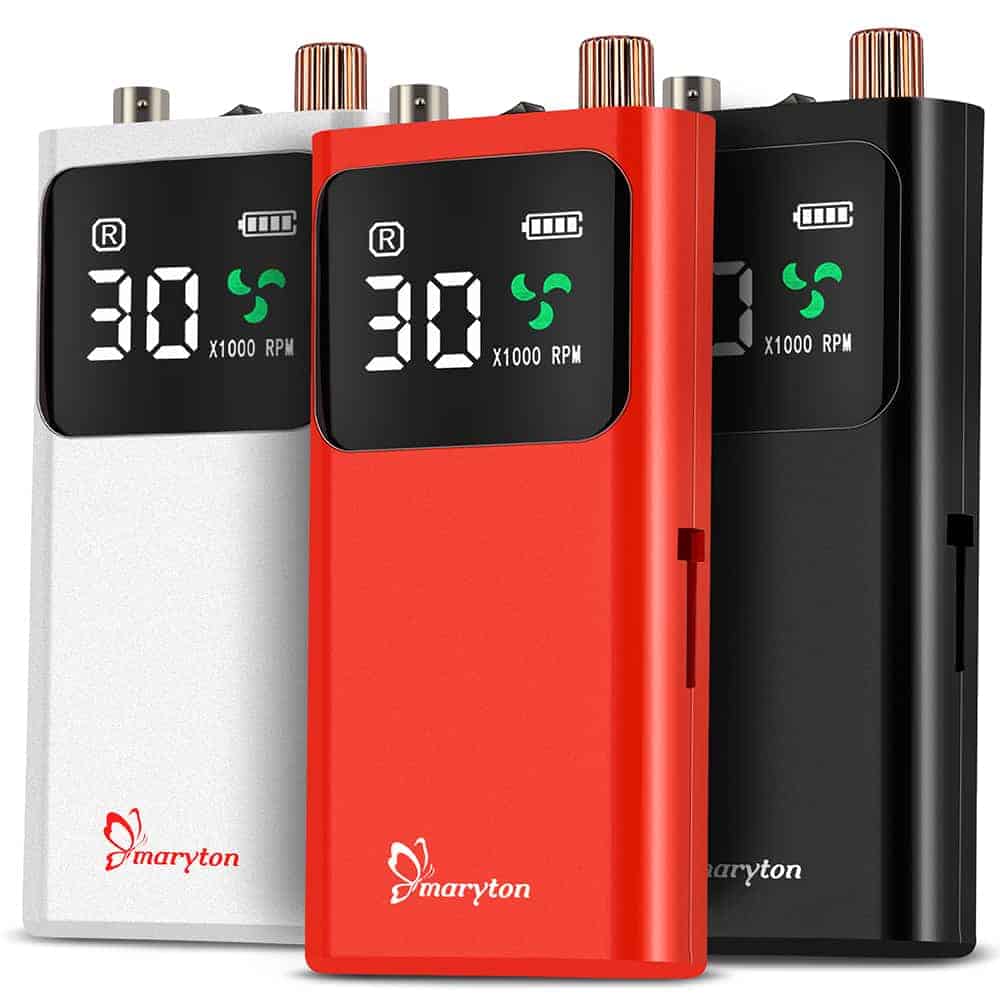 Handpiece:
Weight: 165g
Revolutions: 1,000 ~ 30,000
Size: 136mm x 14mm x 17mm
Motor: Brushless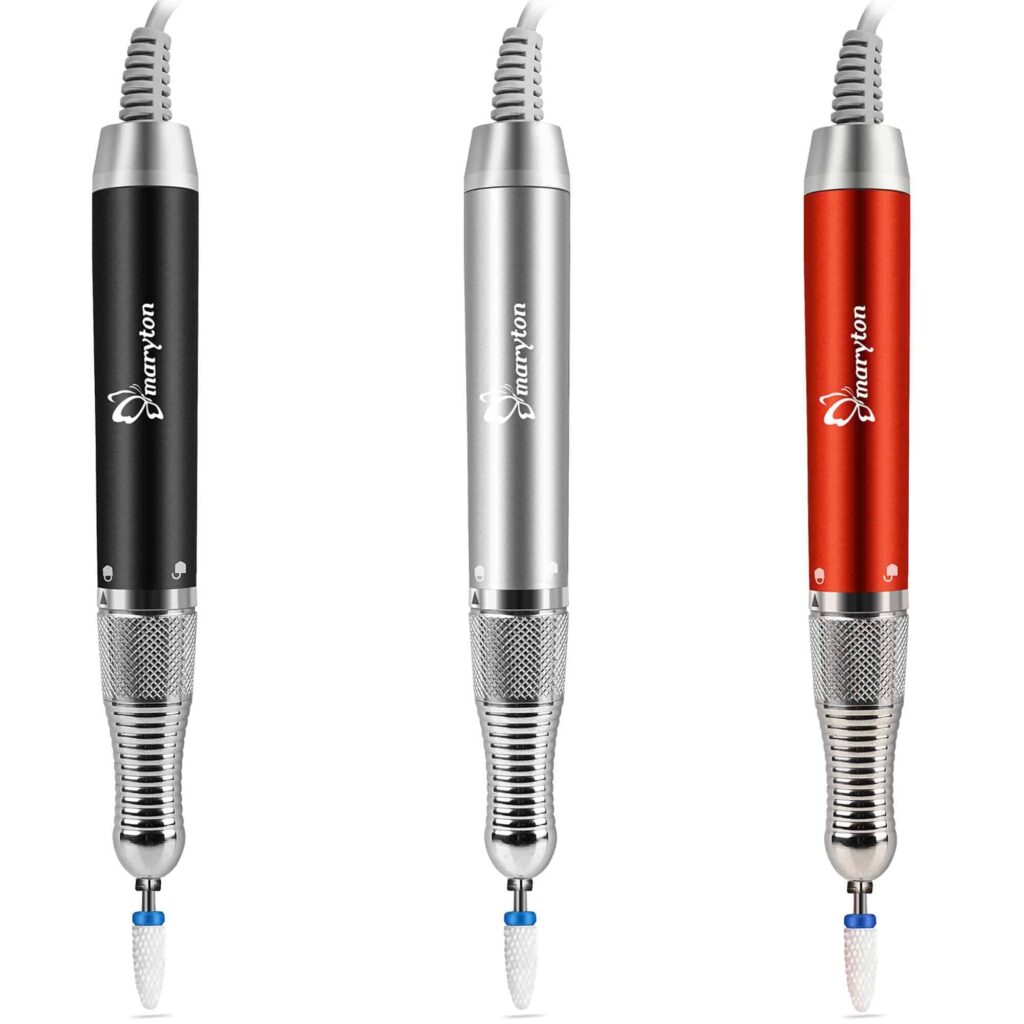 4. Terms of use
A nail drill can be convenient for beautiful nails. However, improper use can lead to quite catastrophic and even painful results! Before you begin, we suggest that you read the quick user guide.
Make sure your hands are neat and dry before beginning your manicure.
Using the cuticle tip push them back to be able to work the entire nail.
Then move on to any dead skin using a sanding tip.
If your nails are natural, use the diamond cone for smoothing the surface. Run the nail drill gently over the nail without lingering too long.
Any sort of tip can be used if your nails are gel. Be careful, don't file all of the gel to avoid damaging the nail underneath.
Polish and shine with the proper tools if you want to stop there.
Otherwise, you can carve the shape of your nail with the help of filing tips.
In the end, remember to apply care for your nail and oil for your cuticles.
Frequently Asked Questions
What are the benefits of using an electric nail file?
The different accessories offered to allow the electric nail drill to be utilized much more flexibly than a conventional nail file. Additionally, a nail drill saves lots of time and is far more pleasurable to use.
Can I use an electric nail file on my natural nails as well?
Yes, with the appropriate ingredients. Natural nails are suitable for soft sapphire and diamond tips.
Is treatment with an electric nail file painful?
No, if you use the proper components. Please only use natural nails with soft tips for work. The nail will then merely vibrate slightly before you feel nothing.