Taking care of our skin has become an important part of our daily routine, but with the wide variety of products on the market, it can be not easy to know which one to pick.
One of the most effective skincare products, Vitamin C Serum, is well known for its various skin-friendly qualities.
Lakme, a well-known beauty brand, has recently launched its Vitamin C Serum, which claims to brighten and even out skin tone while also offering hydration and protection against environmental toxins. But does it genuinely fulfill its promises?
We'll review Lakme Vitamin C Serum in more detail in this article to see if it's a product you should buy. We'll look at the product's composition, feel, aroma, and overall effectiveness. So, you'll know more about whether adding this serum to your skincare regimen is worthwhile.
Lakme Vitamin C Serum Review
Product Details
The Lakme 9 to 5 Vitamin C Serum contains Kakadu Plum, the richest known source of Vitamin C. This superfood contains 100X the amount of Vitamin C than oranges.
Vitamin C, commonly referred to as the "beauty vitamin," is a potent antioxidant that is well-known for promoting a strong skin barrier that can combat a variety of skin issues, including aging, pollution, sun damage, and dullness of skin.
Lakme 9 to 5 face serum makes use of this potent vitamin C and is created to fight free radicals and improve skin health in order to lessen skin dullness.
Price
INR 446 for 30 ml (Buy it at Discounted Price Here)
Lakme Vitamin C Serum Ingredients
Water, 3-0-Ethyl Ascorbic Acid, Pentylene Glycol, Propanediol, Sodium Acrylates Copolymer, Lecithin, Phenoxyethanol, Vitamin E Acetate, Glycerine, Fragrance, Sodium Gluconate, PEG-4 Dilaurate, PEG-4 Laurate, Iodopropynyl Butylcarbamate, Terminalia Ferdinandiana Fruit Extract, Polyethylene Glycol, Limonene, Geraniol, Linalool, Citronellol, Citral
Lakme 9to5 Vitamin C Facial Serum Ingredients Analysis:
Water: It generally functions as a solvent for ingredients that dissolve better in water than in oils.
3-0-Ethyl Ascorbic Acid: A stable and effective form of vitamin C, a skincare powerhouse with strong skin-brightening properties.
Propanediol: It can be used as a solvent, to increase the effectiveness of preservatives, for better skin moisturization, or to change the sensory qualities of the finished formula.
Pentylene Glycol: Because it is a humectant, it works well as a moisturizing agent and solvent to help other ingredients penetrate the skin. It also has modest preservation properties and helps in improving the texture of skin care formulations.
Sodium Acrylates Copolymer: It is used to produce textures that resemble gel and a thin layer on the skin.
Phenoxyethanol: It acts as a preservative and antimicrobial to keep products from deteriorating or losing their potency.
Lecithin: It serves as an emollient, smoothing the skin by replenishing moisture.
Vitamin E Acetate: Tocopheryl acetate is a natural form of vitamin E, an antioxidant that helps prevent damage caused by free radicals and speeds up skin repair to delay the onset of aging.
Fragrance: Products are made with nice-smelling ingredients to make the cosmetics themselves smell good.
Glycerine: It is a natural moisturizer. It can improve skin hydration, lessen dryness, and revive the top layer.
Sodium Gluconate: It serves as a humectant, helping the skin in retaining a healthy amount of water.
PEG-4 Laurate and PEG-4 Dilaurate: These ingredients lower the surface tension of the substances that need to be emulsified, which helps in the formation of emulsions.
Iodopropynyl Butylcarbamate: It is a water-soluble preservative that guards against the deterioration of cosmetics and personal care items.
Polyethylene Glycol: It functions as a humectant and helps in maintaining the skin's natural moisture barrier.
Terminalia Ferdinandiana Fruit Extract: It is an extract of Kakadu plum that is the effective and richest form of Vitamin C. Kakadu Plum contains ellagic acid, gallic acid, and vitamin C, all of which work to hydrate the skin, fight free radicals, and protect it from damage. Additionally, vitamin C encourages the production of collagen, which lessens aging symptoms like wrinkles and fine lines.
Limonene: It is a very popular ingredient in fragrances. However, these extremely flammable antioxidant chemicals oxidize when exposed to oxygen and might cause skin sensitivity.
Linalool: Linalool, a very popular fragrance component, is thought to encourage calmness and relaxation.
Geraniol: Geraniol is an excellent scent carrier that contributes to the strength and duration of perfumes.
Citronellol: It is a fragrance component with a pleasant rose-like odor. It is naturally present in rose or geranium oils.
Citral: It's a typical lemon-scented aroma ingredient. Many plant oils contain it, including those from lemon, orange, lime, and lemongrass.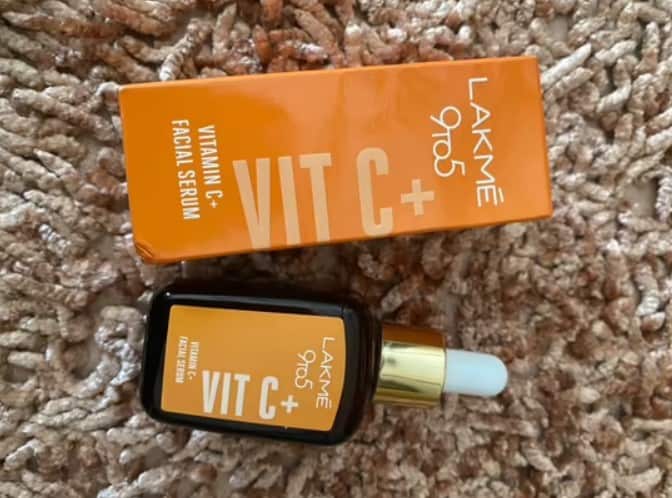 What the product claims:
The lightweight and non-greasy texture of Lakme Vitamin C Serum moisturizes well, enhances skin feel, provides smooth skin, and leaves skin feeling nourished without causing skin irritation.
My write-up on Lakme 9To5 Vitamin C Serum Review
I've been using it for some time now, and it contains vitamin C, which is fantastic for acne spots, pores, blemishes, and clear skin. Because I had read that vitamin C tingled on sensitive skin. So, I was afraid to apply it to my face. To my amazement, though, it didn't tingle despite having sensitive skin.
The Lakme face serum has a lightweight, non-sticky consistency that absorbs quickly into my skin. It maintains my skin moisturized and supple without irritating it.
It is a water-based serum that goes smoothly on the skin and doesn't feel greasy or sticky. It also does not make my already oily face any oilier. It is actually among the best vitamin C serums available in India.
I use this vitamin C serum at night to moisturize my dehydrated, dry skin, and it leaves no white residue. It is neither too thick nor too drying for women with dry skin, and it feels extremely pleasant on the skin. However, those with dry skin might need to moisturize their faces after using this Lakme vitamin C serum for face.
It eventually reduced the visibility of acne scars on my face. It gives a more youthful appearance. The acne scars are gradually diminishing, and the skin is noticeably more vibrant. Additionally, this serum had no negative side effects on me. While utilizing this, there was no stinging or uncomfortable sensation.
After just one use, it gives an immediate glow. It reduces pigmentation and dark spots while also preventing acne.
Lakme 9to5 vitamin c serum is my favorite product in my nighttime skincare routine because I also use it before bed. It enhances the texture of my skin and provides skin with a more even tone.
After applying this serum, my makeup looked flawless and had a beautiful base. Because of its hydrating and moisturizing properties, my foundation goes on smoothly and doesn't feel dry.
It works well to even out skin tone. Also, this serum provides plump, radiant skin that is rapidly hydrated. This serum did not cause any breakouts on my skin but rather left it smooth, silky, and fresh.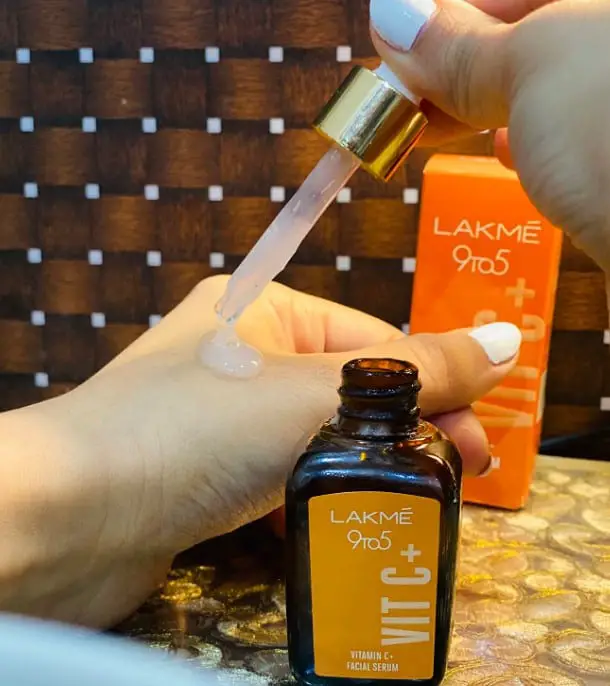 Packaging
The Lakme Vitamin C Serum is packaged in an orange-colored cardboard box and comes in a dark glass bottle. The bottle has a dropper applicator on top that helps us to control the quantity of product. The dropper container makes it simpler to use and more hygienic. The bottle is black because vitamin C is photosensitive. Therefore, avoid exposing this container to sunlight by keeping it in a dark, cool location.
Consistency
The Lakme vitamin C serum for the face has a thick and not watery consistency, making it easier to apply. Also, it doesn't stick and absorbs quickly. It is somewhat thicker than water and has a smooth feel. The best part of the product is that it does not have a greasy texture.
Fragrance
Lakme vitamin c face serum smells good, with a subtly sweet orange smell. The aroma also doesn't linger for very long, so even those with sensitive noses won't be affected.
How to use Lakme Vitamin C Serum
Step 1: Using your fingertips or palms, gently massage a tiny amount onto your freshly cleaned face and neck.
Step 2: Gently massage the face serum into your skin in circular motions to allow it to thoroughly absorb.
Step 3: Because the serum is so powerful, be sure to wear sunscreen.
Step 4: Also, you need to apply a facial moisturizer if you have dry skin.
Sale
Last update on 2023-11-09 / Affiliate links / Images from Amazon Product Advertising API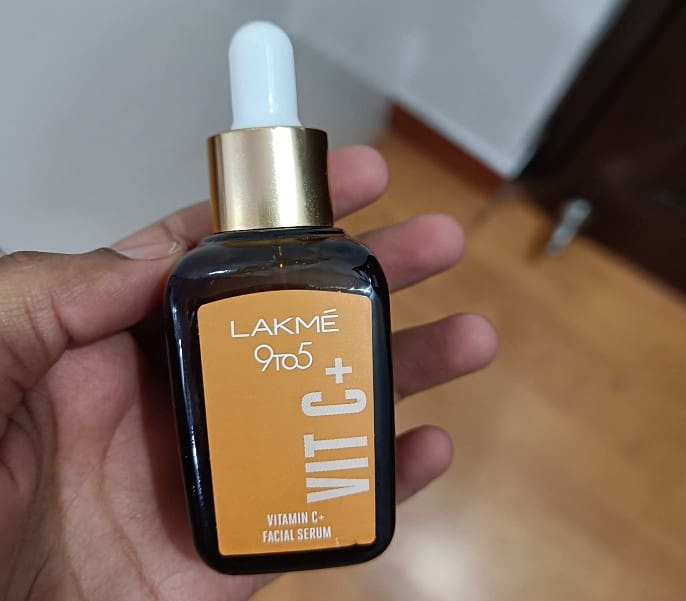 Pros of Lakme Vitamin C Serum
Dermatologically Tested
Kakadu Plums have 100x more Vitamin C
Non-greasy texture
Light Weight on Skin
Gives smooth skin
Hydrates and Moisturises Effectively
No skin irritation
Reduces the dullness
Improves Skin's Texture
Cons of Lakme Vitamin C Serum
Overview
The Lakme vitamin C facial serum is a lightweight, non-greasy product that immediately absorbs and hydrates my skin. Also, it gets rid of pimple spots, treats acne, and leaves behind clear, radiant skin. I'd describe this serum as "brightening, dewy, and clear complexion." I also got a very fresh-looking, natural glow from it. Including this product in your daily care routines improves healthy glowing skin, especially for beginners.
Frequently Asked Questions
What is the percentage of vitamin C in Lakme vitamin C serum?
LAKMÉ 9To5 Vitamin C+ Facial Serum has a 98% Pure Vitamin C Complex for Healthy, Glowy Skin.
Can I use Vitamin C serum daily?
Yes, you can include a vitamin C serum in your daily skincare regimen. All skin types can use this serum because of its soothing nature. It's also advised to start with a lesser concentration and raise it gradually as your skin becomes used to it. If you have particularly sensitive skin, you should gradually incorporate it into your regimen.
Which is the best time to use vitamin c serum?
The best time to use a vitamin C serum is both in the morning and at night, after cleaning and toning your skin. We advise you to use it at night, just before going to sleep, as it is safer and has much more positive effects on your appearance.