Klaiyi Store offers a variety of wigs that not only suit your style but also come with the alluring promise of cash rewards, whether you're trying to alter your appearance or improve your natural beauty.
Klaiyi Store, a well-known name in the field of hair wigs, is well-known for its high-quality and fashionable wig collections.
In this article, we'll look at the best selling wigs at Klaiyi Store and how you can earn cash rewards while looking fabulous.
About Klaiyi Store
When it comes to hair companies, Klaiyi Hair Store, a renowned 100% human hair online provider, supplies a variety of wigs.
A Remy hair company based in China named Klaiyi was founded in 2009 with the goal of providing affordable, high-quality Remy hair to women all over the world.
All Klaiyi products made with 100% human Remy hair have received certification for meeting international quality requirements.
They give 100% virgin human hair that is entirely natural and of the greatest quality. It gives you regular access to a wide selection of exclusive virgin hair products that are adaptable and durable.
Best Selling Wigs of Klaiyi
1. Lace Front Wigs
The term "lace wig" refers to a type of hairpiece or wig in which real or artificial hair is hand-knotted to a base of sheer lace that covers the scalp. A lace front wig has an almost undetectable lace material at the hairline at the front.
The collection of Lace Front Wigs at Klaiyi Store is proudly presented. Their lace front wigs are available in a range of styles and lengths, from silky straight to curly textures. These wigs are a favorite option among fashion fans because of the carefully hand-tied lace, which guarantees a natural appearance.
2. Glueless HD Wigs
Glueless HD wigs are very comfortable wigs that hold their attachment without the use of glue or other adhesives. It is an innovative, high-end lace wig that works with all skin tones.
Klaiyi HD Glueless Wigs are skillfully created from natural human hair. Profit from a wig that is plush, durable, and has an invisible, natural-looking finish.
It is designed to last up to a year with proper care, ensuring that you look fantastic every day. This human hair wig is the best option if you want something that seems and feels authentic.
Use it in conjunction with their hair bundles to give you a full, finished look that will make heads turn. The hair delivers excellent quality at a great price and is made entirely of actual human hair.
3. Colored Wigs
Colored hair is also becoming increasingly trendy. Contrary to dark wigs, colorful wigs add color to the gloomy fall season.
Popular colored wigs are available from Klaiyi Hair. Such as blonde wigs, reddish brown wigs, highlight wigs, balayage wigs, and all trendy colored wigs are available.
Klaiyi-colored wigs let you experiment with many looks without making the commitment of dying your natural hair, from brilliant ombre colors to subtle highlights. These wigs are expertly crafted to guarantee color accuracy and durability.
4. Wear Go Lace Wig
You don't need to trim the lace or glue it down; just wear it and go with the 100% human hair wigs that Klaiyi offers.
The Wear Go Lace Wig is more convenient and comfortable to wear because it is made to be worn without glue. It removes the risk of glue or adhesives causing harm to the scalp or hair.
The Wear Go Lace Wig line by Klaiyi offers simplicity and adaptability. These wigs are pre-styled and simple to put on, making them ideal for working ladies.
5. Kinky Edge Hairline Wig
You need a Kinky Edges Hairline Wig if you want a trendy and natural hair solution. It has lovely textured edges that closely resemble a real human hairline and provide the most authentic appearance.
Kinky Edges Wig is a breakthrough Afro-inspired new trend. It imitates the actual natural hairline of black women with its distinctive kinky rough borders.
The Kinky Edge Hairline Wig collection from Klaiyi comes in a range of lengths and densities to fit your tastes. These wigs improve your natural beauty without the need for chemicals or heat, whether you choose a short, sassy style or long, dramatic curls.
6. Lace Closure Wigs
A lace closure is typically 4 X 4 inches in size and is used to complete your wig or a particular design. They are available in a wide range of styles, including the center part, the free part, and the three-part.
Wigs with lace closures are renowned for their versatility and natural appearance. Lace Closure Wigs from Klaiyi Store are no different.
Klaiyi's Lace Closure Wig collection is available in a variety of hair kinds and styles. You can select a wig that matches your personality, whether it has a deep wave or is silky straight. Enjoy the elegance of lace closure wigs without worrying about the challenge of blending.
Why choose Klaiyi Store?
Klaiyi Hair is a well-known online wig seller with a reputation for high-quality real hair. Klaiyi Real Hair Wigs are manufactured from 100% virgin hair. They can thus be bleached, colored, untangled, and do not fall out. There are several styles, lengths, densities, textures, and colors of real hair wigs to choose from. They can wear trendy genuine hair wigs. The most popular wigs available online are frontal, closed, HD lace, and V-shaped wigs, with costs ranging from $100 to $300.
Cash Rewards in the Klaiyi Store
Klaiyi Hair offers cash rewards by posting videos on social media. This program is intended to show thanks to loyal consumers by offering them additional advantages.
How to earn Cash Reward
Step 1: Purchase from www.klaiyihair.com and Make a Video.
Step 2: Fill in all the messages in the form (Order number, Email, and video link)
Step 3: Once they receive and verify the video, you will get the cash reward.
Step 4: Promote your video and get the rewards.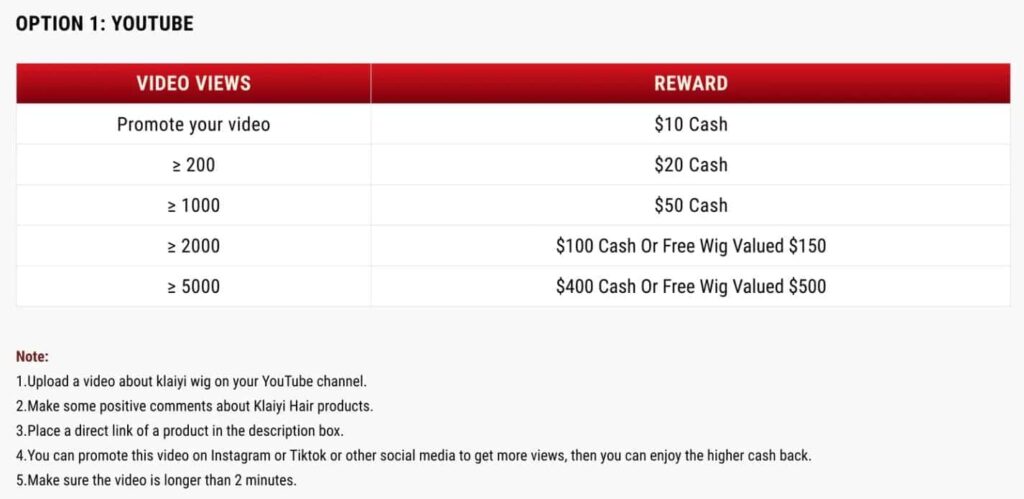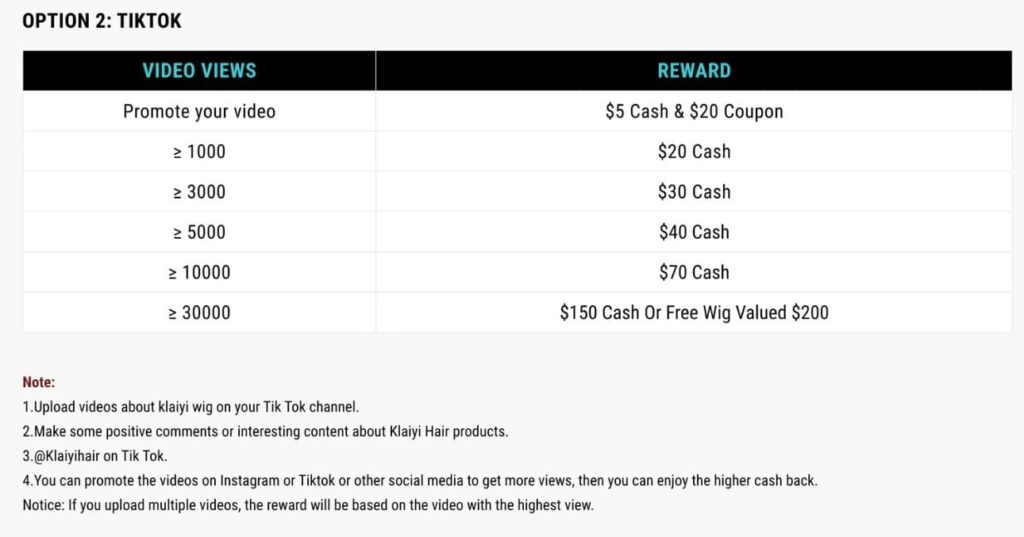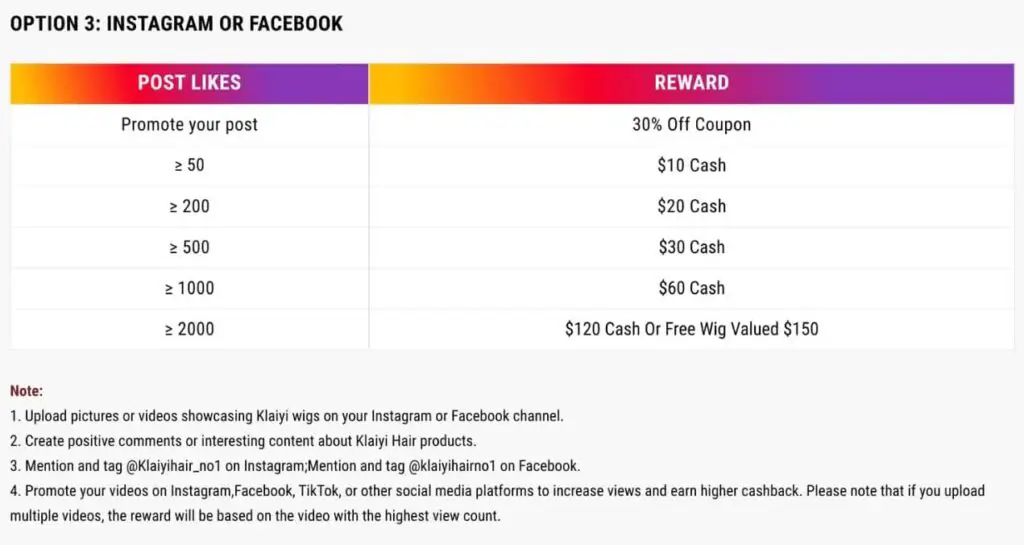 Conclusion
Klaiyi wigs have you covered whether you're going for a traditional appearance, a daring fashion statement, or something in between. At Klaiyi Store, you can alter your appearance, increase your confidence, and get prizes in cash. Everyone may find something they like at Klaiyi, whether they prefer the ease of glueless wigs or the all-natural beauty of kinky edge hairline wigs. With the outstanding wig collection from Klaiyi, boost your sense of elegance and self-assurance.