One of the most common houseplants and widely popular in the cosmetic industry is the aloe vera gel; this plant is nothing less than a nature's miracle.
Coming from the cacti family, it can be seen all around the world, standing upright with its fleshy spiky leaves. Undoubtedly, it is easy to grow and survive almost any environmental stress.
However, what captures our attention here is its tons of advantages for skin and hair. Numerous scientists, botanists, and cosmetologists have been working for decades to create an exhaustive list of marvels that this simple plant can do for us. Check this out!
Aloe Vera gel for Hair and Skin
There are many wonderful Aloe vera gel benefits.
Aloe vera gel for Hair
1) Reduces frizz
Rubbing aloe vera gel on your cuticles makes a natural protective covering that prevents them from rising due to pollution and humidity. It helps hydrate and nourish them from within, adding the required bounce and moisture to your crown.
For more natural anti-frizz products: Check hair serum price.
2) Strengthens hair
The medical plant aloe vera is high in amino acids, fatty acids, and vitamins A, E, C, and B12. These play a part in strengthening your hair follicles, giving you thicker, denser, and stronger locks.
3) Helps an itchy scalp
Aloe vera is well known for its effectiveness to combat bacteria and fungi. Thus, rubbing aloe vera gel on your scalp kills all the bacterial and fungal growth giving you a fresh and clear scalp. It also reduces dandruff making your head healthy and clean.
4) Moisturises dry hair
Its high water content works as a moisturizing agent to give you healthy hair. By moisturizing the dry scalp and retaining moisture to make your hair silky and lovely, it enhances the overall condition of your hair. So that your hair doesn't get dry and sparse, the high nutrient content helps sustain the hair roots.
5) Promote Healthy Hair Growth
When aloe vera is applied to your scalp, it helps the blood flow to your hair follicles. Supporting healthy hair growth helps your hair receive the necessary minerals and nutrients from your blood. Additionally, they help stimulate the dead cells in your locks and speed up new hair growth.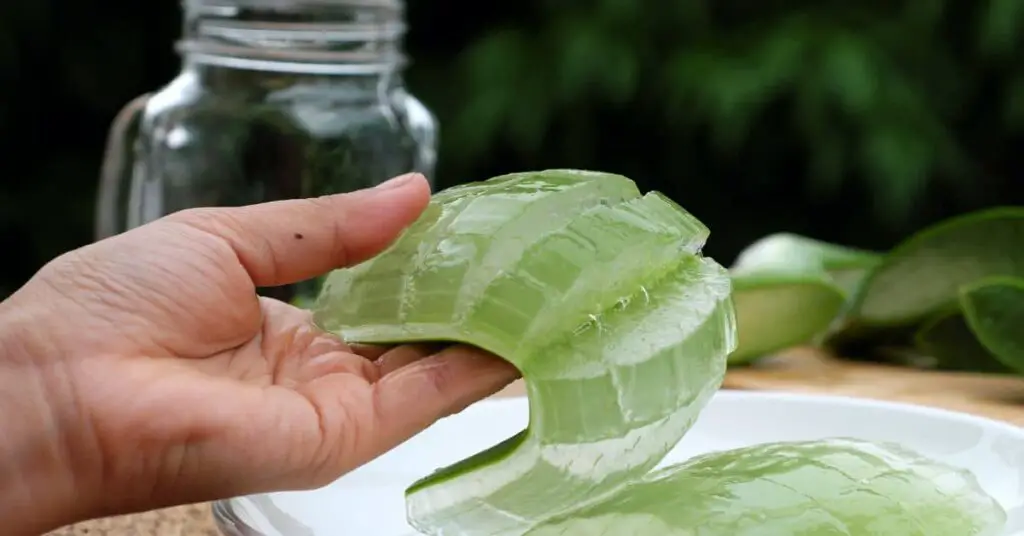 Aloe vera gel for skin
1) Anti-inflammatory
Aloe vera's anti-inflammatory qualities help to reduce inflammation and redness. It may be due to a burn, wound, or simply a pimple. Use aloe vera gel to heal the affected area quickly.
2) Boosts collagen
Rich in numerous vitamins and amino acids, aloe vera geo boosts the production of collagen that keeps your skin younger, reduces wrinkles, lightens pigmentation, and delays the aging effects.
3) Soothing properties
Aloe vera is 98 percent water with extensive calming and healing properties that calm your skin. It soothes, heals, repairs, and reduces scarring, relaxing your skin. So, you have a heavenly fresh glow on your face every morning.
4) Reduces acne
Aloe has marvelous antimicrobial and anti-fungal properties that kill the infection and help it heal faster.
Applying it to your face or back with acne will soothe the inflammation, fight the infection and heal the skin giving you relief.
5) Excellent moisturizer
Unlike the other moisturizers, aloe doesn't leave a layer on the skin. It gets deep in the pores and unclogs them, giving you clear skin.
Moreover, its hydrating property helps you get rid of dry skin forever. To add on, the healthy nutrients keep your skin flexible, supple, and younger.
How to get Aloe vera gel?
To get natural Aloe vera gel, you must have a plant in your home or neighborhood. Once you have one of the plant's leaves in your possession, take the following actions:
1. Use a sharp knife to cut the plant's leaves as close to the root as you can.
2. After washing, pat the leaves dry.
3. Remove the top of the leaf's narrow, pointed end.
4. Take the "spines" from the plant's two sides.
5. Place the leaf flat on a cutting board and cut it down the middle from tip to tip.
6. Using a spoon or knife, gently scrape away the gel.
7. Wash the gel carefully to clean up any residue.
8. Store the gel in the refrigerator before using it. Place it in a sealable container. You can keep the gel container in the fridge for up to two weeks.
Well, that's a task! However exciting as the benefits of aloe may sound on your skin and hair, we understand going through the entire process every week with a tight schedule is tedious. Thus, we got you an alternative that is better, healthier, and easier to use!
Aloe vera gel by Mamaearth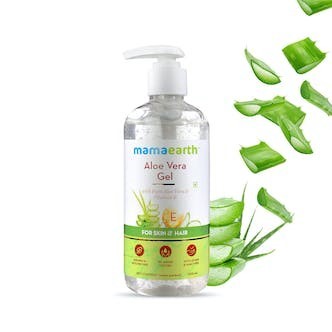 Aloe Vera Gel by Mama earth enhanced by the goodness of vitamin E and glycerin works like magic for your skin and hair. Your skin and scalp receive full hydration and nourishment as it penetrates deeply.
Additionally, the antifungal and antibacterial properties of both Vitamin E and Aloe Vera help heal infections, acne, and irritated skin while preventing itchy scalp and skin irritation.
As a result, regular use will encourage even skin tone, combat acne, and delay the appearance of wrinkles.
Aloe vera gel for hair can be used frequently to keep hair lustrous, strong, and moisturized and to promote a healthy, happy scalp.
Guaranteed by Mamaearth, this aloe vera gel is fit for all skin and hair types. It has no harmful chemicals, toxins, Parabens, and Mineral Oil giving you nothing but the best of nature.