Are you tired of dealing with dull, lifeless hair? Do you dream of having luscious, healthy locks that turn heads wherever you go? It's not as hard as you would think to discover the keys to healthy hair, and it all begins with realizing how crucial good hair care is.
For healthy hair, using the right products in combination with proper hair care is essential. Consequently, we'll explore the realm of hair health in this extensive guide, and more significantly, we'll learn how hydration and repair products like the HYDR-8 Vegamour collection can be the key to getting the hair you've always wanted.
Vegamour, a renowned name in the world of hair care, presents the HYDR-8 Collection. The product range is designed to treat common hair issues and support healthy hair.
We'll discuss the key elements of keeping your hair healthy in this part, along with how Vegamour's HYDR-8 Collection can support you.
Understanding Hair Health
1. Hair Structure and Growth Cycle
It's important to comprehend the fundamentals of hair health before delving into the specifics of the Vegamour HYDR-8 Collection.
Hair is made up of two basic parts: a hair shaft and a hair root. The shaft is the visible section of the hair that protrudes from the skin. Hair is made up of three layers: the cuticle, cortex, and medulla.
The keratin found in the cortex gives hair its strength and elasticity, while the cuticle serves as a barrier. The medulla is in charge of delivering nutrients and eliminating waste.
The hair follicle functions as the anchor that keeps the hair firmly attached to the scalp. At the base of every hair follicle is a hair bulb that is home to hair cells that are currently growing.
Hormones that impact hair growth and structure are delivered by blood vessels in the hair bulb. The melanin that gives hair its black color is produced by the melanocytes found in the hair bulb.
It is equally important to comprehend the cycle of hair growth. The three primary stages of hair growth are called anagen (active growth), catagen (transition), and telogen (resting and shedding). How you take care of your hair can change depending on where it is in its cycle.
2. Common Hair Problems
It's no secret that a lot of us deal with typical hair issues including frizz, breakage, thinning, and dryness. Numerous factors, such as genetics, age, diet, environment, and lifestyle choices, might contribute to these problems.
Hair loss may be related to hormone fluctuations or heredity, whereas dry and damaged hair may be caused by the overuse of harsh chemicals or heat styling.
Smoking, excessive heat styling, and stress can all harm your hair. It's critical to reduce or stop smoking and practice relaxation strategies to handle stress. Always apply a heat protectant to reduce harm while using heated styling tools.
In order to create a customized hair care regimen that meets your individual needs, it is imperative to acknowledge these factors.
Why choose Vegamour?
Vegamour is an integrative approach to hair health that uses clinically proven plant-based ingredients in combination to naturally promote healthy, attractive hair without the use of hazardous chemicals or quick fixes that could cause long-term issues. They use scientific research to examine the power of nature in order to provide you with the best possible hair wellness and beauty for a lifetime of joy.
Products in the Vegamour HYDR-8 collection
Vegamour HYDR-8 hair products use only clean, vegan ingredients. It is color-safe, clinically tested, and cruelty-free. The products are made without silicones, phthalates, dangerous sulfates, parabens, or artificial fragrances.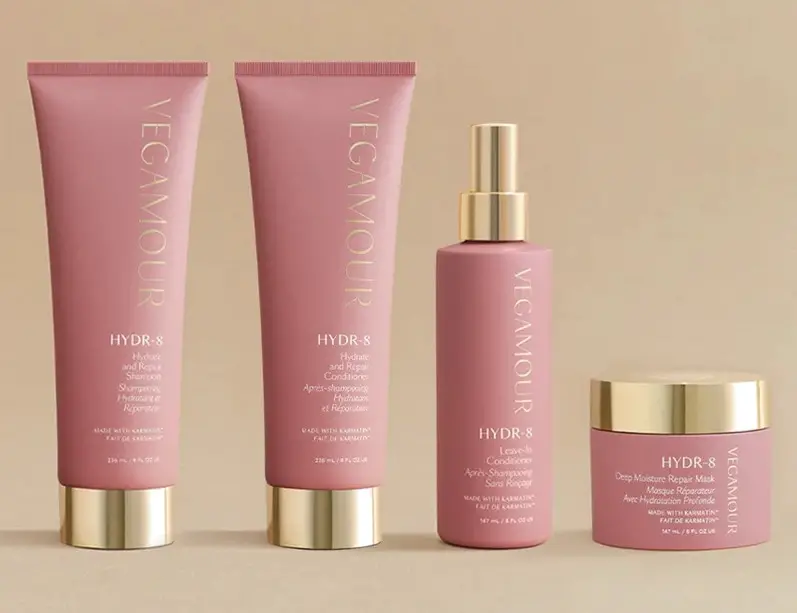 1. HYDR-8 Hydrate and Repair Shampoo
This Vegamour HYDR-8 hydrates and repairs shampoo is a good option if you're searching for something to use on dry, lifeless hair. It gently washes and quickly hydrates dry, brittle tresses from root to tip.
This ultra-hydrating shampoo is perfect for dry to parched hair because it removes excess oil and pollutants without depleting vital moisture from the hair.
The active ingredient in this shampoo is Kamartin, a vegan silk substitute for silicone and keratin that forms a protective barrier around hair to help seal in moisture and strengthen locks without washing out. The result is a flawless, glass-like gloss that leaves hair looking cleaner and healthier.
Key Ingredients: Karmatin, Magnolia-Bark Extract, Aloe Vera
Key Benefits:
After just one use, it provides 8x hydration.
Strengthens strands to help reduce breaking
Hydrates dry hair to reduce frizz
How to use:
From scalp to ends, lather a quarter-sized amount onto damp hair. After a minute, remove. Wash. Apply HYDR-8 mask or conditioner after. Ideal for use each time you do a cleaning.
2. HYDR-8 Hydrate and Repair Conditioner
Vegamour HYDR-8 hydrate and repair conditioner uses the power of hydration to decrease breakage and manage frizz. This incredibly rich conditioner delivers long-lasting moisture without rinsing out, making it perfect for dry, damaged hair.
With its formulation of Murumuru seed butter, it leaves hair softer and locks in hydration for improved moisture retention. Moringa seed oil and marula oil nourish hair to improve luster and lessen frizz.
Key Ingredients: Karmatin™, Marula oil & moringa seed oil, Murumuru seed butter
Key Benefits:
After one use, it provides 8x hydration.
Retains moisture without making hair seem weighed down
Fortifies strands to stop them from breaking
How to use:
Wring out extra water from your hair after shampooing. Apply a quarter-sized drop of conditioner to wet hair, working your way from root to tip. Give it a two-minute rest and Wash it. Ideal for use each time you do a condition.
3. HYDR-8 Deep Moisture Repair Mask
This hair mask is an incredibly nourishing hair treatment that rapidly improves the look of damaged strands while strengthening and revitalizing dry hair. This HYDR-8 mask hydrates dry hair deeply, instantly improving the appearance of broken tresses.
Vegamour hair mask is perfect for dry, dehydrated hair; after just one application, it provides 15 times more hydration and 3 times stronger strands. This weekly hair treatment also helps to minimize breakage.
Antioxidant milk thistle gives skin hydration and suppleness. With an unmatched sheen and an incredibly smooth, silky feel, hair seems healthier.
Key Ingredients: Karmatin™, Marula oil & moringa seed oil, Milk thistle
Key Benefits:
Deeply moisturizes with 15x hydration
Dramatically brightens and decreases frizz
Enhanced Potency Hydration
3x stronger strands after one use
How to use:
Wring out extra water from your hair after shampooing. Wet hair and apply from the roots to the ends.
Keep for three to five minutes. Wash. Use a couple of times per week.
4. HYDR-8 Leave-In Conditioner
HYDR-8 Leave-In Conditioner has eight essential benefits: it fights frizz, moisture, and flyaways, detangles smoothly, protects against heat up to 450oF, strengthens and fortifies, and delivers 72 hours of hydration. It is silicone-free and safe for color use.
Its formulation contains mushroom extract, which contributes to the protection against heat and humidity, leaving hair frizz-free and smooth. A combination of amino acids hydrates parched hair strands, giving it a glossy, silky texture.
Key Ingredients: Karmatin™, Mushroom extract, Amino acid blend
How to use:
Shake thoroughly. Coat wet hair with the spray, comb through, let it sit, and style. To revive your look and shield it from heat styling equipment, use dry hair.
Benefits of Using Vegamour HYDR-8 Collection
There are several advantages to the Vegamour HYDR-8 collection, such as:
Enhanced suppleness and moisture of the hair.
Strengthened hair and decreased breakage.
Encouraged the growth and renewal of hair.
A vegan, cruelty-free, and natural formula.
Tips for Healthy Hair
Apart from using Vegamour's HYDR-8 collection, here are some pointers for preserving and improving the condition of your hair.
Proper Washing and Conditioning
Overwashing can deplete your hair's natural oils, leaving it feeling dry. Choose shampoo and conditioner that are mild and free of sulfates, and wash your hair every two to three days to keep a balanced scalp. Hot water can strip your hair of its natural oils, so avoid doing so. Gently untangle damp hair with a comb with wide teeth.
Avoiding Excessive Heat Styling
Overuse of heat-styling tools can result in breakage and heat damage. Accept the natural texture of your hair whenever you can, and save heat styling for exceptional occasions.
Balancing Diet and Hydration
Healthy hair requires a diet high in vital nutrients, such as vitamins A, C, and E. Furthermore, ensuring that you consume enough water guarantees that your hair is properly moisturized from the inside out.
Regular Trims
Trimming your hair on a regular basis is vital for preventing split ends and maintaining overall hair health. To maintain your hair looking its best, try getting a cut every 6 to 8 weeks.
Reducing Stress
Stress can cause hair loss and deterioration of hair health. Incorporating stress-relieving methods such as yoga or meditation into your daily routine will improve the health of your hair.
Choose the Right Brush
For detangling wet hair, use a wide-toothed comb; for dry hair, use a brush with soft bristles. This minimizes damage and lessens hair breakage.
Hair Masks and Treatments
Regularly restore hydration and luster to your hair by treating it with oil treatments or deep conditioning masks.
Avoid Over-Washing
Daily hair washing can deplete natural oils and cause dryness. Try to wash every two to three days, or more often if necessary.
Pillowcase Material
Replace your cotton pillowcases with satin or silk ones to lessen friction, which can cause breaking hair frizz.
Regular Scalp Massage
To stimulate hair follicles and increase blood circulation, give your scalp a little massage.
Conclusion
Using the correct products and taking care of your hair will help you unlock its secrets. Understanding the structure of your hair, using the right products, and implementing helpful tips into your daily routine are all necessary for healthy hair. A variety of options are available in the Vegamour HYDR-8 Collection to help you get the hair of your dreams. Say goodbye to hair problems and hello to the self-assurance that comes with having beautiful, healthy hair.