Capturing memories is now simpler than ever in the rapidly changing digital world of today. With smartphones at our fingertips, we can capture moments in time with a single click.
While digital images are easy, having a physical print of your favorite moments is ageless and precious.
ZOOMIN, is a well-known platform that provides a variety of printing services, such as photo books, décor, framed pictures, etc. I've shared my Zoomin shopping experience because I recently bought Classic Wood Framed Print.
Introduction to ZOOMIN
Let's learn more about ZOOMIN before delving into the details of the Classic Wood Framed Print. You can turn your digital images into beautiful physical copies with the well-known online photo printing service ZOOMIN.
They provide a wide range of printing choices, including traditional photo prints, canvas prints, and customized gifts.
What is available on ZOOMIN?
Photobooks
Calendars
Framed Prints
Photo Prints
Décor and Gifts
Card Stock Prints
Bags and Pouches
Stationery
The Unboxing Experience
The product arrives safely, and opening it shows a beautifully framed print ready to hang on your walls. The attention to detail in the packing adds to the overall delight of getting your treasured memories.
Pricing and Value
ZOOMIN works to provide you exceptional value for your money even if quality is frequently more expensive. The Classic Wood Framed Print is reasonably priced when you take into account the quality of the workmanship and the materials. Additionally, the happiness it offers by giving your memories a physical appearance is incomparably priceless.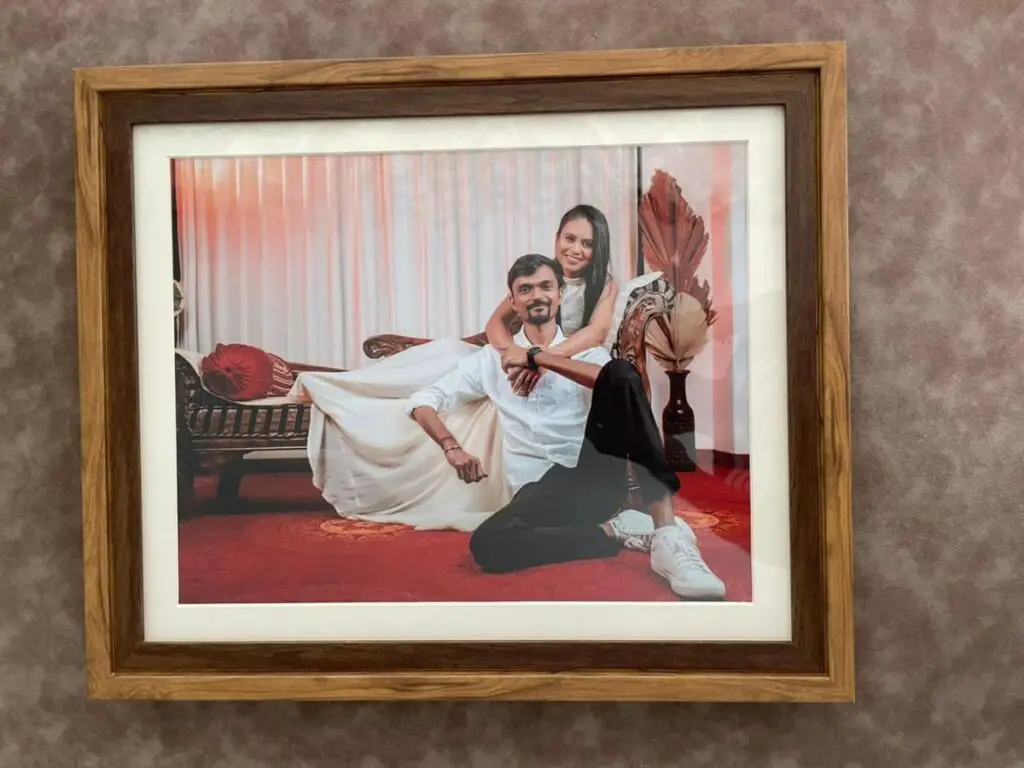 ZOOMIN Review – Classic Wood Framed Print
I recently purchased Zoomin Classic Wood Framed Print. The frame was delivered several days ahead of time. The quality of the frame was quite good.
You can select a designer theme for the frame as well as a different frame color from those offered by Zoomin. There are many more styles, including full, grids, landscapes, florals, and love.
You can apply a theme to your photo, predict the result, and opt for another choice if you want. Try your experiment as often as necessary.
It is quite simple to place an order. Simply upload the photographs of your choice, choose your customizations, and place your order in a few easy steps.
This framed picture instantly enhances any environment, whether it is a living room, bedroom, or office. It is a flexible addition to your decor because of its neutral colors and classic style.
The print itself is of outstanding quality. In order to provide an immersive visual experience, they make sure that every feature, color, and texture is accurately replicated.
Whether it's a candid photograph, a picturesque landscape, or a family image, ZOOMIN gives your home a creative touch.
Product Details
There are five sizes to choose from: 11×11″, 12×14″, 15×18″, 15×21″, and 19×23″.
The sizes listed are for the outer frame size, not the photo size.
The final product may have a minor variation of 0.25″ to 0.3″.
Frame color – Walnut, Black, Tan.
Frame material: wood-finished reinforced fiber.
The mat is 0.6" thick on both sides.
Size: 0.75″ wide by 0.35″ deep; mounted on the back.
Ready to hang on the wall.
Customer Support
ZOOMIN is aware that sometimes you could need a helping hand. Their customer service team is available to help you with any questions or problems, assuring a smooth and comfortable experience.
Conclusion
When I initially ordered the framed print from the Zoomin company, I was quite happy. The package was of excellent quality, and it had a wonderful look. Incorporating Classic Wood Framed Print into the home's design is a classic decision that blends vintage attractiveness with contemporary allure.
It stands out as a unique addition to any living area because of its remarkable craftsmanship, adaptable elegance, and exceptional print quality. This traditional wood-framed poster is certain to enthrall and inspire whether you're an experienced art enthusiast or just want to upgrade your decor.
Finally, I would like to thank Zoomin for helping me in preserving my memories.