Are you a frequent online shopper? Do you frequently search e-commerce stores for unique and authentic Indian products?
If you answered yes, you've probably heard of iTokri.com, a renowned online store that sells traditional Indian handicrafts, clothes, and accessories.
India is well known for its rich, diverse culture, which is seen in its arts and crafts. India offers a wide range of exquisite products that can lend a special touch to your home's decor, from handicrafts to traditional textiles. You need to look no further than iTokri for authentic Indian handicrafts.
We'll review iTokri and its products in this article so that you can choose your purchases wisely. We'll discuss everything, from the breadth of products offered on the website to the quality of the company's customer service. So, without further ado, let's get started!
About iTokri
iTokri is an online marketplace that is known for its broad selection of Indian handicrafts, clothing, and accessories. iTokri sources its products from local artisans and craftspeople to ensure that buyers receive authentic and one-of-a-kind items.
The company's goal is to support regional artists in showcasing their skills while promoting traditional Indian arts and crafts. iTokri also intends to provide global accessibility for consumers to Indian product shopping.
As a result, it is a one-stop shop for all handicraft enthusiasts who want to help our local artists and bring a bit of rural India into their homes.
Why Choose iTokri?
iTokri is a platform that helps traditional artisans and craftspeople by giving them a global platform to promote their products. The goods that iTokri sells are genuine, superior, and distinctive. The website provides a flawless buying experience with fast and reliable shipping. Also, iTokri has a transparent and equitable pricing strategy that guarantees that artists and craftsmen are paid fairly for their goods.
What is available on iTokri
Fabrics
Clothing
Home & Kitchen
Personal Care
Jewellery, Accessories, and bags
Stationery and Toys
Gifting
Face Masks
My Hual from iTokri
I bought Seven products:
Brass Base Oxidised Necklace Set
Hand Carved Neem Wood Comb (Big)
Rabbit – Handpainted Wooden Fridge Magnet (Medium)
Strawberry – Last Forest Artisanal Beeswax Lip Balm – 5 gm
Sri Aurobindo Ashram – Areca Leaf Basket Gift Set (Assorted)
Natural Handmade Sesame Oil Kajal (2 gms)
Chopping Board – Handcrafted with Bamboo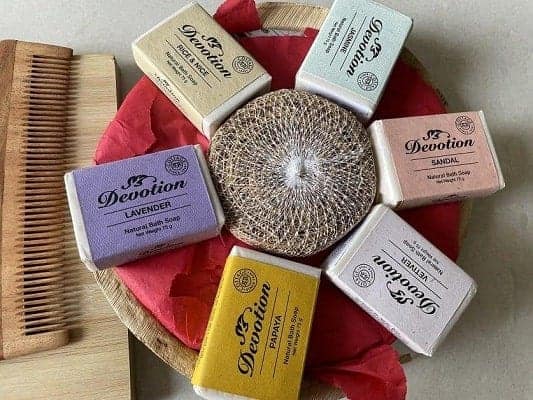 My Shopping Experience with iTokri
With a fast-loading and well-organized website, iTokri offers a smooth online purchasing experience.
The products are separated into a number of categories, and the search bar makes it even easier to find what you're looking for. The website delivers a seamless buying experience and has an intuitive user interface. Let's get started by talking about the things I bought from iTokri.
Brass Base Oxidised Necklace Set
The Brass Base Oxidized Necklace Set is a stunning piece of jewelry that is appropriate for every occasion. The necklace is made from high-quality brass that has been oxidized to give it a classic look. A matching pair of earrings that go perfectly with the necklace is also included in the set. The skill of the artisan who made the necklace and earrings is evident in their beautiful designs.
Hand Carved Neem Wood Comb
The Hand Carved Neem Wood Comb is essential for anyone who takes care of their hair. The comb is constructed from premium neem wood, which is renowned for having antibacterial properties. The comb's large teeth and hand-carved design make it simple to detangle hair without doing any harm. The comb has a lovely, natural look thanks to the natural wood finish.
Rabbit Handpainted Wooden Fridge Magnet
The Rabbit Wooden Fridge Magnet is a creative and pleasant addition to any kitchen. The magnet is hand-painted with beautiful motifs on top of high-quality wood. The rabbit design is adorable and will bring a touch of whimsy to any fridge.
Strawberry Last Forest Artisanal Beeswax Lip Balm
Strawberry Last Forest Artisanal Beeswax Lip Balm is a natural, homemade product ideal for anyone who suffers from dry or chapped lips. High-quality beeswax and other organic ingredients are used in the lip balm's production, leaving your lips feeling smooth and soft. The strawberry flavor is light and not overbearing.
Sri Aurobindo Ashram Areca Leaf Basket Gift Set
It is a lovely gift package that includes a body scrubber and 6 natural handmade soaps (Papaya, Rice & Nice, Jasmine, Lavender, Vetiver, and Sandal). They are traditionally produced by hand using extracts of aromatic plants, bark, roots, and flower petals.
Natural Handmade Sesame Oil Kajal
The Natural Handmade Sesame Oil Kajal is a traditional Indian cosmetic that is ideal for anyone looking to enhance their eyes. The kajal is formed from high-quality sesame oil and other natural, eye-safe ingredients. The kajal is simple to use and gives your eyes a dramatic look.
Handcrafted Bamboo Chopping Board
The Handcrafted Bamboo Chopping Board is a multifunctional and eco-friendly addition to any kitchen. The board is made of high-quality bamboo, a renewable and sustainable resource. It is simple to chop and prepare food on the board because it is strong and has a smooth surface. The natural wood finish provides the board with a lovely rustic feel.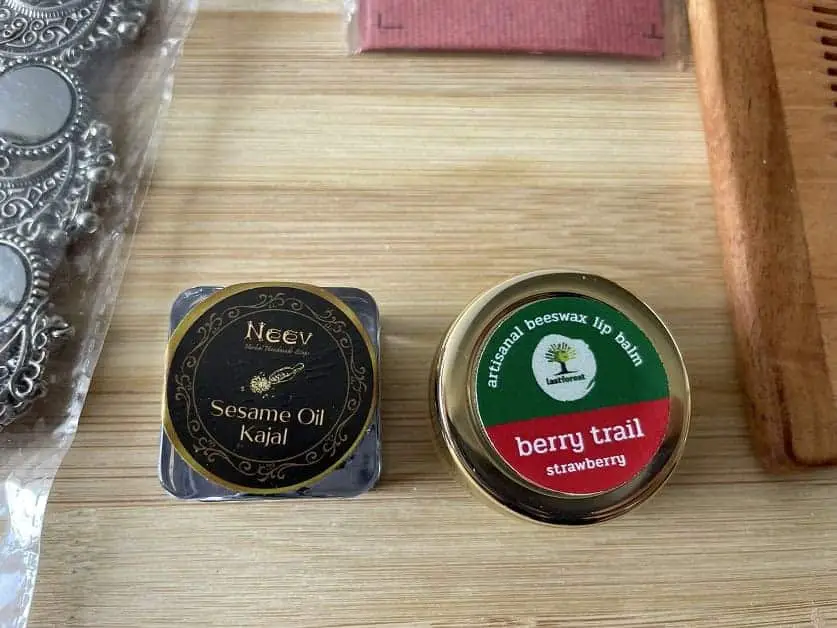 Conclusion
Overall, iTokri is a fantastic choice for anybody wishing to buy genuine and unique Indian goods while also helping out local artists and craftspeople. The website offers a wide range of products, from home decor to clothing and accessories to home decor and kitchenware. The website provides a seamless buying experience, and its products are genuine, superior, and unique.
So make sure to check out iTokri if you want to include some Indian culture in your clothing or home.