If you're seeking exclusive, artisan-made Chikankari clothing, go no farther than House of Chikankari.
House of Chikankari products are hand-embroidered by expert artists. They have detailed chikankari embroidery on chikankari kurtas, kurta sets, bottom wear, short kurtas, men's kurtas, angrakha, kaftan, and much more in various fabrics.
I recently made a purchase at House of Chikankari – 'Zainab Chikankari Mulmul Straight Kurta', and I'm excited to share my experience with all of you.
The Art of Chikankari
The Indian city of Lucknow is the origin of the traditional Chikankari art form. This is a classic embroidered design using fine white cotton material using white cotton thread. It entails hand-stitching patterns in light-colored thread onto breathable materials such as silk, cotton, and muslin.
Different Fabric Ranges Available with The House of Chikankari
The House of Chikankari has a diverse array of fabric collections to suit a variety of preferences and situations. Here are a few common various types of fabrics you may come across:
Cotton is a popular fabric for Chikankari because it is breathable and lightweight, making it suitable for both casual events and everyday wear.
Mulmul, commonly known as muslin, is a breathable, lightweight cotton fabric that is soft and well-liked. It's widely utilized to create easygoing, casual Chikankari ensembles.
Georgette is a semi-sheer, flowy fabric that is widely used to create anarkalis, sophisticated Chikankari sarees, and dresses for more formal events.
Velvet gives chikankari clothing an even more luxurious appearance. It adds depth to the stitching and is especially popular for winter or holiday occasions.
The crinkled texture of crepe fabric lends a sophisticated aspect to Chikankari sarees and garments.
Kota fabric stands out for being lightweight and having a distinctive square-pattern weave. It's commonly used in dupattas and chikankari sarees.
A fabric called Rayon imitates the look and feel of natural fibers. It is flexible and suits semi-formal as well as casual Chikankari styles.
A particular kind of rayon called Modal is produced using beech tree fibers. Its softness and good drape give Chikankari ensembles an attractive touch.
Viscose is widely used to create affordable, opulent-looking Chikankari apparel.
Chanderi stands out for having an airy, transparent texture. It's widely utilized to create sophisticated outfits and sarees made from Chikankari.
My Haul from House of Chikankari
Zainab Chikankari Mulmul Straight Kurta
Cotton Inner
House of Chikankari Review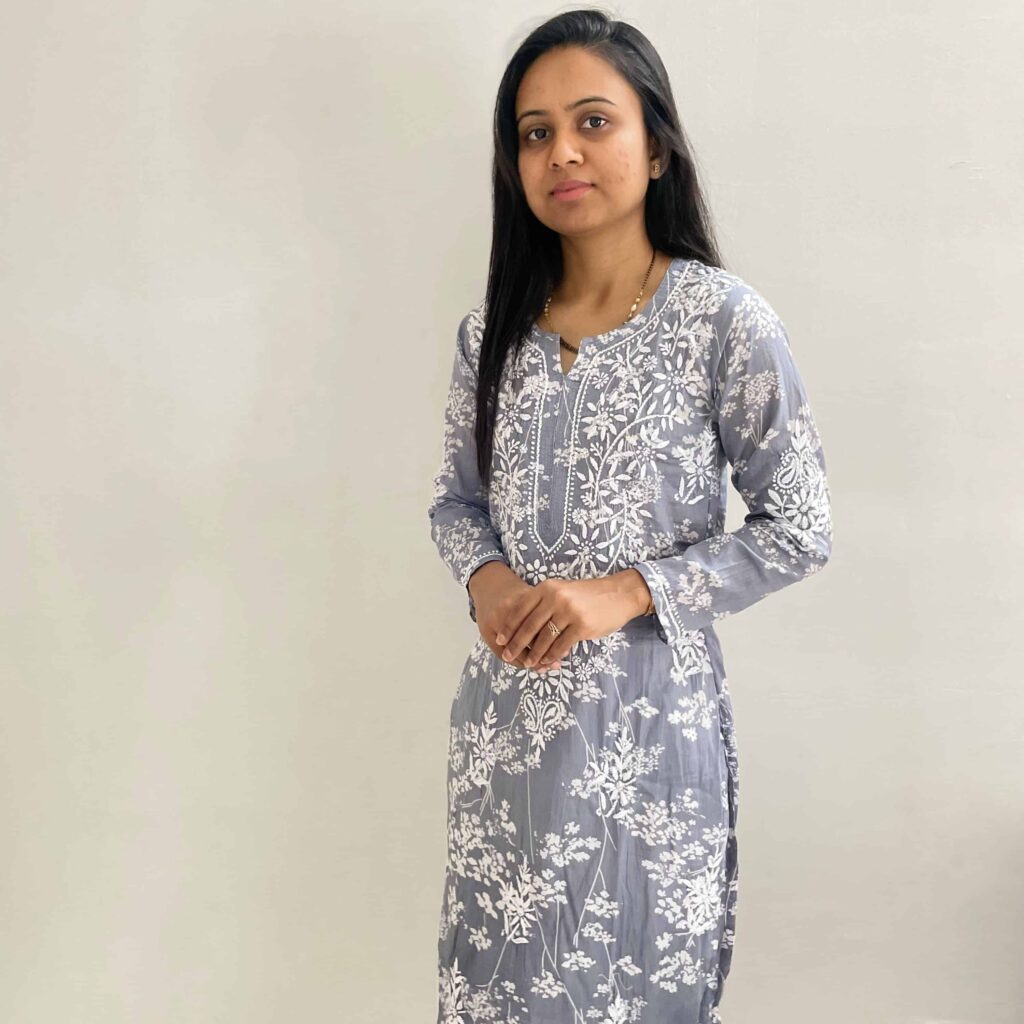 The Zainab Chikankari Mulmul Straight Kurta has a delicate, airy texture that, when paired with the chikan artwork, creates a feeling of velvetiness and breezy air. Its capacity to absorb sweat and keep you cool and comfortable makes it excellent for hot summers.
The Zainab Mulmul Straight Kurta is made of the finest mulmul cotton, giving you a feeling of lightness and airiness. Its classic form, which exudes sophistication and elegance, makes it a perfect choice for any memorable event.
The mulmul chikankari kurti, which comes in sizes XXS, XS, and 4XL, feels feather soft against the skin and keeps you cool throughout the sweltering summer heat.
The mulmul cotton chikankari kurta, which is offered in six lovely tones, has a straight fit and exquisite hand embroidery.
Wear the Zainab mulmul straight kurta with my favorite bottoms, such as a palazzo or a cotton straight pant with cutwork, for a basic, carefree attitude.
Comfort and Fit
This kurta is really comfortable in addition to having a gorgeous design. Its Mulmul fabric construction makes it both breathable and lightweight, making it an ideal option for a variety of occasions. You won't feel constrained wearing it all day because of the comfy fit.
The straight-cut style is comfortable to move in and looks excellent. The kurta fits comfortably and is true to size. I like that it's not too loose or too tight.
How to style:
It can be worn with jeans for a more contemporary, fusion style, or with contrasting leggings or churidars for a more traditional appearance. Its versatility makes it appropriate for both formal and casual occasions.
How is the House of Chikankari different from any other clothing brand?
Here are some significant features that set the House of Chikankari apart from other clothing brands:
Artisanal Craftsmanship: The House of Chikankari is very focused on preserving and advancing Indian artisanal and handicraft traditions. Every product is meticulously designed by committed master artisans who have inherited the Chikankari tradition through generations.
Cultural Heritage: This method has centuries-old roots in Indian culture, particularly in Lucknow. With its flawless creativity, the House of Chikankari proudly preserves this history.
Exclusive Designs: The brand offers an original collection of traditional patterns with a dash of modern flair. Customers receive something special and original from this that is difficult to obtain from other apparel businesses.
Variety of Fabrics: The buyer can choose from a variety of fabrics used in the house, including cotton, georgette, silk, and many more. This is versatile enough to be used in any situation or season.
Overall Shopping experience with House of Chikankari
I had an amazing online purchasing experience with House of Chikankari. The House of Chikanakri is significantly more user-friendly because of its well-designed user interface. The House of Chikankari is a provider of hand-embroidered goods that is proud to preserve and promote this age-old art form. I've added something lovely and distinctive to my wardrobe, and I might buy from this online store once more. If you're looking for Chikankari clothing, I heartily recommend it.