Are you looking to experiment with your hairstyle without sacrificing the natural-looking effect? Pre-cut lace wigs are an excellent way to achieve such a look.
These wigs not only offer versatility but also convenience, allowing you to switch up your look in an effortless manner.
However, proper installation is paramount for achieving professional results with these types of wigs.
Fortunately, we are here to help! In this step-by-step instruction, we will lead you through the full installation process of pre-cut lace wigs.
This guide ensures that your final look yields seamless results every single time. Go ahead and break boundaries with the newfound confidence possible by becoming an expert at installing precut lace wigs!
How to Install Pre-Cut Lace Wigs
Why choose Pre-Cut Lace Wigs to Transform Your Look?
Many people have come to understand the transformational potential of pre-cut lace wigs when it comes to getting a perfect look.
But before we delve into the installation process, let's take a quick moment to understand why they are an ideal choice for anyone looking to spruce up their style.
The popularity of pre-cut lace wigs probably stems from some of their most distinguishing features, such as:
Pre-Cut Lace: Zero Skills Needed, Beginner-Friendly:
Pre-cut lace wigs provide a range of advantages to experienced and novice wig wearers. One of them is that they come with a pre-trimmed lace front, so there's no need for specialized skills or tools to customize the hairline.
The uniform cutting and curling create a lifelike hairline that makes it simple and hassle-free to achieve a seamless, realistic look.
There's no need to waste time on configuration or customization as you would with conventional styles.
The speedy installation process helps you avoid all the hassle, difficulty, and mistakes that could come with replacing traditional wigs.
HD Lace: Melts Perfectly for an Undetectable Look:
HD lace is a game-changer for wigs! This high-definition, ultra-thin lace material helps make pre-cut lace wigs virtually undetectable. Not just that: HD lace wigs make for a flawless look when worn against the skin.
Imagine seamlessly transitioning from wig to scalp with no one even noticing! Plus, it blends well with various skin tones, enabling you to confidently rock your wig without extra worry or stress.
This miraculous material ensures the perfect look and natural feel we all strive for when wearing waves – hassle-free!
Adjustable Elastic Band: Secure & Stable Fit:
Precut lace wigs ensure a flawless fit and come with an adjustable elastic band or straps at the back for added convenience!
This feature ensures that you can customize each wig to perfectly hug your head size, providing a secure and stable hold.
Not only does it offer snugness and confidence during wear, but it also prevents any insecurity in case of slipping or sliding.
Each strap not just looks aesthetically beautiful but assures long-lasting peace of mind because the wig is going to stay secure all day!
3D Dome Cap: Stretchy & Breathable:
Pre-cut lace wigs offer so much comfort to wearers! A unique feature is the 3D dome cap design, which provides a stretchy and breathable fit.
Such a high-functioning cap construction allows air to circulate to your scalp without any added discomfort or sweat.
Besides providing an exceptional level of breathability, the stretchy dome ensures that any head size will find this piece reassuringly snug and comfy.
The revolutionary technology behind this 3D dome cap makes it an ideal choice for making sure your daily hairstyle look stays perfect, whether days are scorching hot or humid as can be!
No Glue, No Gel: Easy On, Easy Off:
Pre-cut lace wigs are designed differently than traditional lace wigs – they don't require glues or gels for installation! No need to fuss with any adhesives.
With adjustable straps, you can easily pop your wig on and take it off in no time! This feature is incredibly appealing for those who like having the ability to quickly switch between different hairstyles or enjoy a more temporary hair transformation.
The convenience of being able to conveniently change up your look without having to apply glue makes pre-cut lace wigs a great choice!
Now that you understand why precut lace wigs are a great choice to transform your look, let's dive into the installation process.
With our step-by-step guide, you can have confidence in achieving a perfect look every time!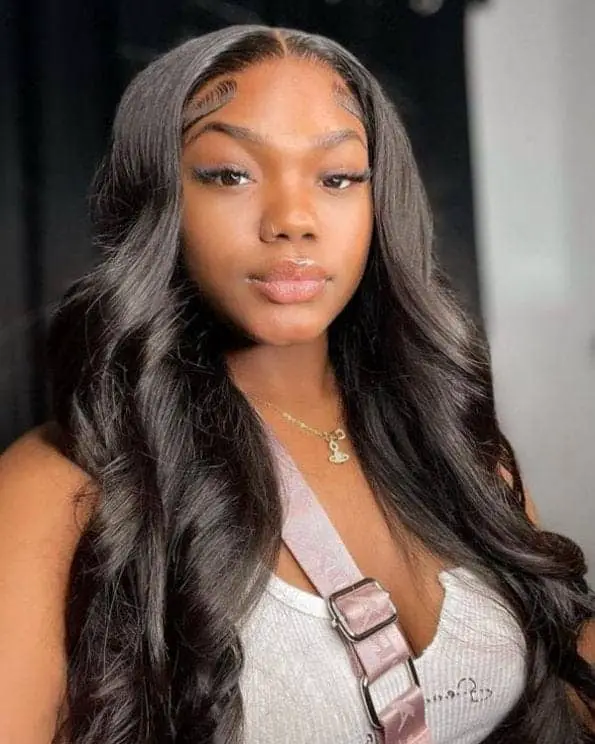 Step-by-Step Guide: Installing Pre-Cut Lace Wigs
It might seem intimidating at first, but installing pre-cut lace wigs isn't as complicated as you might think. Simply follow the easy instructions listed below, and you'll soon be enjoying a lovely new appearance!
Step 1: Start with Clean Hair & Skin
The first step to achieving perfect installation is to start with clean hair and skin. Before putting on your wig, make sure to shampoo and condition your hair as normal.
This removes any oils or dirt that could interfere with the wig's ability to attach securely. Additionally, you'll want to thoroughly cleanse your scalp before putting on the wig in order to remove traces of skincare products or other residue.
Step 2: Prepare Your Wig for Installation
Once you have a clean base to work with, it's time to prepare your wig for installation. For a secure fit that won't come undone during the day, make sure the wig's adjustable band in the rear is set properly.
Securely fasten all straps or buckles at the nape of your neck and across your head for maximum security.
Step 3: Put on Your Wig
Put on your wig, and let's go! Make sure the front of the wig is in an even alignment with your natural hairline, then delicately place it on your head.
Gloves will come in handy, too; this enables you to care for your locks and prevents any unnecessary pulling or tugging.
Step 4: Apply Powder on Lace & Hairline
Start by using a cosmetic brush, preferably with synthetic bristles, and dipping some powder into the lace and hairline of your wig.
Think of it as giving your beautiful wig some extra love! This ingenious trick will help give you a more natural, blended look.
As an added bonus, this technique also helps conceal any minuscule flaws or imperfections within the construction of the wig, ultimately contributing to an almost ethereal look.
Step 5: Secure the Wig With Comb & Hair Clips
Secure your wig in place with a comb and hair clips for a steady installation process! This snug fit will minimize any slipping or sliding as you find the perfect fit.
Make sure all of these clips are firmly in place so that they don't suddenly pop open. Staying secure during setup is essential, so take your time when attaching them for optimum protection!
Step 6: Blend & Secure Wig Hairline
The final step of the installation is blending and securing your wig's hairline. Start by using a tail comb or brush to blend the hair around the perimeter of your face, making sure it looks natural and seamless with no gaps between your skin and the wig.
Once you're happy with how it looks, secure the hairline with a few bobby pins to prevent it from slipping or sliding out of place.
And that's all there is to it! Installing pre-cut lace wigs can be as simple as following these steps. You'll master your new look quickly with a little bit of practice and persistence. So have fun, be creative, and relish your new appearance!
Final Words
Stepping up your hairstyle to fit ever-changing trends can be intimidating. With pre-cut lace wigs, however, you can enjoy a new and unique look with less fuss.
We hope this guide has been useful in leading you through the steps to install a pre-cut lace wig so that you can achieve the perfect look every time!
So why not start small today and work your way up to a completely new personality tomorrow? Remember, those who dare wear it bravely, and after reading this guide, they'll be wearing it confidently too.
Get ready to show off your dazzling new locker room looks with our Pre-Cut Lace Wig installation guide! Dare to embrace artistry, individuality, and fashion; try out Pre-Cut Lace Wigs today and get a perfect look every time!