Every woman wants silky smooth straight hair. Hair straighteners are the way to get gleaming, smooth, and without frizz hair. Vega Hairstyling appliances are the perfect decision for the style-conscious women of today who like to try different things with their looks. 
Recently I bought one of the well-known vega products Vega Diva Hair Straightener VHSH-17. So, today I share my experience with vega diva straightener.
Vega offers a wide range of innovative and affordable Hair Straighteners. It comes with various plate types – ceramic coated, keratin-infused, or titanium plates; Also comes in different plate sizes – normal, long, or wide plates.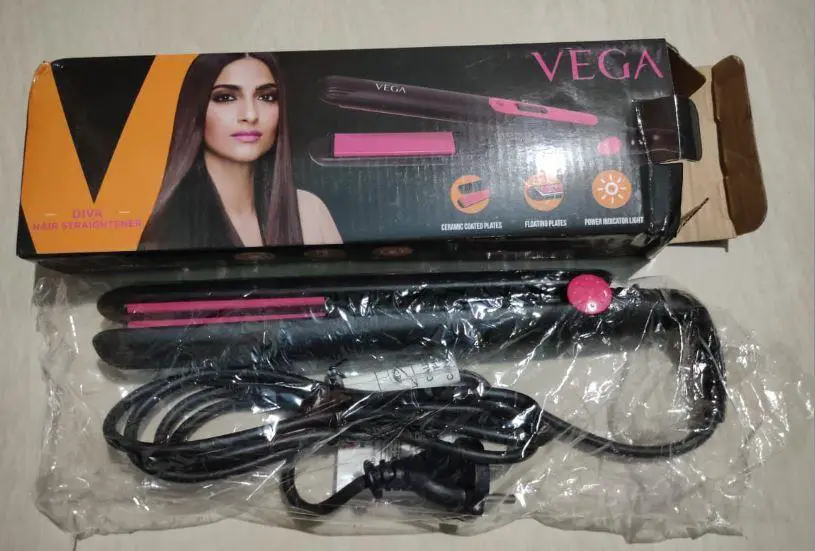 Product Details
This VHSH-17 vega straightener heats up in 60 Seconds and has ceramic-coated plates. It is very gentle on hair and glides smoothly. Floating plates prevent snagging and The easy lock system help for cooling down plates. Also, this flat iron help to create different looks including flip, curls, and waves.
Price: Rs. 999
What it is: Vega Diva Flat Hair Straightener, for getting Diva like look at home easily 
Last update on 2023-10-19 / Affiliate links / Images from Amazon Product Advertising API
Specifications:
Ceramic Coated Plates
Floating Plates
Maximum Temperature 200°C
ON/OFF Switch with power LED indicator light
Quick Heat Up in 60 Seconds
360° Swivel Cord  to Prevent Tangling
Cord Length: 1.8 Meters  
Easy Lock System
220-240V, 35W power, 50/60Hz
Available in two colors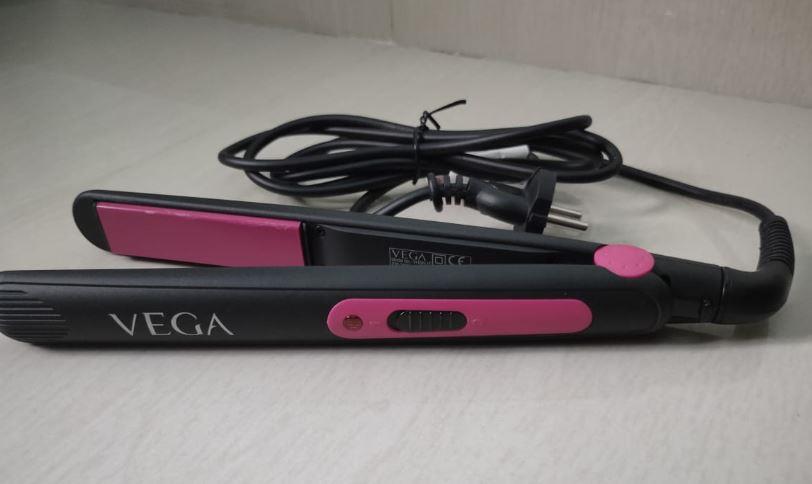 My write-up on Vega Diva Flat Hair Straightener 
Vega diva hair straightener is a black and pink color flat iron. It heats up quickly in less than 60 seconds. When I straighten my hair the first time using this it takes 15-20 minutes. 
I do have not very curly or wavy hair, so I get a result in only 15 minutes. It provides one heat setting – heats up to 200⁰C which is the optimum styling temperature for most hair types. Its Power Indicator Light indicates the On/Off of the appliance.
You can carry and use it easily while traveling. It is designed with ceramic-coated plates, which allow the even distribution of heat, and they also keep my hair safe from heat damage.
We don't wait for the cooling down of plates because it is made with an easy lock system and provides easy and convenient storage. The 360° swivel cord rotates easily. So, it prevents unnecessary tangles and makes it very easy to straighten hair yourself.
You can glide the floating plates easily through your hair without any damage. This also helps to minimize hair breakage. One thing I notice is that no hair damage or hair breakage with this vega straightener. 
Packaging
Vega diva hair straightener comes securely packed in bubble wrap and packed in a cardboard box. All product details are mentioned in the box. The ideal size of it makes travel friendly. So, you can easily carry it in bags, not in sling bags like Mini flat irons. It is perfect for people who regularly like to travel and need some touch of their hair. 
Vega diva hair straightener Before and After my hair: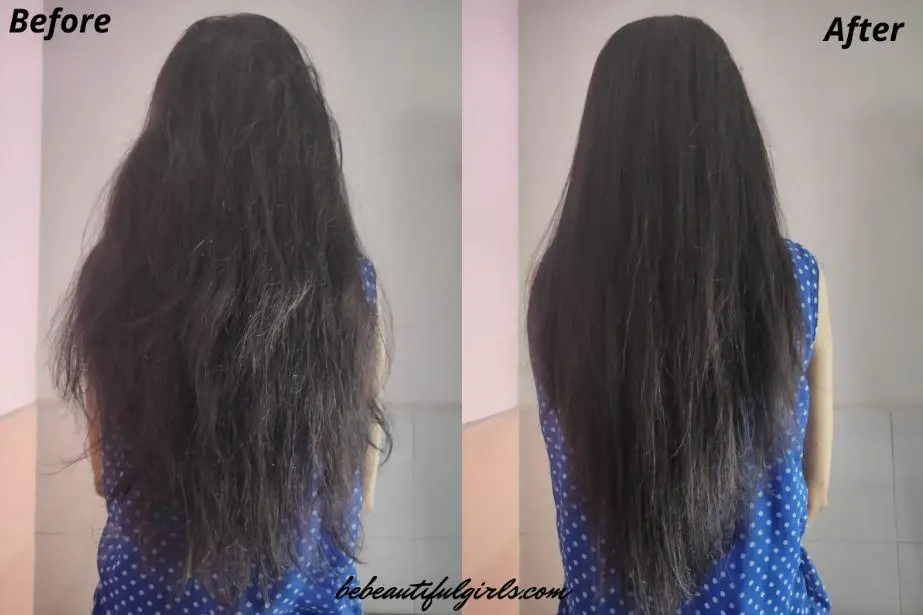 How to use:
Step 1: Before straightening, shampoo your hair. You will need hair straighteners, a comb, a rounded brush, and a heat-protective serum. A heat-protective serum will help prevent your hair from becoming damaged by the straighteners.
Step 2: Your straightener will need some time to heat up. Spot them on a non-flammable surface while they are heating. 
Step 3: Clip most of your hair up, leaving one manageable section. Take part in a 2-inch section. Start at the root and gradually work your way down. Repeat this action until the hair straightens. Continue working in sections to fix the remainder of your hair.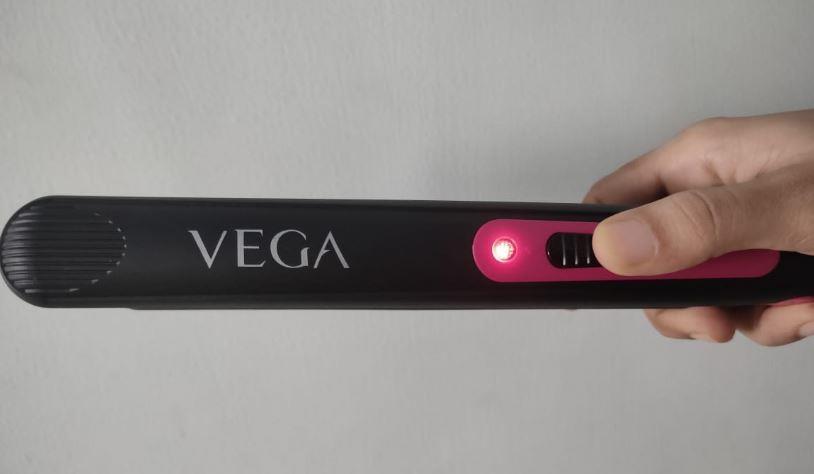 Reasons to like Vega diva hair straightener
A user-friendly lock system help to prevent any operation issue. So once you are finished utilizing it, which allows you to close the plates together and also keep it conveniently by using this lock system.
Ceramic-coated plates prevent snagging and give silky smooth straight hair within minutes at home. Also, it offers your hair ultimate shine.
Even the distribution of heat protects hair from heat damage and prevents unnecessary tangles.
It provides easy and convenient storage. So you can easily carry it outside for an ultra-smooth gliding experience.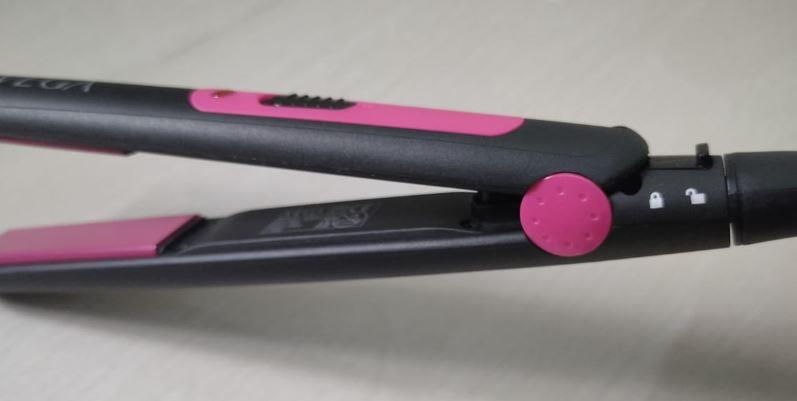 Pros
Affordable
Quick heat up
Protect hair from heat damage 
Minimize hair breakage 
Travel friendly
Cons
Only one heat setting 
It may take more time for very curly and thick hair
Availability: Easy 
You can easily purchase it at any cosmetic store and also buy it online, Amazon, Flipkart, Nykaa, or its official site vega.
Overview
Vega diva hair straightener is perfect for daily styling. If you have thin or normal hair, you get straight smooth hair in a few minutes. Also, it is ideal for thick or wavy hair types but for that, it will take more time for the best results.
Last update on 2023-10-19 / Affiliate links / Images from Amazon Product Advertising API