If you are specific with your cosmetic and pick the highest-quality cream formula, you will see stunning results. Makeup specialists always use concealer because it is the method to accomplish a professional finish. So, Let's talk about Maybelline Fit Me Concealer – would it be a good idea for us to buy it or not? 
A concealer is a sort of cosmetic product to have in your makeup kit. It doesn't merely disguise imperfections – it was used to cover dark circles, age spots, huge pores, and uneven tones noticeable on the skin. It was additionally proposed to make a base for the eye shadow. 
Maybelline Fit Me Concealer Review 
Maybelline new york fit me the collection is offered in a variety of shades. When selecting a concealer, I will recommend choosing a few shades lighter than your skin tone to better cover your blemishes and dark circles under the eye.
I use this natural coverage liquid concealer and set it in place using a loose or compact powder. I will accomplish a lot fresher and more youthful appearance in my eye zone. 
A concealer or color corrector takes out the discoloration around the eye area, and the eyes look more awake and fresh.
It provides coverage for a wide array of skin types, from normal-oily skin to combination skin for a natural-looking finish.
Product Details
This oil-free concealer makeup formula provides a flawless look that allows the real you to come through. This natural coverage concealer doesn't have waxes or oil, and hence it delivers you natural-looking radiant skin efficiently.
Concealer guarantees that your dark circles and dark spots get covered, and you look impeccable with its exclusive transparent base.
The price of the Maybelline Fit Me concealer is around $6.49, 0.23 fl oz (6.8 ml).
Sale
Maybelline New York Full Coverage Concealer, Matte &...
Concealer for flawless, natural coverage, Oil-free concealer matches skin...
Matte finish, Fulll coverage concealer, Corrects imperfections, and dark...
Dot the liquid concealer onto imperfections or under the eyes to conceal...
Last update on 2023-09-14 / Affiliate links / Images from Amazon Product Advertising API
Maybelline Fit Me Concealer ingredients
Water (Aqua), Cyclopentasiloxane, Glycerin, Sorbitan Isostearate, Hydrogenated Polyisobutene, Propylene Glycol, Ozokerite, Phenoxyethanol, Titanium Dioxide, Magnesium Sulfate, Disodium Stearoyl Glutamate, Methylparaben, Disteardimonium Hectorite, Acrylates Crosspolymer, Alumina, Butylparaben, Silica, Aluminum Hydroxide, Tocopherol, Chamomilla Recutita (Matricaria Flower Extract), May Contain (+/-): (Ci 77891), Iron Oxides (Ci 77491, 77492, 77499), Mica F.I.L. D43567/2
What Maybelline Fit Me® Concealer Claims:
Fit Me Concealer from Maybelline provides perfect and natural coverage. This oil-free concealer matches skin tones to deliver a more even complexion.
Dermatologist-tested, Non-comedogenic concealer, Fragrance-free, Ophthalmologist tested.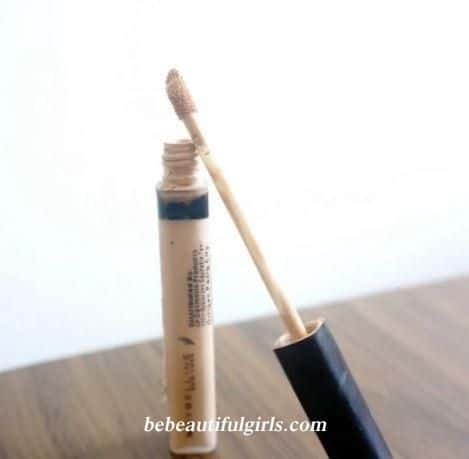 My write-up on Maybelline Fit Me Concealer
The formula is dilute but not too dilute. These are liquid concealers. It is perfect for highlighting the purpose and for people who don't like heavy layers of concealer. This fade-proof formula is very light. It gives medium coverage, but you can develop it.
However, adding too many layers can become cakey and creasy Because the diluted and light formula is admirable for dry skin types. Also, those people who have acne scars or have acne-prone skin types can use this.
Apply a small amount of concealer using the applicator under your eye area in a triangular shape. I like to apply concealer on my eyelid, and upper eyelid too because I have a bit of discoloration there.
This natural finish concealer sets quickly. You should be fast in mixing it away. You can use a sponge or brush or a beauty blender, whatever you have.
This concealer blends easily with my favorite Estee Lauder double wear foundation. Also, you can wear concealer without foundation.
Maybelline Fit Me liquid concealer creases very severely. It does not begin creasing after 2-3hours. It will begin creasing just after the second you apply it. It may feel greasy for oily skin types.
So you need to set it with a compact or translucent powder or with loose powder in the under-eye area to prevent creasing, anything you desire to do. However, it would be best if you did something about it; you can't leave this concealer all alone.
They claim that this water-based concealer can hide all the blemishes and dark circles. But I have seen that even after applying it dark circles peek out through the concealer.
Even after color-correcting the dark circles, I could not see the best results. It isn't my best option to cover dark circles.
Some people claim that its color corrects too but my under-eye dark circles are still peeking through the concealer, I don't think so.
It sure does brighten your under-eye area and gives you a look more wakeful. I don't use it on my uneven skin tones areas like scars because it merely makes them seem a lot ashy.
It effectively conceals pigmentation and acne scars. If Maybelline Fit Me Concealer is not set with powder, it might exaggerate fine wrinkles. However, I'm confident it will be good for oily skin, particularly in the summer.
It has a creamy, smooth texture that mixes well and provides a finish with no streaks or uneven tones. It moisturizes and makes my under-eye area look brighter.
If you want moderate coverage and a concealer that you can use every day, I recommend the Maybelline Fit Me concealer. It is the best drugstore dupe as the NARS radiant concealer.
[Must read Younique Lash Serum Review & Results]
Packaging
These concealers come in plastic packaging that is very compact, sleek, trendy, and not fragile; with a doe-foot applicator, nothing special there. It is very tightly shut, so it doesn't spill or leak. So it travels friendly too.
You'll find the shade name and number at the bottom. In the new packaging, the shade is written on the front. It costs around $6.49 for 6.8 ml of product which may be a reasonable amount for a concealer because even if you use it daily, you'll still find yourself having the concealer for like 2-3 months minimum.
Smell
It does have a mild fragrance, it kind of smells like chemicals. But the smell goes away very soon. It's not bothersome at all.
Texture
Maybelline Fit Me Concealer features a creamy consistency that is thick, Not watery, and thin, but not cakey. So it is quite easily blendable also.
Finish
This light concealer stick leaves a touch of a dewy finish, which might be good for normal-dry skin. I set it with some powder foundation for oily skin, and it lasts throughout the day.
Wearability
I've done the oxidation test of this concealer. After applying, I waited for 1 hour. After 1 hour, I reapplied to check the difference. I feel that the concealer oxidizes within 15 minutes, it becomes kind of wearable. I can go through an entire workday and go out at night with it lasting. My nose does get a bit oily after 8 hours, but I have oily skin, so this is expected.
[Must read Just herbs 16 mini Lipstick Review and Swatches]
Maybelline Fit Me Concealer Swatches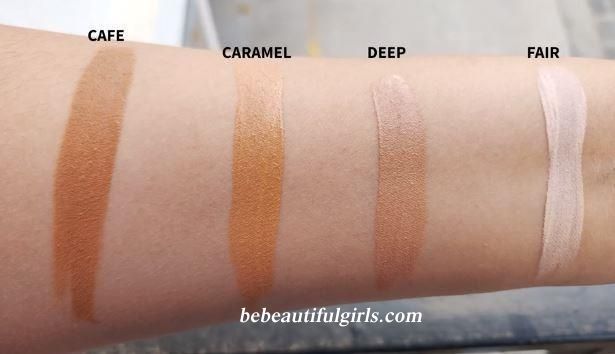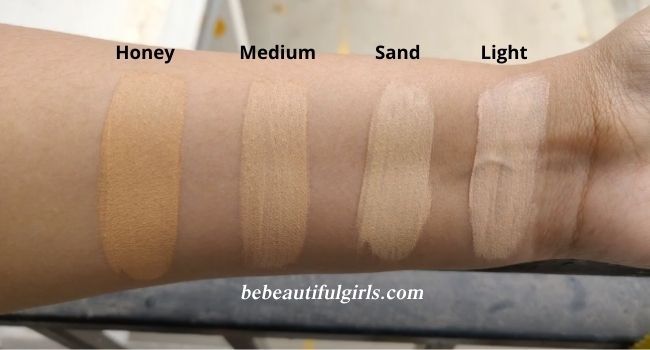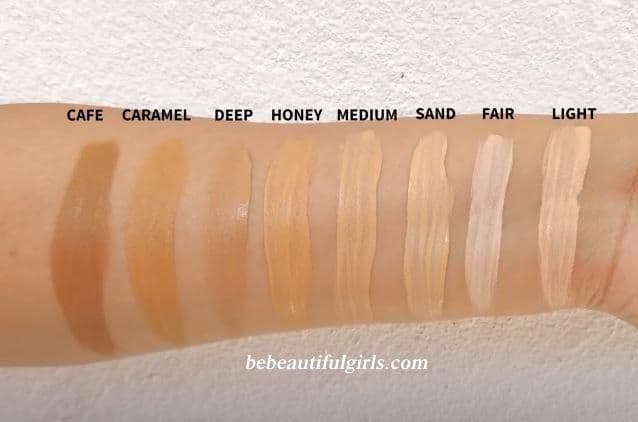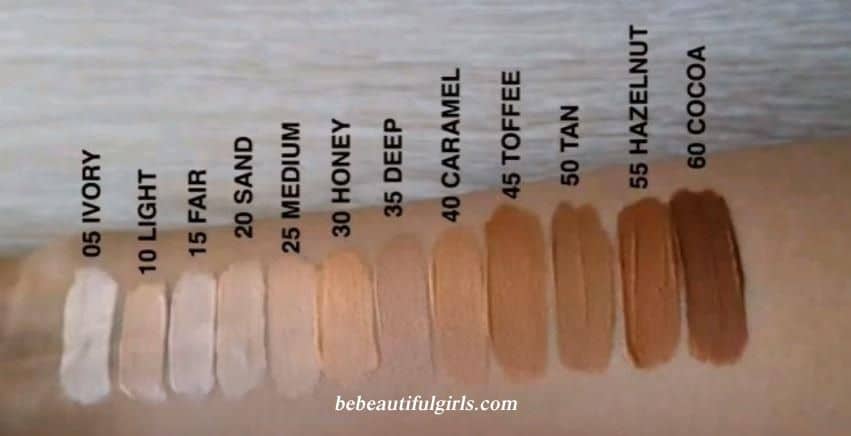 Maybelline Fit Me Concealer Shade Finder
Maybelline concealer shades provide a wide range of shades for various skin tones. Maybelline concealer comes with 12 shades and 6 new shades.
IVORY 05 – Very fair skin
FAIR 10 – Light skin with pink or cool undertones
LIGHT 15 – Light skin with peachy undertones
SAND 20 – Light skin with yellow or warm undertones
MEDIUM 25 – Medium skin with peachy undertones
HONEY 30 – Medium skin with yellow undertones
CARAMEL 40 – Medium Dark skin with warm undertones
DEEP 35 – Medium Dark skin with pink undertones
CAFÉ 50 – Dark skin with cool undertones
TAN 45 – Dark skin with olive undertones
HAZELNUT 55 – Dark skin with Neutral undertones
COCOA 60 – Deep dark skin with warm undertones
New shades :
Shade for Fair- light skin tones: COOL IVORY 01, VANILLA 11
Shade for Medium skin tones: WHEAT 22, WALNUT 57
Shade for Dark skin tones: COFFEE 65, DARK COFFEE 70
Pros of Maybelline Fit Me Concealer
Skin stays fresh all-day
Many hues to suit all skin tones, from light skin to dark skin
Instant touch-up covering for any dark spots or flaws
Gives medium to full coverage (buildable)
Easy-to-use doe-foot applicator
Affordable price
Minimum effort required for smooth skin
Long-wearing
Fragrance-free
No oils and waxes
Cons of Maybelline Fit Me Concealer
Ingredients are not listed in the packaging.
Shelf life: 3 years
Availability: Easy ( You can easily purchase it at any cosmetic shop or buy it online at its official site Maybelline and other shopping sites like Amazon, Target, Ulta, Walmart. )
Overview
Maybelline concealer is oil-free and non-comedogenic. This creamy concealer is long-wearing and has a perfect consistency. It gives various shades that fit all skin tones. Also, it provides buildable coverage at an affordable price. It helps to conceal dark spots, flaws, redness, blemishes, and under-eye circle concealer to achieve an extra flawless skin complexion. The Natural coverage Oil-free concealer includes lightweight pigments to lessen the presence of skin imperfections.
Frequently asked questions
Is Maybelline Fit Me concealer good?
It will help even your skin tone. It provides excellent coverage and various shades that match very well for all skin types. It lasts up to 7-8 hours, and sometimes several layers can convert cakey and creasy. But, overall, it is a good product.
Does Maybelline Fit Me concealer clog pores?
It is a non-comedogenic product that doesn't clog pores.
Which shade of Maybelline Fit Me concealer is best for fair skin?
IVORY 05 shade is perfect for very fair skin. But for fair skin tones, fair10, light15, or sand20 shades are best for light skin with pink, peachy or yellow undertones.
Is Maybelline Fit Me concealer oil-free?
It provides an oil-free look for normal to dry skin types. But, sometimes for oily skin, you may face a little greasy skin after a few hours of applying it.
Does Maybelline Fit Me concealer oxidize?
It oxidizes for me within 15-20 minutes after applying it and becomes a wearable concealer. It lasts up to throughout the day. As my skin is oily, my nose area becomes a little greasy after 7-8 hours.
How do I choose a Maybelline Fit Me concealer shade?
Don't swatch it over your wrist; You ought to never match your concealer or foundation on your wrist or the palm of your hand. Always swatch it on the edges of your cheek then blend it out.
Last update on 2023-09-10 / Affiliate links / Images from Amazon Product Advertising API