Hi everyone, I hope you all do well and in the best of your health. You definitely know Aloe Vera is one of nature's most prominent healing gifts. So, today I am going to review about pure and natural Seven Minerals Organic Aloe Vera Gel. It extracted fresh juice of an entire Aloe plant into a bottle.
Naturally, Aloe vera gel is slippery and difficult to use, thus naturally we tend to attempt bottled gels. In any case, some are simply excessively watery or residue forming. It doesn't feel regular, isn't that right?
Many people agree, if they might notice a simple to-apply natural aloe gel, they'd finally have the Aloe vera expertise they were trying to find.
We couldn't understand why it was thus exhausting to search out natural products that did not contain junk and toxins. Therefore let's discuss Seven Minerals Aloe Vera Gel, whether it is pure or not?
About Seven minerals organic Aloe Vera Gel
Product Details
This aloe vera gel is not loaded with synthetic ingredients. It made with a natural thickener (seaweed extract) rather than xanthan or carbomer. So it absorbs quickly with no sticky residue, leaving your skin smooth and silky.
Because of their unique cold-pressed formula, and 100% natural thickener gel, it's easy to apply and not sticky or watery. Additionally, It produced using real juice, not powder.
Price
$19.95, 12 fl oz (355 ml)
Ingredients
Certified Organic Aloe Vera (99%), Seaweed extract (natural thickener), Citric acid (to stabilize pH), Ascorbic acid (Vitamin C), Potassium sorbate (to prevent mold). Does NOT contain CARRAGEENAN.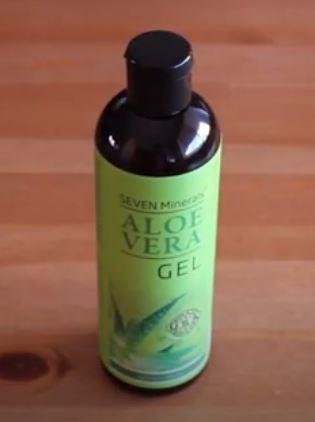 What Seven minerals aloe Vera gel Claims:
Tested and Endorsed by Trusted 3rd Parties: Our Aloe Vera Gel has been tested and scrutinized by respected 3rd parties (Cosmetic Analysis and oko-test). both awarded our Aloe gel with their highest possible quality score.
Highest Quality: Aloe is grown, harvested & tested in IASC certified facility and meticulously analyzed & tested for quality and purity by internal Microbiology and HPLC lab.
Organically grown Aloe, harvested and bottled in southern texas.
Ingredients Callouts
No Xanthan or Carbomer
Alcohol-free
No added water
My write-up on Seven minerals organic Aloe Vera Gel
The gel comes in a nice plastic bottle which is recyclable. The aloe Vera gel has a very nice consistency, it is not too thick but also not too watery. It absorbs really fast and it has absolutely no sticky residue.
I tested Seven minerals organic Aloe Vera Gel for a couple of days and I used it as a body lotion, after Sunscreen, aftershave, and also edited to my hair conditioner. I think it's a great product, it is easy to apply.
This organic aloe Vera gel much better than that other gel consistency aloe Vera. This one is 100% pure aloe from the freshly cut aloe plant, so it is a watery consistency, it does not leave whiteheads on my pores around nose like the other aloe gel. The best part is after using this; it is so easy to wash off the aloe.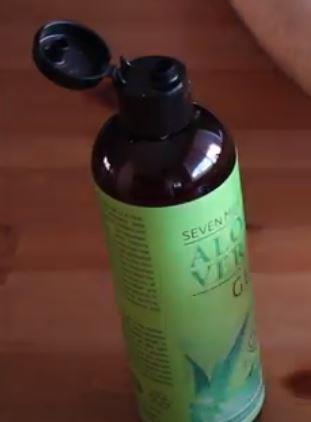 I usually keep a distance from Aloe Vera because it's usually sticky and leaves my skin feeling tight and dry. I came across Seven Minerals and really wanted to use it. It doesn't leave my skin dry or sticky. It's made straight from the juice and what a difference. I used it on my hair and it feels soft, silky, and cleansed from build-up.
This is by far the best aloe Vera I've ever bought. It has the consistency but not the stickiness of slow straight off the leaf. This stuff is super hydrating and doesn't leave a residue on your skin.
This is the purest unless you're using the real plant. The smell bothers me a little bit, but being an aloe plant user I know that the smell is normal because it's real aloe vera. It absorbs into the skin well and left hydrated.
I wear it every day as a moisturizer during the summer months and it leaves a beautiful matte finish on my skin. Highly recommend this product, especially if you don't wear makeup often and want a nice clean finish on your skin.
The packaging is plastic, but it doesn't bother me personally. In my opinion, the label has the most important information on it, without it being directly overloaded.
The gel has hardly any odor, only the one that I know from a freshly cut aloe vera leaf – very pleasant. It is a gel that dilutes itself on contact with the skin, i.e. when rubbed. The feeling is very pleasant and cools – great for the eye area.
Also Check: The Body Shop Tea Tree Oil Review
Smell: Mild – like real aloe Vera
Texture: clear, slightly thinner gel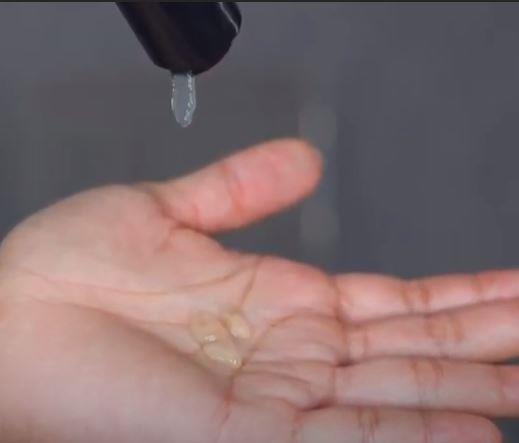 I bought the gel because of blemished skin and the first signs of age, as well as dry skin on the legs. If you have rosacea and this product helps keep the inflammation heal.
Of course, I can't say anything about the wrinkles yet, but my eye area looks fresher and more vital, probably also due to the cooling effect. My skin imperfections (occasional pimples or blackheads) improved after just one application. After just under a week, my complexion is clear overall. Light dry skin on the legs disappeared immediately, the complexion is beautifully supple.
I use them 2 times a day, in the morning and before going to bed, and no other care products. The smell is neutral; I think that's a good thing, for me, it means that there is less artificial content in it. I tend to have problem skin, greasy on the T-zones, and otherwise rather dry. I've only been using the gel for 2 weeks, but the skin has actually gotten a lot better.
Why you should love this product?
Here are some benefits that you will find in Seven minerals organic Aloe Vera Gel.
It's a natural power of aloe vera Soothe Your Skin Problems.
Relieve your burn from the sun, treat your cuts, clear up your rashes, quiet your shaving burn, heal scalp itchiness, and dandruff.
Superb everyday treatment for face, skin, and hair. Normal use calms the skin leaving it delicate and graceful with a healthy glow.
Everyone is aware that

Aloe vera gel

relieves burn from the sun. however, that's not all. This high-quality gel very quickly calms a wide range of issues, as well as bug bites, rashes, shaving burns, cuts, and wounds. Your skin issues can heal quicker and disappear faster.
Since it's made up of natural ingredients, this Aloe vera gel won't irritate sensitive skin.
Other Aloe vera gels contain Xanthan or Carbomer, that leaves a sticky white buildup on your skin. This helps the Aloe vera soak into your skin rapidly, thus you'll never feel awkward and sticky. you'll even layer makeup on prime.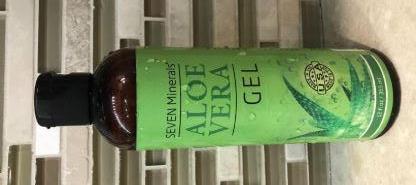 Also Check: CeraVe Foaming Facial Cleanser Review
Pros and Cons of Seven minerals organic Aloe Vera Gel
Pros
Improve wrinkles, blemishes and skin inflammation
Soothe skin irritation, itches, and rashes
Moisturize and hydrate skin
Relieve burns, and manage when sun care
Get relief from a skin disorder and skin condition
Promote quick hair growth
Great as a natural aftershave
Soften and repair dry, cracked skin
Condition hair, decrease frizz and dandruff
Cons
Little expensive
The bottle doesn't come with a pump. The cap is a flip-top, so you can just squeeze out a small amount. But sometimes it will give you more than you want because it's harder to control.
How to use Aloe Vera gel?
This gel can be used as a Makeup Remover. Take a cotton ball and pour this gel on it and gently wipe your Mascara, eyeliner, lipstick, etc. If you want to remove the kajal, take a cotton bud and dip in the aloe vera gel and clean it gently. Any waterproof makeup also can be removed with this gel. You don't need to buy expensive Makeup Removers from the Market.
Apply on to the skin and let it air dry for best results. Use it for healthier skin & hair. It may be added to regular essential oils, rub oils, daily facial care products, shampoos, and hair conditioners.
You can use this Aloe vera gel straight on your skin, otherwise, you will combine it into your regular lotions for additional healing power. you'll be able to even utilize it to super-charge your

shampoo

, creating your hair robust, soft, and glossy.
Availability: Easy
Frequently asked questions
How It Works thus Effectively For Sunburn And Skin Repair?
You may have detected the anesthetic – lidocaine. Well did you recognize it's naturally gifted in aloe Vera? which means it's effective relief for pain and burning. and also the unprocessed glycoproteins + polysaccharides repair broken skin cells, whereas reducing inflammation.
Why aloe Vera gel is beneficial for skin and hair?
Aloe Vera contains a wide variety of different vitamins such as vitamins A, B, C, D, and E. It's also a powerful anti-inflammatory and can treat skin conditions such as psoriasis, acne and dry skin. The gel inside the aloe Vera contains very high water content which means it's very hydrating and soothing for the skin.
How It works so effectively healthy sleek Hair With Supported Growth?
Because of the alkalescent properties in aloe vera it helps maintain the pH scale level of the scalp and hair. This keeps the hair moisturized and promotes healthier hair growth. It additionally soothes dry scalp, itching, and reduces dandruff.
Overview
So if you are looking for a high-quality organic aloe Vera gel which is easy to apply and not sticky or watery. I would recommend the Seven minerals organic aloe Vera gel. I would recommend to anyone with skin problems. Just doing without everything and only using one product helped a lot.
Would I Recommend and Repurchase Seven minerals organic aloe Vera gel?
Based on all of the above, I would choose this gel again. So, yes, I will definitely recommend and repurchase it.
Hope you found this review helpful. Please do comment on your thoughts and experience. If you have any suggestions or any queries then ask in the comment box.
Recommended Articles