Mamaearth Moisture Matte Longstay Lipstick Review
We all love a pop of color on our lips to round off any outfit, but selecting a lip color that matches your skin tone may be difficult.
It's more difficult to find a lip color that doesn't dry out our lips and makes them feel stretchy and dehydrated while also being long-lasting and pigmented.
Wouldn't it be wonderful to have a lip color that is both long-lasting and very hydrating for our lips like the best moisturizing lip balms?
I'm going to introduce you to Mamaearth moisture matte longstay lipsticks, which are filled with high-intensity matte shades.
About Brand:
Mamaearth is the first MadeSafe-certified brand in Asia. Mamaearth's products have been dermatologically tested for sensitive skin and are certified to be free of harmful ingredients.
The products are a one-of-a-kind combination of science and Ayurveda that provide remedies to common problems. Every product that the company offers is produced entirely of organic and natural ingredients.
Mamaearth Moisture Matte Lipstick Review
Mamaearth Moisture Matte Longstay Lipsticks are packed with the natural benefits of avocado oil and vitamin E to hydrate your lips and keep them soft and supple.
Avocado oil is high in antioxidants and hydrates your lips deeply while also boosting collagen synthesis. Vitamin E promotes cellular turnover and helps to reduce pigmentation.
You can wear it all day because it has avocado oil and vitamin E in it. It's easy to apply and doesn't irritate your lips.
Product Details
Its weightless formula is smudge-proof and transfer-proof. The lipstick nourishes and seals in moisture for up to 8 hours thanks to its lightweight formula.
It comes in nine vibrant and high-intensity matte colors that last up to 12 hours on your lips, giving them a lovely long-lasting tint that doesn't smudge or fade.
Mamaerath lipsticks are a good match for Indian skin tones. Not only that but they're manufactured safely certified, which means they're free of toxins and nasties.
Mamaearth Lipstick Price: INR 499 for 2g (Click here to buy)
Mamaearth Moisture Matte Longstay Lipstick Ingredients
Cyclopentasiloxane, Trioctyldodecyl citrate, Hydrogenated Polyisobutene, Isononyl Neopentanoate, Ethylhexyl Palmitate, Euphorbia Cerifera (Candelilla) Wax, Ethylhexyl methoxycinnamate, Polyethylene Wax, Silica, Cyclopentasiloxane (and) Dimethicone/Vinyl Dimethicone Crosspolymer, Ozokerite Wax, Octyldodecanol, Copernicia Cerifera (Carnauba) Wax, Microcrystalline Wax, Cyclopentasiloxane (and) Disteardimonium Hectorite (and) Propylene Carbonate, Simmondsia Chinensis (Jojoba) Seed Oil., Phenoxyethanol, Perfume, Prunus Amygdalus Dulcis (Sweet Almond) Oil,  Persea Gratissima (Avocado) Oil., Tocopheryl Acetate.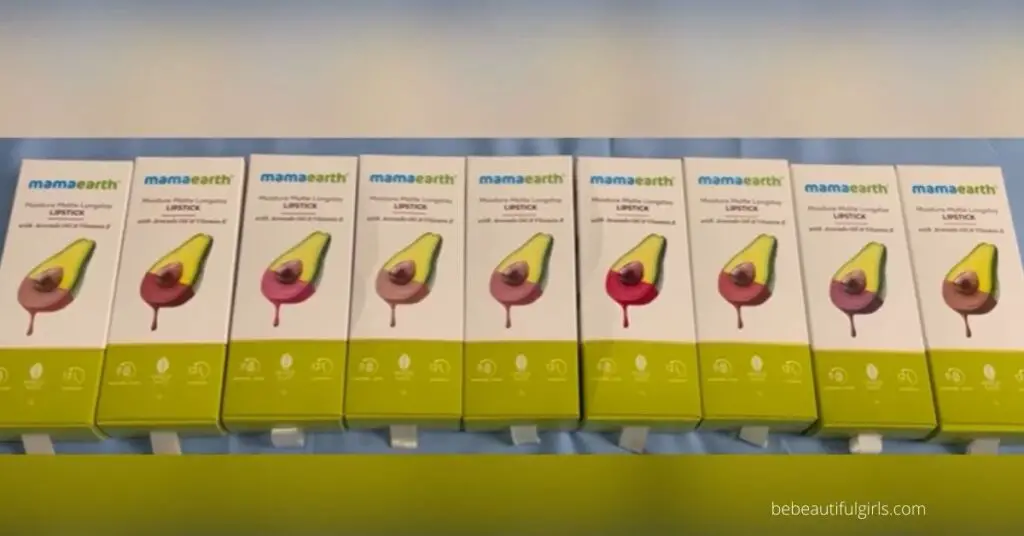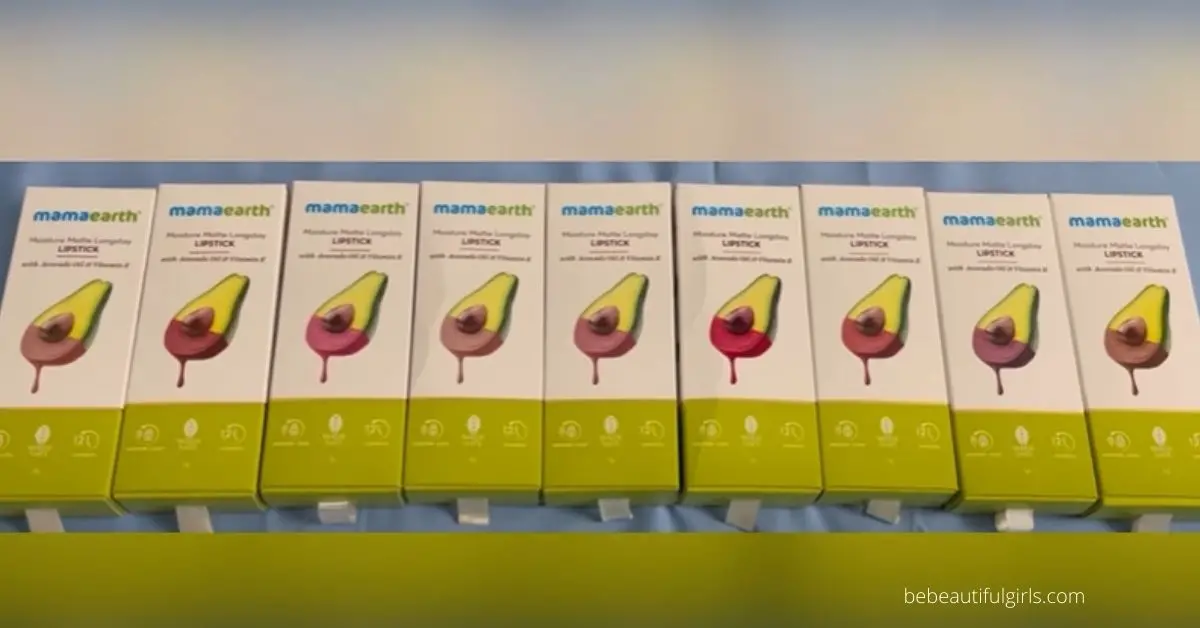 What the product claims:
12 hour-long stay
Smudge-proof formula
8-Hour Moisture Lock
Moisturizes and nourishes the lips
Made safe certified
Long-lasting, long-stay smudge-proof lipsticks
My write-up on Mamaearth Moisture Matte Lipstick Review
For the past four weeks, I've been using Mamaearth Moisture Matte Lipstick. It's a matte lipstick with high pigmentation and the benefits of avocado oil and vitamin E. The texture is quite creamy and velvety, so it glides on the lips very smoothly and keeps them moisturized and nourished for a long time.
I don't notice any dryness on my lips, and it's a very pigmented, easy-to-apply lipstick. Matte lipstick usually appears dry on the lips, but it doesn't feel dry at all; instead, it feels really soft, as if I've applied petroleum jelly to my lips.
It remains on my lips for 8+ hours and does not smudge. Its best feature is that it is produced with avocado oil and vitamin E, both of which are beneficial to our lips.
This mamaearth lipstick goes on smoothly and feels as soft as butter on the lips. I don't need to rub this lipstick on my lips to achieve the color of this lipstick.
The formula is moisturizing, lightweight, and non-drying, making it extremely easy to wear on the lips and providing full coverage in just one stroke.
If your lips are extremely dry, you may need to apply a lip balm before applying the lipstick, but I can get away without it. If your lips are extremely dry, I would certainly recommend using Mamaearth lip balm.
These mamaearth lipsticks don't even stick my lips together, don't transfer much, and don't dry out your lips at all. They make your lips smooth and supple while also providing a gorgeous matte finish. I don't feel like I'm wearing lipstick because these lipsticks are so light and comfy on the lips.
It comes off a very small amount from the center after I eat it, which is actually negligible. These have also been dermatologically tested and proven to be safe.
Overall, This lipstick covers the lips beautifully, has excellent pigmentation, and provides the lips with the ideal shade. These lipsticks feel so light and convenient on the lips that I barely notice I'm wearing them.
Sale
Last update on 2023-05-29 / Affiliate links / Images from Amazon Product Advertising API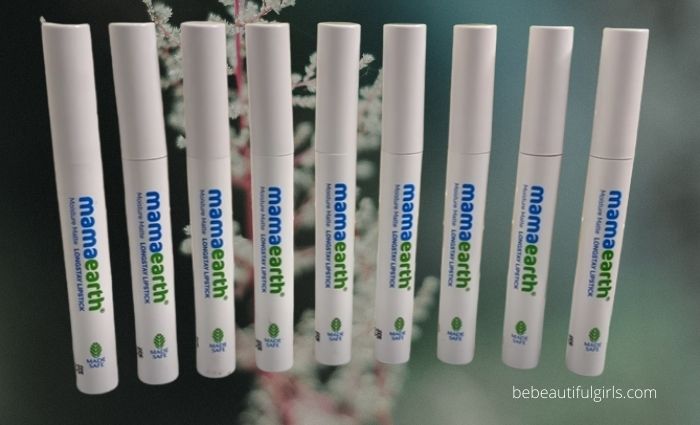 Packaging
Mamaearth lipstick is packaged in white and light green cardboard packaging that contains crayon-style lipstick. With the pullback opening, the outside packaging is basic but elegant.
The main lipstick is quite simple in appearance, however, it is a touch bulky in comparison to some of the other crayon lipsticks on the market.
Both the outer package and the real lipstick have the name and number of the lipstick color. It is weightless and easy to carry in a bag. Overall, the package is clean, and sleek, and comes in a lovely white color scheme.
Consistency
The formula of Mamaearth Matte Lipstick is light and airy. They're incredibly thin and creamy in texture. You won't need to apply two or three coats to obtain a good color result.
Fragrance
They have a light, non-overpowering smell.
Mamaearth Moisture Matte Longstay Lipstick Shades
Mamaearth lipstick shades come in nine different color options.
Pink Tulip
Melon Red
Bubblegum Nude
Expresso Brown
Cinnamon Nude
Raspberry Scarlet
Carnation Nude
Candyfloss Pink
Plum Punch
Mamaearth Moisture Matte Longstay Lipstick Swatches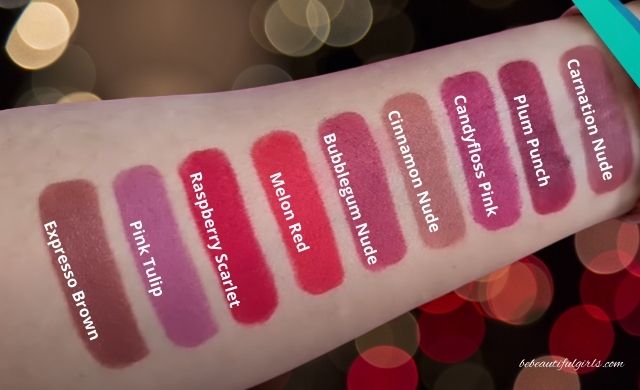 Pros of Mamaearth Moisture Matte Longstay Lipstick
Contain avocado oil and vitamin E
Long-lasting formula
Easy to use
Travel-friendly
Have lightweight texture
Shades for all Indian skin tones
Made with natural ingredients
Doesn't dry out the lips
Hydrated the lips well
Cruelty-Free
Cons of Mamaearth Moisture Matte Longstay Lipstick
If your lips are extremely dry, you'll need lip balm.
Availability:
It can be found on a variety of websites as well as in local markets. This Lipstick costs approximately Rs 499. You can get discounted price here.
Overview
Moisture Matte Longstay Lipstick by Mamaearth is a moisturizing matte lipstick. Avocado and vitamin E help to nourish, hydrate, and prevent pigmentation, as well as provide antioxidant benefits.
It has a light scent, and the shades are beautiful and match all Indian skin tones. They may not remain as long as the brand claims (12 hours on the lips), but they can certainly last up to 7-8 hours with some fading and transferring.
This chemical-free lipstick is also very light, easy to use, and comfortable to wear. As a result, I strongly recommend this lipstick to everyone who enjoys wearing organic lipsticks.
Just Herbs Lip and Cheek tint Review and Swatches of all 7 shades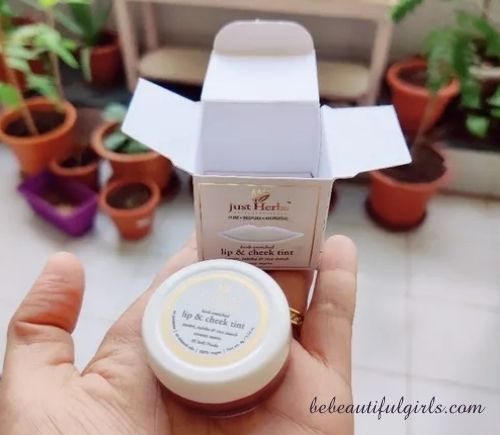 Are you always on the go? Searching for a natural cosmetic product that can do it all? Just Herbs Herb Enriched Lip & Cheek Tint comes in helpful when you require that immediate elegant appearance. Let's go to my own experience with it.