Just herbs 16 mini Lipstick Sampler Kit Review and Swatches
In today's era, most people prefer to use natural beauty products as many of us become more aware of what we're putting on our faces and skin. We're also becoming more conscious of what we're applying for makeup in our daily beauty regimen.
Discover natural and organic cosmetic brands like primer, foundation, concealer, mascara, eye-shadow, etc., are challenging but not impossible, and a Makeup look is incomplete without lipstick. So, if you believe in using natural makeup, you need to pick natural lipstick as well.
Many makeup brands offer skincare and makeup samples to test those products. These beauty brands would help us to purchase full-size products.
Therefore today, I share my experience and review my herbal lip color from just herbs products that are herb-enriched ayurvedic miniature lipstick sampler kits.
Just herbs miniature lipstick Review
Just herbs mini lipstick kit is made with Ayurvedic & natural formula. So, its natural ingredients give nourishment and moisture to the lips.
Regular lipstick is made by suspending colored dyes or pigments such as silicones, waxes, paraffin oils, and other form-imparting fillers.
These chemical substances increase the product's senses and texture but have no nutritional goodness for lips. But just herbs India is free from chemicals and artificial pigments, made from natural dyes.
Sale
Last update on 2023-09-14 / Affiliate links / Images from Amazon Product Advertising API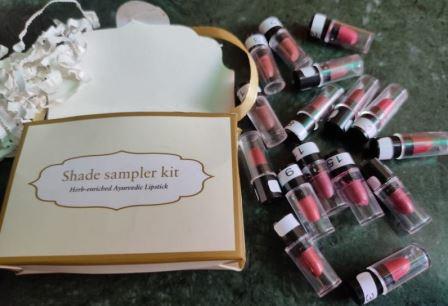 Product Details
Just Herbs Ayurvedic lipsticks are made with Vata pacifying herbs such as Indian Kudzu, Guduchi, Bhrami, Bala, Yashtimadhu, Shatavari, and Manjishtha.
Herbal mini lipstick set is a base of Ghee and sesame oil. So, it provides the nutritional benefits of the herbs to the deepest layers of the skin.
It includes cow ghee and organic beeswax. So, It helps to nourish the lips and maintains the natural texture of lips. It is available in 16 different colors for every skin tone.
Just herbs mini lipstick price: Rs. 575
Made without: Free from Petrochemicals, Silicone, Synthetic film-former & Parabens.
My write-up on Just herbs Lipsticks
I have always loved natural and organic beauty products. So I used to be substantially fascinated by natural lipstick. Then I tried Just herbs organic lipstick, which is a herb-enriched ayurvedic sampler kit.
I need to apply it a few strokes to ensure it stays for the day. It's ideal for people who start using lipsticks or have minimal use to repeat a similar shade. I like the matte effect it gives. And as a matte lipstick, this one is extremely easy to get rid of too. 
The best part is that the just herbs mini lipstick set has no harmful chemicals. So I can apply and not be worried about the hours I'm wearing it for, I'd intake if I were to eat. Plus, you don't need to apply lip balm for moisturizing.
Just herbs lipstick expiry date tells you that this can be used within three years, but sheer if you look, it says six months from the opening date, which means I need to finish all of this in six months. So I hope you can do that.
I will certainly not be able to finish any lipstick in six months. I use lipstick sparingly, but it perfects natural lipstick if you wear makeup and use it every day.
This just herbs trial kit has long-lasting durability and reliability as compared to international brands. Even after eating, it stays, so I can say that it is waterproof lipstick. Smooth gliding lipstick shades give a matte look, and the colors are just perfect.
Also, you don't need to moisturize your lips before using this lipstick palette. This herbal mini lipstick set contains a lovely color and a light fragrance.
[Read about Fabulous 'Renee Fab 5 in 1 lipstick']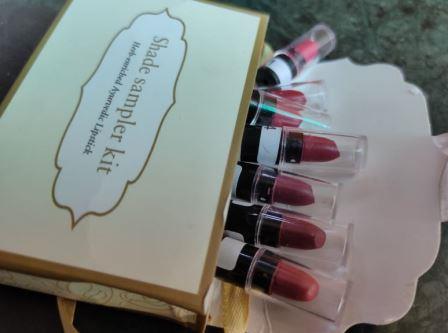 Packaging
Just herbs miniature kit comes in a very beautiful small packet, making it difficult to believe that it can accommodate numerous beautiful shades. Sixteen packs of herbal lipstick colors come in a tiny box, a beautifully wrapped kit. So, it's easy to hold everywhere. Once you unpack, it's straightforward to glide and use. The packaging mentions the ingredients contained.
Texture
It has a smooth consistency, is quite creamy, and matte finish lipstick; they are not glossy.
Size
Every lipstick in this set is 3 cm long, approximately one-third the size of your index finger.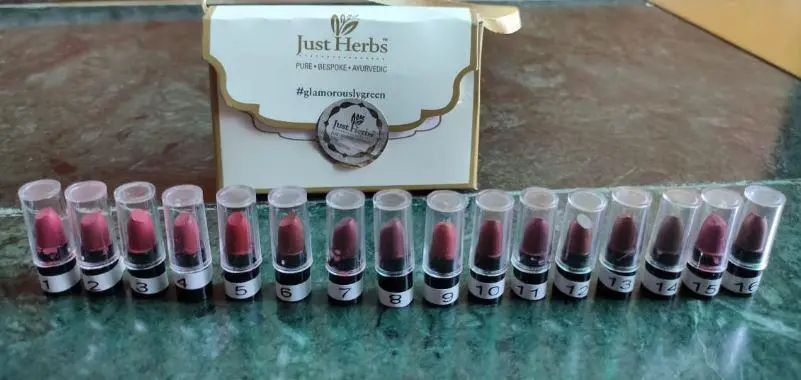 Just herbs mini lipstick shades
Just herbs lipstick combo gives 16 different lipstick colors for all skin types. Also, you can create any color blend you wish.
Shades 1, 2, and 3 are pink, light pink to dark pink. Shades. 5 and 6 are deep dark red. Shades 7, 9, 10, 13, and 16 are nudes. Shades 8 and 12 are maroon and brown lipstick. Shade 4 is reddish-pink color. Shade 11 is purple lipstick. Shades 14 and 15 are bright red and pink.
[Get colored moisturized lips with Burt's Bees Tinted Lip Balms]
Just herbs mini lipstick swatches: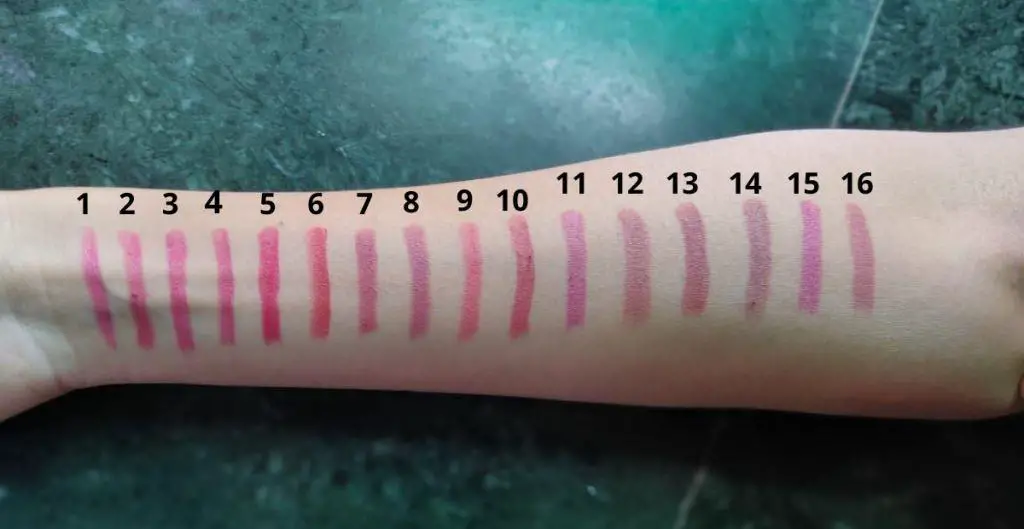 Pros of Just herbs lipstick
PETA certified: Cruelty-free
Free from harmful chemicals
Long-lasting effect
Waterproof formula
budget-friendly
Doesn't dry out lips
Variety of color range
Keep the lips smooth
Moisturized chapped and dry lips
Cons of Just herbs lipstick
The lid lock – It is not tight enough and tends to come off on its own.
The color indicator – there are only numbers on the lipstick, which makes it difficult to understand the shade.
Shelf life: 3 years from manufacturing
Availability: Easy (You can purchase it on its official site justherbs.in)
Overview
These are sampler lipstick set from just herbs that help you test the lipstick color and try the shades before purchasing full sizes of them. This natural lipstick is long-lasting. Its creamy texture glides smoothly and gives a matte finish look. It offers 16 different lipstick shades that match all skin types. It is free from parabens, silicones, and other harmful chemicals.
Last update on 2023-09-10 / Affiliate links / Images from Amazon Product Advertising API