Simple Kind to Skin Hydrating Light Moisturizer Review
Simple is a brand that obtained my interest with its "Sensitive Skin Experts" tagline. And I fell in love with Simple after using their refreshing face wash. It got my trust by proving to be effective on my sensitive and acne-prone skin while still being inexpensive.
Simple products are also gentle on the skin and contain skin-friendly ingredients. All of their products are free of dyes, perfumes, and other harmful ingredients. This skincare line is PETA cruelty-free and produces high-quality products.
I decided to test their other products after falling in love with their face cleanser. I purchased Simple Skincare Hydrating Light Moisturizer and am pleased with my purchase.
There are three variations, Rich – for dry skin, Light – normal to oily skin, and Protecting Light Moisturizer, an SPF variant. I avoided the SPF version because it didn't provide sufficient sun protection, therefore I prefer to use a high-SPF sunscreen.
I've been using this moisturizer for a month and am excited to share my thoughts. Let us go deeper into the details.
Simple Hydrating Light Moisturizer Review
Simple kind to skin hydrating light moisturizer is an oil-free facial moisturizer that moisturizes skin while leaving it silky, smooth, and properly hydrated for up to 12 hours.
The lightweight, non-greasy, and fast-absorbing formula of this oil-free moisturizer is great for even oily skin because it doesn't clog pores and moisturizes the skin deeply.
It has no artificial fragrance, no color or dye, and no alcohol. It has passed dermatological and ophthalmological testing. It has been tested and approved as non-comedogenic and hypoallergenic, making it perfect for people with sensitive skin.
Product Details
It contains skin-loving ingredients like vitamin e, borage seed oil, and pro-vitamin b5, which helps to replenish moisture while also treating dry and dehydrated skin.
Simple skincare hydrating light moisturizer is a water-based moisturizer that is good for all skin types. This non-comedogenic product has a mild formula that won't clog pores and will leave your skin feeling smooth and refreshed.
Price
INR 430 for 125 ml
$9.90 for 4.2 Ounce
Get it at discounted price Here.
Simple Kind to Skin Hydrating Light Moisturizer Ingredients
Aqua, Glycerin, Pro-Vitamin B5, Vitamin E, Polyglyceryl-3 Methylglucose Distearate, Paraffinum Liquidum, Cetyl Palmitate, Acrylates/C10-30AlkylAcrylateCrosspolymer, Dimethicone, Bisabolol, Borago Officinalis Seed Oil, Carbomer, CetylAlcohol, Caprylyl Glycol, DisodiumEDTA, Pantolactone, PentyleneGlycol, LacticAcid, Panthenol, Phenoxyethanol, PotassiumCarbonate, Serine, SodiumLactate, Sorbitol, PotassiumHydroxide, TocopherylAcetate, Urea.
What the product claims:
An oil-free face moisturizer with up to 12 hours of hydration.
The formula is light and absorbs quickly.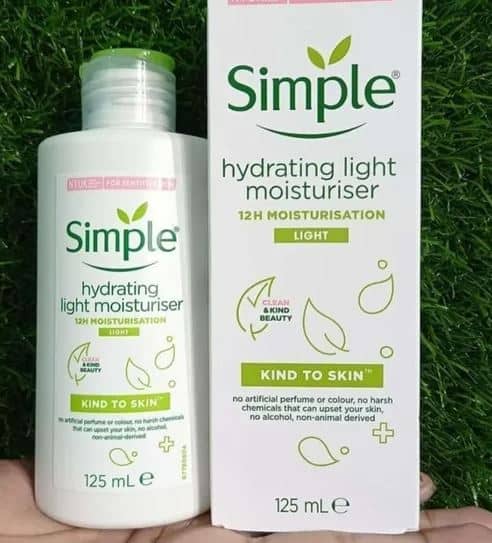 My write-up on Simple Kind to Skin Hydrating Light Moisturizer Review
A simple hydrating light moisturizer is lightweight on the skin but provides deep hydration. My skin feels refreshed and luscious after using it. It is also a fragrance-free moisturizer, which is excellent.
It's a lightweight, quick-absorbing solution that doesn't clog pores, hydrates my skin, and keeps it looking clean and fresh. Because of the skin-friendly and non-comedogenic components in this product, I didn't have any irritation or acne breakouts. They have no propensity to clog pores on the skin, preventing acne breakouts.
Also,  It absorbs quickly and does not make my skin greasy like other moisturizers. The mild fragrance is fresh and subtle. I use about a coin-size amount for my neck and face. A small amount goes a long way. The price is reasonable, and the quality is excellent.
After using it, my skin feels soft and refreshed. I use it twice a day, morning and nighttime, after cleansing my face. After weeks of constant application, it treated my pimples and reduced their marks. My skin was also glowing, clear, and nourished. It's good for oily and combination skin types.
I recommend it for oily skin, sensitive and acne-prone skin, and all skin types that endure humid summers and need gentle moisturization. Also, makeup went smoothly on oily skin types and did not leave it sticky.
Because it is a light moisturizer, a simple light moisturizer may not be highly moisturizing and may not give enough moisturization for persons with dry skin.
It effectively moisturizes my skin, reduces pimples, removes dry spots, and helps in the removal of acne marks. It is a great moisturizer for sensitive, oily, or acne-prone skin.
This nourishing moisturizer has no artificial smell, colors, or harsh chemicals that can aggravate your skin; it is suitable for even the most sensitive skin. It also did not irritate or aggravate my sensitive skin. It's also the best face moisturizer for sensitive skin.
Sale
Simple Hydrating Light Moisturizer 4.2 Ounce
One 4.2-ounce bottle of Hydrating Light Moisturizer from Simple
Light silky formula provides all-day nourishment and moisture with added...
Contains skin-loving ingredients: Glycerin and Borage Seed Oil
Last update on 2023-09-14 / Affiliate links / Images from Amazon Product Advertising API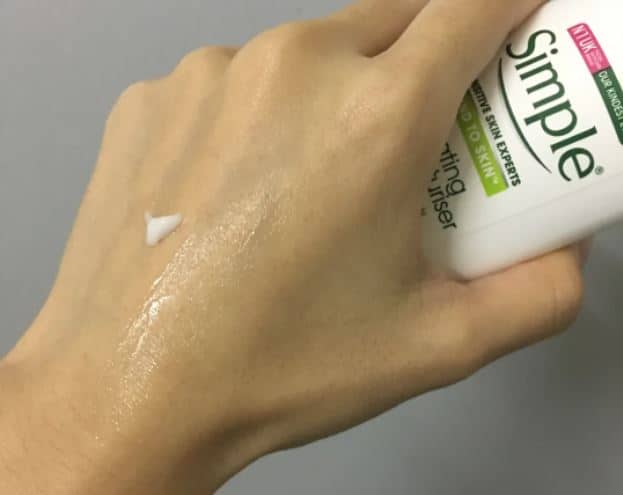 Packaging
Simple skincare hydrating light moisturizer is packaged in a white opaque squeezable plastic bottle with a flip-open cover with a nozzle for precise product dispensing. Although the bottle is light, the packaging prevents the product from being seen from the outside. The labels contain all of the required details. Overall, the package is sturdy and convenient to travel.
Consistency
Simple Hydrating Light Moisturizer has a thick, creamy-gel consistency that is not runny. It has a smooth texture that absorbs rapidly and does not leave a film or shine on the skin.
Fragrance
This is a fragrance-free moisturizer, which I love because fragrance-based products hurt the skin and can be too heavy or irritating for people with sensitive noses. It has a subtle medicated odor to it that isn't unpleasant.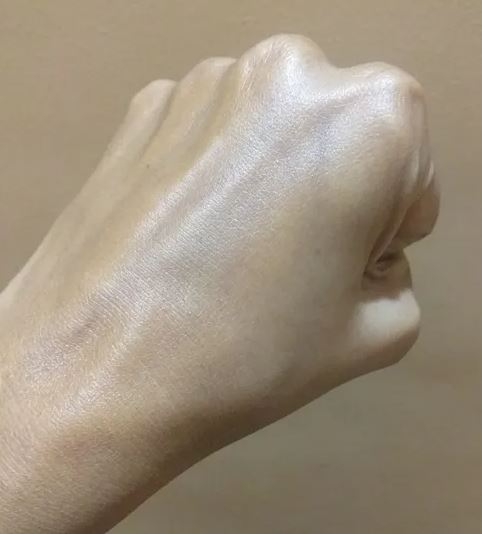 Pros of Simple Kind to Skin Hydrating Light Moisturizer
Affordable
Lightweight formula
Non-comedogenic
Absorbs quickly
Keeps skin moisturized throughout the day
Easy to blend into the skin
Non-greasy and non-shiny
Fast-absorbing formula
Free from harsh chemicals
Leaves skin soft and supple
Treats pimples and fades away marks
It makes skin look healthy
Cons of Simple Kind to Skin Hydrating Light Moisturizer 
Overview
Simple skincare hydrating light moisturizer is a lightweight that will keep your skin moisturized throughout the day and night. It also gives the skin a light feel and a soothing moisture effect. It's the perfect moisturizer for oily, sensitive, or acne-prone skin. It also has no pore-clogging or abrasive ingredients. It hydrates wonderfully without leaving a greasy or shiny coating on the skin, and most of all, it works to fade pimples and scars. It's one of the best moisturizers for oily, sensitive, and acne-prone skin overall.
Frequently asked questions
Can I use Simple Hydrating Light Moisturiser at night?
Yes, you can use Simple Hydrating Light moisturizer at night. This product contains moisturizing ingredients which help retain moisture in the skin. The best way to apply this product is to massage it into your face and neck after cleansing.
Is simple hydrating light moisturizer good for acne?
It is non-irritating to the skin and won't clog your pores. As an oil-free moisturizer that does not leave an oily residue, this non-comedogenic moisturizer does not cause acne. Therefore, it's a wonderful choice for oily or acne-prone skin.