There are so many moisturizing products – creams, lotions, gels, etc. available in the market. It becomes difficult to pick one which will suit your skin.
However, after doing a lot of research on various moisturizers available on the market, Today I am reviewing one of my all-time favorite moisturizers for the winter – NIVEA Soft Light Moisturizer.
Some ingredients turn dry skin even drier like Alcohol and steroidal. Also, Some elements like waxes, Shea butter, and mineral oil may clog skin pores. 
Therefore, if you are searching for great facial moisturizers that will spoil your dry skin and keep it healthy without the utilization of any harmful ingredients, Nivea Soft Light Moisturizer is the right decision. We reveal to you why.
Nivea Soft Light Moisturizer Cream Review
Product Details
It is an ultra-light body lotion that protects you from the sun's harmful rays and the non-greasy formula makes it perfect for the summer. Also, Its UVA and UVB filters protect you from sun damage that causes skin darkening and aging. 
It is fast-absorbing moisture cream that refreshes your skin. Its refreshing formula refreshed skin throughout the day in all seasons.
Nivea soft is also available in: Chilled Mint, Berry Blossom, Tropical Fruit
Sale
Last update on 2023-11-10 / Affiliate links / Images from Amazon Product Advertising API
Price:
50 ml, Rs. 85
200 ml, Rs. 250
300 ml, Rs. 349
Nivea soft light moisturizer ingredients:
Aqua, Glycerin, Myristyl Alcohol, Butylene Glycol, Alcohol Denat., Paraffinum Liquidum, Stearic Acid, Myristyl Myristate, Glyceryl Stearate, Hydrogenated Coco-Glycerides, Dimethicone, Sodium Carbomer, Phenoxyethanol, Cera Microcristallina, Polyglyceryl-2 Caprate, Tocopheryl Acetate, Lanolin Alcohol (Eucerit®), Parfum, Simmondsia Chinensis Seed Oil
Made without: Parabens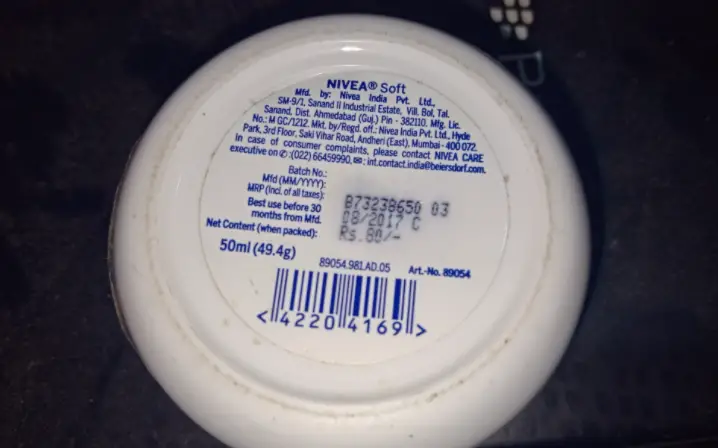 What it is:
A highly effective, intensive moisturizing cream for daily use
What Nivea soft light moisturizer claims:
PH neutral and Skin compatibility dermatological approved: NIVEA SOFT.
What it does:
Its quick-absorbing formula gives refreshed skin throughout the day in all seasons. It provides substantial moisturization and leaves your skin soft and supple. The light formula is quickly absorbed giving you rich moisture care. 
My write-up on Nivea Soft Light Moisturizing Cream
Company Nivea does not need any introduction and is known for its quality products. They have a great range of products in the skincare division. Nivea Soft Moisturizing Cream – as the names state it is very soft.
I have a combination type of skin that goes very dry in winter. I have been using this cream for a while before that I used the original Nivea cream which was incredible yet somewhat hard to apply due to its stiff texture. This cream offers you the moisturizing effect of the original cream and is very easy to apply because of its very soft texture.
Compared with the Nivea original, I feel Nivea soft is much better in terms of moisturizing and product introduction. It contains vitamin E which is significant for skin moisturizing and gives a nice shine to your face. Also, it's less oily than normal face moisturizers.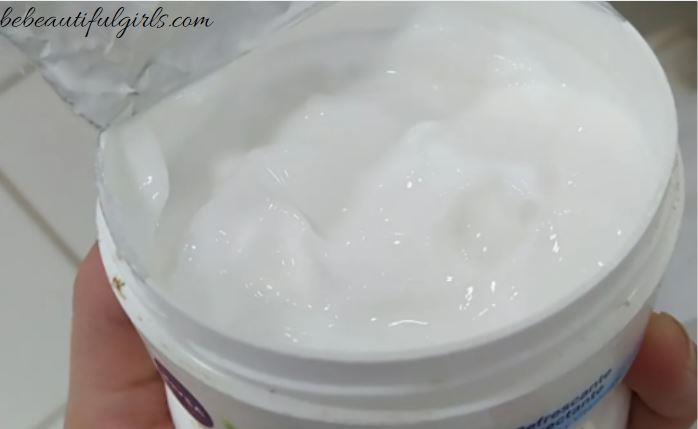 Also Read: Cetaphil Moisturizing Lotion Review-best or worst?
The best moisturizer I have ever used. I'm using it on my morning skincare schedule, night skincare routine as well as before my cosmetics. Also, It works as a great makeup base for dry skin people and can be used under foundation.
I usually apply it before leaving home and my skin feels supple and soft. This moisturizer keeps my skin feeling hydrated and soft for the duration of the day without expecting me to apply it again. The best part is it is a moisturizer yet it doesn't feel clingy on your skin.
It is a bit greasy at first but then it settles with time. It is a great moisturizer for everyday use as it also softens your skin. Nivea Soft Light Moisturizer doesn't light up or brighten skin. It moisturizes and hydrates the skin. 
It has a soft texture on your skin not too harsh but if you are using this product in summer and you have oily skin it won't get absorbed easily and will be greasy after some time. Pleasant fragrance, multipurpose however great if you use it in winter as it will work perfectly.
NIVEA Soft is a moisturizer that is ideal for anyone having dry skin. This is one of the best drugstore moisturizers. It has a watery texture that is specially made for oily or combination skin.
This is a lightweight moisturizer that gets effortlessly ingested into the skin. It is non-greasy and non-comedogenic, making it good for oily skin. Also, it is good for sensitive skin as never caused any breakout.
The only thing that ought to be improved is the staying power. It is not that super long-lasting but after application, you'll feel the nourishment. It is preferable for all skin types. 
Overall, NIVEA Soft is the ideal hydrating moisturizer if your skin tends to become parched. It hydrates the skin from the inside out, making it softer and supple. It moisturizes the skin for a long time. This cream has a wonderfully calming scent.
Packaging
Nivea Soft Light Moisturiser comes in a white flattened plastic container with a screw cap. Its sturdy, compact size and tightly secure cap make it ideal to carry while traveling. The jar packaging is a little unhygienic but I don't mind it as this product works great for my skin.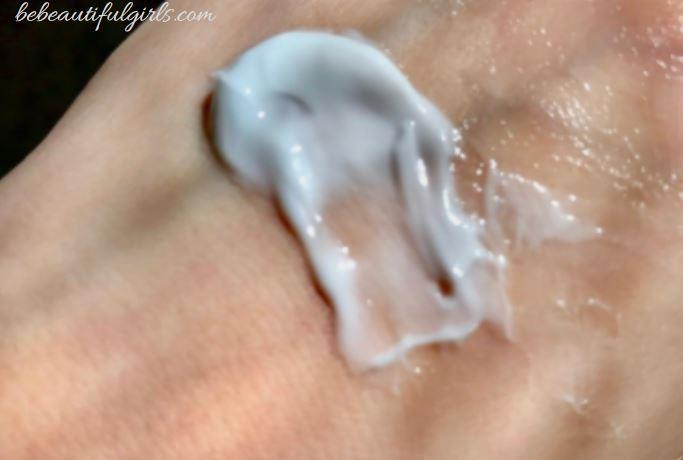 Color: A milky white color cream
Texture
It has a light texture and a perfect consistency neither too thick nor runny. It has a medium creamy consistency that glides smoothly onto the skin. After massaging gently, it gets consumed, without feeling oily or sticky on the skin.
Fragrance
It has a signature Nivea smell, which is somewhat strong for sensitive noses. It has a sweet floral aroma that I like.
Also Read: Cetaphil Moisturizing Cream Review -for dry and sensitive skin
Nivea Soft Light Moisturizer uses:
Nivea Soft moisturizing cream can be used on all body parts, even on the face. It gets fast absorbed and provides adequate hydration to the face. It doesn't leave a greasy, oily feeling and enhances a little glow on the face.
Nivea Soft Light Moisturizer side effects:
No, it has no recorded side effects or any skin allergies so far. However, if you notice any stinging, swelling, irritation, burning, redness, or itching, discontinue usage immediately.
How to use:
Take a small amount of Nivea Soft Light Moisturizer and rub it onto your palms to spread uniformly.
Apply all over your cleansed face and body. 
Gently massage for better absorption.
Use daily for soft and healthy skin.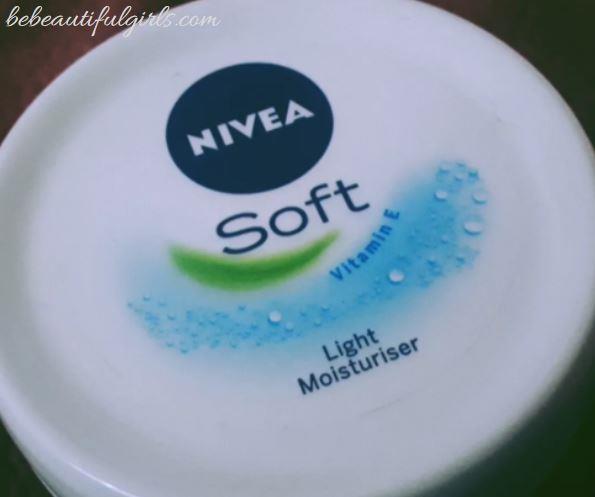 Nivea soft moisturizing cream benefits 
It is terminologically tested which feels very light and non-sticky on your skin. It is enriched with Natural moisturizing agents which make your skin soft and helps nourish it from deep within.
If you have dry skin and want your skin to feel moisturized, this is an ideal product for your glowing skin. 
It has a really-like texture that seeps into the skin and gives maximum hydration to the skin for a long time.
Due to the presence of Jojoba Oil and Vitamin E in the cream, the skin gets a great rejuvenation and becomes very smooth.
I used the product and I found when the cream is applied to the skin, it absorbs completely and you will not find residue on the skin.
It contains jojoba oil and glycerin which enriches our skin deeply, softens the skin, and especially protects skin in winter.
Its unique formula makes skin super moisturized, soft, and supple and does not leave it feeling greasy or sticky. This light cream is the Best Moisturizer for acne-prone skin.
Vitamin E and jojoba oil make skin fresh and soft through deep penetration. It refreshes my skin as it quickly melts into the skin.
It moisturizes the skin, nourishes dry skin, and heals cracked patchy skin, preventing dryness. It makes skin soft and healthy. It is suitable for dry skin.
This moisturizer from Nivea is the best choice for people who have oily and acne-prone skin. This face moisturizer gives you a mild coating on your skin and doesn't give a harsh oil look. 
Pros of Nivea Soft Light Moisturizer
Affordable
Great moisturizer for all skin types
It also comes in a tube, easy to carry
Gentle moisturization
Quick absorption
Softens and smoothens skin
Multipurpose usage moisturizer
Moisturizes and nourishes the skin
Cons of Nivea Soft Light Moisturizer
Tub packaging is a little unhygienic to use
It comes without SPF
It contains denatured alcohol, which may make drier skin
Shelf life: 30 months
Availability: It is easily available at local beauty stores and leading online shopping websites. 
Overview
I highly recommend Nivea Soft Light Moisturiser to everyone. It's suitable for all skin types. Especially oily skin people who don't like an oily moisturizers. Dry skin beauties may need to use somewhat more amount than instructed. 

Most skin gets damaged in winter and this Nivea soft cream is an excellent way to protect our skin from winter damage. So, I strongly recommend this cream in the winter season and it is also very good even in summer.
Last update on 2023-11-10 / Affiliate links / Images from Amazon Product Advertising API