WOW Aloe Vera Hydrating Face Wash Review
Aloe Vera has recently gained popularity due to its ability to moisturize the skin while also having anti-inflammatory effects. WOW's face wash is made with aloe Vera extract and other natural ingredients to soothe and hydrate the skin.
I've been using WOW aloe Vera gel for a while now, and I truly like it. So I'm interested in trying the Wow Aloe Vera face wash. As a result, I'm sharing my thoughts on the WOW skin science aloe Vera hydrating face wash today.
WOW Aloe Vera Hydrating Face Wash Review
WOW Aloe Vera Face Wash replenishes moisture with calming hyaluronic acid, cucumber extract, and calendula. Pro-vitamin B5, aloe vera extract, and green tea tighten pores while protecting skin from environmental pollutants that tired the skin's radiance.
This wow face wash cleanses dirt and grime off the skin without disrupting the natural hydration levels of the skin. Regular application keeps skin free of pollutants and grime from the environment.
Product details
Wow Aloe Vera Hydrating Face Cleanser is an antioxidant-rich facial wash with a mild cleansing effect. It contains Aloe Vera extract, cucumber extract, calendula flower extract, and green tea extract.
Its powerful formula cleanses, tones, and moisturizes your skin. This foamy face cleanser eliminates dirt and dead skin cells from the skin's surface while maintaining the skin's natural moisture barrier.
It is good for persons with sensitive skin because it contains Pro-Vitamin B5 and Hyaluronic Acid. It can be used twice a day to give skin a great clean, soft, healthy, and glowing appearance.
Price:
INR 249 for 100 ml
$11.95 for 100 ml
Get it at discounted price Here.
WOW Aloe Vera Hydrating Face Wash Ingredients
Purified Water, Sodium Cocoyl Isethionate, Cucumber Extract, Allantoin, Sodium Hyaluronate (Hyaluronic Acid), Cocomonoethanolamide, D Panthenol(Pro-Vitamin B5), Aloe Barbadensis Leaf Extract, Disodium Cocoyl Glutamate, Calendula Officinalis Flower Extract, Cocamidopropyl Betaine, Xanthan Gum, Triethanolamine, Fragrance, Carbomer, Tocopheryl Acetate (Vitamin E), Glycerin (Vegetable Derived), Potassium Sorbate, Sodium PCA, Sodium Benzoate, Camellia Sinensis (Green Tea) Extract, Phenoxyethanol & Sodium Gluconate
Made without: Aloe Vera Face Wash by WOW Skin Science is a natural product and is free from harsh chemicals such as paraben, silicone, mineral oil, sulfate, and gluten.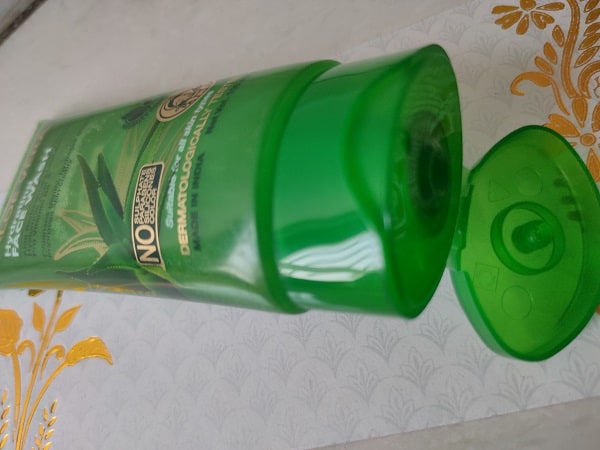 My write-up on WOW Aloe Vera Face Wash Review
My skin is normally oily and acne-prone. After cleansing my face, leaves my skin healthy, refreshed, and glowing. This wow hydraulic acid face wash gently removes debris, impurities, and oil from my face without drying up my skin.
In the winter, my skin is extremely dry, and after washing it, it becomes stiff and then cracks. The skin then peels off, leaving a white powdered appearance. However, I do not experience the stuffy feeling I have with other face washes or soaps.
This face cleanser does not leave my skin feeling stretched or dry. Also, it does not strip the skin's essential moisture. My skin feels nourished and hydrated. It is the best face wash for dry skin.
It doesn't remove face moisture and works best for mild acne. It's a gentle face wash that's ideal for acne-prone and sensitive skin. It doesn't bother sensitive skin or trigger acne breakouts. It didn't help with pimple marks or dark spots, either.
It's a good face wash for people with dry skin. Furthermore, I have oily to combination skin, and this face wash is ideal for me. It hydrates my skin and makes it silky smooth.
This wow face wash works well on oily skin since it absorbs excess oil and leaves the face moisturized and radiant. It also maintains an oil-free appearance for a long time. It's therefore ideal for oily, dry, and acne-prone skin.
It lathers up well enough to cleanse the skin without leaving a greasy or slippery residue. However, I would recommend using the scrub as well for congested pores. It also didn't cause me any irritation or side effects and is safe to use.
Overall, it helps remove daily debris and dust from the face while maintaining the skin's natural moisturization. It also helps deep cleanse the skin and provides a fresh, bright appearance.
Sale
Last update on 2023-09-15 / Affiliate links / Images from Amazon Product Advertising API
Packaging
The Wow aloe Vera face wash is packaged in a green tube with a flip-open cover. It has a nozzle that delivers a sufficient amount of product without spilling any. The cap locks shut securely, making it easy to travel. The backside of the tube contains all of the information. Overall, the packing is simple and travel-friendly.
Consistency
It has a gel-like watery texture and foam with enough lather to wash the face of all impurities thoroughly. It also washes off the face with water easily without leaving anycast.
Fragrance
It has a mild and refreshing smell.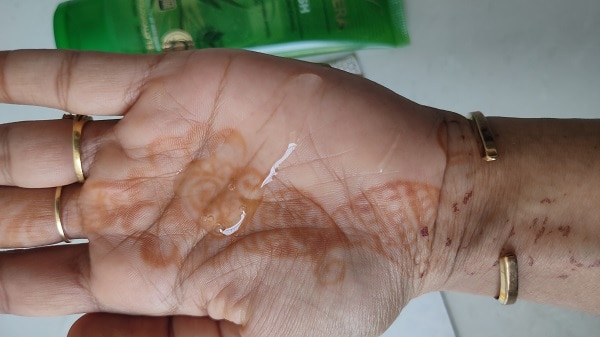 How to use Wow aloe vera face wash
Apply a pea-sized quantity to the wet face and massage for 40 to 50 seconds in a circular motion.
Rinse thoroughly with cool water.
Pat skin dry with a towel before applying moisturizer.
Pros of WOW Aloe Vera Hydrating Face Wash 
Budget-friendly
Natural and vegan
Nice fragrance
Free from parabens and silicons
Cleanses the skin deeply
Hydrates the skin well
Suitable for oily, dry, and acne-prone skin
It gives the skin a dewy glow
Feels refreshing after the wash
Travel-friendly packaging
Cons of WOW Aloe Vera Hydrating Face Wash 
Overview
WOW Aloe Vera Hydrating Face Wash is free of harmful parabens, sulfates, and mineral oils. It removes dust and pollutants from the skin on a daily basis without damaging its natural hydration levels. It's great for oily, dry, and acne-prone skin types.