Your skin will thank you for doing your skin a favor by adding your skincare regime with the remarkable impact of the Prolixr Sea Algae Face Mask.
Prolixr products offer efficient, safe, high-quality, and allergy-tested products that are flattering daily natural beauty. The brand delivers the goodness of natural ingredients to obtain long-lasting fresh, glowing skin.
Prolixr Detoxifying Sea Algae Mask Review 
This pink clay mask is the best Pore Minimiser that leaves my skin seeming clean and fresh. For best results apply after steam.
It efficiently unblocks clogged pores and reduces visibility. After using it, my skin pores vanished immediately, and the most remarkable aspect it smells amazing.
Prolixr Detoxifying Sea Algae face mask is among the best beauty products I have used in some time. I have sensitive skin and try to find a suitable product for the skin; however, this mask is a wonder. It does not just straighten out your pores as well as provides a natural shine.
The mask is very delicate on the skin and didn't leave any acne or pimples on my face post-use. There was no aggravation on my delicate skin. The mask is so powerful in unclogging the pores and eliminating dirt.
This adorable pink face mask enhances my skin textures quickly and invigorates it thoroughly, particularly after a long workday.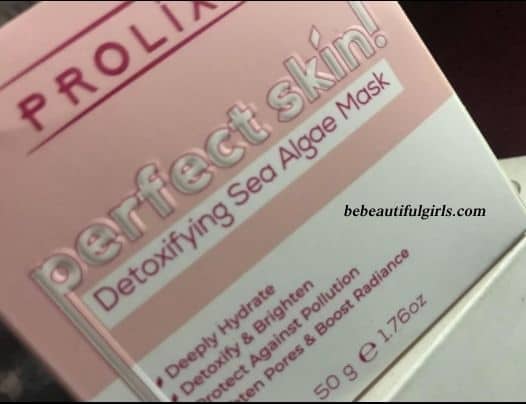 Product Details 
The Prolixr Detoxifying Sea Algae Mask is made with key ingredients seaweed algae, diatomaceous Earth, hyaluronic acid, activated charcoal, and Vitamin C.
Algae extract is loaded with minerals and vitamins that shield your damaged skin. Seaweed algae deeply cleanse the pores and detoxify the skin. Also, it helps to battle breakouts.
Vitamin C brightens and lightens the skin for an instant glow and provides skin hydration. Activated charcoal removes dirt, oil, and impurities in your skin to get an even and balanced skin tone.
Price: Rs.999, 50 gm (1.76 oz)
Last update on 2023-09-14 / Affiliate links / Images from Amazon Product Advertising API
Prolixr face mask ingredients
Diatomaceous Earth, Silica, Vitamin C, Sodium Alginate, Activated Charcoal, Tea Tree Oil, Niacinamide, Sodium Sulphite, Calcium Sulphate, Cromium Oxide Green CI: 77288, Red Iron Oxide, Earthy Spice Fragrance, Phenoxyethanol, EDTA Sodium, Methyl Chloroisothiazolinone, Methyl isothiazolinone, Mica Pearl CI 77019, Hyluronic Acid
Made without: Paraben-free
Features:
No harmful chemicals
Natural ingredients
Not tested on animals
Sourced sustainably
Recyclable materials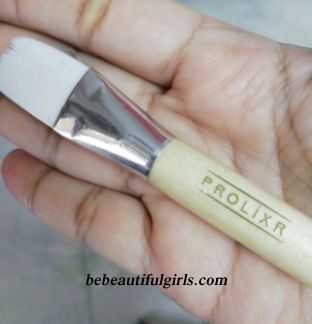 My write-up on Prolixr Face Mask Review
After a lot of research, I purchased this product and was truly amazed by all the ingredients, packaging of the product, and presentation of the offering. I bought the Prolixr mask a while back. Simply a glow was added to my cheeks after application and felt my skin extra soft.
This seaweed algae mask helped my skin to face a lot of whiteheads and open pores. So, it tightens the pores and leaves my skin slightly smoother.
It wipes quickly and even washes away easily. It makes my skin soft after the first application. I noticed that it left my skin so delicate and soft, after washing away the mask. It does the work of clogging my pores.
Prolixr Detoxifying Sea Algae Mask is ideal for providing that essential boost of glow to the skin after a busy workday for incredibly fresh and soft skin.
This facial mask can likewise be useful for skin inflammation because of its active ingredients like hyaluronic acid and niacinamide. It contains vitamin C and activated charcoal which may help disappear scars and eliminate pollutants from your skin.
However, I didn't want the single thing that the sea algae, which claims to be the title of the cover, are eventually placed on the ingredients list.
It is perhaps the most effective face mask that I have ever utilized. I have an incredibly sensitive and dry skin type. There are only a few products that suit my skin type. It is probably the best face mask that provides perfect nourishment and dampness to my face and some other products. 
Consistent usage diminished the tan steadily. Mask containing the sea algae extract to make it very effective in toning and hydrating the skin.
It likewise addresses the fine lines and lessens them. The activated charcoal element eliminates dead skin cells and unclogs pores giving a clear and glowing face. Overall, this is an incredible face mask to use.
This face pack can be applied with rose water and imparts a healthy glow and cleans the skin from within. Lastly, this product also claims to be cruelty-free and vegan, which caters to more attraction.
It is very expensive however you can get a discount using prolixr discount code. Also, it is a very effective prolixr face mask for open pores. Both women and men can use this product.
[Read about Cetaphil Moisturizing Cream Review- Benefits & Side effects]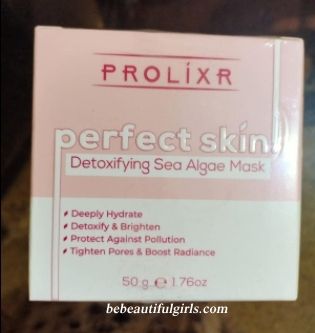 Smell: It has a soft, mellow fragrance that calms nerves right away.
Packaging: The cream comes in a baby pink color tub along with a prolixr silky-soft applicator brush that is a travel-friendly container. It is effortless and comfortable to apply. 
Prolixr face mask side effects
There are no prolixr side effects. It may not cause severe skin irritation or any serious allergic reaction. The face mask gave a cooling effect and made you relax. However, prior to using it, take a patch test.
How to use prolixr face mask:
Cleanse your face and apply the face mask evenly over the face, including all areas except the eyes using the soft applicator brush given with the mask.
Keep it around 10-15 minutes until it dries completely.
Massage gently and wash it with lukewarm water. 
Pat dry using a soft towel and moisturize your skin.
[Read about How to control oily skin?]
Prolixr face mask benefits
It contains a hydrating formula that increases skin dampness and provides nourishment to the skin.
Algae mask made with natural ingredients reduces skin infections, improves skin glow, and promotes healthy skin.
It delivers clear and fresh skin and enhances skin tone and texture.  
Prolixr sea algae mask is formulated with skin-caring ingredients that maintain the skin smooth and supple.
This product detoxifies and purifies skin by eliminating dirt, dead cells, and impurities because of pollution.
Pros of Prolixr Detoxifying Sea Algae Mask
No irritation or further breakouts
Spreads easily over skin
Moisturizes the deep pores
Pleasant fragrance
Clears skin blemishes
Skin lightening properties
Enhances skin texture
Tightens the skin's pores and makes baby-soft skin
Cons of Prolixr Detoxifying Sea Algae Mask
A little expensive for such a quantity
Overview
Prolixr Detoxifying Sea Algae Mask is a paraben-free skincare product that pampers your sensitive skin. This light-weighted face mask dries quickly into the skin. It gave me an instant shine and made my skin baby soft.
Also, it helps to detoxify and brighten my skin. Prolixr face pack makes my skin feels refreshed and hydrated. It works wonders for allergy-prone sensitive skin. The face mask includes the goodness of natural ingredients.
It is suitable for all types of skin Because the product doesn't have any toxic chemicals. This clay mask is 100% vegan and also a cruelty-free product. 
Frequently asked questions
Is Prolixr good for oily skin?
Prolixr face mask helps to remove excess oil and impurities from the skin for an oil-free look. It gives the best results for oily skin types. 
Is Prolixr good for dry skin?
Prolixr Detoxifying Sea Algae Mask is very mild on the skin and does not strip the natural oils from the face. But, after applying a face mask, you have to moisturize dry skin.
Is Prolixr good for acne-prone skin?
It contains hyaluronic acid and niacinamide that can be suitable for acne-prone skin. Also, it may help to remove acne scars and provides bright, healthy skin.
Last update on 2023-09-13 / Affiliate links / Images from Amazon Product Advertising API