5 Best Waterproof Eyeliners
From a sassy fox to an innocent doe-eyed beauty, your eyeliner style holds the power to completely transform your makeup look. And while we could give you a whole list of ever-changing eyeliner trends that have evolved the beauty game up until now.
However, we have something even better in store for you – a list of tried, tested, and loved eyeliners that win the people's choice for their one great property – their waterproof formula.
From your Summer season's sweltering heat to the Monsoon's horrifying humidity, the perfect eyeliner will keep your makeup going strong through it all.
A good waterproof eyeliner will not only keep your graphic liners in place till the end of the day but will keep your eye look sharp and on point, come what may.
Now now, don't go clicking away through hundreds of reviews to find the best eyeliner online. You ask why? Because we have a favorite list right here! Bookmark this link to bank the list of the best eyeliners, and keep it handy for your next shopping spree.
5 Best Waterproof Eyeliners
| PRODUCT NAME | CHECK PRICE |
| --- | --- |
| 1. Estee Lauder Double Wear Infinite Waterproof Eyeliner | Check Price |
| 2. Colorbar Precision Waterproof Eyeliner | Check Price |
| 3. M.A.C Dual Dare All Day Waterproof Liner | Check Price |
| 4. Essence Liquid Ink Eyeliner Waterproof | Check Price |
| 5. Maybelline New York Line Tattoo High Impact Liner | Check Price |
1. Estee Lauder Double Wear Infinite Waterproof Eyeliner
This waterproof liner from Estee Lauder is an ophthalmologically tested, fragrance-free beauty tool that gives you an intense and rich finish. It also comes with a sharpener and a smudge tip that can help you style your liner in any way you want.
2. Colorbar Precision Waterproof Eyeliner
With a flexible felt tip applicator, this waterproof eyeliner delivers an intense payoff without smudging, flaking, and cracking. It stays on for a long duration and provides comfortable wear.

3. M.A.C Dual Dare All Day Waterproof Liner
This is a 2-in-1 beauty staple that gives you the benefit of a waterproof liner and a long-lasting kajal on the other. The eyeliner has a fine felt tip that offers an accurate and sharp application. Its waterproof formula is perfect for summer glam as well as rainy day makeup looks.
4. Essence Liquid Ink Eyeliner Waterproof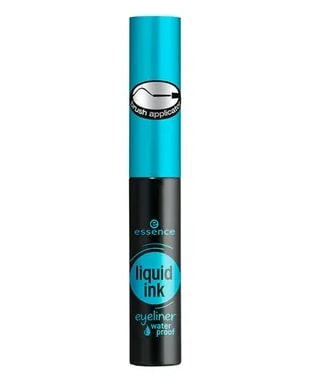 Image Source: Essence
This waterproof eyeliner comes with a fine tip applicator that helps you achieve that sharp eye makeup look with precision and ease. Its waterproof formula keeps your look in place for long hours, even when the heat makes you sweat like crazy.
5. Maybelline New York Line Tattoo High Impact Liner
This Maybelline Eyeliner is water-resistant, smudge-proof, and makes your look last up to almost 36 hours! It is a sketch eyeliner that is easy to use and delivers a precise application every single time.
Frequently asked questions
How do you apply eyeliner?
To apply your eyeliner perfectly, trace the tip of your eyeliner or your eyeliner brush across your upper lid, as close to your lash line as possible. Trace a straight, sharp line. Clean around the edges with a cotton ball immersed in makeup remover. You can extend the outer flick of your eyeliner at an upward angle for a cat-eye or foxy eyeliner look. This eyeliner style would be perfect for big eyes, while a thick eyeliner with a small flick would be suitable for small eyes.
Is there an eyeliner that stays on for days?
Even the best eyeliner with the best makeup practices can maintain a sharp liner look for up to 10-12 hours. While constant reapplication can help you achieve a longer-lasting eyeliner look, it is highly advised to not make your makeup last for longer than 12 hours. Wearing makeup for longer hours can damage your skin and potentially clog your pores. Especially when it comes to eye makeup, you need to be extra diligent.
What is smudge-proof?
Smudge-proof is a characteristic that signifies that the makeup would not easily smudge with heat, touch, or water. It's a sign that this particular makeup delivers a long-lasting makeup look.
Is smudge-proof the same as waterproof?
While the definition of smudge-proof is closely related to that of waterproof, they are not the same. Smudge-proof defines the ability to not smudge easily, while waterproof defines a makeup product that cannot be smudged or removed with water.
Beat the heat this Summer and let your makeup win with these winner waterproof eyeliners. To ensure a long-lasting eye look, begin by moisturizing your eyes, and then topping it off with an eye primer. This primer will make sure that your eye makeup stays on for long hours, and stays put even under harsh temperatures.
Read Also –7 Ways you can wear your eyeliner to step your beauty game up in 2022