Celebrities frequently release their own beauty products in the constantly changing skincare market. Deepika Padukone is a well-known actress recognized for her perfect skin and timeless beauty.
Her skincare line, 82e, has drawn significant attention and curiosity. I chose to try Deepika Padukone's 82e products since I am a skincare enthusiast and fanatic. So I purchased two products- Lotus Splash Conditioning Cleanser and Licorice Beam Clear Sunscreen Gel.
I'll discuss my experience with 82e products in this detailed review and help you determine whether they are worthwhile additions to your skincare regimen.
About the Brand – 82e products by Deepika Padukone
With its high-quality and high-performing products, 82°E tries to make self-care simple, enjoyable, and productive. 82°E, an Indian company with aspirations to dominate the world, started out with a line of skincare products that promote the basics of skin health and plans to diversify into other markets that support a cutting-edge, all-encompassing method of self-care.
A streamlined CHP routine is part of 82°E's (Pronounced Eighty-Two East) skincare principles, which emphasize the importance of cleansing, hydrating, and protecting your skin.
If followed daily, these three easy procedures can give one's skin a healthy, natural-looking appearance. Remember that sunscreen should be worn by people of all genders; after all, good skin care is essential to a healthy body and mind.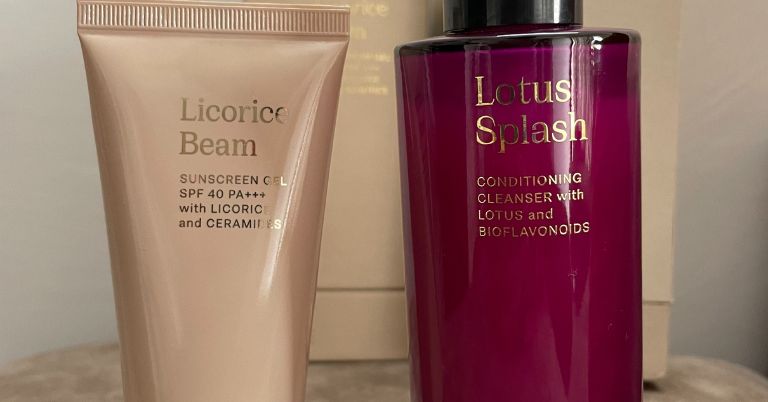 82°E Lotus Splash Conditioning Cleanser Review
Product Details
Lotus Splash is a foaming cleanser that is high in antioxidants and enhanced with bioflavonoids and purifying lotus extract. It replenishes the skin's natural moisture balance.
Its mild yet powerful solution is ideal for daily use, removes impurities including dirt, oil, debris, and makeup, and has been shown in clinical studies to condition the skin.
Its gentle and light formula keeps your skin's PH balance in check and leaves behind a non-greasy radiance.
Key Ingredients
Lotus extract: It has a lot of antioxidants, which improve circulation, boost collagen production, and keep skin supple to reduce the appearance of dark spots and fine wrinkles. Its powerful antioxidant capabilities enhance the natural, healthy radiance of your skin.
Bioflavonoids: Also known to be high in antioxidants, they are great at replenishing the skin's natural lipids and reestablishing the proper balance of moisture. Also, they encourage the creation of collagen and help in skin-tone uniformity.
Key Benefits
Clinically tested
Vegan & cruelty-free
Ophthalmologically tested
Suitable for all skin types
Maintains skin ph
Gentle formula
Tested on sensitive skin
Free from sulfates, phthalates, and parabens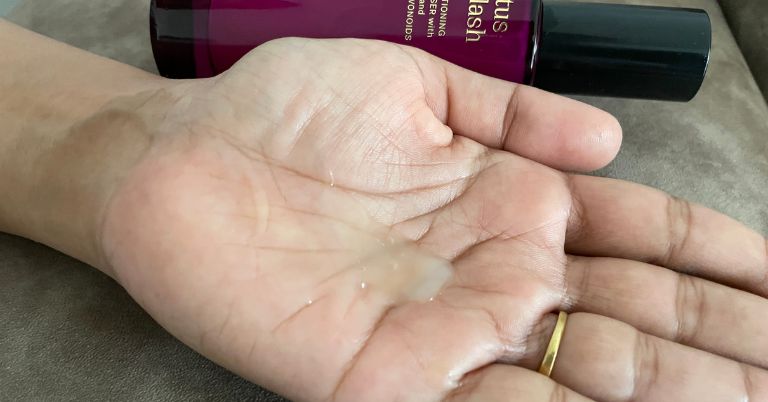 My experience with 82°E Lotus Splash Conditioning Cleanser
I was immediately mesmerized by the Lotus Splash Face Cleanser by 82°E when I first used it because of its elegant packaging, energizing scent, and plush texture. It effortlessly eliminates all traces of makeup, grime, and pollutants after a long day, leaving my skin clean, smooth, and renewed.
It's a thin creamy gel that foams very lightly depending on the amount of water on your hands and face. I honestly adore the feel because I had spent so long looking for it in a cleanser. For my combination skin, the majority of mild cleansers that are creamy don't foam at all, and if they're gels, there's a layer that requires a little more work and time to remove.
I've seen a noticeable decrease in breakouts and a more even complexion after adding this cleanser to my daily routine.
A gentle aroma of lotus blossoms filled the air as I dripped the cleaner over my palm, evoking images of a serene garden. I marveled when I applied it to my face as it developed into a lavish lather and gently embraced my skin.
Although the scent is prominent, I didn't find it offensive. The smell didn't linger on me long enough for me to still be able to smell it after washing. It didn't sting any of my damaged acne scars. After cleansing, there was no post-cleanse dryness, and I had no breakouts.
The bottle's pump-style dispenser only delivers a very small amount, thus it takes three to four pumps to effectively wash my face.
It gives my skin a surge of hydration after each usage. The lotus extract, known for its renewing powers, did its work, while the botanical extracts and essential oils gave my skin a nutrient-rich feast. My complexion gradually started to glow with a renewed vibrancy.
82°E Licorice Beam Clear Sunscreen Gel Review
Product Details
Licorice Beam SPF 40 PA +++ is a transparent sunscreen gel that has been fortified with a strong mixture of licorice and ceramides. Its non-greasy formula shields your skin from the damaging effects of UVA/UVB solar radiation.
Licorice Beam SPF 40 PA+++ broad-spectrum sunscreen shields users from UVA and UVB radiation. This formulation contains multiple ingredients that are also recognized to offer blue light protection.
Key Ingredients
Licorice root extract: It is an effective skin-brightening agent because it inhibits the formation of a melanin-producing enzyme. It is also a powerful antioxidant and helps in soothing skin that has been harmed by UV radiation and other environmental irritants.
Ceramides: It restores the skin's natural lipid levels, which helps maintain moisture in the skin.
By doing this, they guard the skin's protective layer from harm from dangerous outside aggressors.
Key Benefits
Clinically tested
Peta-approved vegan & cruelty-free
Dermatologically tested
No white cast
Non-greasy formulation
Matte appearance
Tested on sensitive skin
Reef safe sunscreen
Suitable for all skin types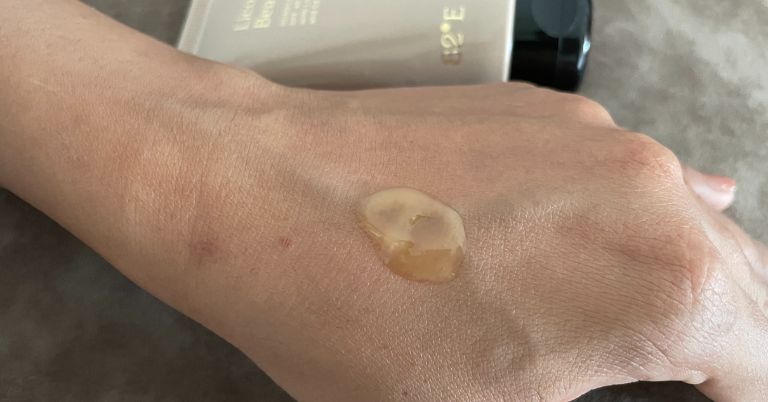 My experience with 82°E Licorice Beam Clear Sunscreen Gel
Since I've been using Licorice Beam for more than a month, I can attest that it consistently fulfills its claims. The texture is wonderfully smooth and mattifying, leaving my skin looking non-greasy. Despite having extremely sensitive skin, Licorice Beam has done wonders for me.
It is perfect for all skin types and tones because it absorbs quickly without leaving a noticeable white cast. This sunscreen looks gorgeous under makeup thanks to its gel-based, mattifying formulation.
Licorice Beam is an excellent sunscreen that leaves no greasiness on my face and softens my skin. It also improves the appearance of your skin by making it brighter, suppler, and smoother.
I use it as a primer as well as a sunscreen, so I need to put on primer separately after using this. I also adore using Licorice Beam when I go outside; it sits well beneath my foundation.
Licorice Beam's sheer, light gel composition, which has SPF 40 PA+++, effortlessly melds with your skin.
Thus, Licorice Beam effortlessly fits into your skincare and beauty regimens, whether you're getting ready for a glamorous appearance or simply enjoying a relaxed day out.
How to Use:
Use a coin-sized amount in the palm of your hand after hydrating your skin. Get additional if required.
15-20 minutes before exposure to the sun, liberally and evenly apply to your face and neck.
Use Licorice Beam every day in the morning and reapply every 3 to 4 hours for the greatest benefits.
Conclusion
Overall, Deepika Padukone's skincare brand offers effective skincare solutions. Combining the Lotus Splash Conditioning Cleanser with the Licorice Beam Clear Sunscreen Gel makes a skincare powerful pair. Cleanse and protect your skin in one simple step. In conclusion, I wholeheartedly recommend the 82°E skincare products.