In this article, I will be sharing a wow skin science vitamin c serum review. Wow products are all-natural, with only the finest plant-based ingredients used to give the advantages of nature in the form of effective and non-toxic skincare.
If you're interested in skincare, you've probably heard about vitamin C serums. A vitamin C serum could be the answer to your skincare concerns, whether you're wanting to simplify or improve your regimen. Vitamin C is a versatile agent that can protect, heal, and improve the appearance of your skin.
It is a holy grail ingredient that's found in almost everyone's routine. Vitamin C has been regarded as one of the most effective anti-oxidant substances available.
I have tried many wow products, from the onion range – Wow onion shampoo and wow hair oil, also wow aloe vera gel and wow apple cider shampoo.
Wow Vitamin C Serum Review 
WOW Skin Science 20% Vitamin C Face Serum is suitable for all skin types. This hydrating and plumping face serum gives moisture to the skin.
This serum contains active vitamin C, witch hazel, and hyaluronic acid, which hydrates dull, tired skin and restores its radiance and youthfulness.
This product is dermatologically tested, cruelty-free, gluten-free, and vegan. It helps to enhance the texture and look of the skin, giving it a more fresh, bright, and youthful appearance.
It's designed to hydrate, nourish, and protect dull, exhausted, and aging skin. The serum helps to nourish the skin by delivering natural actives to it.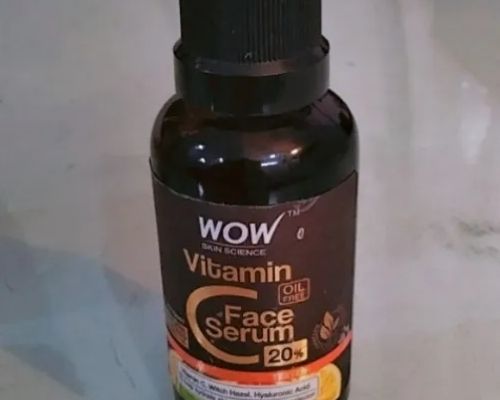 Product details
It contains pure witch hazel, Vitamin C, and hyaluronic acid advantages. Vitamin C protects the skin while also brightening the complexion.
Witch hazel tightens pores, decreases redness, and cleanses the skin. Hyaluronic acid hydrates the skin deeply while also supporting collagen structure.
The serum contains plant-derived hyaluronic acid, which helps to maintain the skin's natural moisture barrier and makes it feel smooth to the feel.
These ingredients assist to lighten pigmentation, fight aging signs, reduce pores, lessen fine lines and age spots, and evening out the complexion.
Price
INR 699 for 30 ml
INR 399 for 15 ml
Sale
Last update on 2023-11-09 / Affiliate links / Images from Amazon Product Advertising API
Wow vitamin c serum ingredients list
Purified Water, Ethyl Ascorbic Acid (Vitamin C), Ascorbyl Methylsilanol Pectinate (Vitamin C), Witch Hazel Extract, Glycerin (Vegetable Derived), Sodium Hyaluronate (Hyaluronic Acid), Butylene Glycol, Ethylhexylglycerin, Phenoxyethanol, Hydroxyethylcellulose & Fragrance.
Made without: It is free from silicones, mineral oil, and parabens.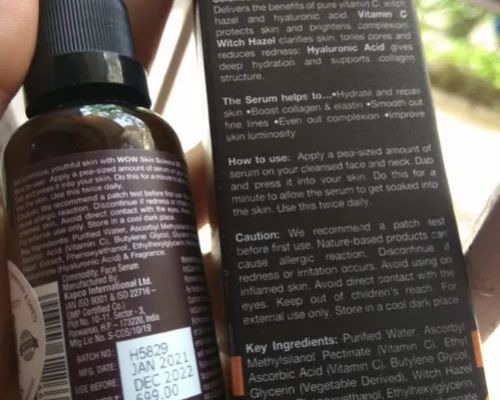 What the product claims
Smooth out fine lines
Boost collagen and elastin
Even out complexion
Helps to hydrate and repair skin
Improve skin luminosity
My write-up on Wow vitamin c serum Review
I was trying so many products to get rid of my acne dark spots and also, and I applied home remedies, but nothing works on my pimples.
Then I finally get this product in my hands and it does an amazing job on my skin. I am using it for the last two weeks and the results are noticeable.
After cleaning my skin, I started using this serum every morning. It feels very light on the skin. So, it is easily settled under my sunscreen and makeup. Also, I have been using it at night in my night skincare routine. So, it can be used two times daily.
Wow vitamin c serum is lightweight and takes a few seconds to absorb in my skin and leaves soft and hydrated skin. It gives enough hydration to combination and oily skin types.
However, normal to dry skin people may feel dry as wow vitamin c serum is not an oil-based serum, it is a water-based serum. So, dry to normal skin people will require to use a moisturizer after applying serum.
I have acne-prone skin; wow vitamin c face serum helps to reduce my acne scars day by day and makes my acne skin healthy and clear. This water-based lightweight serum feels calm on my skin and gives a long-lasting effect.
Because of using so many products on my face, my skin becomes very dull and damaged. But this wow serum reduces my dull complexion to a great extent and makes it bright and glowy.
Therefore, with regular application, wow vitamin c serum keeps dullness away from the face and rejuvenates the skin.
The best thing is wow vitamin c face serum does not break out my skin or cause irritation, or redness to my skin. Also, I have not experienced any tingling or burning sensation on my skin.
The best part is that there are no parabens, SLS, or mineral oils in it. The serum's price is Rs.699, but I was able to get it for Rs.475 on Amazon.
I'm delighted they included an airtight pump because vitamin C oxidizes. It's been two weeks since I've used it, and the serum hasn't oxidized at all.
Overall, WOW vitamin c serum moisturizes and heals skin, soothes wrinkles, reduces age spots and discoloration, lightens dark spots, and promotes skin radiance.
Two things that I dislike about this serum are The smell of this serum bothers me, and it feels a little dry on my skin, so I have to apply a little more product.
[Also Read: Deyga Beetroot Lip Balm Review]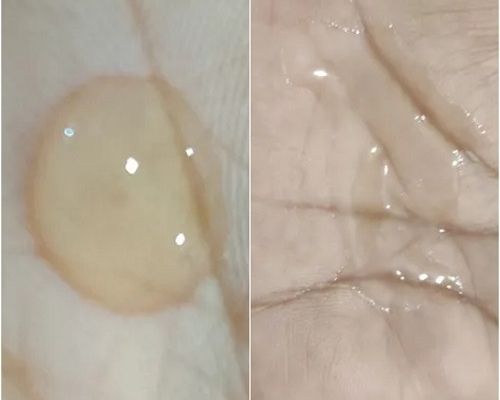 Packaging
All WOW products come in a very elegant and attractive package. The Wow skin science vitamin c serum is packaged in a deep brown glass bottle with a pump on top.
The nozzle on the pump is protected by a cap that does not cover it. It also features a locking top to prevent the product from leaking.
The pump aids in controlling the amount of product dispensed. Its leak-proof cap allows you to carry it about in your backpack with comfort. Both the bottle and the cardboard box have all of the product information.
Texture
Wow face serum vitamin c is a little thicker than water and slides over my skin with ease. It has a liquid feel that absorbs quickly and leaves no trace.
It's oil-free, non-sticky, and non-greasy. WOW Skin Science has produced the greatest formulation I've ever seen. 
Fragrance
It has a weird citrus scent to it, but it fades away within a minute or two as the serum absorbs into your skin. The scent isn't strong, so sensitive noses might not have any issues.
[Also Read: The Moms Co. Natural Vita Rich Under Eye Cream Review]
How to use wow vitamin c serum
Cleanse your face and neck before applying the serum. Then, on your palm, dispense the required amount.
For the entire face and neck, two drops are plenty. Dab and rub from the inside of your face to the hairline, as well as from the neck to the jaw and upwards.
Allow for a minute of this to allow the serum to absorb into the skin. Use it twice a day.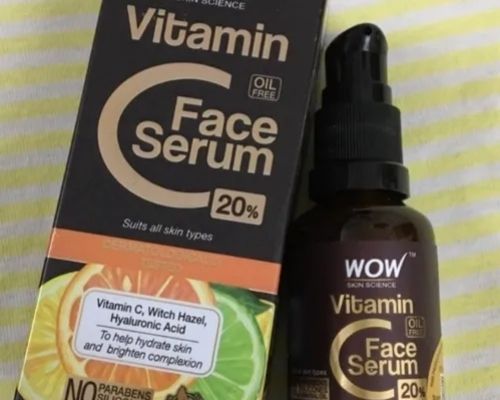 Wow vitamin c serum benefits
Active vitamin C is a potent antioxidant that aids in the healing of skin damage caused by environmental factors. It helps to reduce dark spots and even out skin tone. It helps in maintaining elastic and soft skin.
Witch hazel is a moisture-binding molecule found in nature. It helps in the delivery of high hydration to the skin, making it soft and supple. It has the ability to store up to a thousand times its own weight in water.
Hyaluronic acid includes skin-clarifying antioxidants and vitamins that help to heal, soothe, and purify the skin.
[Also Read: 13 Best Neem Wood Comb in India]
Sale
Last update on 2023-11-09 / Affiliate links / Images from Amazon Product Advertising API
Pros of WOW Skin Science Vitamin C Serum
Budget-friendly
Travel-friendly packaging
Oil-free, non-greasy, and non-sticky product
Gives a dewy glow
Doesn't leave a sticky residue
Lightweight
Reduce dullness and invigorates skin
Does not cause breakouts
Doesn't contain many harmful chemicals
Cons of WOW Skin Science Vitamin C Serum
Did not provide a significant skin-brightening effect
It may not suitable for people with sensitive skin
Not available in local stores
Wow vitamin c serum vs Mamaearth vitamin c serum
Wow serum costs less than Mamaearth serum. The major difference is that WOW Vitamin C serum only has a 20% vitamin C concentration, while Mamaearth Vitamin C serum does not specify the exact vitamin C percentage anywhere on the label.
WOW facial serum is filled with the benefits of witch hazel and hyaluronic acid and 20% vitamin C extract. These ingredients have brightened skin, minimized spots, and reduced uneven skin tone and pigmentation.
Mamaearth has active components such as turmeric and squalene, which assist to moisturize, illuminate, and give your skin a natural glow.
[Also Read: Mamaearth Ubtan Face Mask Review]
Wow vitamin c serum side effects
Sensitive skin may experience a slight tingling sensation after using this serum. It may also cause itching, redness, and skin irritation when applied. A light-burning feeling on the face was reported by some users. They report that their entire face broke out in rashes and there was swelling around my eyes right after the application. As a result, before using this serum, I recommend performing a patch test.
Shelf life: 2 years
Availability: Easy
Where to buy: You can easily purchase it on Amazon, Nykaa, and Flipkart or their official site buywow.
Overview
Overall, wow vitamin c serum is a good serum for enough skin hydration. It has a lightweight and oil-free formulation that makes it perfect for combination and oily skin as well. This water-based serum absorbs easily and quickly and is formulated without harsh chemicals. Furthermore, it helps to reduce acne spots and get rid of dullness in the skin. This is the best vitamin C serum I've ever used. This is a good option if you want a natural and organic vitamin C serum on a budget.