Plum goodness is an Indian brand that offers various products ranging from hair, face, body, and makeup. Plum products are infused with the goodness of natural ingredients.
Plum's all products are recyclable and cruelty-free. These things make plum unique from others. Therefore, today I am going to share a review of the Plum green tea pore cleansing face cleanser from the Plum green tea range.
There are many reasons for pores like high levels of sebum production, sun damage or overexposure to the sun, reduced elasticity around pores, genetics, or heredity. 
Plum green tea pore cleansing face wash Review
It has green tea and glycolic acid to freshen and rejuvenate your skin. However, it does have a mild sulfate formula to cleanse your pores gently.
Plum Green Tea Pore Cleansing Face Wash is a soap-free, soothing, non-drying face wash most appropriate for acne-prone, oily, and combination skin, not suitable for a face wash for all skin types.
The key ingredients in this face wash are glycolic acid which gently exfoliates the skin, while antioxidant-rich green tea helps combat acne. Plum Pore Cleansing Face Wash is a gentle gel foaming facewash with double action for cleansed and refreshed skin.
It exfoliates skin to remove dirt, excess oil, and dead skin cells, while its antioxidant action protects skin and imparts a glow. This mild facial cleanser packs in recyclable packaging. This SLS-free facial cleanser is vegan, dermatologically tested and FDA-approved.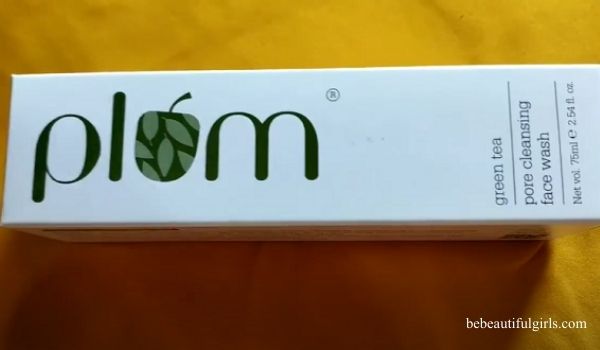 Product Details
Green tea extract, which is high in antioxidants, is added to this daily face wash. This Unisex face wash is suitable for use in all seasons and best for oily, combination, and acne-prone skin types.
It contains glycolic acid that helps to exfoliate the skin mildly. It is specially designed for acne-prone skin. If used regularly, this product can reduce blackheads and whiteheads.
This facewash, infused with tea tree oil, effectively keeps pimples and acne at bay. It gets rid of dirt and oil from your face and prevents further breakouts.
Price
INR 345 for 75 ml
INR 495 for 120 ml
Plum green tea pore cleansing face wash ingredients
Key Ingredients: Glycolic Acid, Green Tea Extracts, and Natural Cellulose Beads
Full Ingredient List: Cocamidopropyl Betaine, Aqua (Water), Camellia Sinensis (Green Tea) Leaf Extract, Sodium Laureth Sulphate (SLES), Triethanolamine, Glycerin, Sodium Gluconate, Acrylates Copolymer, Glycolic Acid, Cellulose Beads, Cocamide DEA, Phenoxyethanol, Ethylhexylglycerin, Fragrance, CI 19140, CI 42090
Made without: The Plum Green Tea Pore Cleansing Face Wash is not only free from parabens but also other harmful and harsh chemicals like phthalates, propylene glycol, SLS, DEA, and PABA.
Sale
Last update on 2023-11-14 / Affiliate links / Images from Amazon Product Advertising API
What the product claims:
The foaming formula that doesn't dry out
Exfoliating cellulose scrub granules that are gentle, soft, and pure
Soap-free cleanser for combination skin
Green tea extracts are high in antioxidants
Exfoliate your skin gently to brighten it
Glycolic acid was used to clean up the mess
My write-up on Plum green tea face wash review
I have been using this face wash for a while now. After the first application, I feel that it helps remove extra oil, dirt, or any impurities from the skin and cleanses the skin deeply without any dry, tight, or stretched feeling.
It creates lathers well, and you need just a pea-sized amount to properly clean your face. As a result, the product lasts longer. It produces a lot of foam, but not as much as other face washes.
I have normal to combination skin. But My skin gets oily on summer days. So, sometimes I face a pimple problem. I have noticed my acne fades away without causing acne breakouts as it is a non–comedogenic face cleanser. Also, slightly my pimple's dark spots reduce to some extent.
Though it's for oily skin, it doesn't strip skin's natural moisture. I use this every morning and night, and it has worked perfectly for my oily to combination skin. Then follow up with Plum green tea alcohol-free toner right after utilizing this plum cleanser, and it certainly did wonders for my skin. Also, sometimes I apply a face mask for a supple glow.
Plum green tea face wash is very gentle. My skin doesn't feel dry after using this face wash. I have tried many face washes, but only two have been my favorite. Plum and Mamaearth ubtan face wash. After using it, my skin doesn't feel dry or stretchy. 
However, Dry skin people need a good moisturizing cream after using this face wash because it removes excess oil entirely from the face, so the skin feels drier.
It gently cleanses with gentle exfoliation and gives hydrating effect. My skin feels clean, clear, and supple after the wash. The product delivers on its promise of deep cleansing while remaining non-drying.
Plum face cleanser doesn't make your skin feel squeaky clean, thereby preventing the stripping of natural moisture on the face. I use this twice a day, and they satisfy their claims for me. On regular usage, I began seeing noticeable outcomes following ten days. It makes my skin clear and healthy-looking.
It is a pore cleansing face wash, and it very effectively unclogs my pores and washes off extra oil from my face. Apart from unclogging pores, it also moisturizes and hydrates the skin. My skin glows even without makeup.
The cellulose beads exfoliate my skin gently and give a slight glow for a few hours after application. Also, it removes light makeup quite effectively and leaves my skin oil-free and fresh.
I had tiny red bumps on my big forehead area, and this green tea face wash gradually vanished forehead bumps with continuous use.
I agree that plum goodness skincare products are natural and toxin-free. I purchased this face wash as they claimed that it was free from SLS, sulfates, and paraben. However, it contains SLES. SLES is very gentle as compared to SLS. You can find more information about the ingredients on their website.
I hardly ever get pimples on my face when I consistently use this face cleanser. When I include the Plum Green Tea face wash in my routine, I never have small zits or cystic acne.  According to one study, Green Tea can significantly reduce sebum output and prevent acne.
I tried the Ethiglow face wash before this, and I find it one good option for skin lightening and whitening. Ethiglow is a skin whitening deep cleansing foaming face wash that effectively whitens the face. So, you can check it out for skin lighting.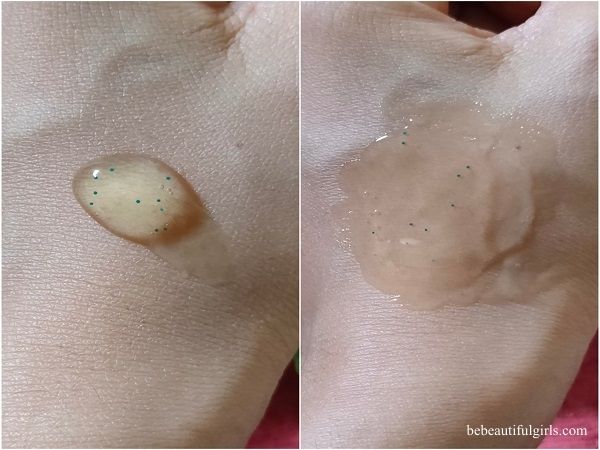 Packaging
Plum green tea face wash comes in a whitish flip-flop tube packaging which helps to control the product coming from it. The flip-flop cover is pretty tight to open, making it spill-proof and safe to carry while traveling. This squeezy tube packs in a cardboard carton. The packaging is simple and mess-free which makes it travel-friendly. The smaller tube is easier to handle in a purse. All details are present on the backside of the tube and the outer carton, such as ingredients, usage, price, etc.
Fragrance
It has a signature plum green tea range smell. It has a soapy fragrance that is a little strong, but not very harsh for sensitive noses. Thankfully, the scent doesn't linger for a long time and fades away after rinsing the face.
Texture
Plum face wash green tea has a gel-like formula with light green beads that give a mild exfoliating effect on the skin. The gel consistency gets quickly mixed with water to create foam as a watery type texture. Therefore, it cleanses the face and scrubs the face because of the cellulose beads in it.
Appearance
The product has a transparent color with small round, light green colored granules. It seems like translucent gel with a slightly watery texture. Its particles exfoliate the dead skin cells tenderly without being hard on the face.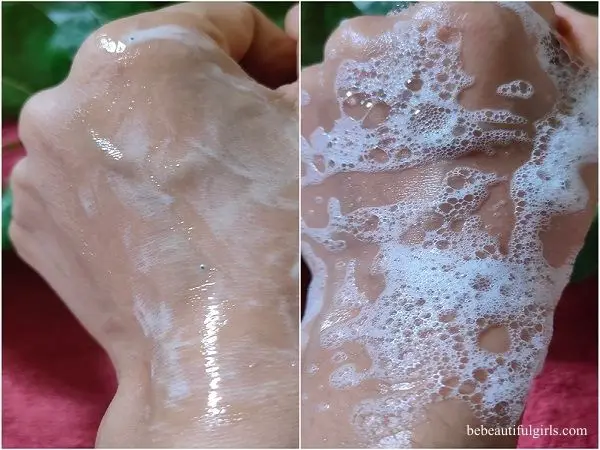 How to Use Plum Green Tea Pore Cleansing Face Wash
Take a pea-sized quantity of Plum face wash in your palm and apply it to your wet face. Gently massage in circular motions over the face and work up a lather. Wash your face with ordinary water, wipe off, and follow up with toner and lotion.
Plum green tea face wash benefits
Glycolic acid helps to remove surface skin cells gently, which causes dull complexion, acne, and clogged pores.
Green Tea Extracts are rich in antioxidants that help control oil production making your skin oil and acne-free.
Natural Cellulose Beads exfoliate gently and leave skin bright and glowing.
Its mild green tea fragrance leaves the skin feeling refreshed. Plum refines skin texture to tighten your pores and keep your skin smooth.
It can be used by both men and women and is best suited for those with oily, combination, and acne skin.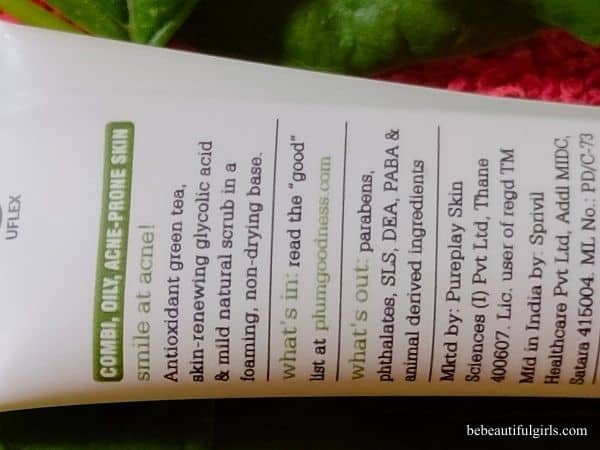 Pros of Plum Green Tea Pore Cleansing Face Wash
Vegan and Cruelty-free
No parabens and phthalates
Infused with green tea as well as glycolic acid
It gives a result of both facewash and scrub
Mild exfoliation
Removes dirt and oil effectively
Removes dead skin and leaves you refreshed
Help keep acne at bay 
Controls the frequency of acne and evens skin by easing up marks 
It doesn't cause breakouts
Gentle, non-drying foaming formula
Leakproof, sturdy, Travel-friendly packaging
Keeps skin oil-free for long hours without drying out skin
Cons of Plum Green Tea Pore Cleansing Face Wash
The price is on the bit higher side.
Not for very dry and extremely sensitive skin
Plum Green Tea Experience Kit(Set of 3)
Soap-free and SLS-free gentle foaming face wash does not dry out skin
Alcohol-free astringent toner will shrink those pores up.
Antioxidant night gel with green tea extracts that will nourish and repair...
Last update on 2023-11-07 / Affiliate links / Images from Amazon Product Advertising API
Plum green tea face wash side effects
Plum facial green tea cleanser is made of herbal ingredients with any harmful chemicals. So, it is safe to use on the skin, and also, I didn't notice any unusual reaction on my skin. However, SLS and SLES can aggravate eyes and skin, particularly with a longer period of usage. The primary use for SLS and SLES in items is to make foam, giving a more grounded form of cleansing strength. SLES may moreover be polluted with a substance called 1,4-dioxane, known to cause cancer in research community animals. For this reason, many go against utilizing shopper items that contain SLS and SLES and select sulfate-free products. Therefore, I recommend doing a patch test first.
Shelf-life: Two years
Availability: Easy (You can easily purchase it online on sites like Amazon, Nykaa, Flipkart, etc., or it's plum website)
Overview
Overall, Plum green tea pore cleansing face wash fulfills its claims. Plum helps me to get rid of acne and clears pores. After washing my face, it leaves my skin feeling silky smooth, and nourished. It doesn't trickle away all oils from the skin.
Hence, it maintains the good health of the skin. My skin stays oil-free for 4-5 hours. This gentle foaming facewash combines gentle exfoliation and antioxidant action to give you precise, smooth, and fresh skin.
It has become an important element of my skincare routine. I strongly suggest this face wash for oily or combination skin types. I'm so taken with this product that I've already placed an order for another.
Last update on 2023-11-14 / Affiliate links / Images from Amazon Product Advertising API