Hair growth isn't something that happens overnight. If you want to see some noticeable changes, you'll need to invest time and effort into growing your hair. And essential oils can help you achieve this goal.
Hair care has become a big deal over the years. In fact, according to the American Society for Dermatology, around 80% of women and men suffer from some kind of hair problem at least once in their lifetime.
Essential oils are one method of treating hair issues, among many others. Essential oils are natural compounds found in plants that have medicinal properties.
Hair growth is a complicated process that involves both genetic and environmental factors. If you want to improve hair growth, you should start from within. Essential oils are natural remedies that promote hair growth.
When hair follicles become damaged or weak, hair stops growing. This leads to baldness. Essential oils for hair growth can be used topically on the scalp. They contain compounds that penetrate the skin and reach the scalp, where they can stimulate hair growth.
Therefore, we share the 10 best essential oils for hair growth and health. But before that, Let's know what essential oils are and how they are made.
What are Essential oils?
Essential oil is a natural plant extract that is widely used in aromatherapy, massage therapy, and other holistic practices. These oils contain volatile compounds that provide therapeutic benefits.
They are also used in perfumes, cleaning agents, and personal care products. Some essential oils are known to relieve stress, boost immunity, promote healing, and even treat certain conditions.
The term essential oil refers to the liquid portion of the plant material. This liquid contains various chemical compounds called essential oils. Hundreds of essential oils are derived from over 2,500 species of plants.
How are essential oils made?
Essential oils are natural extracts from plants using steam distillation or cold pressing methods. They are extracted from citrus fruits, spices, flowers, herbs, and trees.
10 Essential oils for Hair Growth
1. Lavender Essential Oil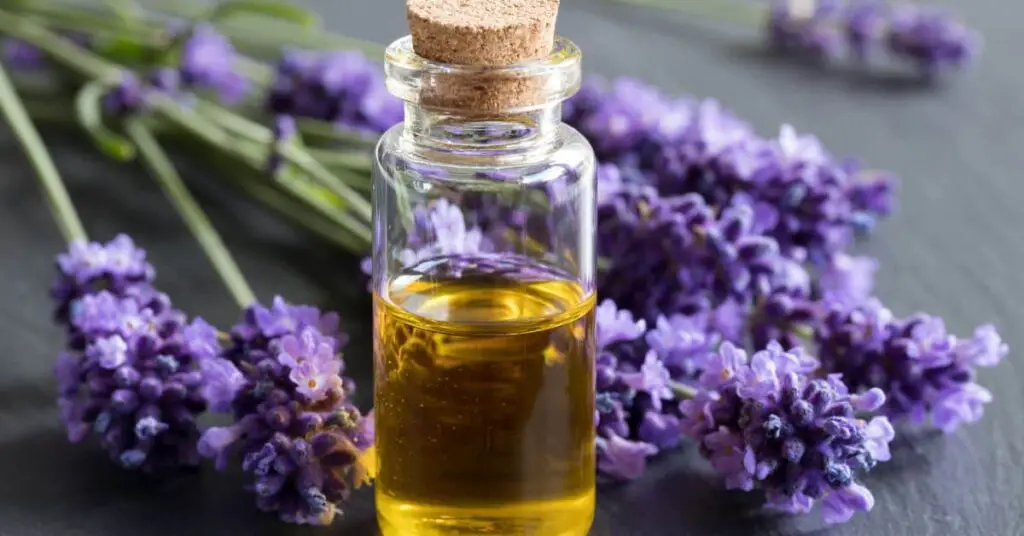 Lavender essential oil promotes hair development and helps to prevent balding. It's popular for its soothing smell, and your scalp will love it just as much as you will.
According to one study, lavender possesses antibacterial qualities that inhibit the growth of germs and fungi. If you have a sensitive scalp, this best oil for hair growth might be very helpful because it lessens itching and dandruff.
Regular use of lavender oil for hair ensures that the strands will be thick, shiny, and healthy-looking and will be able to endure numerous environmental harms.
Lavender oil provides important antioxidants and nutrients that encourage blood flow, promote hair growth, and improve scalp health. This oil is very effective for a dry, flaky scalp.
How to use it: Add carrier oil, like coconut oil or jojoba oil, along with three drops of lavender oil on your scalp. Allow it to sit for 15 minutes.
Last update on 2023-10-21 / Affiliate links / Images from Amazon Product Advertising API
2. Peppermint Essential Oil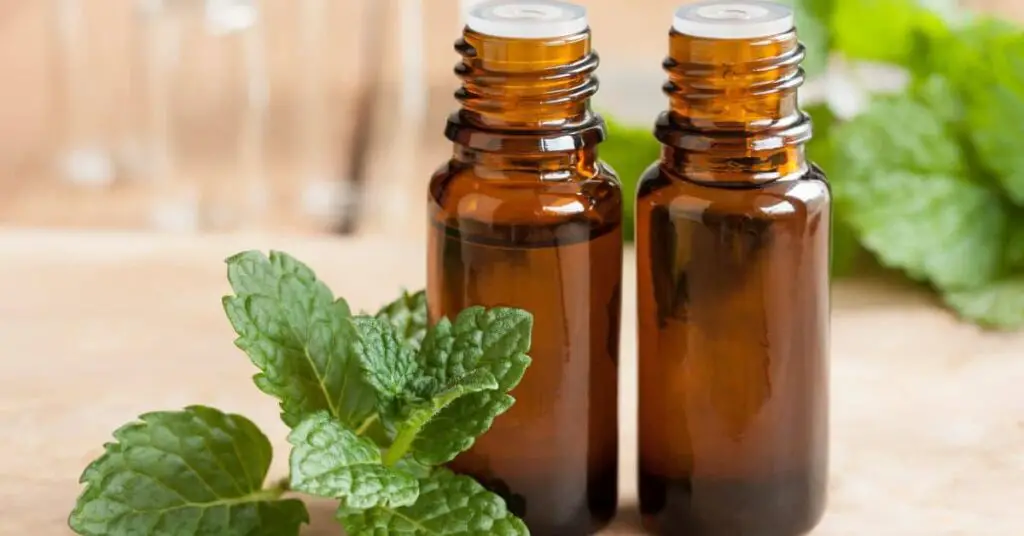 Peppermint essential oil is another one that promotes hair growth. While peppermint oil may have some advantages for skin care, it also has advantages for your hair and scalp.
It might be useful for itchiness, dryness, or other scalp issues. Peppermint essential oil is an effective home treatment for stimulating hair growth.
Menthol, a component of peppermint oil, can cause the skin to feel tingly and cool when applied topically. This additional blood circulation could make it one of the best essential oils for hair growth and thickness.
According to some research, peppermint oil encouraged hair growth more successfully than topical uses of saline, jojoba oil, and minoxidil, a drug frequently used to treat hair loss.
Additionally, the researchers proved that peppermint essential oil boosted the thickness of the scalp and the number of hair follicles.
How to use it: You can gently massage your scalp with a mixture of any carrier oil and one drop of peppermint essential oil. Before rinsing it off with shampoo, let it sit for five minutes. Use two times per week.
No products found.
3. Lemongrass Essential Oil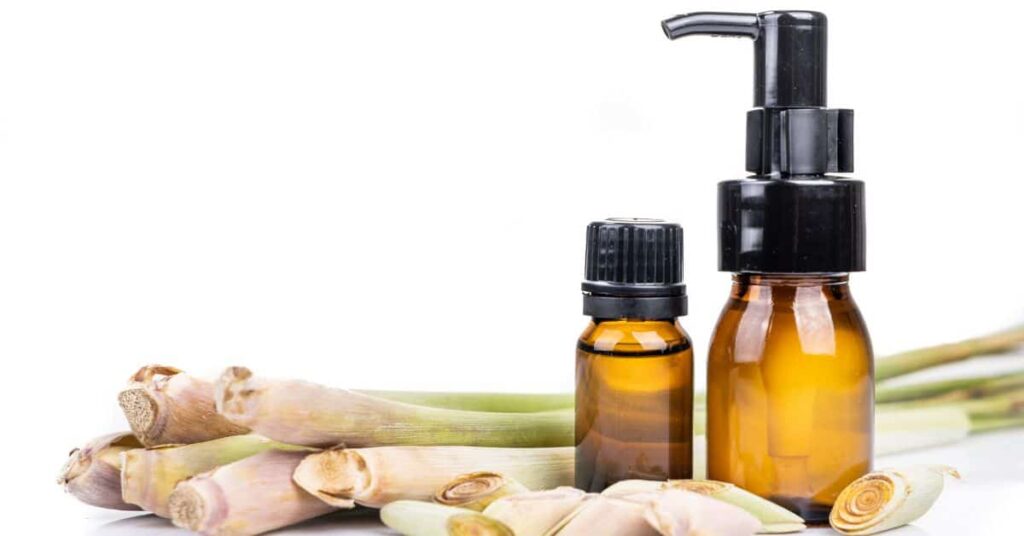 Most people are familiar with the word lemongrass, which is a beneficial essential oil to grow hair. Lemongrass oil has antibacterial and antifungal qualities that help to prevent hair loss and keep scalp diseases at bay.
It is particularly helpful in treating dandruff with efficient home remedies because of its anti-inflammatory and astringent characteristics, which help to soothe and calm down the inflamed and itchy scalp.
Because it is an effective dandruff remedy, lemongrass is the best essential oil for hair growth and dandruff and having a healthy, flake-free scalp is a critical part of hair health.
How to use it: The most effective hair growth essential oil is lemongrass oil for dandruff. Blend a few drops of Olive Oil with some Lemongrass oil. Use 2 drops of essential oil for every teaspoon of carrier oil. Then apply it to your scalp. Before rinsing it off, wait an hour. Use a gentle shampoo to rinse. Additionally, make sure to massage it into your scalp after using it each day, along with a few drops of your shampoo or conditioner.
Last update on 2023-10-21 / Affiliate links / Images from Amazon Product Advertising API
4. Rosemary Essential Oil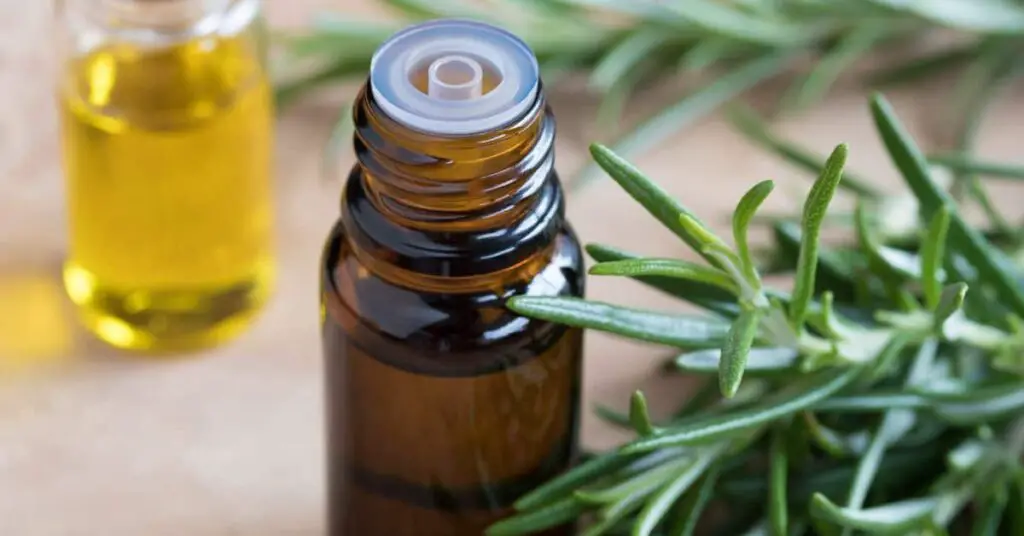 Surprisingly, rosemary is another essential oil that promotes hair growth. Rosemary oil is a fantastic choice to enhance hair growth and thickness because it can encourage cellular growth.
Due to its natural antifungal properties, rosemary oil is fantastic for hair because it not only lessens irritation but also fortifies hair follicles. It enhances blood flow, which encourages hair regrowth. Its antifungal qualities are effective at calming the scalp.
One of the best hair conditioners for hair, rosemary oil is known for encouraging hair growth. When applied to frizzy hair, it gives it a manageable natural gloss and luster.
The best oil for hair growth is rosemary oil because it increases blood circulation when used in a hair massage with other carrier oils.
How to use it: Any carrier oil, such as coconut or almond oil, should be combined with three drops of rosemary essential oil. Massage it gently into your scalp after applying it. Before rinsing it with shampoo, give it some time to dry. For optimal results, use two times each week.
Sale
Last update on 2023-10-21 / Affiliate links / Images from Amazon Product Advertising API
5. Cedarwood Essential Oil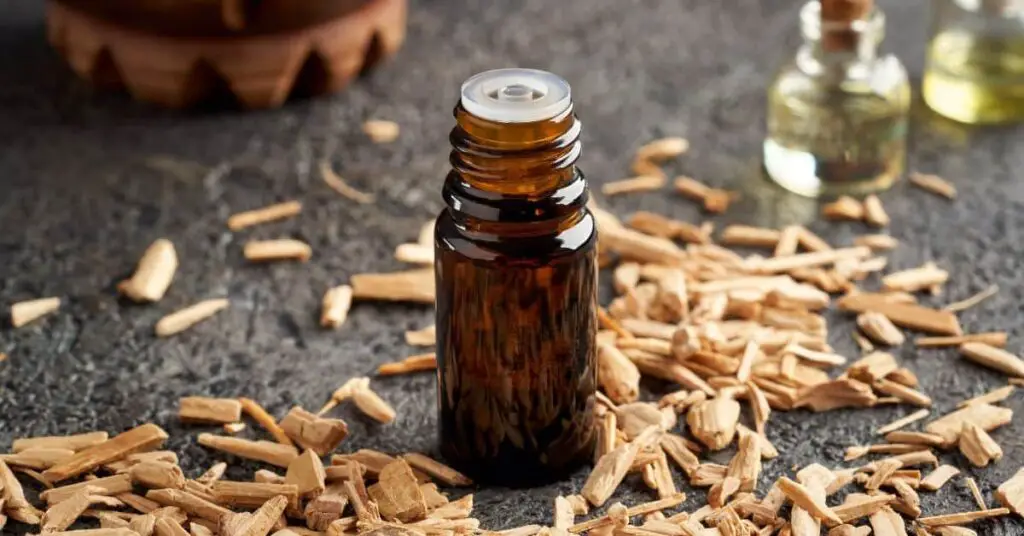 Are you looking for a quick fix to all your hair problems? Adding a few drops of cedarwood oil can improve scalp health.
When combined with a few other natural oils, cedarwood oil has been scientifically shown to generate faster hair growth, and by regulating the oil-producing cells in the scalp, it prevents hair loss.
Also, it has antibacterial and antifungal properties that can heal various conditions that may result in hair loss or dandruff.
Since cedarwood oil improves blood flow to the scalp, hair follicles are strengthened, and hair growth is better maintained.
How to use it: The best way to use essential oils for hair development is to mix two tbsp of your favorite carrier oil with a few drops of cedarwood essential oil. Massage it into your scalp and let it rest there for 10 to 15 minutes before washing it out.
6. Helichrysum Essential Oil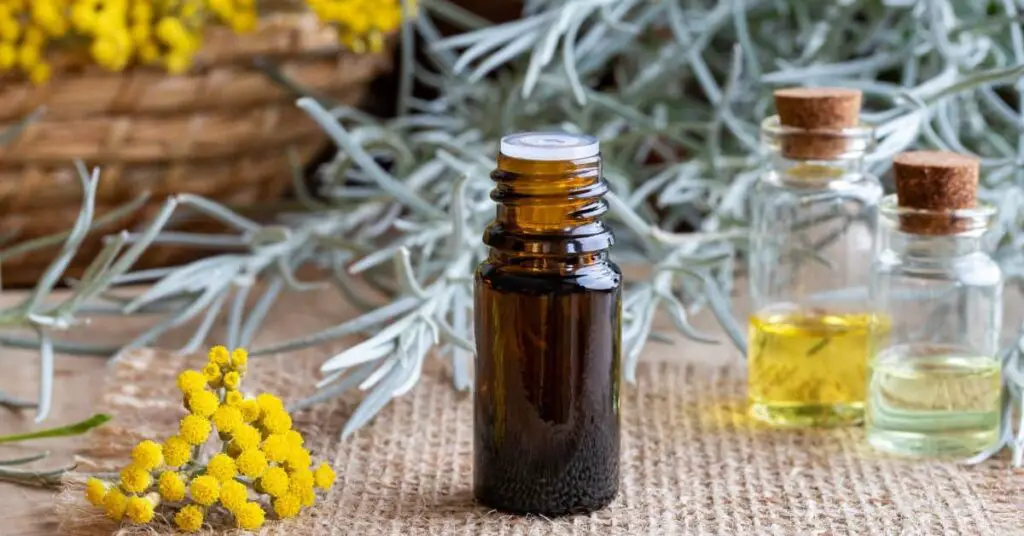 While Helichrysum Oil is usually found in skin care products, its aesthetic properties can also be used to promote healthy hair and scalp.
It helps in fostering healthy hair growth by stimulating blood circulation. Because it is antibacterial and antifungal, it can help combat dandruff and scalp flakes.
Also, the oil can clean your scalp, strengthen your hair, and promote hair growth. Helichrysum essential oil is one of the best oils for treating psoriasis, dandruff, and other scalp conditions.
Helichrysum oil also improves hair texture and suppleness. It stops greying and hair loss. The Therapeutic Properties of the Helichrysum Essential oil make it the best essential oil for fast hair growth.
How to use it: Helichrysum Oil can be added to shampoo formulas as a natural astringent and detoxifier to cleanse the scalp and hair. The oil is perfect for scalp massage because it stimulates healthy scalp and hair growth. Layer the oil over other hair styling products or combine it with a leave-in conditioner to give hair strands more shine.
Last update on 2023-10-21 / Affiliate links / Images from Amazon Product Advertising API
7. Ylang-Ylang Essential Oil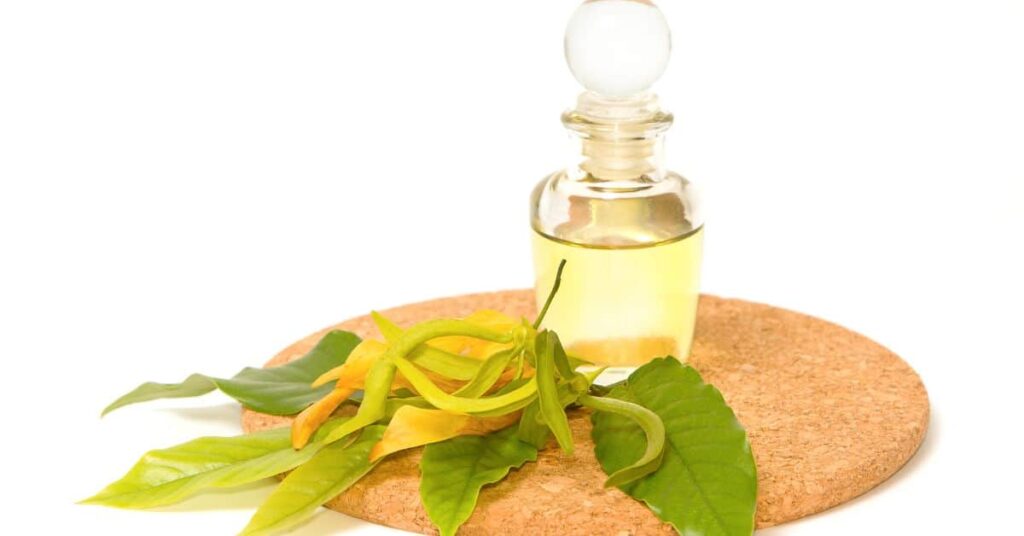 Ylang-Ylang essential oil is an excellent ingredient for hair care products. It was first employed in England as a natural hair growth remedy in the Victorian era.
Ylang Ylang Oil is an effective natural therapy for hair loss. When massaged into the hair strands, it promotes hair growth. It is a natural technique to heal thinning hair, making it one of the best oils for hairline growth.
The scalp becomes dry, and the hair is brittle and thin when the scalp doesn't produce enough sebum. Your hair's texture can be improved by this oil, which can also reduce breakage. Hence, Ylang Ylang Essential Oil can be used as a natural conditioner for those with dry hair.
It activates the sebaceous glands and boosts sebum production, which maintains the hair conditioned and healthy.
In light of the fact that ylang-ylang oil can boost sebum production, it is suitable for people with dry scalps, but persons with oily skin and hair should avoid it.
How to use it: Hot oil treatment is the greatest option for overall hair health. So, Add four drops of Ylang Ylang oil to three tablespoons of heated olive oil. Apply the concoction to your scalp and hair. Wrap a towel around your head for 20-25 minutes and leave it on. The heated environment formed inside the towel will help penetrate the oil into the hair follicles on your scalp. For the best benefits, it must be done each week again.
8. Frankincense Essential Oil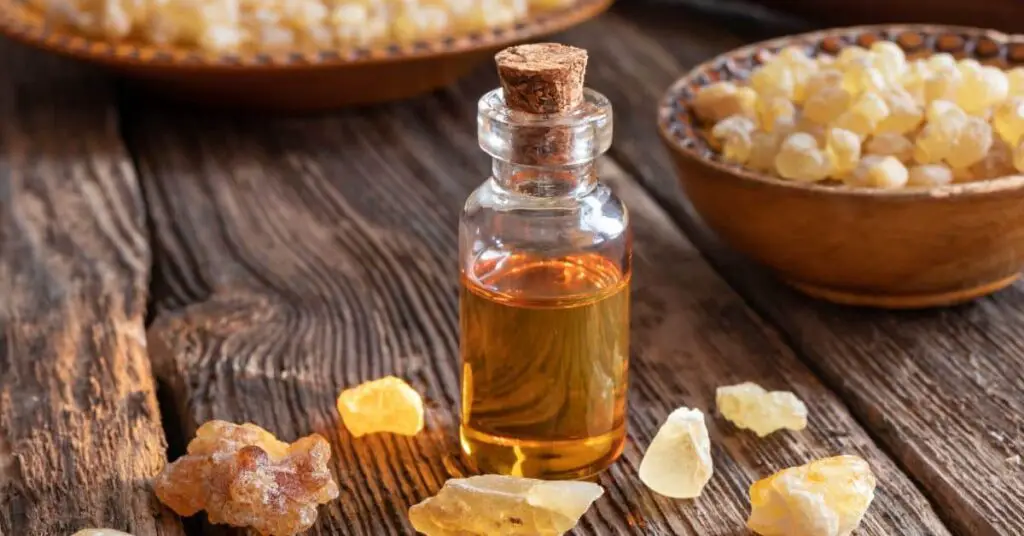 Frankincense is another best essential oil for hair growth and thickness. Frankincense oil is frequently used in hair care products as well as skincare products. It supports a healthy scalp, feeds hair follicles, maintains the necessary hydration, and combats hair loss by promoting growth.
The oil keeps hair healthy and shiny while also preventing dandruff. Frankincense reduces dandruff because it prevents the scalp from getting brittle and dry.
Frankincense essential oil promotes blood flow to the scalp and hair follicles, which helps stimulate hair growth. It lessens hair tangles, split ends, hair thinning, and hair loss. It gives hair gloss and smoothness without any stickiness or grease.
How to use it: Frankincense and jojoba oils can be gently massaged into the scalp using your fingertips. After that, you can sit for 30 minutes with a towel over your head to let the oil absorb. Use an organic shampoo to gently wash away any excess oil from your hair.
9. Tea Tree Essential Oil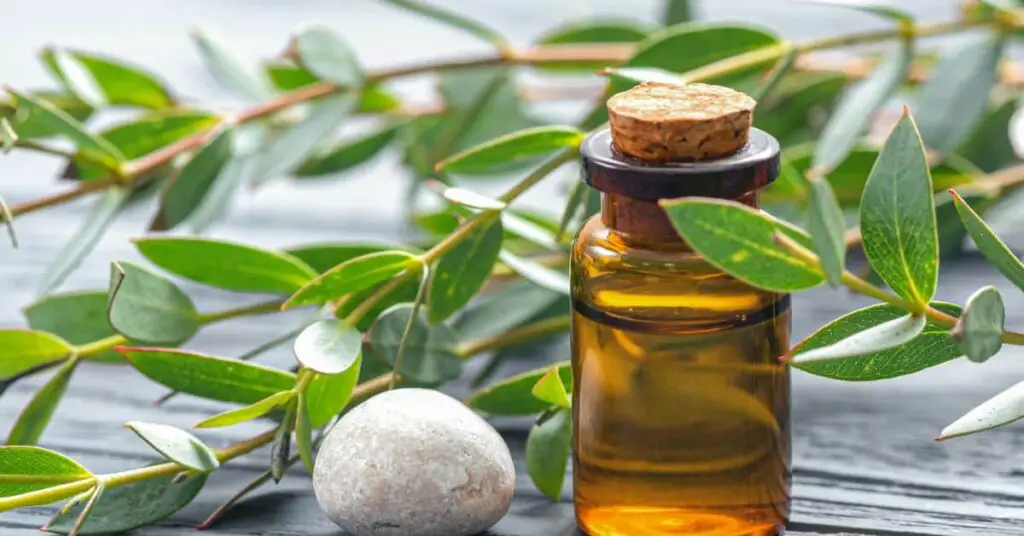 According to a study, tea tree oil promotes faster hair growth. Tea tree oil boosts blood circulation and eliminates toxins from the scalp, allowing for healthy hair development.
The essential oil helps strengthen the hair's follicles and roots, giving it thick, strong hair. Since it awakens hidden hair follicles and aids in the scalp's efficient absorption of nutrients, the tea tree is the best oil for hair growth and thickness.
In addition to reducing dandruff and flaking, preventing excess oil production, and soothing an itchy scalp, tea tree oil also improves blood circulation, balances the pH level of the scalp, and speeds up the hair growth cycle to give you a head full of thick, strong hair.
How to use it: Mix tea tree oil with any carrier oil, such as castor, almond, or sesame oil, to utilize it as a hair growth treatment. This is the best oil mixture for hair growth and thickness. To your scalp, apply the oil mixture and massage it in. Wrap your hair in a warm towel and keep it in for 15 to 30 minutes before rinsing.
Last update on 2023-10-22 / Affiliate links / Images from Amazon Product Advertising API
10. Holy Basil (Tulsi) Essential Oil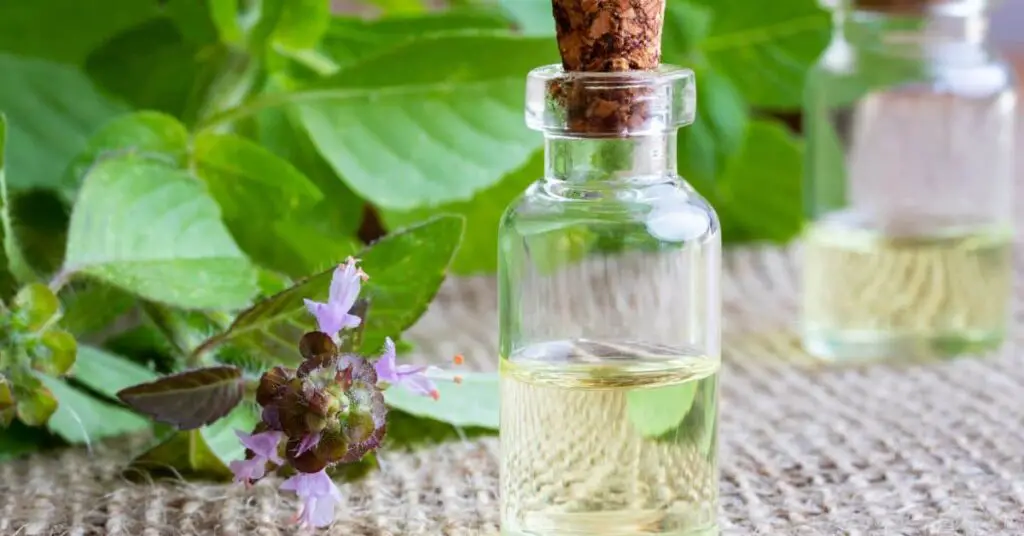 Holy Basil oil is another effective hair growth oil due to its antibacterial and purifying properties. The herb basil, also known as tulsi, is often used in natural hair loss therapy.
This well-known Indian oil is quite helpful for accelerating hair growth. Massage with basil oil increases blood flow to the scalp, promoting hair follicles and helping healthy hair growth.
Tulsi oil is a great remedy for hair loss. It is regarded as a key component of herbal remedies for hair loss. The herb strengthens the hair roots, reducing hair fall and making it the best essential oil for hair growth and strength.
How to use it: Applying holy basil oil straight to your scalp daily is the best way to treat hair loss. Holy basil essential oil can also be added a few drops to your regular shampoo. Use it two times each week.
Side effects of Essential oils: Risks and Precautions
When used correctly, essential oils for hair are both safe and effective. It is a natural treatment for many medical issues. However, some people could react allergically to them.
The main side effects of using essential oils are skin rashes, burning, swelling, and uncomfortable tingling. It is crucial to always use a carrier oil to dilute essential oils because this frequently happens when they are applied topically.
People with sensitive skin or those allergic to essential oils are also more likely to experience allergic reactions.
Always test a small bit of the combination on a small skin region before using it extensively to check for irritation.
Overview
Essential hair oils are effective on all types of hair. It is a successful method of treating hair loss. Also, it works best for persons with very dry, brittle hair. Strengthening the hair shaft can help in preventing hair loss. As it makes hair healthier, it notably improves dry and damaged hair. Also, it controls oil production, reduces scalp inflammation, and moisturizes the hair shaft to protect it. So, essential oil should be part of your hair care regimen if you're looking for an effective hair growth therapy.