This article will show you different methods to make organic Rose water at home using Dried and Fresh Roses.
Rosewater is flavored water, and it has been a popular beauty ingredient. It is often found in beauty products for soothing properties. Rosewater is prepared by soaking rose petals in water.
Rosewater has anti-inflammatory properties that help to reduce redness and calm the skin. It's also extremely refreshing and hydrating.
You can use it as a natural toner for skin care, a mixing medium for powdered masks, a hair rinse, and in many other different do-it-yourself beauty recipes.
It can be expensive and difficult to find pure and natural Rosewater. However, it is easy to make at home. This homemade rose water is edible so that you can use it for drinking and recipes for cooking.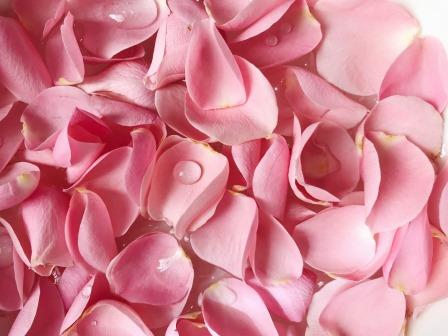 Choosing Rose petals
There are many varieties of roses. You can grow it by rooting roses. If you have Rose flowers growing in your garden, it's pretty good.
But, If you are purchasing roses from outside, You want to make sure that the roses are clean and pesticide-free, which is why I recommend using organic roses.
White and yellow roses don't give color, For better pink color and nice fragrance, Choose either a Red or Pink Rose.
Sale
Last update on 2023-11-09 / Affiliate links / Images from Amazon Product Advertising API
Method 1: The Simmering Method
The simmer method is also called The heat method. The simplest and fastest way is by simmering rose petals (dried or fresh) in water. The outcome is rose-colored water and a fragrant-like rosewater perfume. This method fits best for recipes for cooking and uses that will not long as it has a limited shelf life.
1. Making Rose Water with Dried Rose Petals
Gather all the needed supplies. In addition to the dried rose petals and hot water, You will likewise require a pot, two glass jars, and a filter. You can also use Rose powder instead of dried roses.
For this DIY rose water, firstly, Take one jar and put dried petals.
Pour hot water over the rose petals, but not boiling water. Ensure that you are using distilled water, which is liberated from any microbes. On the off chance that you can't discover purified water, at that point, you can use filtered water.
Close the jar and keep it for some time to cool down completely. This will take around 12 to 15 minutes.
Strain the rose petals from the water using a strainer. Put a strainer over the second jar. Get the rosewater into this container; the filter will get the flower petals. Once you are done with all water in a new jar, you can discard the rose petals.
Finally, pour rose water into a new jar. Seal the glass jar and store it in the refrigerator. Also, you can use a spray bottle to store this organic rose water. It can be kept in the refrigerator for up to 2-3 weeks, or it will expire.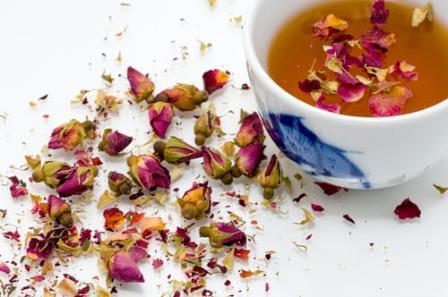 2. Making Rose Water with Fresh Rose Petals
Take some fresh roses and separate the 1 cup of fresh petals from the stems. It will get from 2-3 roses depending on the size of the roses. The results will get better when you use fresh roses. Even when you're using organic roses, Make sure to wash the rose well to dispose of any dirt and insects.
Add petals and water to the saucepan. Evenly spread the petals and take enough water to cover them and not more.
Place the saucepan on the stove. Cover a saucepan with a lid and put water to a simmer. Once it begins simmering, let the heat slow down. After 20-30 minutes or when the petals leave their color, turn off the heat.
Strain the mixture using a strainer to catch the petals. Now, you get your fresh rose water at home.
Pour rose water into a glass bottle or spray bottle. Make sure your bottle should be airtight. Store it in a dry and cool space.
Last update on 2023-11-09 / Affiliate links / Images from Amazon Product Advertising API
Also check: DIY Face Moisturizer – Easy to make at home using simple methods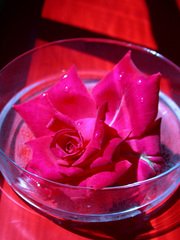 Method 2: The Distilling Method
The distilling method is also called The steam method. It is also quite easy to make, but it is slightly more time-consuming. This steam method technically makes a hydrosol. Rose hydrosol is much more shelf-stable.
Start by choosing 3 to 4 fresh, natural roses and isolating the petals from the stems. You need to ensure that the roses are washed and pesticide-free, which is the reason I suggest using pure roses. A small method to accelerate the petal-plucking method is to take the stem at the bottom of the rose, remove it and separate the rose petals. This will save time from having to pluck each petal, one at a time.
Put a heat-safe pan upside below in your big pot and a heat-safe bowl on top of the pan. Arrange the rose petals around the saucer and the bowl and cover them with distilled water.
Add only sufficient water to cover the petals, in light of the fact that adding a lot of water will weaken the rose water.
Then, you need to close the pot with a glass top. Put the cover upside down, which means you can place ice on top of it. It will help to speed up the distillation process.
This method will give you two types of rose water. The first you'll find in the small bowl that we've placed inside the pot. It is the purest form of rose water. As the water boils, steam collects on the lid and drips into the small bowl. The second form of rose water is the one in the pot with the roses. Although this rose water isn't as pure, it still has many benefits and uses.
Let the roses simmer until they lose their color completely. This can take anywhere between 30 to 45 minutes. Once the roses lose their color, you can take the small bowl out of the pot and remove the large pot from the stove.
Pour the rose hydrosol that has collected into the bowl into a glass container. This rose water can be used as a homemade rosewater toner. All you need to do is spray Face mist directly onto cleansed skin. Use the rest of the water in the pot by straining the rose petals from the water. As I mentioned before, this rose water isn't as pure, but it still has many benefits, and you can use it in a variety of different ways.
Sale
Last update on 2023-10-17 / Affiliate links / Images from Amazon Product Advertising API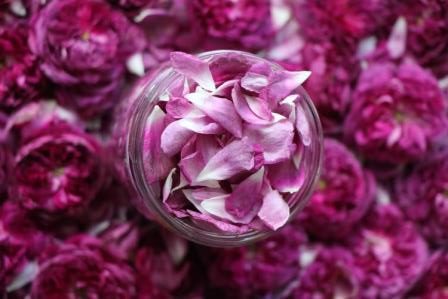 Method 3: The Crushing Method
This homemade rosewater recipe is almost similar to The Simmering Method. But the way of preparing roses is different.
Ingredients: Roses, distilled water, a strainer, a large pot, a mortar, and a pestle.
Take some fresh roses and separate 1 cup of fresh petals from the stems. It will get from 2-3 roses depending on the size of the roses.
Divide clean rose petals into two equal parts. Smash the initial segment using a mortar and pestle to extricate the juice. Kept the second part aside, which will be used later for better color.
Now transfer the crushed petals into the container. Put it for approx. Three hours and mix it with the second part of the petal. Keep for more than 24 hours at normal temperature.
After 24 hours, Boil this mixture in a glass or ceramic pan despite a metal one. Metal will affect the color or react with oils. With a low flame, Let the mixture simmer. Once you notice bubbles, turn off the gas.
Strain the mixture to extract rose water and petals. Pour rose water using a strainer in a jar. Keep this homemade rose water in a dry and cool area for more application.
Sale
Last update on 2023-10-28 / Affiliate links / Images from Amazon Product Advertising API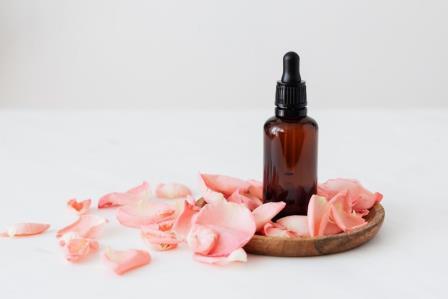 Method 4:

Rosewater with Essential Oil
Also, This Oil considers Homemade Rose oil.
First, heat a pot of water. While you wait for the water to boil, pick 2-3 organic roses to prepare 1 cup of rose petals. Then, have some fun shredding those rose petals.
When the water boiled up, turn off the stove. Pour 1 cup of grapeseed oil into a glass container. Also, You can use olive or jojoba oil.
Add the petals into the oil and then use a wooden utensil to swirl them around. Next, cover the container and spot it in the boiling water. Heating the oil will help discharge the fragrance from the rose petals.
When the water cools down completely, remove the jar. Then, at that point, let the container rest for at least 24 hours. Leave it in longer for stronger results.
This next step is Optional. Use a strainer to isolate the rose petals from the oil, and it is a great idea to go! Personally, I prefer to keep the rose petals in the oil. I'm even adding fresh petals because I want to let them sit and make rose oil stronger over time.
TIPS
To preserve homemade rose water for a longer time, you can add vodka. It won't influence the smell, yet it will assist with putting away rose water for quite a while.
Last update on 2023-10-16 / Affiliate links / Images from Amazon Product Advertising API