AHA Glow Face Wash Review
Cleansing your face has long been an essential step of any beauty routine. I enjoy using a high-quality cleanser since it removes dirt and oil from my skin without leaving any residue or irritating the skin.
Glycolic Acid Face Wash removes impurities from the skin and helps maintain healthy skin. This product contains glycolic acid, a natural alpha hydroxyl acid that can help exfoliate dead cells and remove dirt and debris from the surface of your skin. It has been proven to reduce acne scars and improve overall complexion.
Therefore, are you looking for a face wash to give your skin a glowy look? If yes, then you must try out AHA Glow Face Wash. This face wash has a special formula that helps remove blemishes and dark patches.
AHA Glow skin rejuvenating Face Wash Review
AHA Glow Advanced face wash is a facial cleanser that prevents acne by clearing pores. The gel cleanser also efficiently removes dead skin cells without removing natural oils from the skin. It is formulated with key ingredients Aloe Vera, Glycolic Acid, and Vitamin E.
Glycolic acid is used to help the skin exfoliate dead skin cells gently. Glycolic acid also helps to remove dead skin cells, revealing younger-looking skin. Aloe Vera moisturizes and calms the skin.
Product Details
It contains Aloe Vera and Vitamin E, which help refresh and renew the skin. Aha glow Advanced Face Wash revitalizes tired, dull-looking skin and keeps it supple. It also has an exfoliating property that thoroughly cleanses the skin. It's a gel-based face wash that won't dry out or bother your skin.
The gel comprises more than 80% pure water and natural surfactants derived from plants, which help the skin maintain moisture.
Price
INR 695 for 200 gm
AHA Glow Face Wash Ingredients
Purified water, Aloe Vera, Glycolic Acids, Vitamin E Acetate, Sodium Laureth Sulfate, Acrylate Copolymer, Decyl Glucoside, Polysorbate 80, Sodium Cocoyl Apple Amind Acids, Phenoxyethanol, Fragrance, Coloured Millicapsules, and Potassium Hydroxide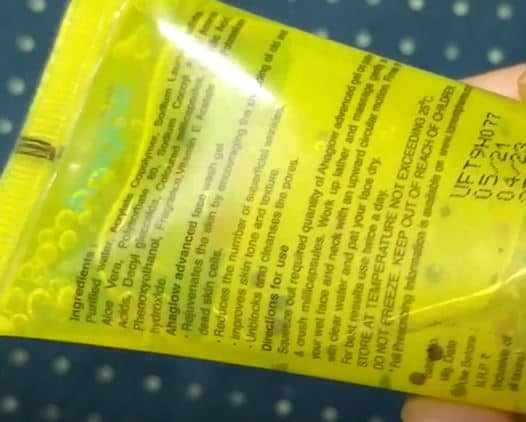 What the product claims:
Improves the tone and texture of the skin
Purifies and unclogs pores
Encourages the shedding of old and dead skin cells, which helps to revitalize the skin
My write-up on AHA Glow Face Wash Review
AHA glow face wash is a gel-based face wash and a great AHA exfoliator. It keeps dead skin cells away and gives my skin a healthy glow. This AHA face cleanser enhances the general texture of my skin after a month.
It is the most effective product for acne sufferers. My acne was worse before I started using this product, but it gradually faded over time and leaves skin acne-free and glowing.
The AHA glow face wash is suited for all skin types, especially acne-prone and oily skin. It gradually reduces pimples, prevents new acne, unblocks pores, and cleanses them.
With daily use, This exfoliating face wash also evens up the skin, reducing dark spots, pimple marks, and acne scarring. It also helps to give the skin a glow because it contains Glycolic acid, which helps remove blemishes and pigmentation. I genuinely believe Aha glow Face Wash is the best glycolic acid face wash in India.
It's a glycolic acid-based face wash that exfoliates softly while also nourishing and softening the skin. It also thoroughly cleanses the skin, removing all pollutants, grime, and oil. However, its exfoliating effect is ineffective in removing whiteheads and blackheads.
In addition to deep cleansing, Aha glow face wash brightens the skin instantly without drying it. The presence of Glycolic acid may cause skin dryness. However, it also contains Aloe Vera to balance out the drying effects of these ingredients. However, persons with dry skin may experience skin dryness, so I recommend applying a moisturizing cream after cleansing.
AHA Glow face wash is the best face wash for acne-prone skin and does not cause breakouts. However, excess usage or sensitive skin can cause minor pimples. If you use this face wash more than once a day, it may irritate your pimples due to its exfoliating effects.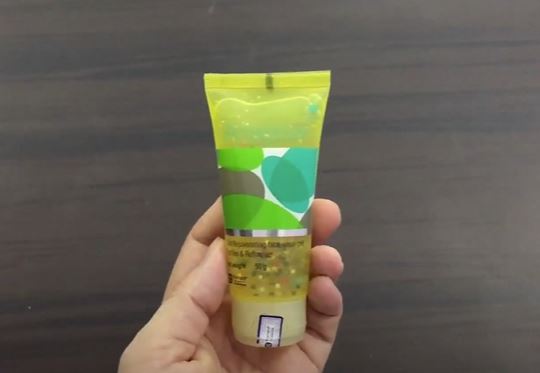 Packaging
The Aha glow facial wash is packaged in a clear tube with a flip-top cap. It comes in a yellow plastic tube with the name of the face wash written in green on it. The cap fits the face wash well. There are two sizes of face wash available. Overall, the tube is simple and travel-friendly.
Consistency
The face cleanser is made up of little multi-colored beads and has a gel-based runny consistency. Exfoliate particles are not made of plastic and are very soft. They can be easily crushed while in use. This gel-based face wash foams up gently and lathers up well.
Fragrance
The fragrance does not linger. Unlike other AHA products, the face wash has a subtle and soothing scent that is not overwhelming.
Color: Transparent gel color
Shelf life: 2 years
How to use AHA Glow Face Wash
Wet the face with clean water.
Apply a coin-sized amount of AHA glow face wash to your face.
Crush the multicolored particles and use water from your palms to make a lather.
Then, in a circular motion, massage the face and neck softly.
Wash your face and pat it dry.
Use a face moisturizer after this face wash if your skin feels dry.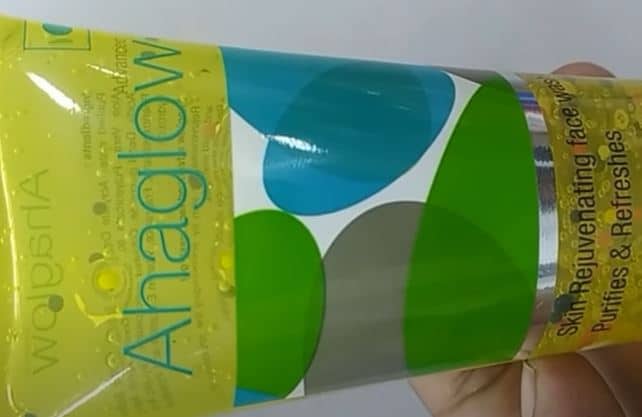 Benefits of AHA Glow Face Wash
Maintains the skin's ph level.
Unclogs and cleanses congested skin, which helps treat tiny cystic pimples.
It moisturizes and protects the skin.
It effectively cleanses the skin without drying it out.
After each application, the skin feels smooth and nourished.
Decrease acne spots, unclog pores and exfoliates the skin.
Pros of AHA Glow Face Wash
Non-comedogenic face cleanser
Easily available
Cleanses the skin thoroughly
Paraben-free
Exfoliates dead skin effectively
It has 1% Glycolic acid, which is an excellent acne fighter
Brightens skin tone
Evens out the skin tones
Treats acne and reduces marks
Improves skin texture
Lasts long
It is suited for both women and men
Cons of AHA Glow Face Wash
Little pricey
It is not SLS-free (Sodium lauryl sulfate)
AHA Glow face wash side effects
There are no known side effects from using Aha glow skin rejuvenating face wash gel. Consult a doctor if you notice any reactions, such as skin rash, reddening, or other adverse skin reactions. It has certain side effects, such as skin dryness, because it contains Sodium Lauryl Sulphate. It can irritate your skin if you utilize it too much. The most basic adverse effects of Glycolic Acid include itching, burning feeling, dry skin, skin irritation, skin redness, and skin rash.
Overview
AHA glow face wash is a good drugstore glycolic acid-based facial gel that brightens and exfoliates the skin, fights pimples, and lightens dark spots regularly. It's ideal for acne-prone and oily skin. It maintains my skin, looking fresh, even, and radiant throughout the day. I would suggest it if you have mild to moderate acne. Overall, I believe Ahaglow Face Wash is one of the best face washes on the market because it reduces minor acne and maintains skin health.