As a wellness blogger, I've been trying to maintain healthy habits and treat myself with more "me time" – more than just eating, sleeping, and working out.
Usually, most skin concerns like blemishes, acne, pigmentation, wrinkles, and hair concerns like hair fall, grey hair, dandruff, etc., can be caused by what we eat and drink. In addition to more sun exposure, food is also a massive culprit in inflamed, irritated skin.
Aloe vera is a nature gift that people have used for quite a while and is widely used in skincare items. For many reasons that aloe vera is suitable for your hair, face, and body. 
Recently, Emami launches organic aloe vera gel and Boroplus aloe gel Haldi Chandan Kesar under boroplus brand. Therefore, in this article, I will share a review of BoroPlus 100% Organic Aloe Vera Gel.
Boroplus Aloe vera gel Review 
Aloe gel with vitamin E and antiseptic herbs like neem, lemon, and tulsi has calming and healing properties that deeply repair the skin.
The moisturizing effects of aloe can help relieve dry and itchy skin. The main ingredient in BoroPlus aloe vera gel is aloe vera extract, and it helps heal cuts, burns, and dry skin, to soothe sunburn and itchiness. Aloe vera contains vitamins C and E, zinc, potassium, and iron, essential for skin and hair health.
Emami BoroPlus Aloe Vera Gel doesn't have broad-spectrum sunscreen protection. It can help soothe skin after sun exposure but won't shield you from harmful UVA and UVB rays.
Thus, I wouldn't advise you to use this as sunscreen. In case you're searching for gel-based sunscreen, we have a lot of alternatives that you can utilize.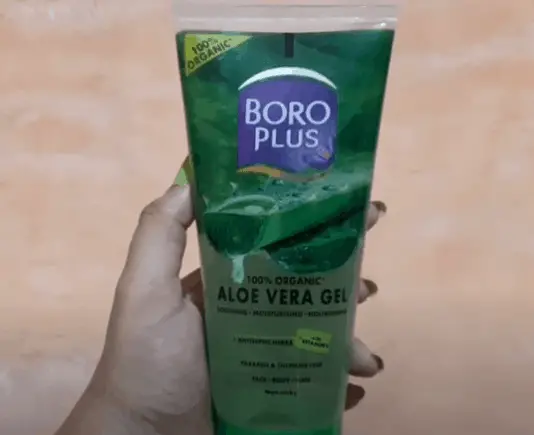 Product details
Boroplus gel is infused with vitamin E, and Antiseptic Herbs like tulsi, neem, and lemon is the one-stop answer for healthy skin and hair. 
This magic gel has an extra-light and non-sticky texture. It tends to be utilized every day across all genders, seasons, and age groups. 
Last update on 2023-11-11 / Affiliate links / Images from Amazon Product Advertising API
Price
Boroplus aloe vera gel ingredients
Each 100 ml contains: Extracts of: Aloe barbadensis (Aloevera) LF. 90g, Brillium Blue FCF, Azadirachta indica (Neem) LF. 0.1g. Citrus Lemon (Nimbu) Peel 0.1g, DMDM Hydantoin, Quinoline Yellow WS, Ocimum sanctum (Tulasi) WH.PL 0.1g, Salix caprea (Vetasa) BK 0.5g, Phenoxyethanol, Sugandhit Dravya & Base QS.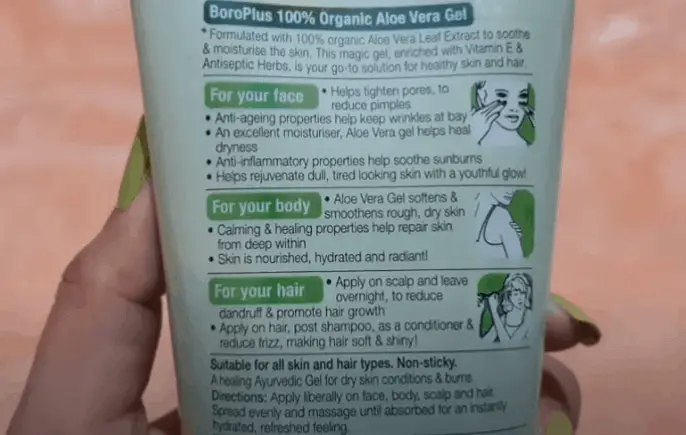 Made without: Free from chemicals like parabens and sulfates.
What the product claims:
It is made with natural ingredients and 100% organic Aloe Vera leaf extract that is suitable for all skin and hair types.
My writeup on Boro plus aloe vera gel review
I have dry skin, so I need to apply moisturizer daily, and I used aloe vera gel as a moisturizer. Boroplus aloe vera gel is, by a long shot, the best aloe vera gel I've run over.
This soothing gel calmed my skin, and its light texture gives me non-sticky skin. It makes my skin clear and glowing. Its non-sticky texture makes it ideal for oily skin too.
I applied it overnight, and I can feel the difference. My skin has a better texture and seems clean. Also, it gives me a cooling effect. It has a strong fragrance that might irritate some people with sensitive skin.
It has a slightly runnier consistency than Patanjali aloe vera gel. Boroplus aloe vera gel is better than Patanjali one as boroplus suits my skin, and it doesn't feel irritated. You won't feel irritated, somewhat cooler. It moisturizes the skin well, and has a highly overpowering smell but is budget-friendly.
When I suffering from a severe hair loss problem, I used boro plus gel with hair oil for reducing hair fall and a hair mask for stimulating new hair growth.
My hands and legs get dry after washing them. But I use this gel as hand cream; it hydrates them perfectly. Also, I used it as a body lotion after a shower; it gives a cooling sensation to my body and makes the skin feel soft and moisturized.
[Read more Mamaearth Vitamin C Face Wash Review]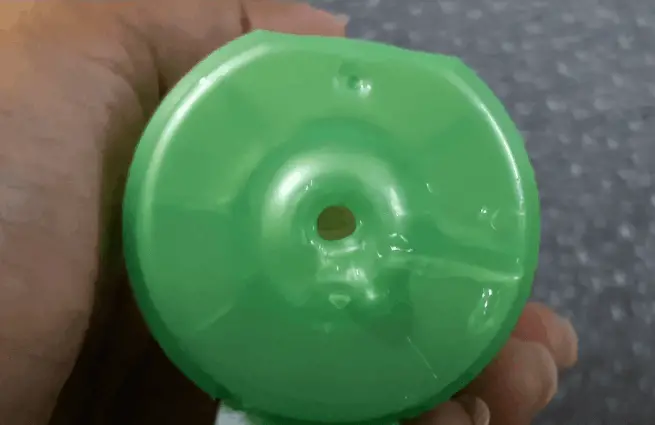 Also, it is excellent for a night skincare routine as it soothes the skin perfectly. Now it is a part of my daily night skincare regime. Even you can use it as a primer before putting on makeup.
It is good for a reasonable price as Boroplus aloe vera gel price in India is MRP Rs 115 for 150 ml. But I purchase it at a discounted price of Rs 86 on Nykaa. So, I think it is the good and most affordable aloe vera gel in India.
The product claims the aloe vera gel is 100% organic, but it may have a synthetic fragrance. So I prefer the mild smell of Mamaearth aloe vera gel more over this. Also, texture-wise, I like the WOW aloe vera gel.
Both aloe vera gel is more effective than boro plus aloe vera gel. But Mamaearth and WOW are pricier than boroplus. Therefore, if you can buy it, then go for it. Otherwise, Boroplus is pretty budget-friendly and good to some extent.
It helps to treat pimples to some extent. But It is not much effective for acne and dark sports problems. You can use tea tree face wash for acne-prone skin. Also, it reduces blemishes and under-eye dark circles. But it doesn't remove it permanently.
It is also used as a hair heat protection as you can apply it as a hair spray to protect hair from heat damage. This gel reduces my dandruff problem, but my dry flakes are not totally gone from my scalp.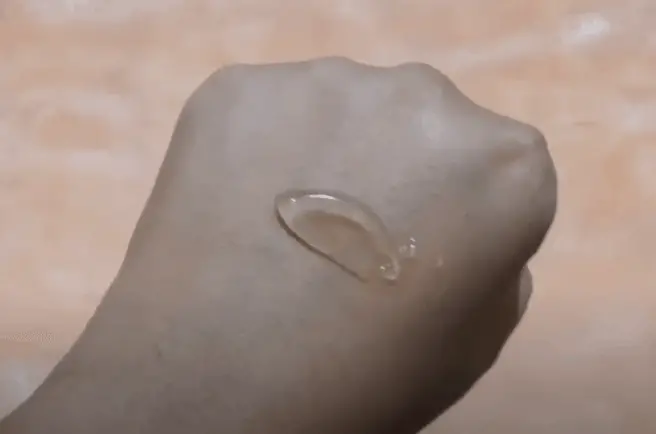 Packaging: It comes with a Very light green color tube with a green flip-flop cap. The flip-flop cap tube makes it travel-friendly. It is very convenient to carry in a purse while traveling.
Color: It is a transparent gel with a light green tint.
Fragrance: It's scented and has a signature boroplus cream smell.
Consistency: It has a slightly runnier, light, and non-sticky texture.
Absorption: It's lightweight, but It will take some time to absorb into the skin. So, massage gently after applying the gel; it will help to absorb slightly fast.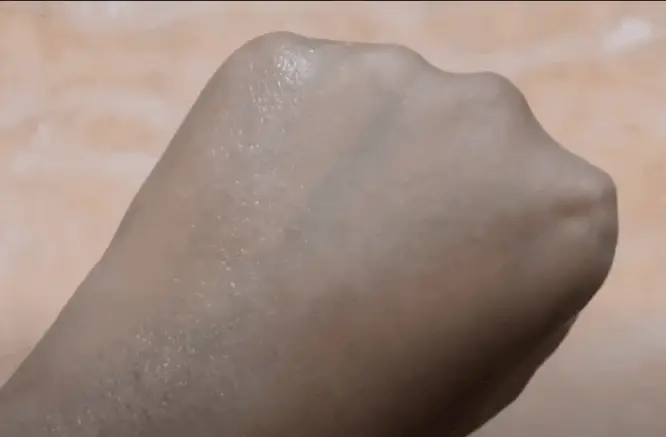 How to use boroplus aloe vera gel
For Face: After cleansing the face, apply it every morning and evening. Spread equally and massage till absorbed. It tends to be utilized as a primer prior to applying makeup. It can be used as a moisturizer, night cream, shaving gel, and even in DIYs.
For Hair: Apply on a neat scalp to help decrease dandruff & boost hair growth. Apply on hair lengths as a conditioner to nourish and decrease frizz, making hair smooth & shiny. Also, you can apply it before shampooing for soft hair.
For Body: Apply all over the body as a body lotion after bath, every morning and night for an immediately hydrated, refreshed feeling.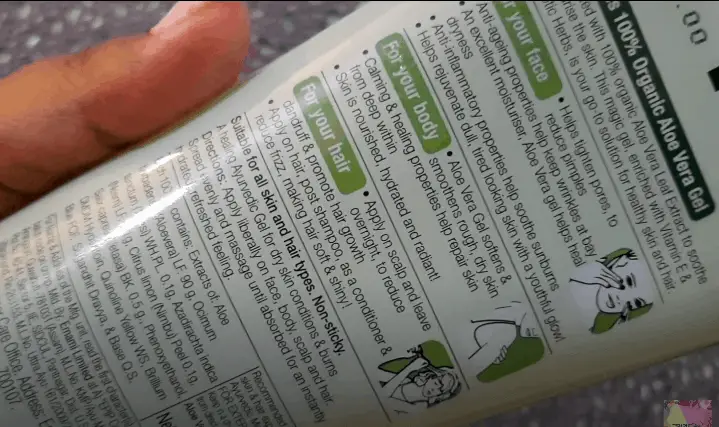 Boroplus aloe vera gel side effects
Although it didn't cause any reaction on my skin or hair, the fragrance is very strong for me. It is pure aloe vera gel and free from harsh toxins. Therefore, it is safe to use on the skin and hair. 
But you can do a patch test before using it. If there are any side effects happen, stop using it instantly and consult a doctor.
Boroplus aloe vera gel benefits
1. Hydrate and moisturize your skin
The miracle plant aloe vera has a huge water content that moisturizes and gives hydration to the skin. 
2. Fight the signs of aging
The gel-like consistency found in Aloe vera leaves has anti-inflammatory properties that help premature aging giving you smooth, youthful, and glowing skin.
3. Heal dry skin
Boro plus aloe gel is formulated with antibacterial herbs like Neem, Tulsi, and Lemon that soothe skin and relieve dry skin.
4. Soothe sunburns
The anti-inflammatory properties of pure herbs help heal and soothe burns, cuts, redness, and irritated skin.
5. Making hair soft and smooth
Vitamin E nourishes your hair and reduces dryness and frizz and making it smooth, shiny, and healthy-looking hair.
6. Liberated from harmful chemicals
Boro plus gel is an organic gel free from toxic chemicals like parabens, sulfates, and mineral oil that harm your skin and hair.
7. Multipurpose gel
This gel is helpful for individuals who suffer from many skin problems. It helps heal wounds, burns, and minor injuries by moisturizing the skin and reducing itchiness, redness, irritation, and inflammation. It further helps to retain moisture and invigorate new cell development in the skin.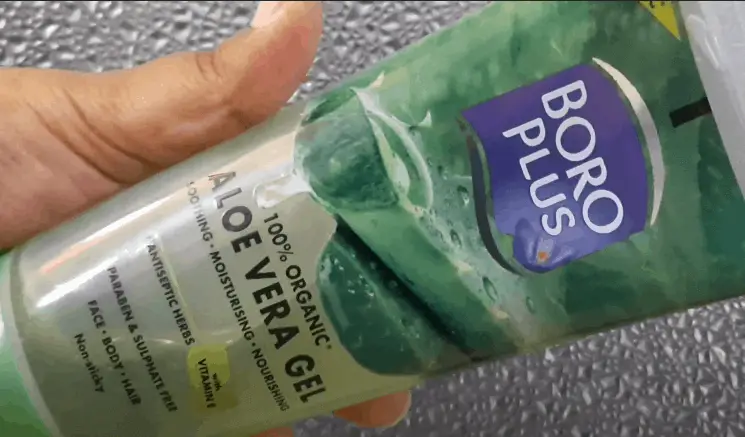 Pros of Boroplus aloe vera gel
Made with natural ingredients
non-sticky texture
lightweight
budget-friendly
helps to prevent dry skin 
Leaf-proof tube packaging
Travel-friendly
Cons of Boroplus aloe vera gel
It may have an artificial fragrance
Shelf life: 3 years from the manufacturing date
Availability: Easy
Where to buy: You can order it online on shopping sites like Flipkart, Amazon, Nykaa, etc. Also, now this gel is available in cosmetic stores.
Overview
Boroplus aloe vera gel is the purest, mildest, and most natural skin and hair care for all hair and skin types. Since it is 100% organic, liberated from harsh substances like parabens and sulfates; infused with pure herbs and vitamin E that repair and sustain from inside and protects from outside harm. This gel is my go-to-solution for healthy skin and hair.
Frequently Asked Questions
Is boroplus aloe vera gel good?
100% Soothing Boro Plus Aloe Vera Gel claims that the gel is organic, but it is not 100% pure. It may have some synthetic smell and color. But it helps to soothe the skin, hydrate and nourish skin & hair, and soften & smoothen rough, dry skin. So, for me, it is not too good, but not bad also.
Is boroplus aloe vera gel good for face?
It is an excellent moisturizer to heal the dryness of the face. Its anti-aging properties help prevent fine lines. Also, this gel helps reinvigorate tired, dull-looking skin with a youthful glow. Hence, this aloe gel is good for the face.
How do you use boroplus aloe vera gel?
I used it morning on the face after bathing as a moisturizer and on the body as a body lotion. Also, I applied it to my face pack and hair mask twice a week. Every night I used it as a part of my night skincare routine before bed.
Last update on 2023-11-08 / Affiliate links / Images from Amazon Product Advertising API