The Body shop is the best skincare product brand. In fact, the Tea tree is an essential oil for the face. Tea tree oil has anti-bacterial properties, Also it has a calming cooling effect on the skin.
There are many benefits of adding tea tree oil to a daily skincare routine. So, Today I'm going to be reviewing the Body Shop Tea Tree Oil.
The Body Shop Tea Tree Oil Review
Product details
The Body Shop Tea Tree Oil is a targeted treatment for blemishes. Tea Tree Oil is extraordinary for fast application to help reduce blemishes. It Purifying and Concentrated Oil which Ideal For Blemish-Prone Skin. Also, it helps to remove Impurities And Mattify Skin.
Price
$10.00, 0.33 FL OZ (10 ml)
Ingredients
Aqua, Alcohol Denat., Melaleuca Alternifolia (Tea Tree) Leaf Oil, Polysorbate 60, Limonene, Citral, Calophyllum Inophyllum Seed Oil, Citronellol, Leptospermum Petersonii Oil, Tocopherol.
Last update on 2023-09-13 / Affiliate links / Images from Amazon Product Advertising API
The Body Shop Tea Tree Oil Claims:
Made with Community Trade Tea Tree Oil from the foothills of Mount Kenya. Also, Claim that They reasonably steam-distill tea tree leaves within 12 hours of harvest, so they can bottle the purest and most potent oil.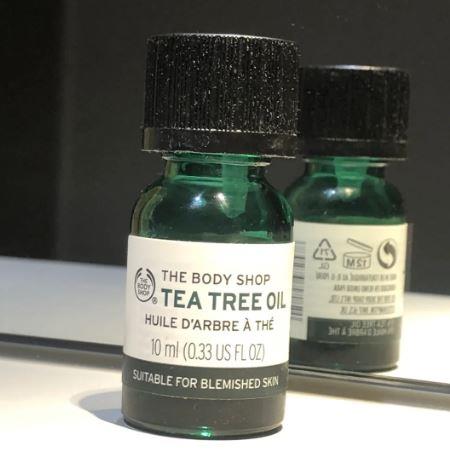 My write-up on The Body Shop Tea Tree Oil
The tea tree and its benefits are widely known. But I like the body shop one because this is by far the best tea tree oil and can be applied directly to the skin. It is mild compared to other products. Almost all other tea tree oils are too strong to be applied directly.
The Body Shop Tea Tree Oil has played a major part in helping me recover from my acne.  I use it whenever I get any acne and it helps a lot in reducing the redness and dries the acne in 2-3 uses. This one does not leave an oily residue and gets absorbed fully. Definitely helps calm down the pimple.
First impression while using it is the cooling effect. Tea Tree oil is great for drying the pimple overnight. Yet body shop's tea tree oil fees are a little more diluted compared to other organic tea tree oils.
Tea tree oil is the best for getting rid of blemishes super fast and doesn't sting when it's applied. Some say it might sting when applying it but I haven't experienced it yet.
It works like a medicine for Acne-prone skin. Pimples are gone but once you stop the application, they might come back till the time you use it, pimples are gone. I would recommend people with scars or blemishes, as I could see my skin getting better on the 3rd day of use. Also, the application is so good that it doesn't burn your skin or find any kind of irritation.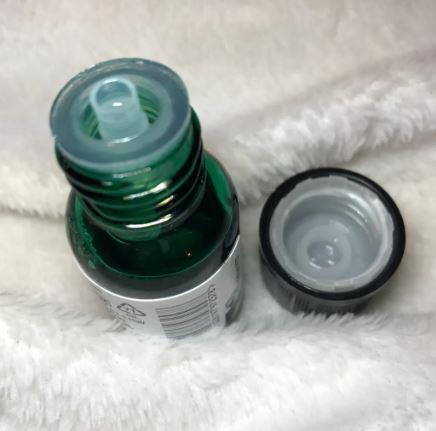 This is a miracle oil! Whenever I get a feeling that a zit will pop up or I have a zit on my face or some rashes and redness here and there, I clean my face and apply this oil at night and wake up with clear skin.
It takes 2-3 days for severe zits to clear up! This oil is super effective and magical. It has a strong smell of typical tea tree oil which I love but many might not! For me, this has been a game-changer in keeping my skin zit-free.
Packaging
Looking at the packaging, the first thought is, 'it's a bit pricey for the tiny bottle'. But it actually lasts for a long time. If anything can be changed, I wish they would change the packaging. Either a pump or a dropper, which we can control the amount that comes out.
Consistency and Fragrance
This Tea Tree Oil has a runny oil texture and a potent tea tree aroma. The body shop claims that it is 100% pure tea tree oil.
Also Check: Mad Hippie Vitamin C Serum Review
Application
The only tea tree oil that you can directly apply to your skin. Just take a drop and apply it to the pimple after the

face cleanser

. You just need to apply it to your pimples. So pimples go away without leaving a scar which is the best part.
It could be a bit harsh to apply it directly. Hence, Mix it with Almond oil and then apply it, thus making it more subtle. 
Used it along with coconut oil for my skin. It

moisturized skin

and at the same time had a great fragrance that helps reduce stress levels. Also, Mix it with a homemade mask for blemishes and spots.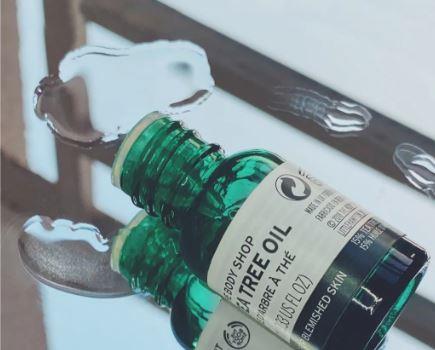 Just dip a cotton swab with rose water extract and squeeze out the excess and drop 4-5 drops of the tea tree oil. Then use this cotton swab on the affected areas.
It works great as a spot treatment whenever I have breakouts going on. You can add a drop or two to your everyday moisture too, to make the skin better.
I heard that tea tree oil was good for the hair and scalp. So I decided to try it out when washing my hair. After

shampoo

mixed it in with conditioner and let it sit for 2 min. And scalp feels clean, hair feels moisturized but light at the same time. I would recommend mixing tea tree oil with your conditioner.
Why you should love The body shop tea tree oil?
You can use it every night and day as a skin toner.
It lightens marks and reduced inflammation in new emerging acne.
Tea Tree Oil has powerful antibacterial properties that help purify the skin.
It really helps with troubled acne skin by fighting bacteria around the acne, seeping in, and also lessening the appearance of the zit.
It can be used for breakouts on the body.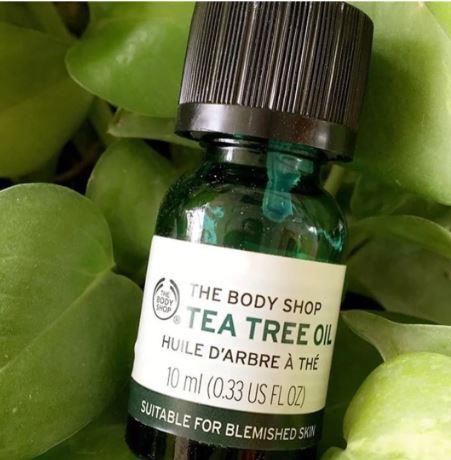 Pros of The body shop tea tree oil
100% vegan
Gives Clearer-Looking Skin
Most Suitable for blemished skin
Works great for blemishes, acne, and dark spots
Cons of The body shop tea tree oil
A little overpriced for the quantity available.
Overview
The body shop tea tree oil usage is kind of a new trend but believes this product will do more than that. Its ingredients are natural, after using the product the skin is brighter, smoother, and looks relieved! Absolutely recommended. But always I recommend a patch test before using any product.
Would I Recommend and Repurchase The body shop tea tree oil?
Yes, I will definitely recommend and repurchase it.
Hope you found this review helpful. Please do comment on your thoughts and experience. If you have any suggestions or any queries then ask in the comment box.
Last update on 2023-09-13 / Affiliate links / Images from Amazon Product Advertising API