The Sephora Collection 10Hr Foundation provides great coverage for every skin tone at an affordable price. You don't need to waste a lot of money on a good foundation. So, Today I'm going to be reviewing the Sephora 10 HR Wear Perfection Foundation.
I have it in the clear light shade. It is oil-free and gives second skin technology. It has a great coverage long-lasting and is lightweight so you never look like your makeup is caked on. Also, it blends well when contouring over the foundation.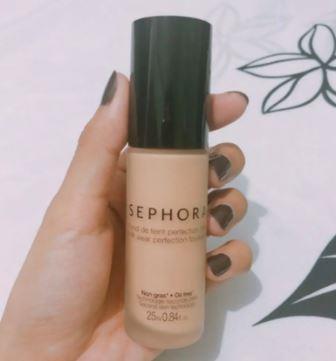 About Sephora 10 HR Wear Perfection Foundation
This oil-free formula is weightless which acts as a second skin. It lasts up to 10 hours with buildable coverage for optimum comfort. Soft focus pigments blur out blemishes and wrinkles for a smooth and natural finish. Also, it has a wide shade range that matches all skin tones and gives a youthful-looking, even complexion.
Sephora 10 HR Wear Perfection Foundation has amazing ingredients like Hyaluronic Acid and Vitamin E. Hyaluronic Acid provides hydration to the skin and the antioxidant Vitamin E protects the skin.
Price
20$, 25 ml
Skin Type: Normal, Combination, and Oily
Key Ingredients
Water, Isohexadecane, Dimethicone Crosspolymer, Dimethicone, CI 77891 (Titanium Dioxide), CI 77492 (Iron Oxides), Peg-10 Dimethicone, Alcohol, Disodium Stearoyl Glutamate, Propanediol, Butylene Glycol, Disteardimonium Hectorite, Polybutene, Acrylates Copolymer, Ozokerite, Magnesium Sulfate, Phenoxyethanol, CI 77499 (Iron Oxides), Tocopheryl Acetate, Peg-10, Cellulose, Sodium Potassium Aluminum Silicate, Sodium Dehydroacetate, Propylene Carbonate, Aluminum Hydroxide, BHT, Silica, Sodium Hyaluronate, CI 77491 (Iron Oxides).
Sephora 10 HR Wear Perfection Foundation made without:
Free from Mineral oil, Parabens, and Fragrance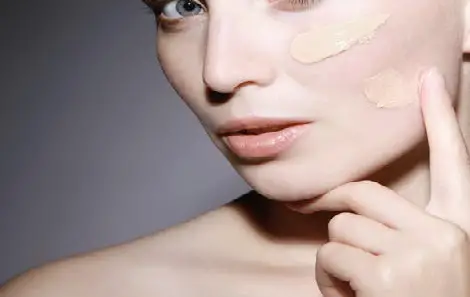 My write-up on Sephora 10 HR Wear Perfection Foundation
Finally found a foundation that works for me. I have dry skin. Even using primer, many other foundations have been terrible for my skin. This has never looked fake or cakey on me, it looks natural and smooth.
It's packaged in a sturdy glass bottle with a dispensing pump and a cap. It blends with my skin and really suits me but it takes space on the purse if you decide to bring it along because of touch-ups. This foundation doesn't feel super wet but it really finishes naturally.
It doesn't crease super majorly but my smile lines and creases around my under eye become more visible and defined if I wear it for an elongated amount of time. It's a pretty good foundation for an affordable price from the Sephora brand.
It claims to have medium coverage buildable, is dermatologically tested, non-comedogenic, paraben-free, and fragrance-free. Also, formulated without mineral oils. So when you pump it out it has nice control.
It's not mask-like but there is a lot of coverage at least, in my opinion, this is so full Mullis. It does seem like it takes a second to set because Applying foundation on my face is a lot smoother, it is natural but texture-wise it doesn't look natural.
It definitely looks like you have makeup on face maybe because it's a fuller coverage product not saying that it's cakey but you know the texture looks like makeup. Also, looks quite flawless. The shades with a "Y" are developed for yellow undertones.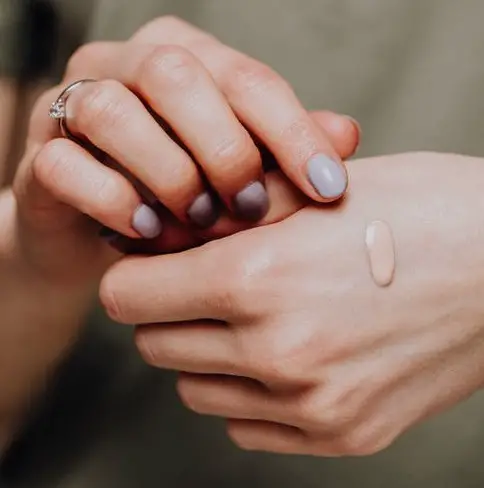 But really happy with my makeup and how it applied to this foundation since this foundation had a thicker consistency. I decided to use it as an eyeshadow base and I think it worked out pretty nicely with the eyeshadows. It said that it's completely non-tacky and I think it became more matte, not a completely dry matte, kind of its wearable math.
Which is the best foundation at Sephora?
One of the best Sephora foundations is the 10 Hr perfection foundation. It has a pretty thick consistency which is something I prefer as I have pretty dry skin. As the description claims it has a natural finish which worried me a little because I have dry skin but as long as you thoroughly moisturize beforehand, the foundation sits very beautifully on the skin. Also, despite the thick consistency, the foundation is surprisingly light on the skin.
Actually I probably need just that for my entire face, it's pretty thick the shape which is nice and not golden like orange golden. It's more like a pale yellow, kind of looks dry and patchy in some areas but it's really not that bad.
I'm okay with I prefer a healthy glowy luminous look so this is a lot different than what I'm used to wearing but you know I can add some glow. I think this would be more suitable for the warmer weather, so I need to say that I have felt that this is going to last on my skin a while in heat also.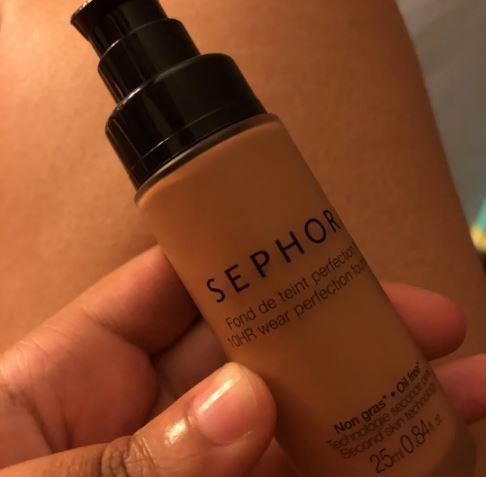 Is Sephora foundation good for oily skin?
This foundation is comfortable and not greasy also oil-free, so it just feels really nice. It really feels lightweight and comfortable. After a few hours later, it still looks the same. To be honest, maybe my oils are starting to produce in my skin but I don't look oily at all. I don't look luminous, I still look the same. The luminosity that there is on my skin is the highlight.
The staying power is around 10 hours as they claim as policy could last even longer, the foundation is surprisingly for the most part still intact. I mean my skin is looking a little droopy. I'm extremely tired but for the most part, the coverage is still there it's held my blush and bronzer amazingly. It's controlled my oils all day for 10 hours straight. It was very humid and I don't look greasy at all my chin.
How to choose the right foundation shade?
Pinkish complexion : Beige tone
Yellowish complexion : Slightly pinkish tone
Matte complexion : choose a matte beige tone with a light hint of apricot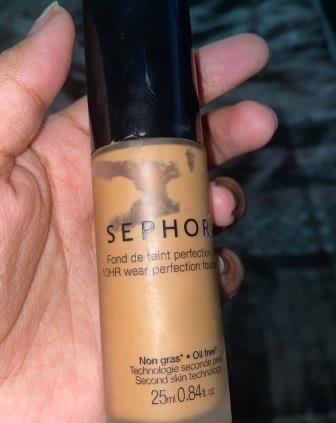 Does Sephora foundation oxidize?
I don't think it looks cakey at all, it doesn't look like it's oxidized either so this foundation is holding up pretty nicely. I mean it looks the same as exactly the same maybe it is settling into the fine lines just a little bit but I think I could just fix that like I am pretty confident.
It may look a little bit cakey and dry If you have some blemishes and fine lines. I think the coverage is just amazing, it's not full coverage you could fill that up to full coverage and I did use it as an eyeshadow base and it held up my eyeshadows really nicely. If it is pretty dark shadows but it's still got the job done and they didn't move anywhere. I'm kind of impressed you know it's probably a combination of the eye shadow formula and foundation.
If I mix it with a liquid highlighter, it would give me the perfect finish that I want while still giving me a luminous look and controlling my oils at the same time. This foundation would be very versatile if you want to use it matte or mix it to give it a more luminous look. While still controlling the t-zone and your oily areas. This weightless foundation is long-wearing.
If I took off a layer of the foundation and then after 10 hour wear, I guess it does look a little cakey and feel like my skin looks really like saggy and droopy that always happens by the end of the day. When I'm just really tired my highlight is completely intact. I feel like if the crevices are a little oily but the coverage that still okay.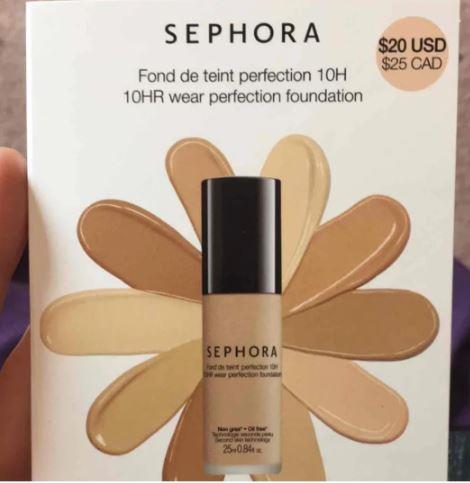 How to apply Sephora 10 HR Wear Perfection Foundation?
Apply the foundation using the following steps.
Apply a primer on the face and neck for a soothing.
Do small dots of 10HR Wear Perfection Foundation on the cheeks, forehead, and chin.
Blend the foundation as much as possible using Foundation Brush.
Apply evenly around the nose, mouth, close to the eyes, and neck flawless finish.
You can also apply with a sponge.
Pros
The product is not tested on animals
Provides a natural, beautiful finish
Conceal blemishes and dark spots
Hide scars and pigmentation marks
Overview
Is the Sephora foundation good?
It stays on makeup for hours just like the name. It's really lightweight. I really love Sephora 10 HR Wear Perfection Foundation because there are many types of colors that have. So I would love to buy it again. I would recommend this foundation to normal to oily skin but if you moisturize thoroughly, the foundation can work for you too!!!
If you're looking for something to wear during the warmer months or maybe you have more oily skin and you want something more oil-controlling, this is a good foundation to try or if you're wanting more coverage, this is a good one.
Would I Recommend and Repurchase Sephora 10 HR Wear Perfection Foundation?
Yes, I will definitely recommend and repurchase it.
Hope you found this review helpful. Please do comment about your experience. If you have any suggestions or any queries, ask in the comment box.
Recommended Articles