Today's post will review the Lakme 9 to 5 CC cream, a top-rated cosmetic product. In the beginning, Lakme only offered two shades: beige and bronze. The next shade of bronze; Honey and Almond (the darkest shade), are two new darker shades added to Lakme's shade range recently.
CC Cream, which stands for color correction cream or color control cream, is a good coverage formula that conceals skin imperfections.
Complexion Care creams, all-in-one products, are helpful in such instances. They provide light coverage, skin evenness, moisturization, and UV protection.
Lakme 9 to 5 CC Cream Review
Lakme 9 to 5 Complexion Care Face CC Cream comes in four shades: Almond, Honey, Beige, and Bronze, and is ideal for all Indian skin tones.
The cream effectively conceals dark spots and other minor imperfections. This cream hydrates and protects your skin from sun damage while providing mild coverage.
However, a CC cream will not offer of right coverage as a foundation. Choose a foundation with a moisturizing or dewy finish if you want additional coverage.
Preventing the foundation from drying out is as simple as using a hydrating moisturizer before applying it and finishing with a setting spray afterward.
Product Details
The Lakme 9 to 5 CC complexion care cream combines the advantages of daily skin cream with makeup coverage for a professionally styled look that you can wear every day.
It's the ideal skincare and makeup combination. This cream claims to protect, moisturize, brighten, conceal, refresh, and even out the skin quickly. 
Price of Lakme cc cream
Small pack price INR 99 for 9 gm (Discounted price – 72/-)
Full-size price INR 315 for 30 gm (Discounted price – 239/-)
Last update on 2023-11-13 / Affiliate links / Images from Amazon Product Advertising API
Lakme cc cream Ingredients
I was pretty dissatisfied when I noticed the ingredients list. It is free of parabens, however, as per the ingredient list on the packaging, they contain Silicones, Alcohol, and Perfumes. 
Sensitive skin may be irritated by some sunscreen ingredients, even though they did not irritate my skin. Be aware that may respond differently to various people's skin.
Due to the presence of stearic acid, palmitic acid, and potassium chloride in Lakme CC cream, it may not be suitable for very oily or acne-prone skin. They also include certain comedogenic chemicals; therefore, those with mild to severe acne-prone skin should consult a dermatologist before using them. 
Here are a few good ingredients I noticed:
Vitamin E, Allantoin, Bisabolol, and Ginger Root Extract are skin-beneficial ingredients. Zinc Oxide, Ethylhexyl Methoxycinnamate, and Titanium Dioxide are among the sunscreen ingredients.
Titanium dioxide: It is a UV filter or whitening ingredient found in a number of skincare products such as sunscreens, pressed powders, and loose powders. It has a low risk of skin irritation in lotions and creams. On the other hand, Titanium oxide is inhalable and can cause lung cancer if inhaled in large amounts.
Glycerine: It is a gentle moisturizing ingredient used in many cosmetics. Glycerine aids in the retention of moisture and is beneficial in the treatment of wrinkles, and dark spots, and the reduction of pore size. It also helps as a toner and sunblock.
Vitamin E: It is an effective antioxidant that may help in the reduction of Sun damage to the skin. Furthermore, manually applying vitamin E to your skin might help moisturize and protect it from harmful free radicals.
Bisabolol: It is a well-known skin-soothing ingredient that helps in the relief of inflamed skin. Bisabolol's soothing effect makes your skin smooth and supple. It helps to clear acne and keeps microbes at bay.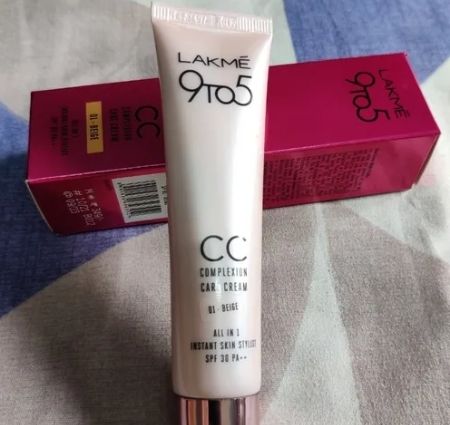 What the product claims:
This Lakme CC cream face cream provides a flawless makeup look with SPF 30 and complete skincare according to the brand. It moisturizes and brightens the skin, and its makeup benefits include an even skin tone, concealing, and smooth coverage for a naturally flawless appearance.
My write-up on Lakme CC Cream Review
I've used Lakme 9 to 5 CC complexion care cream for a month and have all four shades. However, only the beige shade compliments my skin tone, and it provides me basic coverage that lasts 3-4 hours. Because of its light and pleasant texture, this cream blends effortlessly. This complexion care product also adds shine to my skin by moisturizing it.
Lakme beige cc cream does not give me a heavy makeup look, and it provides a very natural look on the skin, gives a matte finish, and brightens the skin. It is incredibly cost-effective for college girls' daily needs.
It has an SPF of 30pa+++, which is good for daily use. It also combines well on my skin and leaves a natural satin finish with a hint of radiance, giving the appearance of healthy skin.
The cream works well as a light foundation. It is not required to use a large amount of cream to cover the face; a fair bit of cream is sufficient. It provides me with very little coverage, but it's sufficient for everyday use if you don't want to wear a lot of makeup. There are four different shades, so you can select one that matches your skin tone.
Lakme's CC Cream is a must-try for everyone because it functions as a moisturizer, sunscreen, and foundation. However, because it is not waterproof, it does not fit properly if you sweat a lot.
While it contains some mysterious ingredients, it did not bother me or cause breakouts on my sensitive skin. However, it may clog pores and cause acne because it contains comedogenic ingredients.
A moisturizer isn't required when using Lakme CC cream. However, if your skin is dry, you can use it with any moisturizer or lotion; otherwise, this product is excellent, particularly for oily skin. It provides a matte finish to oily skin (especially the T-zone), yet it does not create dryness, saggy skin, or exaggerate dry areas.
It does not have enough SPF to prevent all of the sun's UVA radiation. For 1-1.5 hours, this cream protects our skin from damaging UV radiation. As a result, please don't rely on it for sun protection, as it is undoubtedly insufficient to protect your skin.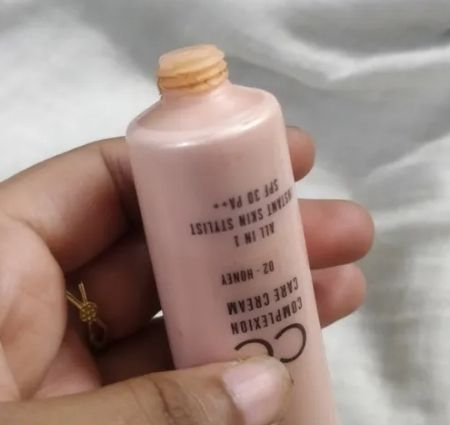 Packaging
Lakme cc cream is packaged in a rose-gold plastic tube with a well-fitting rose-gold cap. A pink cardboard box houses this tube. The tube packaging is a simple but elegant look. The product name, shade, and a few key details are inside, while the usage instructions, etc., are outside.
The tube is travel-friendly and portable, as it is also available in a mini-size. The 30g pack is a full-size one. The small pack product contains 9 gm of CC cream. However, only two shades are available in the mini size, but the full-size product has all four shades. Overall, the packaging is compact, easy to use, travel-friendly, and leak-proof.
Consistency
Lakme CC cream has a creamier texture than Garnier and Ponds BB cream. The cc cream glides quickly and mixes seamlessly without the need for additional effort. This cream appears to be somewhat thick, yet it quickly absorbs. On my combination skin, I don't see any oiliness.
Fragrance
The smell of this Complexion Care cream is mildly fruity, and the scent isn't overwhelming so it won't irritate your skin.
This product has the same fragrance as Lakme's Invisible Finish foundation. After some time, the pleasant smell of this cream fades.
Coverage
This product provides low to medium coverage, which is excellent for an all-in-one solution. It partially conceals my acne scars and under-eye darkness, and my concealer takes care of the rest.
This cc cream allows me to have skin that is evenly toned. It covers pores and minor blemishes and gives a gorgeous natural appearance and non-cakey coverage. The effect is a little dewy.
Staying power
This cream has a long-lasting effect on my skin, and it lasts at least 4-5 hours. When I stay in an air-conditioned area or during the colder months, my staying power increases. If you use this cream too much, it will appear flaky.
Oxidation
I swatch all four Lakme cc cream shades on my hand and wait a few minutes to see if they darken from their original color. Then, after an hour, I'll reapply them to see how much they've oxidized. After an hour, they are 1-2 shades darker than they were before. So go for a lighter shade than your skin color.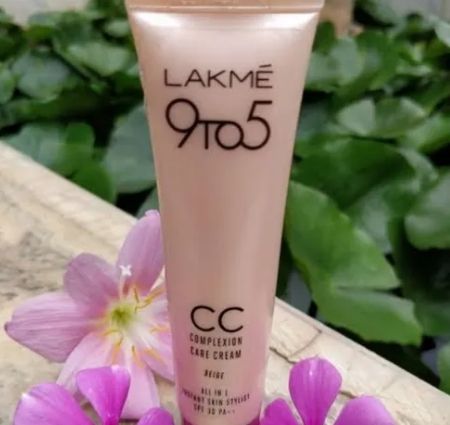 How to use Lakme 9 To 5 Cc Cream 
For a single application, drop a pea-sized quantity into the palm of your hand.
Apply the cream to your washed face and neck.
Dab the mousse foundation all over your face with your ring finger.
Using your fingertips, gently blend out from the hairline to the neckline in a downward direction.
Allow for a 10-minute rest period until it appears natural on my skin. After that, it looks simply gorgeous. It gives the appearance that nothing has been put to the face, covers blemishes when applied correctly, and makes you look lovely. Before applying this, I also use a daily wear sunscreen lotion.
Lakme 9 to 5 CC cream shades
The most significant point to keep in mind is selecting the right shade for your skin complexion. There are four unique shades available to match different skin tones.
The beige is the Lakme cc cream's lightest shade, suitable for fair skin tone, and has warm-neutral undertones, and the Lakme cc cream bronze shade has distinct yellow undertones that match wheatish skin with warm undertones.
Honey is a medium skin tone that goes well with dusky skin tones with neutral to golden undertones. The darkest shade of Lakme 9 to 5 cc cream is almond, for significantly deeper skin tones with neutral undertones.
Tip: If you're not sure which shade will look perfect on your complexion, try a 9gm tube first, rather than a 30 or 50-gm tube.
Lakme 9 to 5 cc cream shades swatches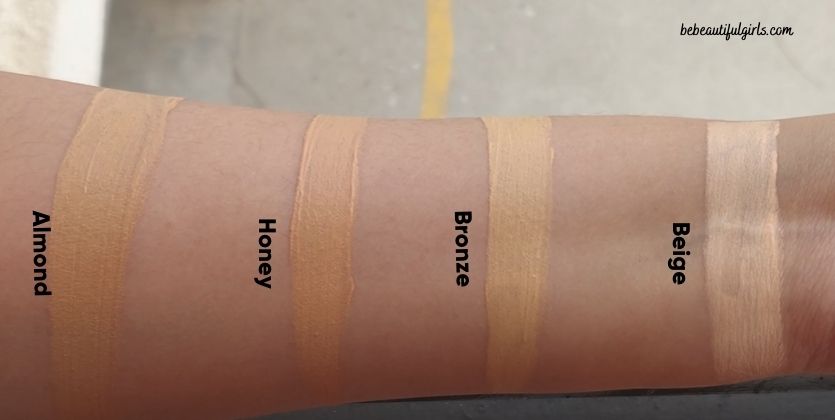 Pros of Lakme 9 To 5 Cc Cream
Two sizes and four shades are available
Contains sunscreen
A light scent that quickly disappears
Blends easily
Budget-friendly
Travel-friendly packaging
It lightens skin and makes your skin glow
Moisturizing matte formula
It only requires a small amount of product and can last for a long time
It did not irritate or cause breakouts on sensitive skin
It gives a completely matte finish
It can be used to cover up dark spots
Medium coverage
It has a smooth, creamy texture that spreads easily
It doesn't clog pores
Cons of Lakme 9 To 5 Cc Cream
Because the cream is a little heavy, it might not be best for very oily skin; oily-skinned beauties should use a compact.
It has the lowest SPF as compared to other BB creams.
Normal-dry skin does not get enough moisture in the winter.
Your face will seem ashy if you apply too much cream.
Acne-prone skin may not be suitable.
It doesn't contain the greatest ingredients and isn't chemical-free.
Overview
The Lakme 9 to 5 CC cream is a makeup and skincare product. It evens out the skin tone and creates a matte makeup base. Although Lakme states that it is good for all skin types, I believe that it would be too greasy for oily skin. Overall, this cream evens skin tone and provides light coverage, making it ideal for daily makeup use. If you're looking for a CC cream that offers good coverage on a budget, this product is for you.
Frequently Asked Questions
Is Lakme cc cream good for dry skin?
Lakme CC cream is a lifesaver for dry skin because it has moisturizing ingredients. It does not leave the skin dehydrated or tight.
Is Lakme cc cream good for sensitive skin?
I can't be sure that this Lakme 9 to 5 CC cream is safe for sensitive skin. Sensitive skin people should use this product with extreme care. So, you can choose Lakme CC cream totally after performing a patch test on your neck.
Last update on 2023-11-13 / Affiliate links / Images from Amazon Product Advertising API