Have you ever thought about what's better than having all your favored lipstick colors? Having them all in one!
RENÉE Cosmetics, a cruelty-free makeup brand, has been involved in the lipstick category and recently introduced a unique 'Renee fab5', 5 in 1 color lipstick. This lipstick pen is a curation of the most desirable hues from the beauty business.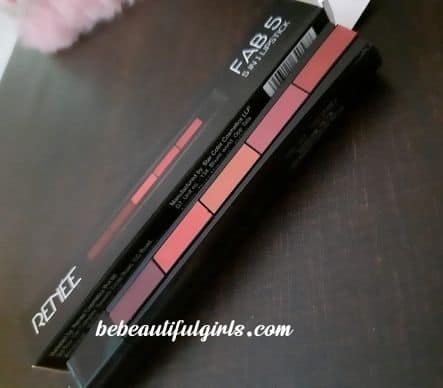 Renee Fab5 5 in 1 lipstick Review
I'm going to talk about this Renee cosmetics Fairfield five-in-one lipstick. After hearing many reviews and watching a lot of ads, I thought of trying this product. 
It is formed with dark pigments and provides an intense color. These unique shades are flexible; you can merge two shades and make them your preferred color. It is not herbal lipstick, but it is free from parabens.
The product comes in multiple shades in one container. These lip colors glide effortlessly on your lips and give you specific saturated pigment in a single stroke.
Sale
Last update on 2023-11-09 / Affiliate links / Images from Amazon Product Advertising API
Product Details
Renee fab5 is a highly pigmented formula. So, it packs lips with a profound shade payoff. Its soft texture glides smoothly and assures comfortable wear.
This color stick has the goodness of 5 various shades in a single lipstick pen. This stick covers each lip color, differing from subtle coral to bold red.
Renee fab5 5 in 1 lipstick price: 
Rs. 750 (7.5 gm)
Renee fab 5 lipstick Ingredients:

Made without: Cruelty-free and Paraben-free
My write-up on Renee fab5 lipstick Review
I'm going to talk about this Renee cosmetics Fairfield five in one lipstick. You get a total of five different shades in a single pane. The product's price is 750 rupees, and you're going to get 7.5 grams of the product. Each lipstick contains 1.5 grams.
The tagline of Renee 5 in 1 lipstick is "pop push and play". This lipstick is more like a pen or pencil that we used in our childhood. This pop-up pencil has interchangeable leads like a crayon stick.
You don't need to carry five or six shades of lipstick in your pouch. Just take this stick, and you have five shades in it. It has a coral shade and a bold red shade. Each shade is different from the others.
It's straightforward to open it. You have to pull it carefully and put it back then the next lipstick comes. You need to push from the backside and remove the upper shade and insert it from the bottom again and push, and the other shade will pop up.
I suggest using a lip liner while using Renee lipstick Because these lipsticks are not pointed from above. So, you will find it difficult to line your lips with this lipstick.
It's so soft to apply and glides on effortlessly. My lips look much fuller after applying this lipstick. A little tint goes a long way.
Its suits very well with my makeup steps of primer, foundation, loose powder, concealer, and mascara, and also it enhances my makeup look.
RENÉE FAB 5 is a must-have beauty product for all women. You can quickly get ready for your last-minute meeting, romantic date night, or any function or occasion with this new launch lip color.
[Know more: Burt's Bees Tinted Lip Balms Swatches]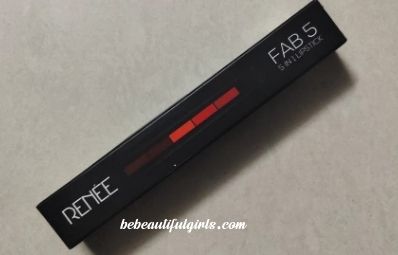 Staying power
Its creamy and smooth application makes it easy to apply. However, once you use it, it lasts for about 3-4 hours and washes out with water. The lipstick will fade off soon.
Packaging
It comes in black cardboard packaging that has mentioned the ingredient list on it. The lipstick shades appear on the lipstick stick. You can conveniently take it in your purse or bag. So, Five shades in one make it travel-friendly.
Texture
It is creamy lipstick. But, when you apply it, it gets a matte finish. Also, it is enriched with jojoba oil, and it is perfect for our lips because jojoba oil has moisture which keeps our lips moisturized and hydrated at the same time. It is not that kind of shiny creamy lipstick. It feels creamy on the lips, but it looks like glossy lace creamy lipstick.
Pigmentation
It is very pigmented. It would benefit if you had a single stroke to get full opacity. It stays on my lips for three to four hours nicely, but after eating, it comes off from the center, which is quite normal for any bullet lipstick.
[Know More: A buying guide for Too Faced Born This Way Foundation-Review & Swatches]
Renee Fab 5 lipstick swatches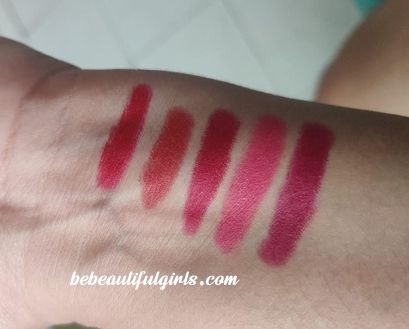 Renee fab5 5 in 1 lipstick Shades
You get five different shades in one lipstick—the shades range from true taupe to a ravishing red and matte bright fuchsia to a captivating coral. There are deep red, orange, maroon, plum, and pink color shades. Its creamy texture gives a beautiful, flawless lip look.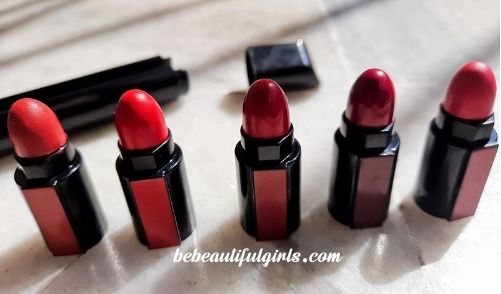 Pros of Renee Fab5 5 in 1 lipstick
Easy to carry and use
Lightweight
This product is cruelty-free, paraben-free, and vegan.
One Container Many Shades
Intense Colour Payoff
Moisturizing the lips very well
Creamy texture
Glides smoothly
Smooth and soft application
Enriched with jojoba oil
Cons of Renee Fab5 5 in 1 lipstick
It should have options for different customizable shades.
I got it quite costly because if I talk about every shade's quantity, we join each of it – it will be fewer than or equivalent to a standard size one lipstick pack with Rs 750.
The sliding is a little tight because it's tight, while pushing it may damage the lower lipstick shade. 
The Renee fab 5 in 1 lipstick is convenient to carry along, although the cap can fall loose at times. It would be great if you stored the box. Otherwise, you may have stains of lipstick everywhere.
Availability: This product is available on various e-commerce sites like Amazon, Flipkart, Nykaa, etc.
Overview
Overall, Renee cosmetics 5 in 1 lipstick is a multi-purpose product. You don't have to carry five different shades. Its creamy formulation lasts up to 3-4 hours. Renee pop push and play lipstick are very convenient to carry while traveling. This product is cruelty-free, paraben-free, and vegan. It contains jojoba oil, keeps our lips moisturized. However the single thing, I don't like is Renee Fab 5 in 1 lipstick is not transfer-proof and smudge-proof.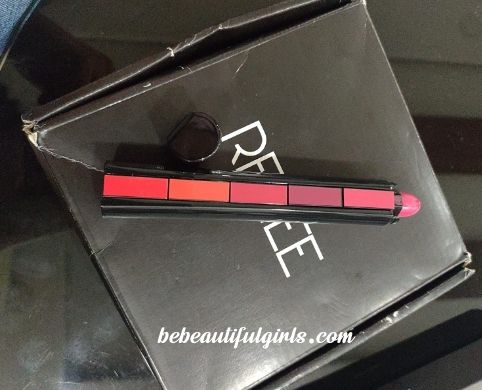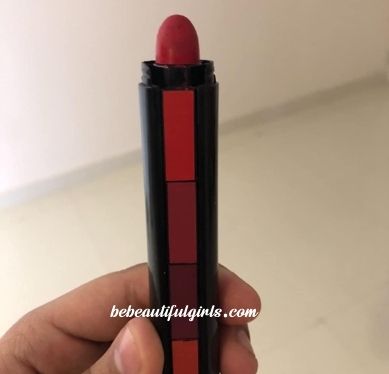 Last update on 2023-11-09 / Affiliate links / Images from Amazon Product Advertising API