Moisturizing cream nourishes and invigorates skin while giving intensive hydration. Also, it minimizes the appearance of pores for soft, smooth, supple skin.
This winter gives your skin hydration for a healthy glow using water-based creams like "aqua bomb". Belif skincare line offers a range of products with a mixture of herbal traditions and Korean skincare.
In this article, We discuss Belif The true cream Aqua Bomb– Does it give hydration to the skin? Is it for all skin types and do any side effects occur or not? Let's review it.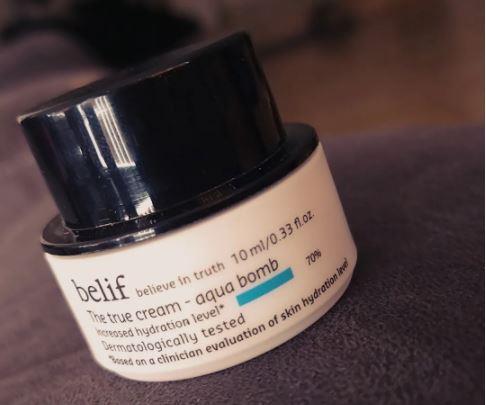 Belif The True Cream Aqua Bomb Review
Product Details
Belif True cream acts as a cooling and refreshing "drink of water" for dull, dry skin. This water-based moisturizer releases a flood of weightless moisture for a healthy, and supple appearance.
Its hydrating formula absorbs quickly, so combination and oily skin types can hydrate without heaviness and greasiness. 
This cult-favorite gel cream helps neutralize skin-damaging free radicals and improves skin elasticity. This refreshing cream contains a blend of apothecary herbs, including an antioxidant-rich lady's mantle.
No products found.
Price
Belif aqua bomb ingredients
Water, Glycerin, Dipropylene Glycol, Alcohol Denat, Dimethicone, Cyclopentasiloxane, Methl Trimethicone, 1,2-Hexanediol, Malakite Extract, Pentaerythrityl Tetraethylhexanoate, Caprylic/Capric Triglyceride, PEG/PPG/Polybutylene Glycol-8/5/3 Glycerin, Alchemilla Vulgaris Leaf Extract*, Stellaria Media (Chickweed) Extract*, Urtica Dioica (Nettle) Leaf Extract*, Equisetum Arvense Leaf Extract*, Plantago Lanceolata Leaf Extract*, Avena Sativa (Oat) Kernel Extract**, Calendula Officinalis Flower Extract**, Nepeta Cataria Extract**, Rubus Idaeus (Raspberry) Leaf Extract**, Baptisia Tinctoria Root Extract**, Dimethiconol, Polymethylsilsesquioxane, Isohexadecane, Polysorbate 60, Ceramide 3,
Cholesterol, Sodium Acrylate/Acryloyldimethyltaurate/Dimethylacrylamide Crosspolymer, Butyrospermum Parkii (Shea) Butter, Phenl Trimethicone, Pentaerythrityl Tetraisostearate, Tromethamine, Panthenol, Squalane, Triethylhexanoin, Macadamia Ternifolia Seed Oil, PEG-150, PEG-40 Hydrogenated Castor Oil, C14-22 Alcohols, Arachidyl Glucoside, Hydrogenated Lecithin, PEG-100 Stearate, Stearic Acid, Acrylates/C10-30 Alkyl Acrylate Crosspolymer, Glyceryl Stearate, Carbomer, Trisodium EDTA, Fragrance+, Citronellol, Limonene, Citral, Geraniol, Linalool. * : Napiers aqua formula ** : Napiers original formula + : Fragrances Of Natural Origin
Made without: 
Free of Sulfates, Phthalates, mineral oils, petrolatum, synthetic preservatives, dyes, synthetic fragrances, and animal-origin ingredients.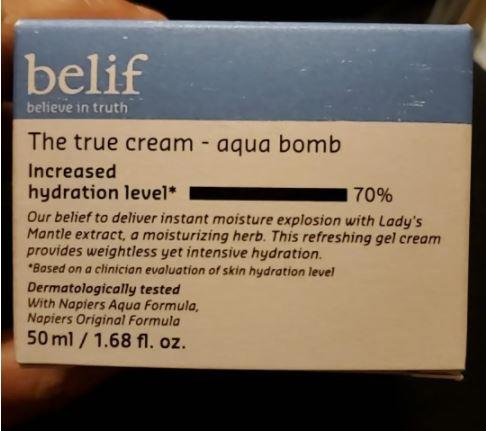 What it is:
An ultra-lightweight, gel-cream that instantly invigorates and cools the skin while giving a burst of refreshing hydration.
What belif the true cream aqua bomb claims:
This product is dermatologist tested and Clinically proven to increase skin's hydration levels by 70%.
No products found.
My write-up on Belif The True Cream Aqua Bomb
I have purchased Belif the true cream aqua bomb after using The True Cream Moisturizing Bomb. The Aqua bomb is lighter and incredible for everyday use as a morning moisturizer. It dries quickly and doesn't feel heavy.
The best gel-based moisturizer I have ever used. It's non-sticky & non-greasy but at the same time keeps the skin feeling fresh.
It hydrates the skin well indeed. Since I've started using belif moisturizer, my skin has started glowing due to the increased hydration level in my skin and from my experience, it is best for combination and oily skin types.
It's a non-greasy, gel-like moisturizer, great for my combination skin in summer & rainy seasons. I think this is a great moisturizer for acne prone skin and oily skin. It is perfect for all skin types, ensuring long-lasting hydration without weighing the skin too much.
It is similar to Clinique Moisture Surge or other normal face moisturizers. But Aqua Bomb is more gel-based and costly than Moisture Surge. I need more quantity of Aqua Bomb than Moisture Surge. However, a water bomb suits my skin. So I prefer Belif the true cream Aqua Bomb over Moisture Surge. You can get free samples or a discount on belif products.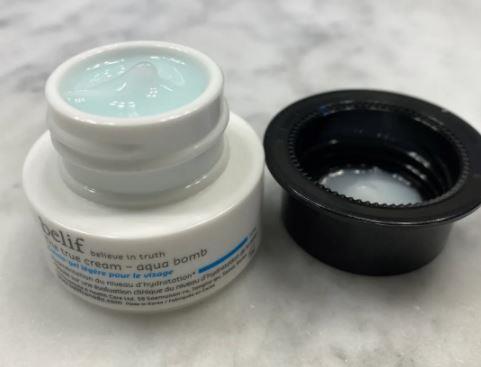 It works like a splash of water and leaves the skin hydrated, thanks to calming ingredients like calendula, and oat kernel. It is packed with the best of ingredients like Lady's Mantle along with plantin, ceramides, oat Husk, and Shea butter. 
This cream gives a wonderful glass skin glow after one application and the skin feels soft and supple. It is more like a humectant which is slightly occlusive thanks to the Dimethicone. My Sunscreen glides on it perfectly.
No products found.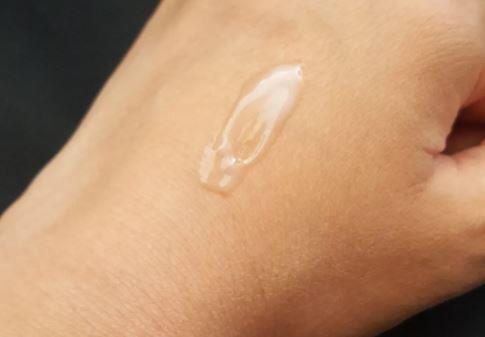 Best moisturizer for every skin type especially for my dry skin. This cream works great at night for all my dry spots and helps smooth my skin out before applying makeup in the morning. It moisturized my skin nicely and was a perfect base for my makeup or even just bb cream.
This cream is one of the only face creams that don't break me out, while also providing enough dampness without looking oily. This works well under makeup for a dewy finish. Some people claim belif moisturizing bomb breaks out the skin but with the aqua bomb, no breakouts or sensitivity, just lightweight hydration.
Moisturizers like Belif aqua bomb must be a part of a daily skincare routine. It keeps my skin hydrated throughout the day. My skin feels fresh and helps a little with oil control. It feels reviving when applied and leaves a pleasant dewy glow for daily hydration. It's good for day or night-time moisturizer.
It's a lightweight gel-cream so would also make a good moisturizer for the summer. It gives a cooling sensation without feeling heavy and greasy. The formula is gentle enough for both sensitive skin and rosacea-prone skin types.
The True Cream Aqua Bomb retains completely into my dry skin, moisturizing, and hydrating, and it has a refreshing cool feeling whenever I apply the cream. It keeps my skin soft and supple without leaving any sticky residue.
I have very dry skin in winter and consistently appeared to get dried around my chin and nose area. This moisturizer has helped restore the hydration in my skin again, and it evened out the level of oil my skin produced. I wear it every morning after cleansing and toning my face and before makeup, and I put it on every night when I go to bed.
This gel contains ceramide and cholesterol which help maintain the skin moisture barrier and could counteract the effects of the alcohol.
Packaging
It comes in a simple sturdy bottle and closes perfectly, well as a travel companion.
Texture
This product has a gel-like consistency. It is a water-based cream moisturizer. It is so lightweight and absorbs very quickly. It has a cooling and refreshing impact on the skin. It feels like its name – "aqua bomb" – like you putting H2O directly all over.
Color
The moisturizer had a beautiful light blue tint gel.
Belif aqua bomb allergic reaction
This hydrating cream has no recorded side effects or any skin allergies so far. However, get medical help right away if you notice any symptoms of a serious allergic reaction, including rash, burning, or persistent itching/swelling.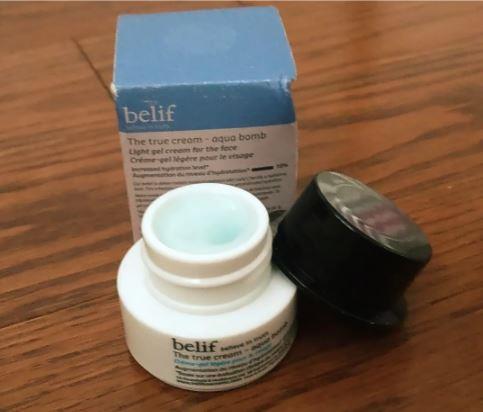 How do you use Belif the true cream aqua bomb?
Evenly spread a small amount to the face and neck morning and night.
It can be used as a makeup primer for smoother makeup application.
Combine with liquid/loose powder highlighter to create a glowy base.
Leave on overnight for an ultra-hydrating sleeping mask for a glow.
For a tinted moisturizer, Mix it with a high-coverage foundation.
Tap gently onto the skin for a midday moisture boost.
No products found.
Pros of Belif The True Cream Aqua Bomb
Lightweight and absorbs very quickly
Does not clog pores
Non-sticky texture
Lock moisture onto the skin
Reduces dullness and uneven texture
Gives an oil-free look
Creates a moisture seal on the skin
Maintain skin's moisture levels
Cons of Belif The True Cream Aqua Bomb
This product contains denatured alcohol which is not a great ingredient for the skin: it tends to be very drying, overtime strips the skin, and sensitizing for some skin types.
Overview
When compared to a rich moisturizer, Belif the true cream aqua bomb moisturizer might leave your skin looking fresh and less weighed down. This makes them a great option for people who don't like the feeling of a thicker cream on the skin. I used it as my daily moisturizer, it's not oily at all and keeps skin hydrated all day long.
Frequently asked questions
Is Belif Aqua Bomb good for oily skin?
It works wonders for oily skin types since it doesn't feel too heavy on oily skin. It leaves greasy skin feeling very smooth, nourished, and hydrated. My face just looks and feels so refreshed right after applying this product.
Does Belif Aqua Bomb have a fragrance?
It has a very subtle pleasant herbal scent, not strong at all. But stay away from it if your skin responds seriously to fragrance.
What is the difference between Belif aqua bomb and the moisturizing bomb?
Aqua bomb is a gel-based moisturizer that instantly bursts into moisture and is suitable for oily and combination skin types. Whereas, a Moisturizing bomb is a cream-textured moisturizer that forms a soft layer on the skin, delivering moisture and protection for dry-skin people.
Is Belif aqua bomb oil-free?
It is an ultra-lightweight, oil–free gel-like formula that absorbs very quickly and leaves skin smooth, nourished, and hydrated.
Is belif aqua bomb causing acne?
This moisturizer gently moisturizes and cares for troubled skin such as acne-prone, oily, easily irritable, and sensitive skin. The aqua bomb is very light and hydrating on the skin. So, it may not cause acne or any breakouts.
Last update on 2023-11-10 / Affiliate links / Images from Amazon Product Advertising API