Skincare
VLCC Activated Bamboo Charcoal Facial Kit Review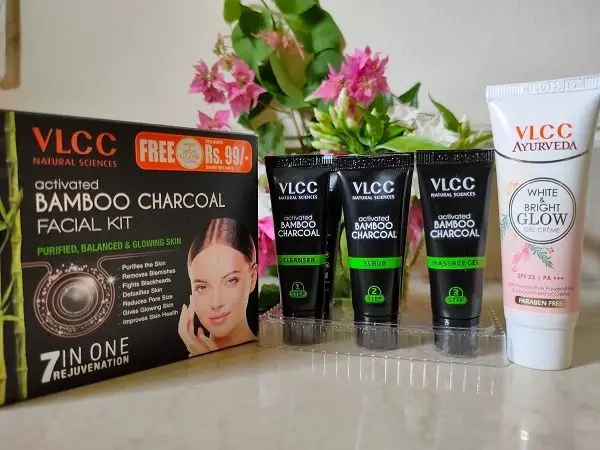 The pollutants, debris, and dust get aggregated on the skin and make the skin seem lifeless, tired, and dull. A facial routine is the best way to remove grime, abundance oil, and toxins from the skin. Therefore, today I am going to share VLCC activated bamboo charcoal facial kit review.
VLCC Facial Kit is the best home-based facial kit that gives a salon facial effect in an affordable price range. There are many benefits of activated bamboo charcoal for the skin.
Some key benefits of activated charcoal for the face:
Deep cleans and purifies the skin
Unclogs pores
Works to treat acne
Removes deeper impurities and dead skin cells
Reduces blackheads
Detoxify the skin by removing dirt and oil
VLCC Activated Bamboo Charcoal Facial Kit Review It is infused with the blend of Activated Bamboo Charcoal with natural ingredients enriched with Swiss Actives that helps to repair damaged skin cells.
The key ingredient, activated charcoal, helps to remove the dead cells of my skin effectively by deep cleansing and provides a smooth and supple effect to the skin. It includes a 7 in 1 formula that rejuvenates the skin.
7 in 1 Rejuvenation Effect:
Detoxifies Skin
Purifies the Skin
Removes Blemishes
Reduces Pore Size
Gives Glowing Skin
Fights Blackheads
Improves Skin Health
Product Details 
This VLCC facial kit has main actives like Activated charcoal, vitamin b3, cinnamon bark extract, and sulfora white. They assist with giving the best viability with seven skin revival benefits for Purified, Balanced, and Glowing Skin. 
Charcoal facial kit Price
INR 300 (But, I got it at a discounted price)
Sale
Last update on 2021-10-15 / Affiliate links / Images from Amazon Product Advertising API
VLCC bamboo charcoal facial kit ingredients
Key ingredients: Activated charcoal, salicylic acid, vitamin b3(niacinamide), cinnamon bark extract, sulfora white, clove oil, cinnamon bark oil, leaf dry powder extract, neem bark powder extract, nutmeg oil, enantia chlorantha bark extract, cinnamon bark extract, a clove leaf dry powder extract
VLCC Bamboo Charcoal Facial Kit contains:
Cleanser
Scrub
Massage gel
Massage cream
Face pack
Serum
My write-up on VLCC Bamboo Charcoal Facial Kit Review
I really like VLCC beauty products, and their facial packs are my all-time pick kits. I love the effect that contains charcoal. So, I need to try the activated charcoal facial kit of VLCC. I have been using it four times.
VLCC activated charcoal facial kit has six steps that are very easy and convenient to use at home. This facial kit contains a cleanser, scrub, gel, cream, face pack, and serum.
The best part is it is entirely free from parabens, and also it is a cruelty-free product. It makes my skin look better after every usage. The kit helps to get rid of dirt, toxins, debris, and dead skin. Also, it heals acne, lightens dark spots, and lessens pigmentation.
The best part is that I did not feel any disappointing feeling like itchiness, burning, or irritation while using it; as such, it is a must-try product. This kit is the best charcoal facial kit.
Step 1 – Cleanser
The cleanser has a gel-like base that has a slight thick nor runny texture. It is a light black in color and has a mild and pleasant smell that is not overpowering. You should simply take a necessary amount of cleanser and take a little water to create a foam. The cleanser makes a smooth foam. Now, apply on the face and neck and massage in a circular motion for 2-3 minutes. Then wash off with water and wipe off. 
The main actives of the facial cleanser are activated charcoal, salicylic acid, vitamin b3, cinnamon bark extract, and sulfora white. It is effective in cleaning the skin from pollutants, toxins, and excess oil. It leaves more purified and comedones-free skin. But my skin feels somewhat stretchy after application.
Step 2 – Scrub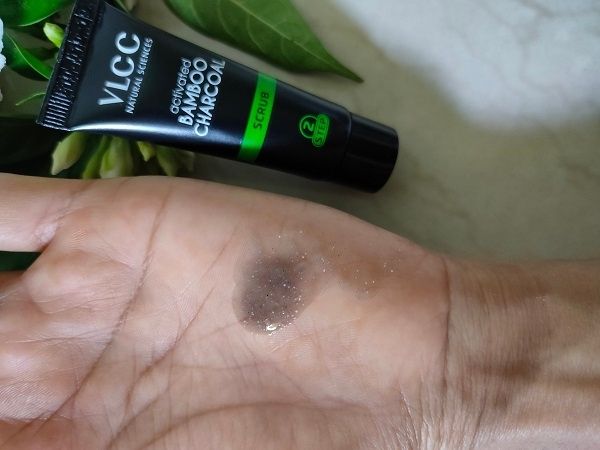 The scrub has a gel-like texture and is slightly black in color. The scrub has a very gentle but oil-like aroma as it contains clove oil and cinnamon bark oil. This exfoliating scrub contains numerous little natural cellulose particles that are very gentle on the skin. The tiny beads are not harsh or irritating at all.
Remember one thing that applies scrub on the wet face so that scrub spreads quickly on the skin. Now, rub with light hands in circular scrubbing movements for 3-4 minutes.
I feel a little burning sensation at the start of the scrubbing application. After that, it becomes normal and is not abrasive on my skin. However, sensitive skin people should remember this thing before purchasing this facial pack.
The key ingredients of scrub are natural cellulose beads, salicylic acid, activated charcoal, clove oil, and cinnamon bark oil.
This VLCC charcoal scrub mildly exfoliates the dead skin cells without dry out the skin. Its gentle exfoliation removes dust and impurities from the face effectively. It assists with cleaning the skin's pores and rejuvenates the skin. Also, it refreshes my skin and makes it appear more radiant.
Its mild exfoliation removes blackheads if you have very few and small blackheads and whiteheads. It is not effective in removing large clogged pores & deep and big blackheads. So, I recommend blackheads remover or nose strips after scrubbing for deep blackheads problem.
Step 3 – Massage Gel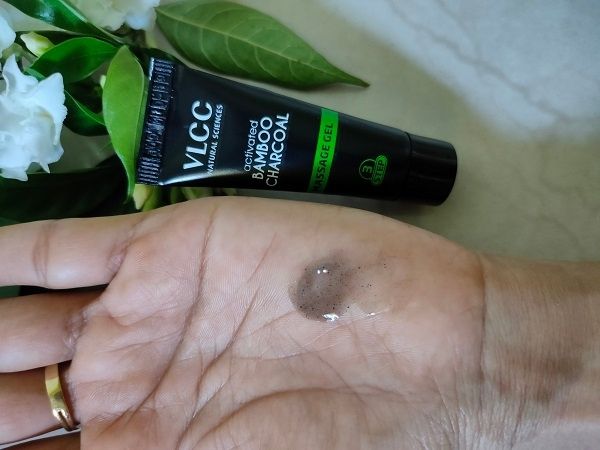 It has a gentle natural smell that is not annoying, and it has a black, gel-like texture. As mentioned in usage instruction, I took a required gel on my fingertips and massage with light hands in circular upward strokes all over the face and neck until it gets absorbed into the skin.
The gel needs about 5-6 minutes to get absorbed. Also, I feel a little tingling sensation in this step, so then I wash my face and continue forward with the next step.
The VLCC massage gel contains clove leaf dry powder extract, activated charcoal, neem bark powder extract, nutmeg oil, and sulfora white. It is effective in toning open skin pores. VLCC charcoal massage gel assists with detoxifying skin, lessen pore size, unclog impurities, and give beautiful sparkling skin.
Step 4 – Massage Cream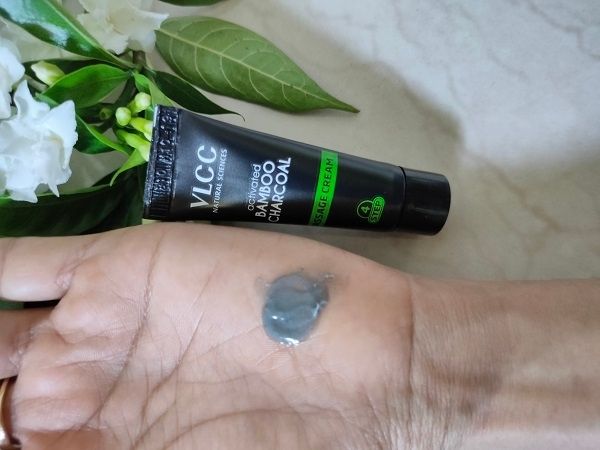 The fourth step of the VLCC bamboo charcoal facial kit is massaging with a cream. The cream has a thick texture and is a dark grey in color. This massage cream's aroma is warm, oil-like, and has a tenacious sweetness.
You need to gently apply a facial massage cream on the face and neck, then massage for 4-5 minutes gently in circular and upward movements. Make sure to moisten the face for easy massaging.
I didn't notice any redness, irritation, or red patches while massaging the cream. Indeed, it gives a very cooling and calming effect on my skin. Also, it makes my skin moisturized after usage.
The VLCC massage cream comprises main actives like activated charcoal, cinnamon bark extract, enantia chlorantha bark extract, and vitamin b3. This formula is able to balance and purifies the skin. It cleanses my skin thoroughly and makes my skin seem to be radiant glowing.
Step 5 – Face Pack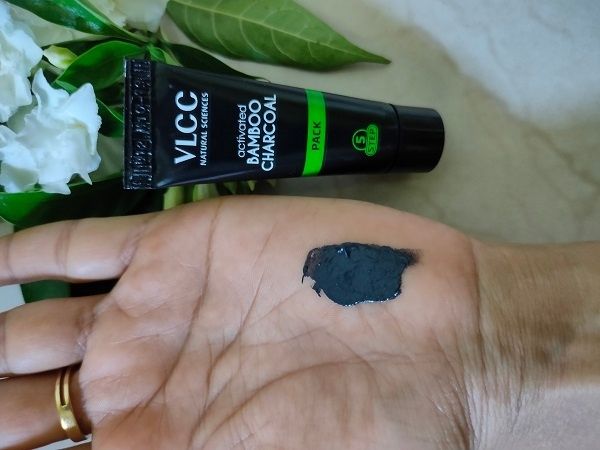 The next step is a VLCC charcoal mask with a black, a little granular texture that easily spreads on the skin. It smells like an organic face mask, a pleasant, sweet, and herbal fragrance.
This VLCC facial pack gives a very soothing and invigorating effect on my skin. Also, it removes excess oil. Thus, it is an ideal VLCC face pack for oily skin.
As per usage directions, apply an even layer of the VLCC charcoal face pack on the face and neck, avoiding the eye area. Leave it on until it dries completely. The pack dries around 8-10 minutes and is quite easy to wash off.
This VLCC face mask is formulated with a clove leaf dry powder extract, activated charcoal, nutmeg oil, neem bark powder extract, and clove oil. This VLCC facial clay mask acts as a Sebo-regulator and is specially made for purifying the skin.
Step 6 – Serum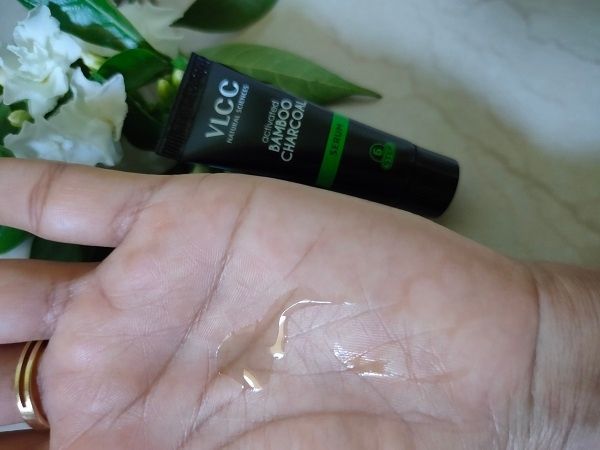 The sixth and last step of the VLCC charcoal facial kit is the serum that is transparent and has a flawy consistency. Take a required amount of product and give massage until it gets absorbed completely. No require to massage for a long time as it absorbs very rapidly into the skin.
The serum is very lightweight, non-greasy, and doesn't make my skin sticky. It helps to boost hydration and leaves a plump, glowing complexion. It doesn't leave behind a tacky residue, and this hydrating serum makes my skin look more flawless and youthful radiance.
Packaging
This VLCC activated charcoal facial kit comes in black-colored cardboard packaging with tiny tubes. This one includes six miniature tubes that have a screw cap. Also, I got free VLCC white & bright glow gel creme inside. The tubes close tightly, so no worries about leakage. Stepwise numbered mention on these mini tubes, so there will not be mistakes if you don't know about facial steps. All details are mentioned on packaging like benefits, directions of usage, price, ingredients, expiry date, etc. Also, an instruction manual comes inside the packaging that says a step-by-step procedure. Overall, this kit is very simple to use at home, hygienic, and travel-friendly. 
Sale
Last update on 2021-10-15 / Affiliate links / Images from Amazon Product Advertising API
How to use VLCC facial kit
Start with cleansing the face and neck properly using a cleanser. Then, exfoliate the skin for 3-4 minutes in a round motion using the scrub. After that, massage your face in light hands in the upward direction using massage gel until it gets absorbed. Then, gently massage the cream for 5-6 minutes on moist skin. Now, apply the face pack and leave it until it gets dries completely. Then use a serum with gentle strokes.
VLCC Bamboo Charcoal Facial Kit Benefits 
Activated charcoal helps to tackle many skin concerns like pores, blackheads, and dark patches. It draws all small particles from the skin.
Cinnamon Bark Extract is a derma-defender and Sebo-controller for acne-prone and oily skin. It is known as a purifying agent that combats bacterial proliferation and stimulates immune defenses.
Enantia Chlorantha Bark Extract has antibacterial properties, directs the sebaceous glands, and forestalls skin inflammation. It diminishes sebum discharge, limits extended pores, and effectively cleanses the skin.
Sulfora White assists with forestalling the arrangement of melanin for a more splendid, more radiant skin tone.
Vitamin B3 helps reduce wrinkles and hyperpigmentation and provides an even skin tone.
Salicylic acid gives a deep yet mild exfoliation for radiant skin.
Pros of VLCC Activated Bamboo Charcoal Facial Kit
leakage-free packaging
Easy to store after use
It does not cause any irritation or breakouts
Affordable and easy to buy
Pull out all the dirt from the skin and leaves nice flawless skin
User friendly
Travel friendly
Detoxifies and purifies skin
Cons of VLCC Activated Bamboo Charcoal Facial Kit
It gives a little burning sensation while scrubbing.
It may not be suitable for dry skin.
I didn't find much glow on my skin.
Shelf life: Three years
Availability: Easy (You can easily purchase it any cosmetic store and also online sites like Amazon and Flipkart)
Conclusion
Overall, VLCC Activated Bamboo Charcoal Facial Kit cleans the skin deeply by removing all impurities and excess oil from the skin. This facial kit is suitable for oily and combination skin types, also may be ideal for sensitive skin types. However, it may work well on dry skin. It helps to control acne problems and leaving skin squeaky clean, and clear. If you want to detoxify and purify your skin, just go for it.
Last update on 2021-10-15 / Affiliate links / Images from Amazon Product Advertising API