There are many various types of medimix face wash options. However, today, I will share Medimix Ayurvedic Anti Pimple Face Wash.
Medimix, an ayurvedic brand, offers ayurvedic soap, face wash, herbal hand wash, herbal body wash, ayurvedic hair shampoos and conditioners, and a few other Medimix products. Medimix is growing its product line and offering natural skincare to more people worldwide.
Medimix has won the FEMINA Power Brand of the Year award. Medimix Ayurvedic Anti Pimple Face Wash is the go-to product for modern women's beauty requirements.
Medimix Ayurvedic Anti Pimple Face Wash Review
There are no harmful chemicals in Medimix ayurvedic anti pimple face wash because it is manufactured with the goodness of herbal ingredients. It fights toxic elements all day and provides natural skin care and protection.
Medimix ayurvedic anti pimple face wash mildly cleanses your skin and makes it free of pimples thanks to its unique composition of Neem, Aloe Vera, and Turmeric.
It also contains the heavenly Herb Lodhra, which helps reduce skin allergies, and aggravation and improves skin tone, and Manjishtha, which improves skin texture.
Product Details
Medimix ayurvedic face wash contains Aloe Vera, Neem, Manjishtha, Lodhra, Turmeric, and Amaya for naturally pimple-free skin. Medimix's new Fast Acting Ayurvedic Face Wash helps maintain natural skin health.
Price
MRP 65 for 50 ml
MRP 115 for 100 ml (USD $4.99 for 150 ml)
Sale
Last update on 2023-09-14 / Affiliate links / Images from Amazon Product Advertising API
Medimix Anti Pimple Face Wash Ingredients
Neem, Aloe Vera, Manjishtha, Lodhra, Amaya, Turmeric, Nimba, Haridra, Inactives, Approved Colour
Made without: Cruelty-Free, Paraben-Free, and 100% Vegan
What the product claims:
Noticeable reduction in pimples in 3 days.
Medimix's ayurvedic formulation kills pimple-causing bacteria in just one minute.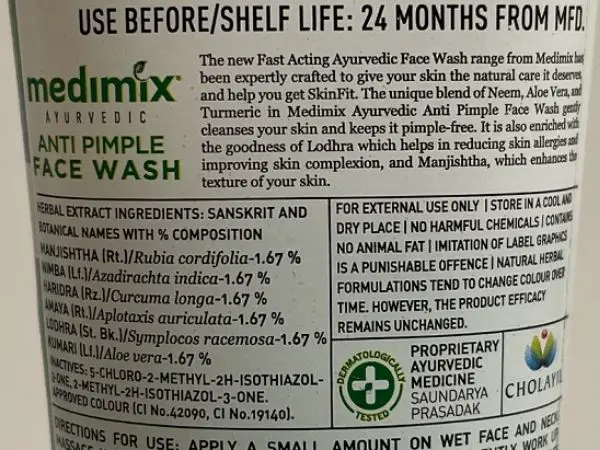 My write-up on Medimix Anti Pimple Face Wash Review
I've been using it for a month now. I had been suffering from acne all over my face before it. Because I have a combination skin type, choosing the right face products might be difficult. I had previously utilized medicine to treat my acne, but my results with Medimix face wash were quite remarkable.
It does not dry out my skin and cures my pimple in a couple of days. My skin is also a little sensitive, and it's not as harsh. I won't say pimples are entirely gone, but the frequency with which they occur and the intensity with which they appear has significantly decreased.
I never imagined a low-cost face cleanser would be free of SLS and parabens, as well as so soft on the skin. It cleanses my skin without causing it to get dry., and it gives me the cleanest face I've ever had. It has a very light herbal scent; therefore, it's suitable for migraine sufferers.
The nicest part about this face cleanser is that it is free of foaming agents. The contents are entirely natural, and it has a pleasant aroma. Since I started using this, I haven't had any acne breakouts. This ayurvedic anti-acne face wash nourishes, cures, and invigorates oily skin.
Medimix anti pimple facial wash has been beneficial in treating my acne, and it has a natural property that nourishes the skin. With each wash with this face cleanser, my skin becomes clearer and brighter. After utilizing this product, I have seen no side effects or adverse effects.
It's a refreshing gel-based face wash that's simple to remove with water. I was pleasantly impressed by how beautifully it lathered without the presence of soap, and it didn't irritate my skin and left it feeling fresh.
I usually use a sulfate-free face cleanser, but I often have the feeling that my skin isn't being properly cleansed, which this solved. It's wonderful for me because I have oily to combination skin.
Medimix anti pimple face wash is one of the best ayurvedic face washes for pimple-prone skin. It's a very gentle facial cleanser, and it has proven to be more effective than the Himalaya neem face wash. It gets rid of dirt and oil, and it also helps to keep my skin oil-free for a long time.
You'll need more than this if you wear makeup. However, it's a good face wash for everyday use. This product has not only helped me stop my breakouts but has also kept my skin hydrated.
I remove my makeup using coconut oil first and then a cotton pad to remove it altogether. Then I use this face wash, which does not cause me to break out, and Pigmentation and pimples will take time to disappear.
It contains all ayurvedic ingredients that aid in the reduction of pimples on the skin. It's a gel-based formulation that's mild on my skin. It genuinely helps me maintain my skin clear and reduces dark spots, but you must use it consistently. The main disadvantage is that this ayurvedic cleanser causes the skin to dry throughout winter.
I cleanse my face twice daily in the daytime and at night. After applying it, my face is oil-free for around 7-8 hours. Because I have oily skin, I don't require a moisturizer after using this face wash. However, if you have normal or dry skin, I recommend using a moisturizer before washing your face.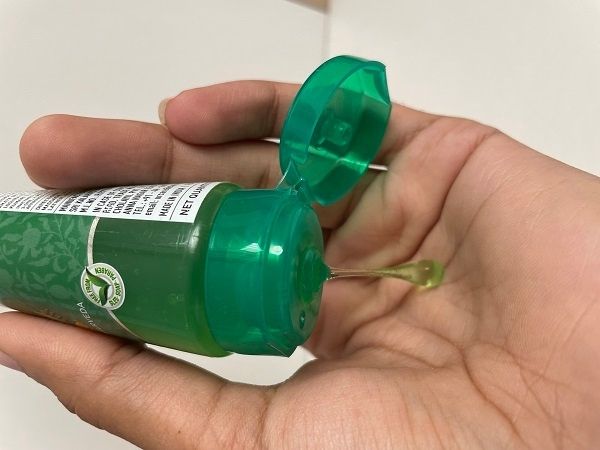 Packaging 
This herbal face wash is packaged in a white opaque plastic tube with a green flip-open lid that securely closes. Green lettering adorns the sturdy tube. The tube is handy, and I keep it in my purse at all times, and I've never had a problem with leaks. Ingredients, application, price, expiration date, and other facts are clearly stated on the tube.
Consistency
The face cleanser has a gel-like texture and is pastel green. However, it is transparent and does not contain any harsh granules for exfoliation. It's a little watery, so take care not to pour too much.
Fragrance
It has a neem-like herbal scent to it. When you take the face wash in your palm, you can immediately feel it.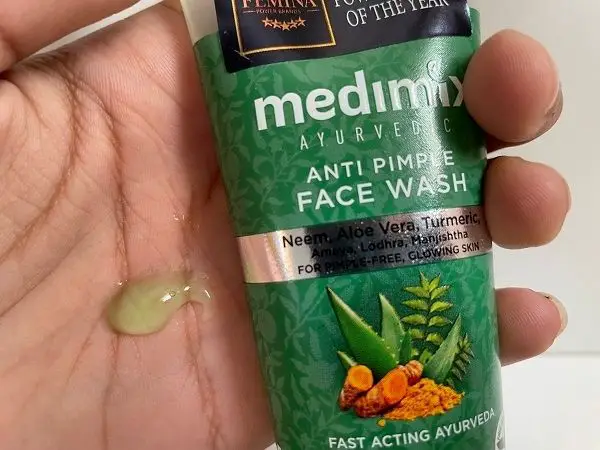 How to use Medimix Anti Pimple Face Wash?
Wet your face and neck using water.
Fill your palms with the requirement of face wash.
Apply a plentiful product to your face and neck.
Massage it for 30 to 40 seconds in gentle circular motions.
After rinsing with plain water, pat dry.
To combat pimples and acne, apply twice a day.
To achieve smooth, radiant, and pimple-free skin, use a moisturizer.
Medimix Anti Pimple Face Wash Benefits
Neem is high in vitamins and minerals, and it also has antimicrobial capabilities that fight pimple-causing germs.
Manjistha is full of antioxidants and anti-inflammatory components, making it ideal for keeping skin supple and smooth. It enhances the skin's texture by making it silky and soft.
Lodhra contains antibacterial and anti-inflammatory characteristics that can aid in treating skin conditions like acne and psoriasis. It also has astringent properties, smoothing the skin and eliminating scars, wrinkles, and other imperfections. Its potent therapeutic properties result in a radiant complexion.
Aloe Vera has many enzymes, vitamins, and natural acids that help soothe and maintain skin's radiance.
Turmeric reduces cell damage. It also works as a skin exfoliator, enhances skin elasticity, and reduces wrinkles significantly. It also guards against infections and allergies.
Amaya revitalized the skin, making it cleaner, brighter, and smoother. It also protects the skin from irritants that cause infections.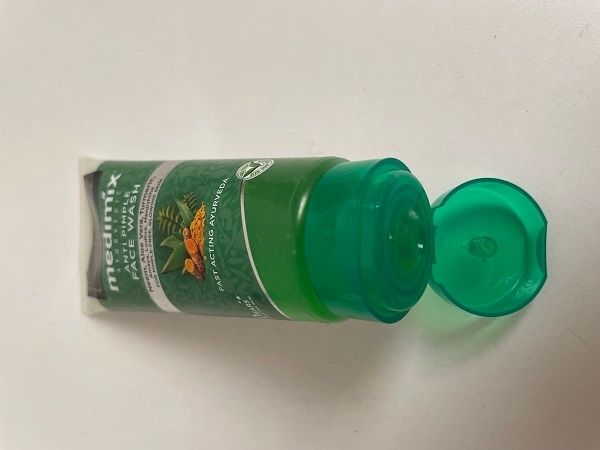 Pros of Medimix Anti Pimple Face Wash
Soap-free
Clinically approved and dermatologically tested
It is non-irritating to the eyes
Herbal fragrance
Travel-friendly packaging
Works well for oily and pimple-prone skin
It leaves my face feeling squeaky clean
Suitable for all skin types
Lathers well
It can be easily washed away
Removes oil, dirt, and makeup & Gives a fresh feeling
Controls acne problems
It does not dry out the skin
Causes no breakouts
Cons of Medimix Anti Pimple Face Wash
It may be quite drying for persons with dry skin.
Sale
Last update on 2023-09-14 / Affiliate links / Images from Amazon Product Advertising API
Shelf life: Two years from the manufacturing date
Availability: Easy
Overview
Medimix anti-pimple face wash does exactly what it claims. It successfully reduces pimples after a few uses without drying out the skin, and it also does not trigger acne breakouts. It is paraben-free and a natural, soap-free face cleanser. This herbal face wash is gentle and effectively cleanses the skin. Anyone who enjoys natural skincare should try this product.
Last update on 2023-09-07 / Affiliate links / Images from Amazon Product Advertising API