People have connected turmeric to healing properties and cosmetic benefits for centuries. Turmeric has many skins and health benefits for ages. It has antioxidants and anti-inflammatory elements, which are beneficial to the skin.
Recently, I come across one organic turmeric mask from Deyga. Deyga is a handmade, natural, and made in India brand.
I recently received some deyga products like Deyga beetroot lip balm, Deyga basil toner, Turmeric mask, and body scrub. Today, I will review Deyga Turmeric Healing Face Mask.
Deyga turmeric healing mask Review 
This healing face mask has not only the natural goodness of turmeric as well as has numerous other good ingredients as well.
This amazing turmeric face mask doesn't stretch and dry out my dry skin, and even this non-drying face mask is suitable for all skin types.
Also, it removes dirt and excess oil from oily skin, gives radiant skin, and leaves a non-greasy look.
The best part of deyga turmeric face mask is natural preservatives instead of any harmful chemical preservatives. Therefore, they suggest storing it in the refrigerator after use.
A healing turmeric mask designed by Deyga will provide hydration to dull skin. Also, it may help to reduce facial hair growth problems.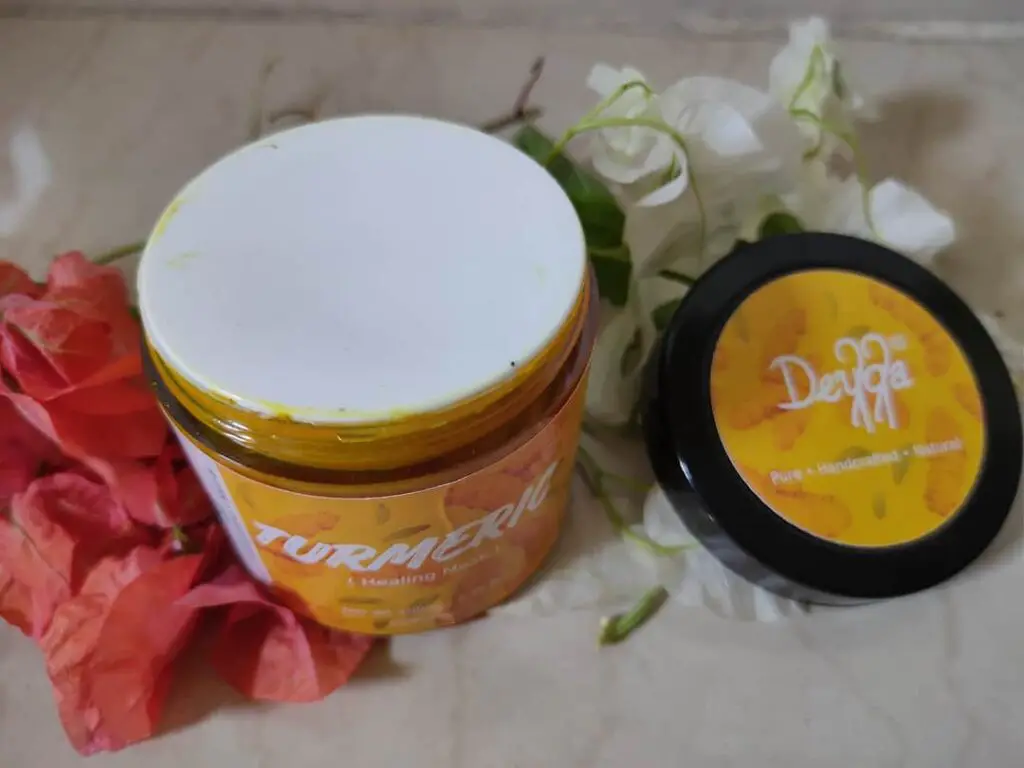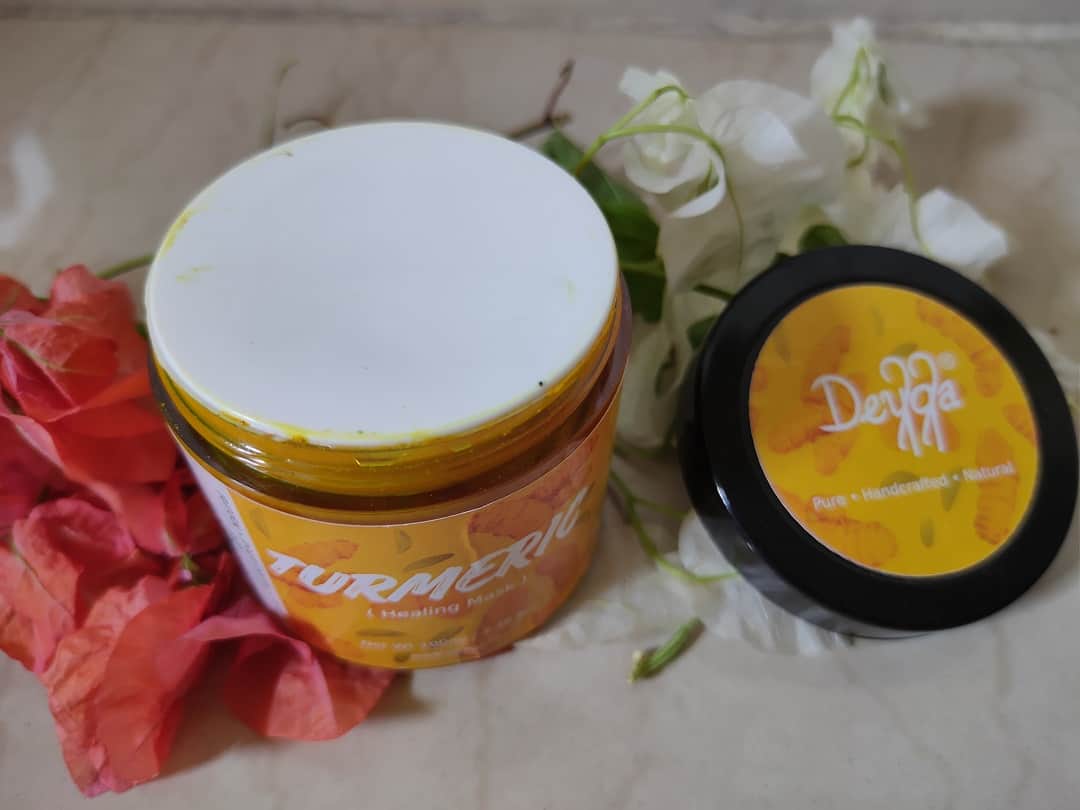 Product Details 
Deyga turmeric healing facial mask is formulated with golden luxury in India and all ingredients are collected from their farms in Erode. It is made with the real goodness of turmeric and pure aloe vera.
It has rich anti-inflammatory and antioxidant properties that bring out the natural glow of your skin. This mask help rejuvenates your skin and can help improve collagen production too.
Price
INR 600 for 100 ml (3.38 fl oz)
Deyga Turmeric healing mask Ingredients
Turmeric, Pure aloe vera, Vettiver Hydrosol, Guar Gum, Vegetable Glycerin, Natural Preservatives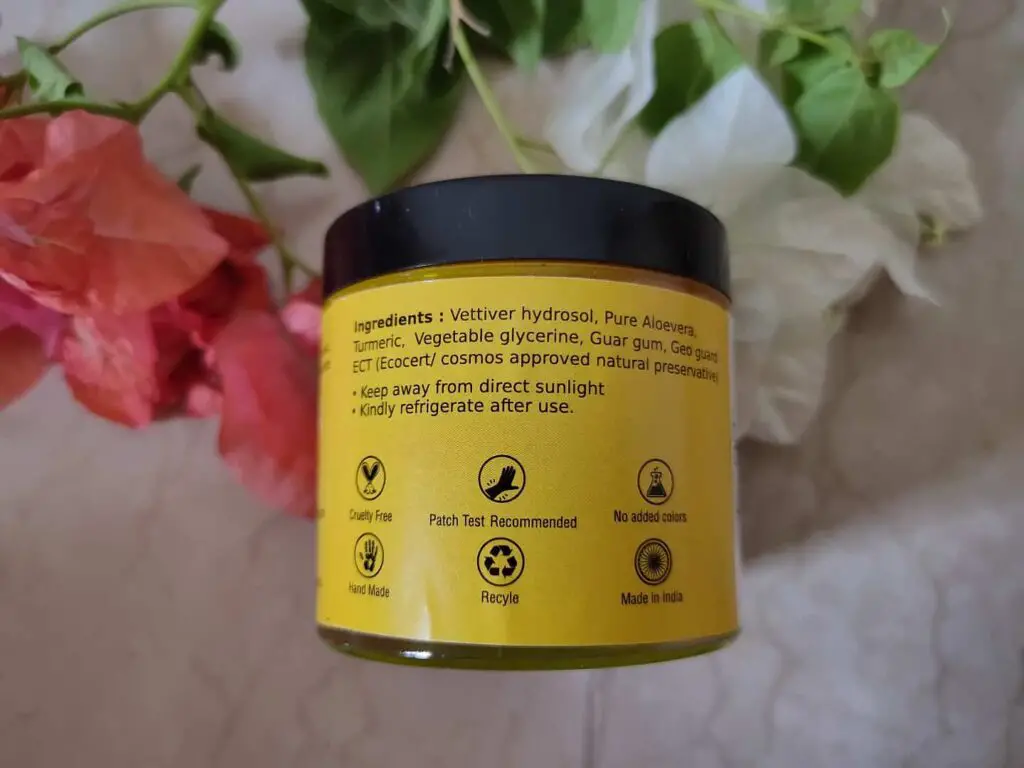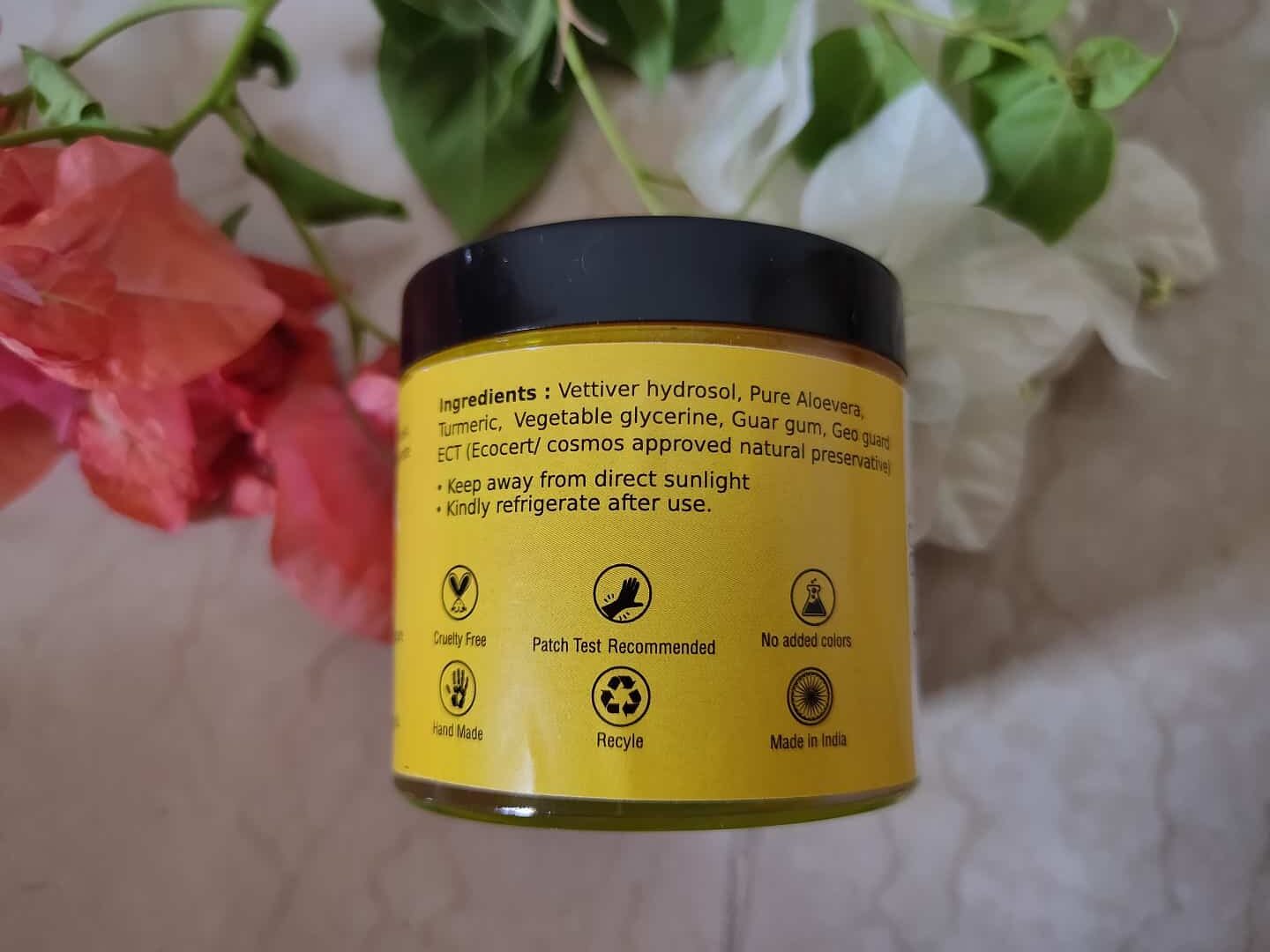 What the product claims:
They say that using this mask regularly can help reduce facial hair growth, offer hydration and a healthy glow, lighten scars and marks, prevent early indications of aging, and lighten scars and marks.
My write-up on Deyga organics Turmeric Healing Mask Review
I have been using the Deyga turmeric mask for around three weeks. I normally used the mask twice a week, but I used it every alternate day in this sweltering weather.
Just a single application gives me lustrous skin. I can notice the noticeable changes in lightening my acne scars with repetitive usage, feels smooth, and the pigmentation has started fading slightly. Also, it reduces the upper lip hairs too.
A turmeric mask gives me clear and clean skin after each wash. This wonderful healing mask gives me a soft and supple feel.
Its gel base gives me a soothing effect. I have blemishes and dark spot problems, and it helped me to increase my face texture. It is one of the best face masks for acne marks and scars.
I keep it for about 15 minutes; after that, I wash the mask off. My skin feels very fresh, clean, and rejuvenated after every application.
This mask provides me with a radiant look and improving overall my skin's appearance. It gives sufficient hydration to my dry and dull skin.
Deyga turmeric face mask heals any scars and spots on regular use and leaves skin glowy and shiny. The product also claims to remove facial hair on constant usage.
But I have not experienced much difference in reducing facial hair in these three weeks. But I think for that I have to use more time.
You just need a limited quantity for one-time use so that this tub 100ml tub will keep going long. 
I like a gel-based consistency that gives a relaxing effect when applied, and It doesn't dry out my skin or cause any unusual reaction like redness, burning, or irritation.
I have not noticed any side effects on the skin. Thanks to Deyga for sending natural, organic, and made in India products.
This mask quickly minimizes pores. After applying this masque, my skin feels so much firmer and more youthful.
By removing the dead skin, the turmeric healing face mask from Deyga gives the face its stunning radiance. Additionally, it removes extra sebum production.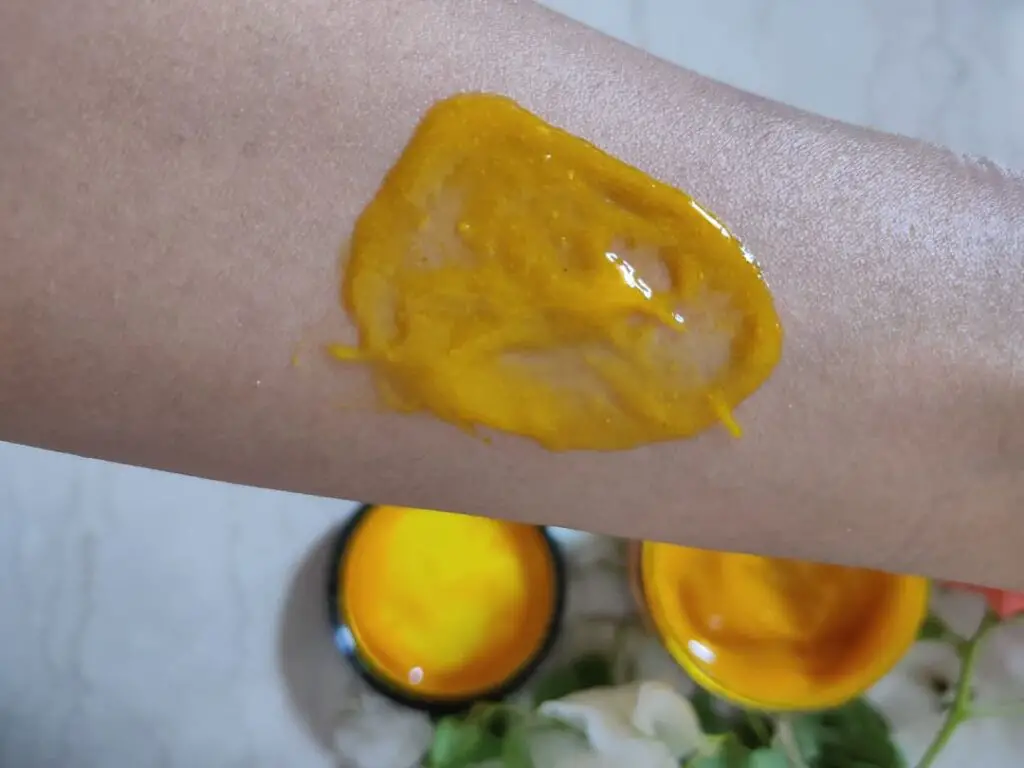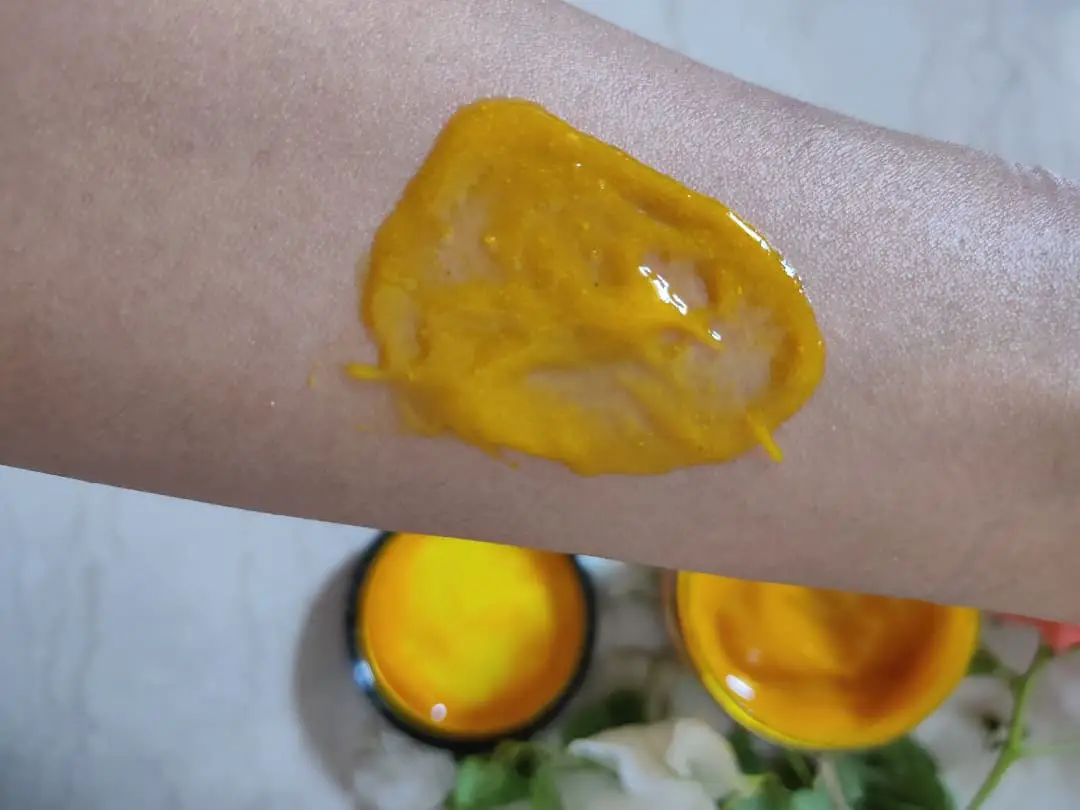 The only downside of this product is that it immediately leaves a yellow stain after washing off the mask with most turmeric-based products. However, the stain is temporary that disappears slowly.
That's why I'd recommend being used before going to bed because the yellow tint would have gone totally by the following morning. Please avoid applying this mask immediately before going outside.
It soothes my skin's tiredness, gives a cooling effect, and invigorates me with a golden glow. Also, one more advantage of using it at night time is that it works the entire night on your skin, and the following day after washing, you'll not get any yellowish tint all over.
Packaging
It packs in a cylindrical transparent glass jar with a black plastic twist-open lid. This sturdy jar comes with a white plastic secured cap inside and a screw cap on the top. This protective double-lid packaging looks quite easy, elegant, and spillproof, making it perfect for travel-friendly. The black screw cover lid is sufficiently tight to be conveyed anyplace without fear of spillage. All details like ingredients, directions of usage, price, expiry date, etc., are present on the packaging itself. All the information is mentioned on turmeric color paper. The applicator doesn't come with the packaging.
Consistency
The texture of this deyga facial mask is gel-like texture making the application easy and a lot less messy. This gel mask is runny and thin. So, it feels very lightweight when applied and spreads effectively, evenly, and is quite a steady gel that doesn't trickle during application. It feels very cooling on the skin.
Color: It is a bright yellow gel.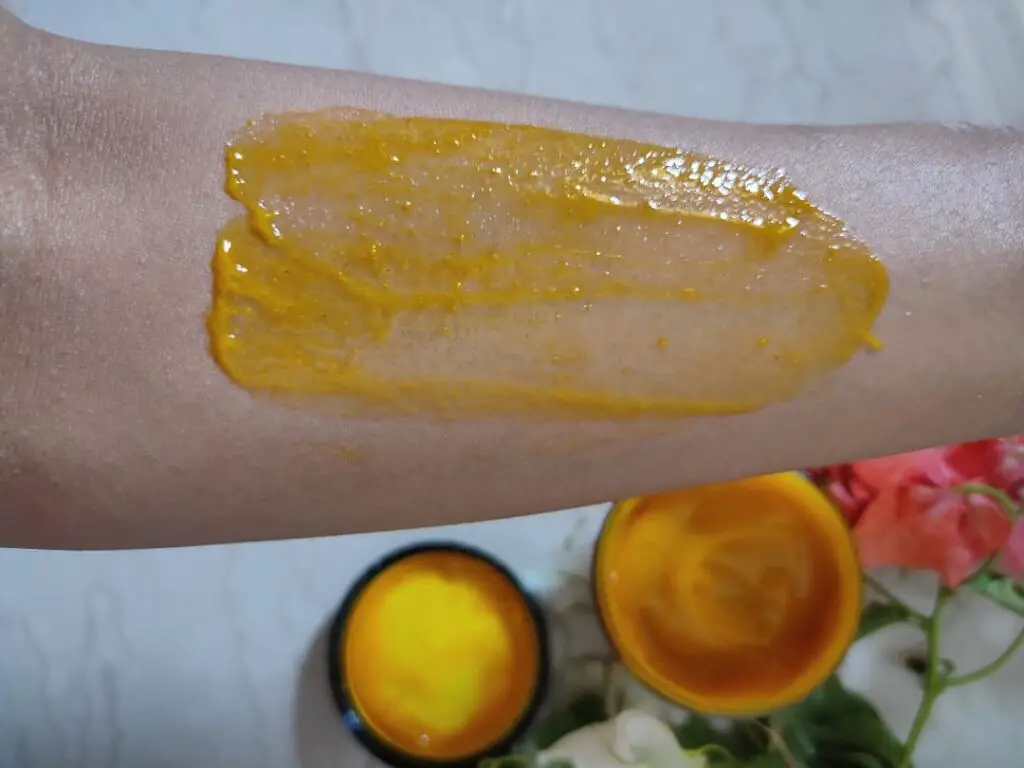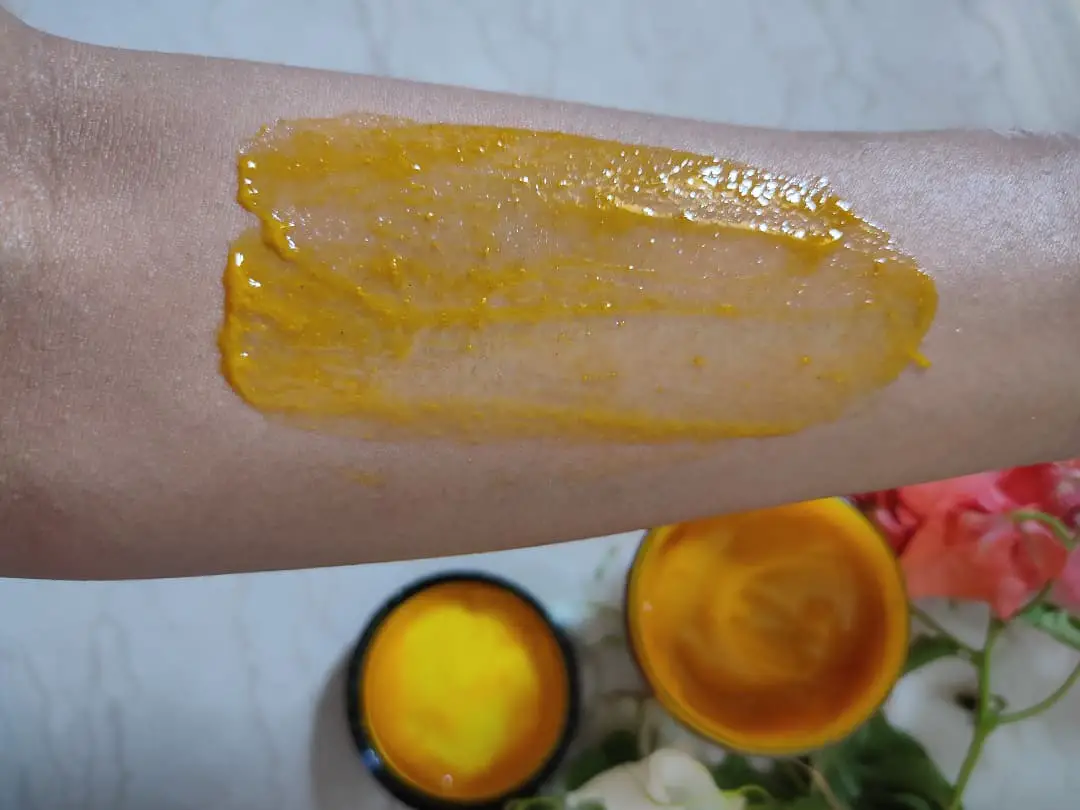 Fragrance 
It has a calming aroma of turmeric. So, it smells like natural haldi that is not at all strong. But, if you don't like the turmeric smell, you might feel it overwhelming. The aroma remains on for a long while. I felt like I have applied a good Ayurvedic luxury face mask.
How to use deyga turmeric face mask:
Apply a gentle facial cleanser to your face and gently dry it with a clean towel.
Apply a thin layer of mask on a clean face. Then keep it for 20-30 minutes.
Wash the face mask off with normal water or use wet cotton to wipe it off. After that, use a toner and moisturizer.
You can keep it in the refrigerator after use.
Note: Always do a patch test first.
Benefits of Deyga Turmeric Healing Face Mask
Turmeric's antimicrobial properties may help heal inflammatory skin. As a natural antiseptic, it helps to keep away the bacteria from spreading. So, it has the ability to soothe the skin and reduce acne breakouts. Its natural antioxidants protect the skin cells from free radical damage and treat uneven skin tone.
Vetiver Hydrosol is known for its cooling and healing properties used for skin cell regeneration and increasing the growth of new cells. It is anti-inflammatory, and antiseptic, and lessens scars, stretch marks, and blemishes. Also, it is considered to be a natural astringent that tightens and cleanses the pores by removing dead skin cells.
Aloe Vera has cooling properties that soothe irritated skin. It is widely used in skincare products for many skin concerns like soothing sunburn, moisturizing the skin, Fighting skin aging, reduces infection and acne.
Guar Gum is a natural and thickening skincare agent used in Ayurvedic beauty products. It improves the skin's natural moisture and repairs the damaged cells of the skin.
Vegetable Glycerin is broadly used to enhance skin imperfections like fine lines and wrinkles, making your skin look flawless. Also, It cleans the skin without clogging pores.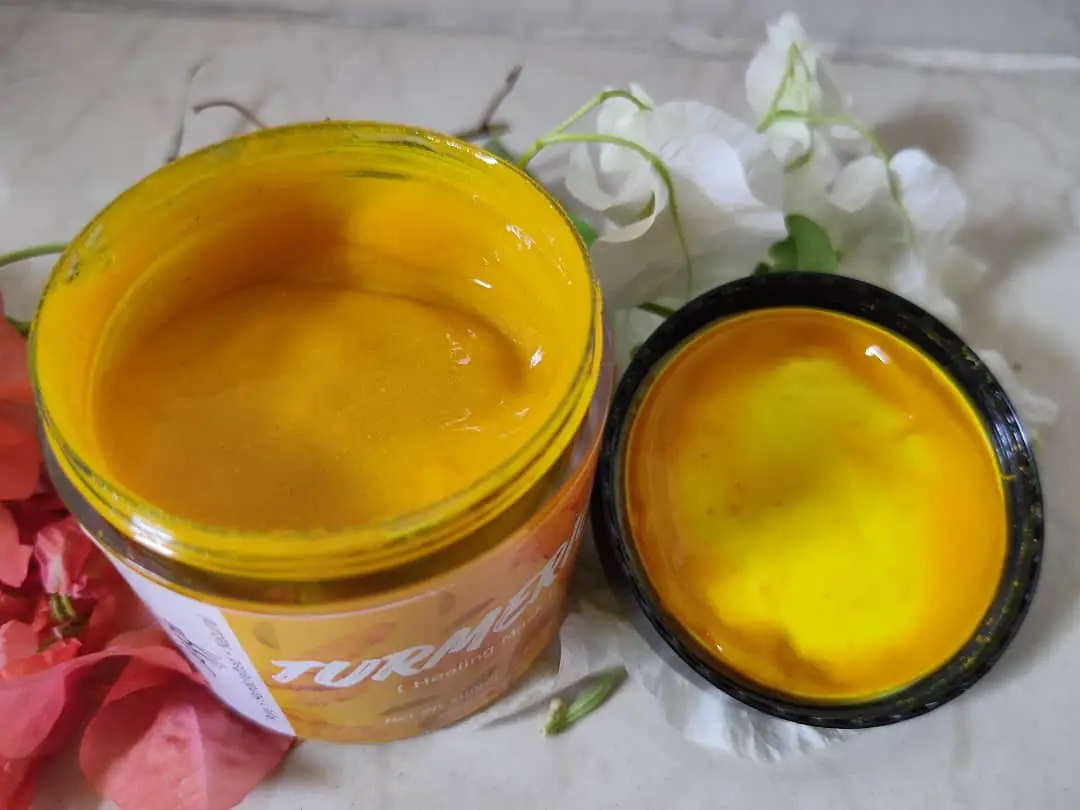 Pros of Deyga Turmeric Healing Face Mask
100% Organic ingredients
A small amount is needed for single-use; hence the jar is going to last long
Suitable for all skin types
Cruelty-free and Recyclable packing
Light gel consistency that spreads easily
100% Natural, Safe and Organic
It helps to even out skin tone with frequent use
Provides an Instant golden Glow and hydration
No strong added fragrance
Pimples are healed and pimple marks are lightened
When applied to the skin, it feels light
The ingredient list appears to be safe
Give Cooling effects
Cons of Deyga Turmeric Healing Face Mask
It will slightly yellow stain the skin because of turmeric yet don't stress; it will disappear in a few hours.
Shelf life: Six months from the date of manufacture
Availability: You can purchase it from Deyga.in, and the mask is only available on their website.
Overview
Overall, I love this mask to the fullest during this hot weather. Deyga Turmeric Healing Face Mask cleanses the skin well and gives a natural glow. It is perfect for enhancing the skin's overall health. Also, it contains natural ingredients and natural preservatives. I would recommend adding it to your daily skin regime for healthy, glowing skin. I like this face mask and will definitely repurchase it.