Sunscreen is very essential for skin protection from UV rays. Spending time in the sun builds your risk of skin cancer and early skin maturing.
Chemical sunscreens are the most commonly used sunscreen, but Mineral sunscreens, also called physical sunscreens, are a better option for those with sensitive skin, eczema, or rosacea.
Many chemical sunscreens can cause skin inflammation to break out. Mineral sunscreens are a good alternative to chemical sunscreens. They are even a good choice for those with oily skin or acne-prone skin.
Physical sunscreens use Zinc Oxide and Titanium Dioxide, which tend to be easier on the skin rather than other chemicals. Plus they reduce skin redness and prevent irritation. 
Blue Lizard Australian sunscreen Review
Mineral sunscreen from Blue Lizard offers head-to-toe sun protection. I researched and tried out some different options, and among them, Blue Lizard Australian sunscreen is the best choice for every skin type, especially for sensitive skin. 
Blue Lizard's SPF 30+ formula contains no skin-irritating chemical sunscreen ingredients, no parabens, and no fragrances. 
This sensitive sunscreen's water-resistant formula starts with Zinc Oxide to provide broad-spectrum protection from 97% of the sun's burning rays.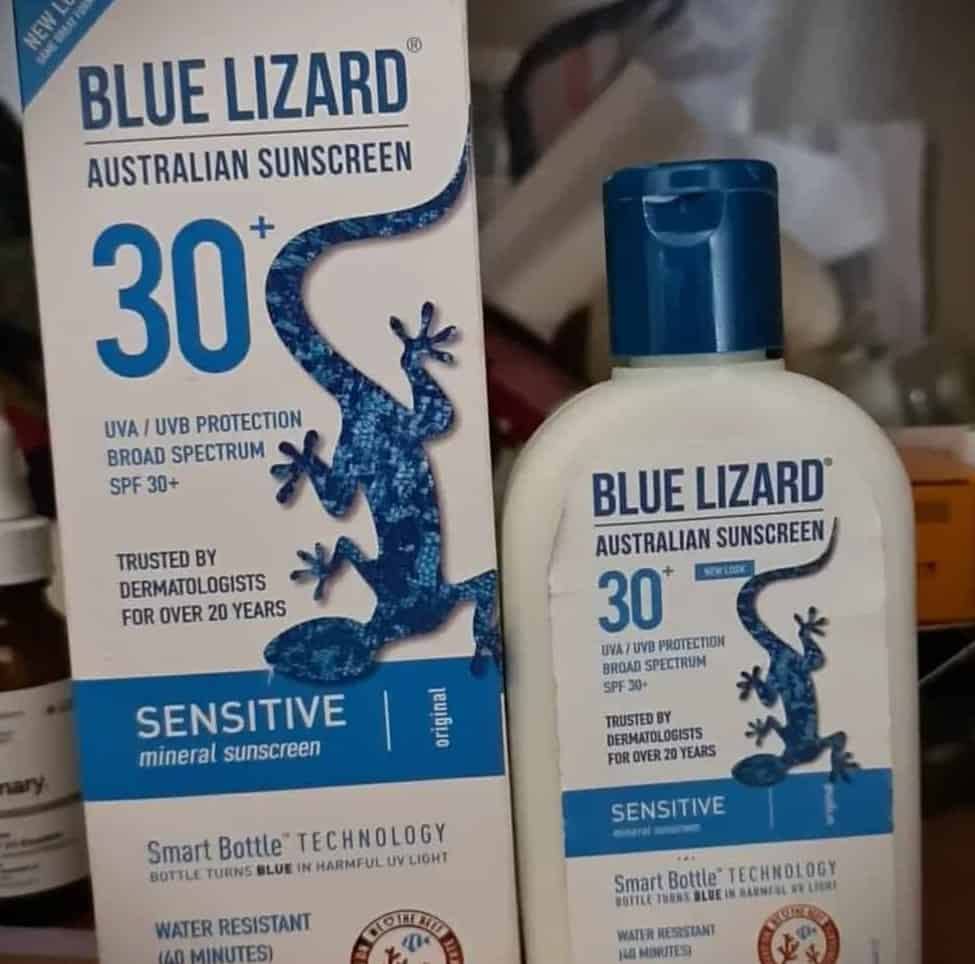 Product details
Blue Lizard Australian Sunscreen's Sensitive mineral sunscreen is designed with dermatologists and is made without Oxybenzone or Octinoxate to help protect fragile reef ecosystems. This mineral sunscreen is made with no chemical active ingredients.
Last update on 2023-11-15 / Affiliate links / Images from Amazon Product Advertising API
Price:
$14.99, 5 oz
$27.99, 8.75 oz
Blue Lizard sunscreen ingredients
Active ingredients: Zinc Oxide 10% & Titanium Dioxide 5%
Inactive ingredients: Alumina, Aluminum Stearate, Beeswax, C12-15 Alkyl Benzoate, Caprylyl Glycol, Cetyl Dimethicone, Cetyl PEG/PPG-10/1 Dimethicone, Chlorphenesin, Dimethicone, Disodium EDTA, Ethylhexyl Palmitate, Ethylhexyl Stearate, Hexyl Laurate, Hydrogenated Castor Oil, Methyl Glucose Dioleate, Octyldodecyl Neopentanoate, PEG-7 Hydrogenated Castor Oil, Phenoxyethanol, Polyglyceryl-4 Isostearate, Polyhydroxystearic Acid, Propanediol, Purified Water, Sorbitan Oleate, Stearic Acid, Tocopheryl Acetate (Vitamin E), Triethoxycaprylylsilane, Trimethylsiloxysilicate, VP Hexadecene Copolymer
Made without: Paraben-Free, Oxybenzone-Free, No Fragrance Added
What it is:
Dermatologists recommended Broad-spectrum UVA/UVB SPF 30+ mineral sunscreen, formulated specifically for sensitive skin
Blue Lizard Australian sunscreen Claims:
It provides up to 40 minutes of water resistance, so you stay protected longer.
What it does:
The SPF 30+ formula begins with Zinc Oxide to secure your skin by acting like thousands of tiny mirrors that reflect UV rays away before they enter your body. It gives broad-spectrum protection from 97% of the sun's burning rays.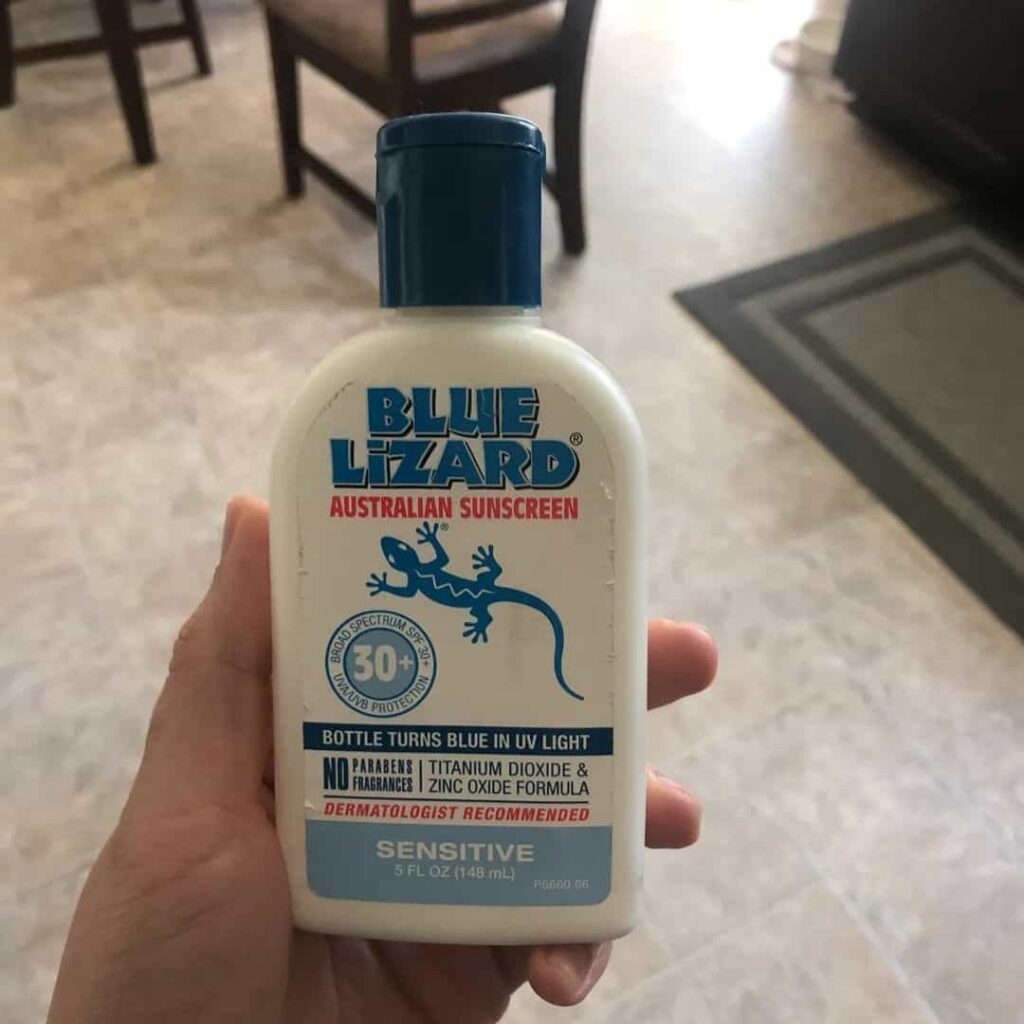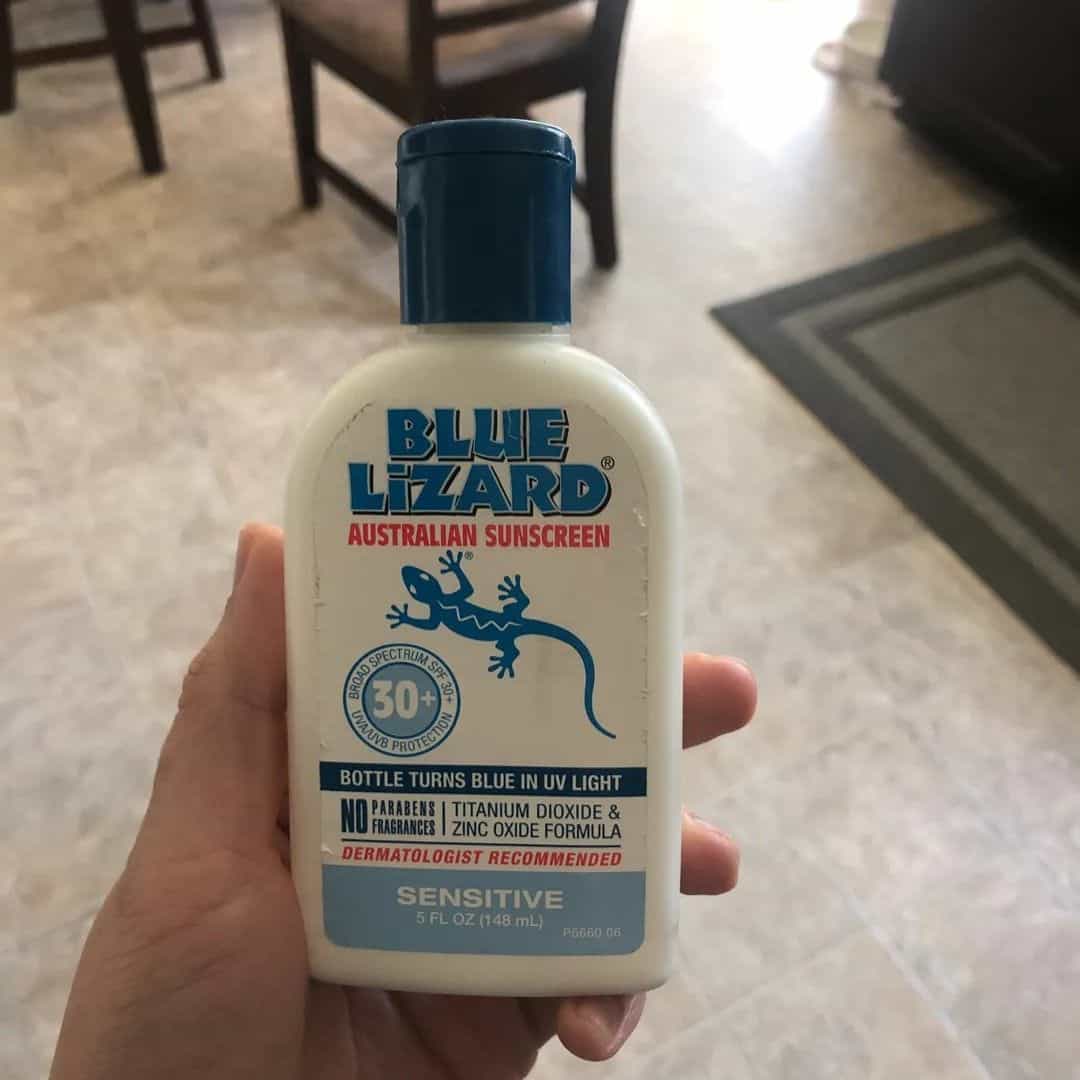 How it works:
Zinc Oxide and Titanium Dioxide frame an imperceptible barrier on your skin's surface, which reflects and disperse UV rays from your body. These active ingredients don't absorb into your body, which can lessen the chance of irritation.
My write-up on Blue Lizard Australian Sunscreen
I've been suffering from a photosensitivity allergy since last summer. If I went out in the sun for more than 20 minutes, I'd develop a severe allergic reaction that would last for days. I have to protect myself by wearing long sleeves, long pants, and a hat or an umbrella to cover up my face.
I read that some people use physical (mineral) sunscreen. My dermatologist told me to use blue lizard Australian mineral sunscreen because it doesn't contain any chemicals and it's a physical sunscreen.
I was scared to use this sunscreen because I have had bad experiences with different sunscreens in the past. I tested a bit of it on the top of my forehead and went out for the day.
I did not get any rashes, bumps, or redness on the spot that was covered. The sunscreen is a bit thick so you have to spread it out well.
This natural sunscreen is recommended for those who are suffering or not from sunlight allergies. It is a bit expensive but it is worth the try to protect yourself. 
It makes my face shiny, but all mineral SPFs do that – I just wait for it to sink in and then put on my normal matte powder foundation, and then all shine goes away.
I reapply sunscreen often, especially if humid, sweaty, or swimming, and wear hats/sun-protective clothing as needed. Blue Lizard Sensitive is the same formula as Blue Lizard Baby.
I have been using this mineral-based sunscreen on my body and face which is very sensitive to breakouts. The ingredients are all safe according to EWG and it blocks both UVA and UVB.
A little drop goes a long way, but it makes you look a little paler which isn't really noticeable for me since I have light skin.
Blue lizard sensitive sunscreen contains a fairly high level of zinc oxide that provides the best protection against the sun.
It is fragrance-free but I wish it contained more antioxidants and skin repair substances, but it is easily arranged with an antioxidant serum or cream under the sunscreen.
[Know more: Say goodbye to dandruff ]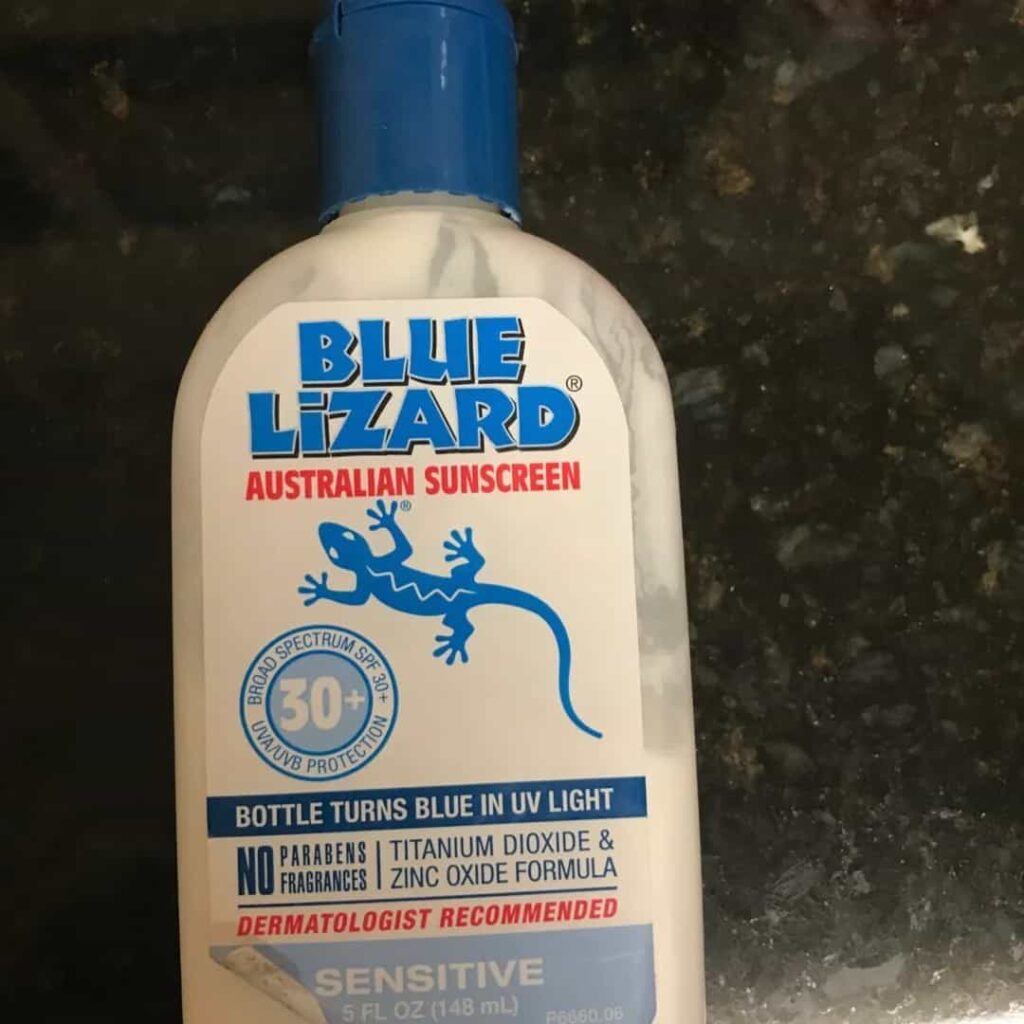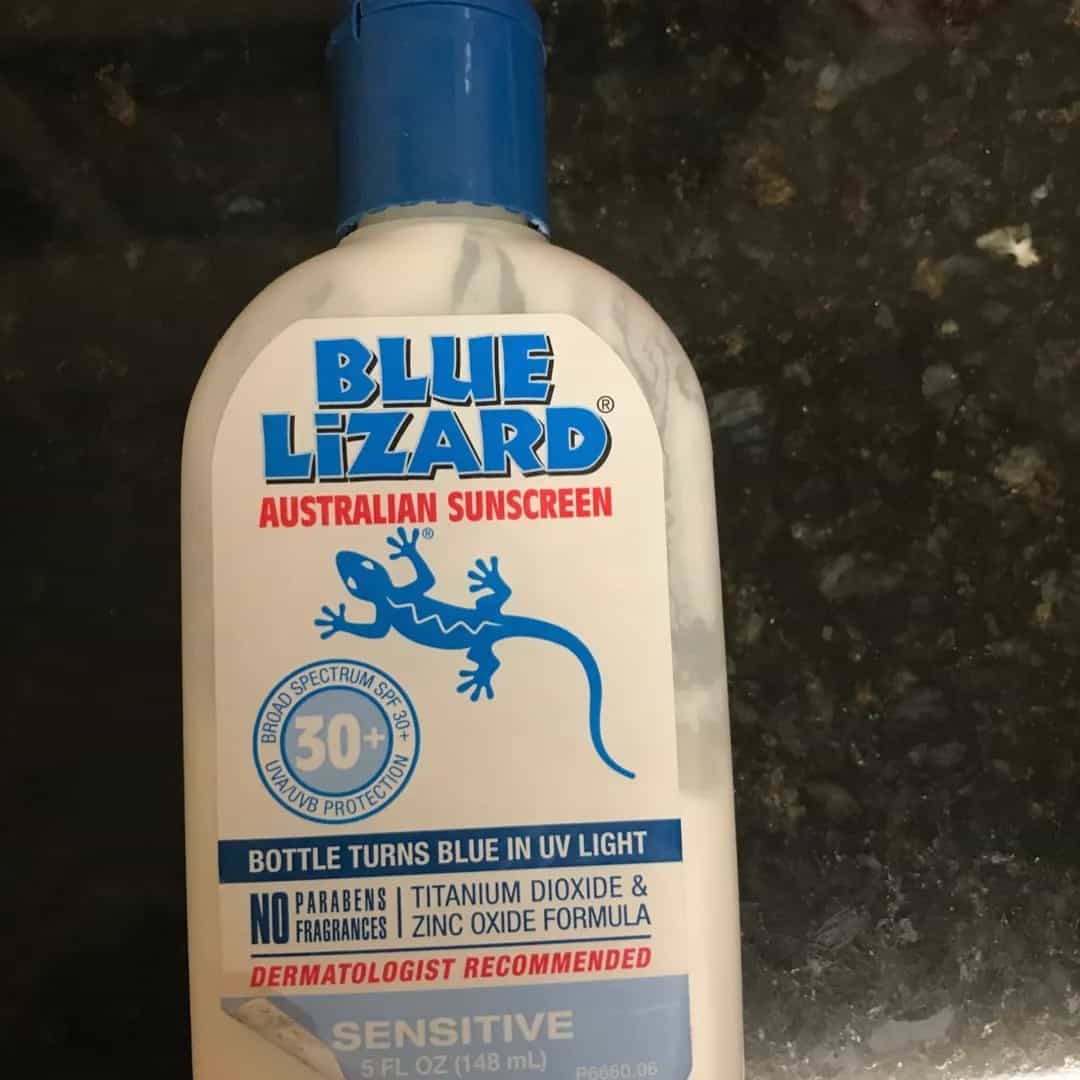 Packaging
It is a plastic tube like a little cap. You can easily open it and dispense the product by squeezing the bottle. The label is on the front and the direction details are on the back of the bottle.
It has their typical smart's bottle technology which means that the bottle will turn blue in harmful UV light and if you carry it with you outdoors, the bottle will turn a very deep ocean blue type of color.
Consistency
It is quite thick and so you need to spend a little time rubbing it in, but once rubbed in it looks fine.
Smell
A smooth white cream is fragrance-free.
Blue Lizard Australian Sunscreen benefits
This blue lizard's sensitive formula contains the two active ingredients zinc oxide and titanium dioxide, which together provide broad-spectrum SPF 30+ protection. 
It is made without Oxybenzone or Octinoxate to help protect delicate coral reefs.
This water-resistant sunscreen ensures you by forming a defensive layer on top of your skin and dissipating UV beams from your body.
It's mineral active ingredient is gentle enough for you and your family.
This natural sunscreen gives maximum sun protection, also in the summertime, and no sunburn at the end of a beach day.
[Know more: How to take care Dry skin ]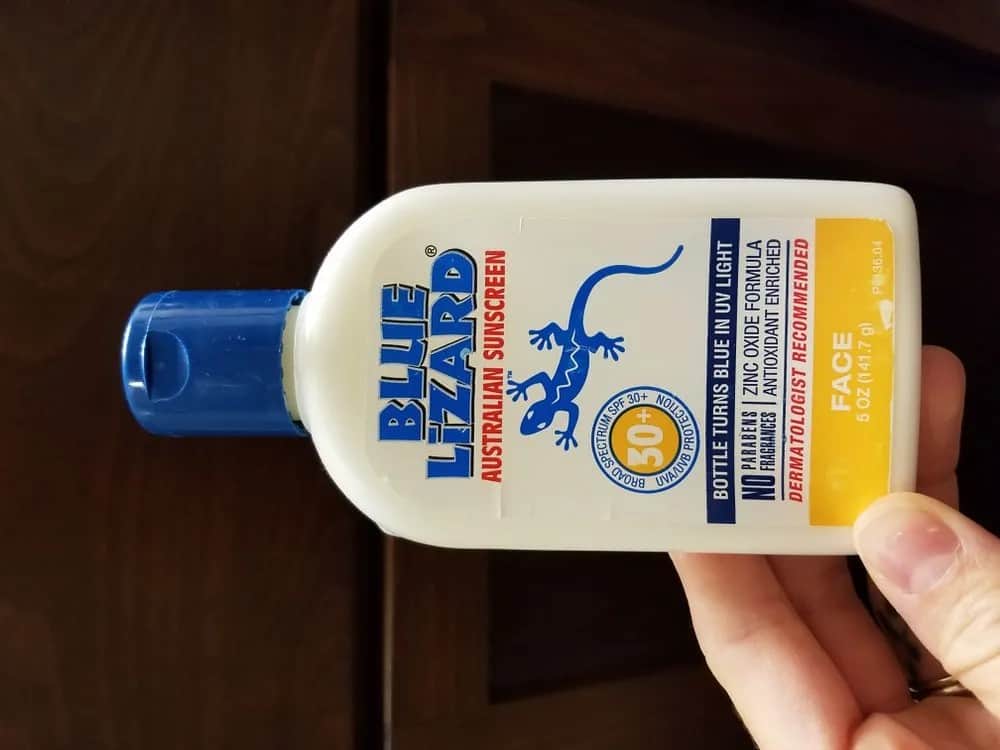 Pros
Non-comedogenic
Not Greasy too much
Applying easily on the skin
UVA/UVB Protection
The water-resistant formula protects longer
Cons
It leaves a slight white residue.
It may irritate the eyes so when using this product keep it out of the eyes.
Overview
Blue lizard's mineral-based sun protection is rich in antioxidants. So, this organic sunscreen is very effective to help protect against skin-damaging free radicals. 
Also, it absorbs quickly but it may leave a white cast or any streaks. Facial sunscreen is perfect and doesn't clog my pores. Therefore, I definitely recommended this reef-safe sunscreen.
Frequently asked questions
Does Blue Lizard Sunscreen cause acne?
Blue lizard facial sunscreen claims that sunscreen is non-comedogenic. So, it won't clog the pores. It is specially formulated for sensitive skin. Therefore, it may not cause acne.
Does Blue Lizard sunscreen work?
It works well to protect you from 97% of UV rays. However, you need to reapply after 4-5 hours. If you're not going to be sweating too much or around water that much, this should work fine.
Does Blue Lizard Sunscreen burn eyes?
It irritates and burns the eyes. So, when using this product, keep it out of the eyes. If goes into the eye and burns, Rinse with water for 5-10 minutes to remove it.
Does Blue Lizard sunscreen stain clothes?
It's very easy to get sunscreen stains on your clothes. Yet, I have never had stains on my clothing from this sunscreen and I generally put it on around 20-25 minutes before leaving home.
Is Blue Lizard Sunscreen clean?
This sunscreen is reef-safe and defined without Phthalates, paraben, or SLES. Additionally, it is free of artificial colors, flavors, or preservatives. So, it is a  clean and safe product.
Is Blue Lizard Sunscreen Safe for Babies?
It contains zinc oxide and titanium dioxide that is defined for the baby's sensitive skin and is liberated from harmful chemicals. 

Is Blue Lizard Sunscreen safe during pregnancy?
This is reef-friendly, water-resistant for 40 minutes, liberated from fragrance and paraben, and mineral-based, making it an ideal sunscreen for pregnancy.
Last update on 2023-11-15 / Affiliate links / Images from Amazon Product Advertising API