Do you want to appear more youthful and healthy? You should consider using vitamin C face washes if you're seeking a face wash to clean your skin and make it look brighter.
I've been using the Garnier Vitamin C Serum for a while now, and it leaves my skin flawless and with a noticeable brightening effect. I consequently decided to use a Garnier bright complete vitamin c face wash from the Garnier vitamin c range. After using it for a month, I share my honest review of this face wash.
Garnier offers two face washes with vitamin C: Garnier Bright Complete and Garnier Light Complete. The products are the same, but the face cleanser that was once Garnier light complete has been changed to Bright Complete. Therefore, avoid getting confused between these products. Both products are genuine.
Garnier Vitamin C Face Wash Review
Product Details
Garnier bright complete contains the brightening benefits of Yuzu Lemon essence. The Yuzu Lemon, which has a high content of vitamin C, is referred to as the King of Lemons.
Also, it is known for having potent brightening, exfoliating, and antioxidant properties. This daily face wash effectively cleanses, illuminates, and clarifies the skin. It helps in restoring a smooth, luminous, and even complexion.
This Garnier skin naturals bright complete brightening face wash is one of the best face wash for glowing skin since it contains Yuzu Lemon extracts.
Salicylic acid, which is effective for treating acne by exfoliating the face and keeping the pores clean, is present in this Brightening Facewash at a concentration of 0.2%.
Price
INR 189 for 100 gm
INR 250 for 150 gm
Garnier Vitamin C Face Wash Ingredients
Water, Glycerin, Palmitic Acid, Salicylic Acid, Stearic Acid, Myristic Acid, Potassium Hydroxide, Lemon Fruit Extract, Glyceryl Distearate, Glyceryl Stearate, Lauric Acid, Kaolin, Peg-14m, Phenoxyethanol, Limonene, Butylene Glycol, Linalool, Fragrance, Tetrasodium Edta, Citrus Junos Fruit Extract, Benzyl Salicylate, Benzyl Alcohol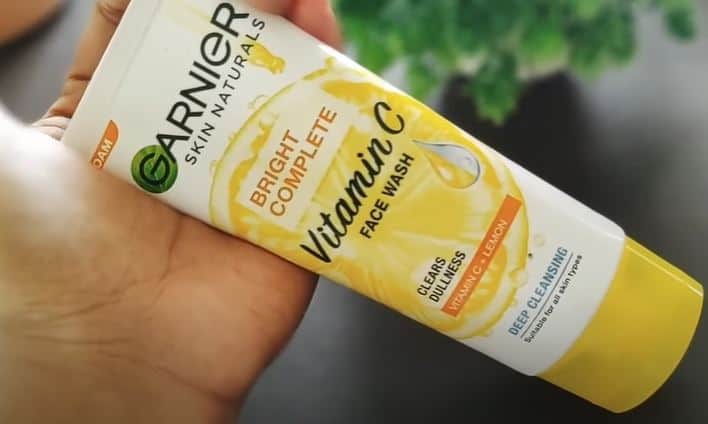 My write-up on Garnier bright complete Face Wash Review
Although Garnier Bright Complete is an excellent cleanser that brightens your skin and delivers a glowing shine. However, the face wash's effects do not last very long.
It effectively cleans the face and leaves the skin feeling tight, light, and clean. But an hour after washing, my face begins to feel dull.
Just a little drop of the face wash is needed to create enough lather to cover the entire face. And the tube is durable. Although Garnier did a wonderful job, the face wash contains parabens. It contains certain harmful chemicals that could harm your skin.
This face cleanser works well if you have sensitive skin. If you have oily skin because it rapidly removes the oil, however, the effect only lasts for two to barely three hours before you notice oil on your face once more.
The face wash also helps control excessive oil from combination skin. My T-zone appears to be less greasy.
It instantly brightens the skin, but it might also dry it out if you have extremely dry skin. When I used this face cleanser, my cheeks started to feel dry. Beauty with dry skin might not like it for this reason. On the other hand, if you continue using this face wash, you should moisturize your skin immediately.
This lemon face cleanser is ideal for my acne-prone skin. It did not receive any new breakouts, and existing breakouts were similarly reduced. However, it won't completely remove or lighten acne scars or pimple marks on your face. But I suppose using this face wash consistently will give you smooth, radiant skin.
Continuous use improves the complexion and evens out the tone of the skin. I believe that this face wash won't be as effective in reducing tan as tan-removing face packs if you have tanned skin.
Packaging
The face wash comes in a squeezable white tube with a bright yellow flip-flop lid. The nozzle on this plastic cap controls the product's flow. The cap is itself robust and doesn't appear at all fragile. Flip tops are convenient for travel since they open with minimal pressure and close with a click to avoid spills. The product's name is printed on the tube's front, and all other details, including the ingredients, directions, and expiration date, are listed on the tube's back.
Texture
It has a thin to medium creamy texture. It appears opaque white with a glossy shine. It lathers up quite effectively when it comes in touch with water.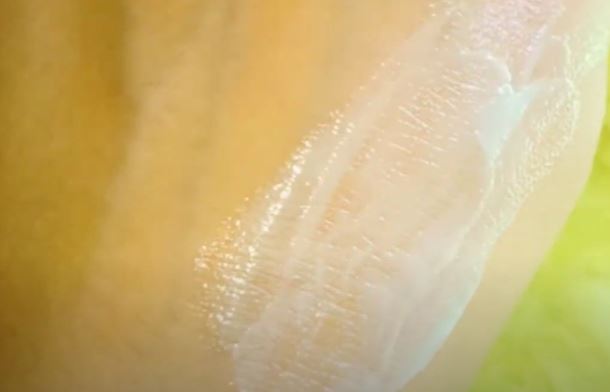 Fragrance
The fragrance is pleasant, subtle, and refreshing with a citrus touch. The overall smell is familiar to other Garnier skincare products, including their face serums.
Effectiveness 
The face wash works well to make skin look brighter and less dull. It cleans grime and pollutants and helps the skin appear fresher and more glowing.
How to use Garnier Vitamin C face wash
Apply the Garnier face wash to a wet face with a pea-sized amount.
A pea-sized quantity of face wash is more than adequate for thorough cleansing. A small amount produces a good lather.
Use your fingertips to gently massage the face and neck for a minute after lathering up the face wash.
After that, rinse with plain water. After rinsing, skin becomes squeaky clean, and free of dirt and other pollutants.
Use twice daily for glowing skin. Use Garnier Bright Complete Vitamin C Booster Serum & Garnier Bright Complete Vitamin C Serum Cream afterward for optimum effects.
Pros of Garnier bright complete Vitamin C Face Wash
Foam-based face wash
Budget-friendly
Dermatologically tested face wash
Refreshing fragrance
Cleanses the dirt and oil from the face
Sleek and travel-friendly packaging
Brightens up the skin
Easy to use
Improves skin tone with daily usage
Reduces dullness
Cons of Garnier bright complete Vitamin C Face Wash
Slightly dries out skin
Face wash's effects don't stay very long
Garnier Vitamin c face wash side effects
For those with extremely dry skin, it dries out their skin. As a result, if you have dry skin and use it, moisturize your face afterward. Using too much in any one leads to dryness on the skin.
Wrapping up!
This facewash should be a part of your daily skincare regimen if you're searching for one to cleanse your skin and make it look bright. It doesn't give you fair skin and reduces dark acne spots. However, it does just clean your skin of dirt and pollutants. Also, the skin looks clear and bright after using this facial cleanser. The smell of this mild cleanser is quite refreshing.