Are you trying to find a face cleanser that won't make your sensitive skin feel itchy or dry? Additionally, read the post if you're looking for the best face cleanser for dry skin.
Today, I will review the new Cetaphil Gentle skin cleanser, a well-known and trusted brand in India. I have long used this gentle face wash for sensitive skin. When my skin was on the drier side last winter, I tried it. So, I am sharing my honest experience of how it functions for me.
Because of its multiple benefits, this Cetaphil face wash is recognized as one of the best face washes for dry skin. They are made to cleanse your skin without damaging your delicate skin.
Cetaphil Gentle Skin Cleanser Review
Product Details
The New and Improved Cetaphil Gentle Skin Cleanser is made with Micellar Technology, which eliminates grime, makeup, and impurities gently but efficiently.
It is appropriate for people with normal, dry, and sensitive skin as well as those who have rosacea, acne, psoriasis, or eczema. In fact, it's soft enough to use on a baby's tender skin.
It helps the skin maintain moisture and has a pH balance so that it won't irritate the eyes. According to clinical research, this creamy composition continually moisturizes the skin to prevent dryness.
A dermatologist-recommended blend of hydrating glycerin, vitamin B5 panthenol, and B3 niacinamide strengthens the skin's natural moisture barrier.
Price
INR 305 for 125 ml
INR 563 for 250 ml
INR 850 for 500 ml
Buy Here.
Cetaphil Gentle Skin Cleanser Ingredients Analysis
Ingredient list: Aqua, Glycerin, Panthenol, Xanthan Gum, Niacinamide, Cetearyl Alcohol, Sodium Benzoate, Pantolactone, Sodium Cocoyl Isethionate, Citric Acid
Aqua: It mostly serves as a solvent for ingredients that prefer to dissolve in water rather than oils.
Glycerin: A natural moisturizer that does more than keep the skin lipids between our skin cells hydrated; it also guards against irritation and aids in barrier restoration.
Cetearyl Alcohol: It is an emollient that gives the skin hydration. Additionally, it makes creams and lotions more effective and provides your skin with a beautiful smooth touch.
Panthenol: It is also called pro-vitamin B5. Its primary function in skincare products as a humectant is to hydrate the skin.
Niacinamide: It is a multi-tasking skincare ingredient with a number of skin advantages that have been scientifically established. It works wonders to smooth out wrinkles and fight aging.
Pantolactone: It works as an artificial humectant to help the skin retain moisture, giving it a radiant, healthy, and plump appearance. Pantoyl lactone is another name for this substance.
Xanthan Gum: It's a popular thickening and emulsion stabilizer. Add a little xanthan gum to the mixture to make it more gel-like if it is too runny.
Sodium Cocoyl Isethionate: A skin-friendly cleansing product that doesn't even noticeably affect the skin's protective layer.
Sodium Benzoate: Also known as a preservative, this component serves as an assist to keep items fresh longer. It mostly combats fungus.
Citric Acid: It is an exfoliator that, like other AHAs, can gently take off your skin's dead skin cells to leave it smoother and younger-looking.
What the product claims:
Cetaphil gentle skin cleanser has been dermatologist tested and is confirmed to be gentle on sensitive skin. It is one of the best face washes for normal to dry skin.
It cleanses dirt, makeup, and pollutants delicately but effectively. Also, this Cetaphil face wash keeps the skin continuously hydrated after cleansing to guard against dryness. It functions well with or without water and doubles as a gentle makeup remover.
Cetaphil mild cleanser protects against the following 5 indicators of skin conditions
Irritation
Tightness
Roughness
Dryness
A weakened skin barrier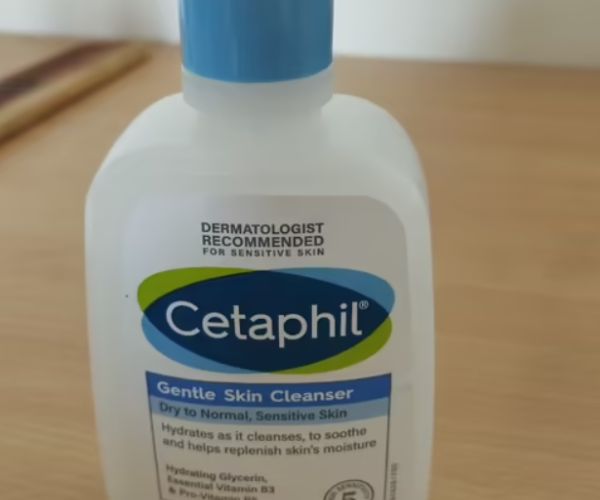 My write-up on Cetaphil Gentle Skin Cleanser Review
Cetaphil gentle cleanser is gentle enough to be used on all skin types, as the title suggests. It's an excellent daily cleanser, leaving my face hydrated, soft, and supple. The formula of this face wash is extremely creamy and nourishing. It also makes my face look shinier.
Although it doesn't lather, it thoroughly cleanses the skin and leaves behind healthy skin. The lightweight formula of this non-foaming cleanser allows for everyday use as well as double cleansing. It doesn't impact your skin's pH, and continuous use makes skin smooth.
Cetaphil gentle cleanser is a game changer for persons with dry skin. It does not remove the moisture from my skin. Also, it moisturizes my skin and doesn't leave me feeling dry or irritated. From the moment I begin using it, my skin feels soft. It is the best face wash for dry skin.
There is no dryness after application. My skin is pretty dry and flaky in the winter, but this cleanser leaves it wonderfully hydrated. So, I definitely suggest dry-skin beauties.
Since there is no soap or fragrance in this Cetaphil face wash for dry skin, it is gentle on the skin. Also, it features a non-irritating formula that removes dirt, pollutants, and too much oil without causing the skin any irritation. So, It is a good cleanser for sensitive skin types.
This face cleanser is also suitable for persons with oily skin. However, it will not remove excess oil from severely oily skin. Therefore, I advise anyone with oily or combination skin to use Cetaphil's oily skin cleanser.
Because it is non-comedogenic, it can be used by persons with acne-prone skin without causing breakouts. However, you must follow the routine. Use it in the morning and night after applying your regular Cetaphil moisturizing cream or any chemical-free moisturizer. It does not lighten my scars and blemishes.
Despite not being able to prevent acne or eliminate black marks, this Cetaphil cleanser performs best when used to wash the face effectively. Surprisingly, this also functioned without water.
The disappointing part of this product is that it can only remove light makeup from the face, such as BB cream, compact powder, or CC cream. It cannot remove heavy makeup. However, applying makeup remover is preferable first and then reaching for Cetaphil cleanser if you are wearing multiple layers of high-coverage foundation.
It is extremely hydrating and has a very creamy, almost lotion-like texture. It costs a little more than our regular face wash, but it's well worth it. For each wash, I use slightly less than a coin-sized amount.
The fact that this new Cetaphil gentle skin cleanser is fragrance- and paraben-free is its best feature. The old Cetaphil cleanser contains Propyl Paraben, Butyl Paraben, and Methyl Paraben.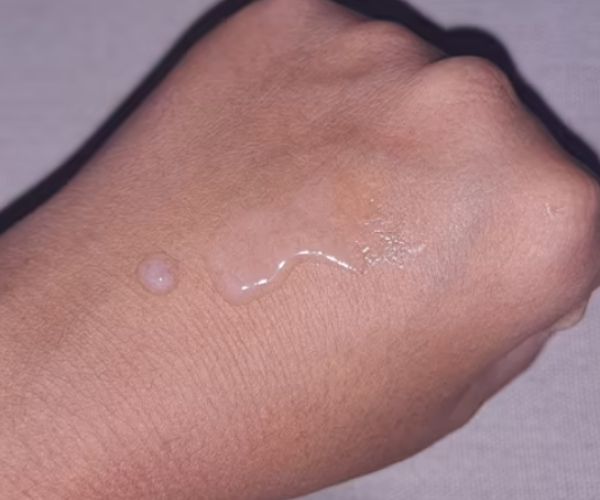 Sale
Last update on 2023-09-14 / Affiliate links / Images from Amazon Product Advertising API
Packaging
Cetaphil Gentle Skin Cleanser is packaged in a white colored plastic bottle with a blue top that closes with a click. While larger sizes come with a pump dispenser, the one I have has a flip-top lid. The other bottle sizes have a pump so you can manage how much product you use, but the 125ml container does not. The bottle is the signature Cetaphil packaging. The bottle is extremely portable, spill-proof, and compact. On the bottle's back are written the product's specifications.
Consistency
This cleanser is a runny lotion-like texture with a clear white gel-cream feel. It is neither thin nor watery.
Fragrance
The cleanser is fragrance-free and does not have any additional fragrance. Its odor appears to be a product of the formulation.
How to use Cetaphil Gentle Skin Cleanser
This gentle cleanser was used both at night and in the morning. After cleansing, I suggest using a facial moisturizer to retain moisture while the skin is still damp. This will hydrate the skin for a long time by drawing moisture into the skin. It is also advisable to use a face SPF moisturizer with sun protection during the daytime.
Use Cetaphil gentle skin cleanser with water:
Apply a sufficient quantity of cleanser to the face and gently massage it. Use a soft towel to pat dry after rinsing with water.
Use Cetaphil gentle skin cleanser without water:
To remove light makeup, you can alternatively use the Cetaphil Gentle Skin Cleanser without water. Use a cotton pad to remove particles from your face gently.
After massaging the cleanser into the skin, liberally apply more cleanser. With a soft tissue or piece of cotton wool, wipe away any leftover Cetaphil Gentle Skin Cleanser. To remove it, you can also use facial wipes.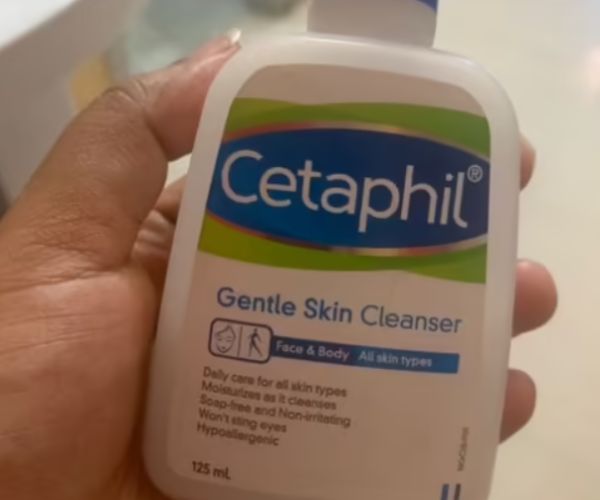 Pros of Cetaphil Gentle Skin Cleanser
Soap-free and fragrance-free
Alcohol-free
Dermatologically tested
Non-irritating formulation
It can be used with or without water
Retains skin pH balance
Works well for sensitive skin
Very gentle and mild face wash
The gel-based texture does not give the foam
It doesn't dry out the skin
Non-comedogenic
Does not clog pores
Works well as a double cleansing
Cons of Cetaphil Gentle Skin Cleanser
Priced a bit high if compared to other cleansers available in the market
Doesn't do much to prevent acne
Availability: It is easily available online on Amazon, Nykaa, Flipkart, and the official website of Cetaphil.
Shelf life: Two years
Overview
Overall, Cetaphil Gentle Skin Cleanser is the best cleanser for dry, normal, and sensitive skin. It lives up to its claims of being mild yet effective cleansing while leaving the skin soft and smooth.
It is an easy-to-rinse, non-foaming cleaner that doesn't leave behind any slick residue. The cleanser is quite effective in removing dirt and pollutants.
It leaves the skin feeling smooth, clean, moisturized, and gentle to the touch. If you're looking for a gentle face cleanser for dry skin, this is a great option.
Frequently asked questions
Is Cetaphil gentle skin cleanser good for oily skin?
This cleanser eliminates pollutants without removing the natural oils from the skin. The brand states that the cleanser is appropriate for all skin types, whether you have oily, sensitive, or combination skin. This Cetaphil gentle skin cleanser can not remove excessive oil from a person's face. Therefore, people with extremely oily skin might want to use a heavier-duty foamy gel face wash.
Is Cetaphil gentle cleanser oil based?
This gentle, soap-free face wash does not contain any oil. It is a water-based, non-comedogenic product that doesn't clog pores.
Does Cetaphil gentle skin cleanser lighten skin?
Cetaphil gentle skin cleanser does not lighten dark marks or level out skin tone. It is a mild facial cleanser that effectively removes impurities from the skin.
Does Cetaphil gentle skin cleanser clear acne?
It works well to combat tightness, roughness, dryness, and irritation. However, you will need more than this cleanser to get rid of acne. Gentle Clear Clarifying Acne Cream Cleanser is the best option for acne-prone skin.