When it comes to my beauty routine, I prefer a simple moisturizer that can keep my skin nourished without triggering a breakout. But I require a fragrance-free moisturizer, which is unusually difficult to find.
Therefore, today I will share a review of a trustworthy moisturizer that is non-comedogenic and fragrance-free, Cetaphil moisturizing cream for dry sensitive skin. Products from Cetaphil are well known for their gentle skincare.
Moisturizing Cream by Cetaphil is an excellent moisturizer and is ideal for wintertime. It maintains the damp lock-in and stops the skin from becoming dry. So, Moisturizing cream is the savior for the winter season.
Cetaphil moisturizing cream Review
Dermatologist-tested and Clinically proven to provide intense and lasting moisture. It provides immediate, long-lasting relief that soothes dry, irritated skin. 
This non-greasy cream absorbs quickly into my skin and doesn't leave my skin feeling greasy. Also, it gives long-lasting intensive moisturization. It is excellent for eczema, dehydration, and sensitive skin.
Its fast-absorbing composition draws water to the skin and prevents loss of moisture, leaving skin smooth and supple. It can be used to nourish any area of the body that needs it.
In short, the Cetaphil Moisturizing Cream is a blend of humectant, occlusive and emollient moisturizers that work together to repair dull and itchy skin.
Product Details
Dermatologists recommend Cetaphil Moisturising Cream for application on dry and sensitive skin. This Moisturizing Cream includes emollients and humectants with a better way of extra-strength with clinically proven and prevent dampness loss. It's a deeply hydrating cream that helps to relieve excessively dry skin.
No products found.
Price
$10.99, 16oz (453 gm)
$12.99, 20oz (566 gm)
Available sizes: 3oz, 8.8oz, 16oz"
Cetaphil Moisturizing Cream ingredients
Water, Glycerin, Benzyl Alcohol, Dicaprylyl Ether, Dimethicone, Tocopheryl Acetate (Vitamin E), Glyceryl Stearate, Cetyl Alcohol, Petrolatum, Helianthus Annuus (Sunflower) Seed Oil, PEG-30 Stearate, Dimethiconol, Propylene Glycol, Disodium EDTA, Acrylates/C10-30 Alkyl Acrylate Crosspolymer, Phenoxyethanol, Prunus Amygdalus Dulcis (Sweet Almond) Oil, Carbomer, Sodium Hydroxide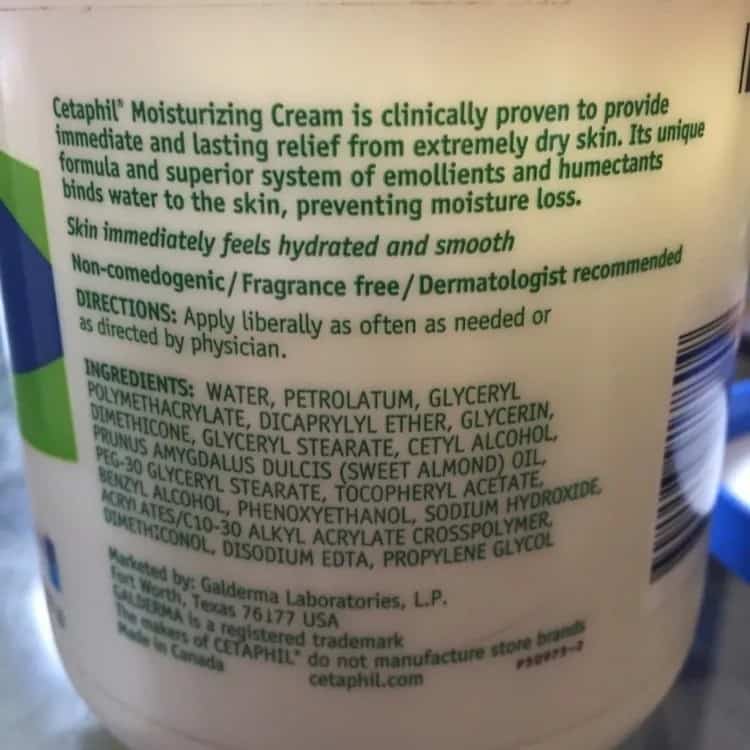 Features
Non-comedogenic
Fragrance-free
Clinically tested
Non-greasy formula
Hypoallergenic and non-irritating
My write-up on Cetaphil Moisturizing Cream
I have been utilizing this since last winter. It's a great alternative to more expensive other creams. It's meant for dry skin. It feels very light at first but moisturizes throughout the day and night.
I have dry and combination skin. So I like having super intense moisture throughout the night to revitalize my skin. In the morning, I wash it off. This cream works well for me. Hence I would state that Cetaphil moisturizer is the best moisturizer for the winter season.
This water-based moisturizer hydrate skin intensely and secures moisture. It is a blessing for people having sensitive skin because It is mild on the skin. 
If you're suffering from dried-out feet and heels from sports, genetics, or gorgeous but cruel heels, clean your feet and massage them with Cetaphil for five minutes.
Only a pea-size amount is sufficient to moisturize the entire face. It gets absorbed so instantly by the skin. Applying it once a day is enough as it keeps your skin hydrated for approx 8-10 hours. Please do not use it in excess; your skin may get oily.
Sometimes, I also use it as a base under the Estee lauder foundation when my skin is susceptible. It suits me well without any breakouts. We can also utilize it as a night cream since it doesn't have any SPF in it.
You can use it immediately after exfoliating your skin when you need a quick skin miracle. My skin always gets so dull, so it instantly becomes my go-to moisturizer for the cold winter.
This non-comedogenic cream has a thicker texture than the other moisturizer. It keeps my dry skin hydrated and moisturized without clogging pores or a greasy feeling. So, It is suitable for acne-prone skin as it will help to clean impurities and oil, moisturize your skin, and be gentle on the skin's natural surface.
It takes a minute to absorb, but then it starts my skin feeling moisturized without feeling oily or sticky. I have very dry skin, not only in winter but also in summer sometimes. This cream will work great for severely dry skin otherwise you might see it oily.
[Also check: Belif The True Cream Aqua Bomb Review]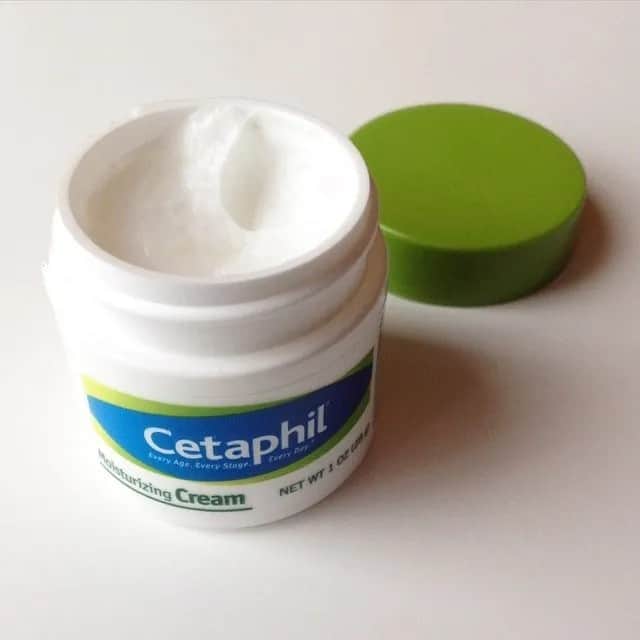 No products found.
Fragrance
It doesn't have any scent. Its fragrance-free composition is ideal for those with sensitive skin. i.e., it does not have the Perfume ingredient. Otherwise, it has a gentle smell that fades off instantly.
Packaging
The packaging is quite decent, convenient to use, and travel-friendly. It comes in a blue and green color container with a flip cover to open it. Don't make a mistake with Cetaphil moisturizing lotion that comes in a bottle.
Cetaphil Moisturizing Cream for eczema
This moisturizer is great for eczema-prone. So, if you suffer from eczema on the face, this is an excellent moisturizer that isn't harsh and keeps skin hydrated.
It flows, where the skin goes raw. Cetaphil cream moisturizes the skin but does not make the flare-up go away. But This moisturizer is a non-irritating moisturizer for eczema.
This cream doesn't make eczema patches sting. Apply it on the face when your eczema flares up, and it helps to decrease the flakiness, but it can seem a little heavy, so it's better to apply it at night.
It coats the skin and feels like an ointment. Therefore this moisturizing cream is highly recommended for people with eczema.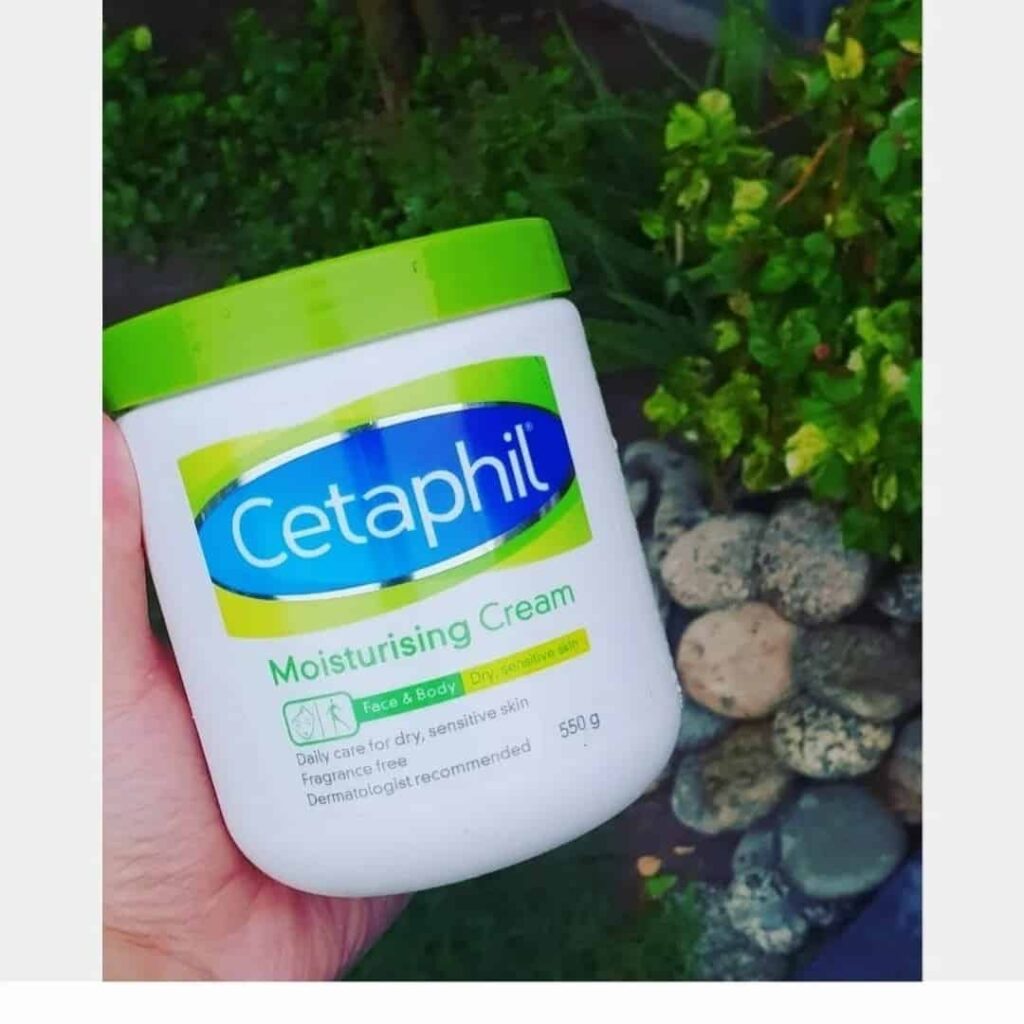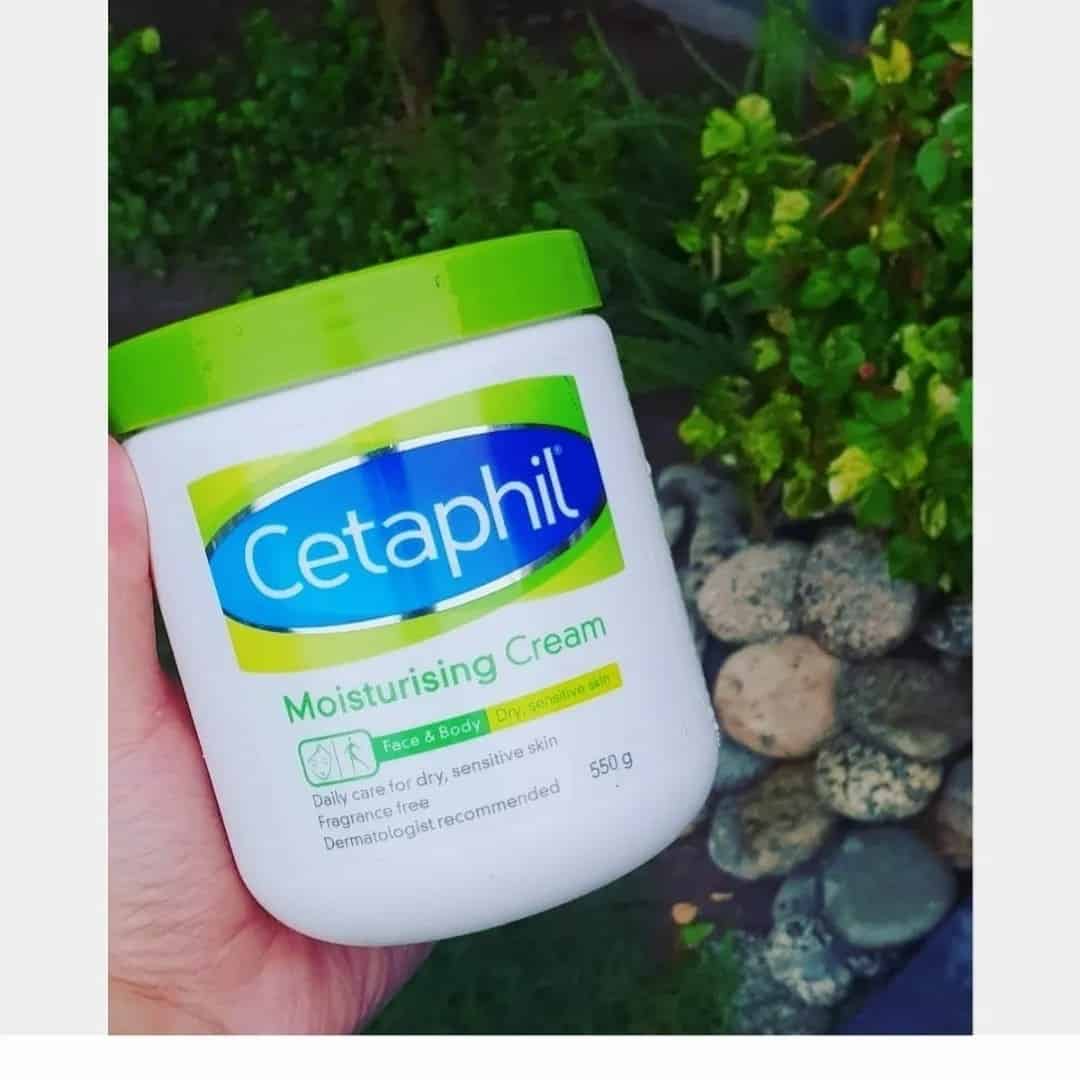 Cetaphil Moisturizing Cream for face
Also, It can be used on the face because of the non-comedogenic Cetaphil product. I have combination skin. That's why I never tried it on the face. I usually use it on my whole body after a bath, and My skin stays smooth for the rest of the day.
Cetaphil Moisturizing Cream for oily skin
This product is a bit greasy for oily skin types, but this stuff works well if you have dry skin.
Cetaphil Moisturizing Cream uses
It's an excellent moisturizer for dry skin on the face, legs, arms, elbows, knees, and all over the body. The Moisturizing Cream is a soothing lotion that won't cause skin irritation and is perfect for applying as a face or body lotion.
Side effects of Cetaphil moisturizing cream
Emollients have been added to Cetaphil cream for safety and no negative effects. So yet, no skin sensitivities or adverse effects have been recorded. If any itching, burning, rashes, redness, stinging, or other effects are noticed, immediately consult a doctor.
[Read more about the best tea tree oil for the skin]
Cetaphil Moisturizing Cream benefits
Because of its fast-absorbing nature, Cetaphil Moisturizing Face Cream moisturizes the skin intensely for up to 24 hours.
Cetaphil sensitive skin moisturizer is non-irritating and hypoallergenic.
It's non-comedogenic and hypoallergenic, so it won't clog pores or irritate the skin, according to clinical testing.
The unique formula pulls water to the skin and is fast-absorbing.
It aids in the prevention and treatment of dryness, lifeless, flaky, bumpy, irritated skin, as well as minor skin irritations.
No products found.
Pros of Cetaphil Moisturizing Cream
Good for eczema-prone and dehydrated skin
Deep moisturization
Great as a makeup base
It can be used on all body parts
Long-lasting relief from dryness
Contains sweet Almond oil and Vitamin E
Mild and gentle on the skin
Helps retain the skin's natural moisture barrier
The unique, rich cream is free of fragrances
Cons of Cetaphil Moisturizing Cream
Not Available Everywhere
A little Pricey
How to use Cetaphil Moisturizing Cream?
Use liberally on clean skin twice a day as and when required.
Apply gently on your skin as frequently as required or as advised by a doctor.
No products found.
[Know more: How to choose the best Moisturizer for Acne-prone skin?]
Overview
Overall, the product is easy to use daily for long-lasting hydration. The cream is thick, creamy, and fragrance-free. It doesn't include any irritating fragrances. This moisturizer keeps skin super hydrated through any season. It works perfectly well as a moisturizer, and the best part is it can be used as a day and night moisturizer, So no need to buy a separate cream for both needs. Cetaphil moisturizing cream is a good and thick all-purpose cream.
Frequently asked questions
Is Cetaphil moisturizing cream good for the face?
It can be used on both the face and the rest of the body. Dermatologists recommend it for use on dry and sensitive skin. Also, it is suitable for eczema. So, it is ideal for all skin types. It softens and moisturizes the face very well.
What is Cetaphil moisturizing cream used for?
This cream is applied as a moisturizer to treat dry, dull, rough, itchy, and irritated skin. It's also used to provide immediate and long-lasting healing from extremely dry skin.
What's the difference between Cetaphil lotion and cream?
Cetaphil lotion is less thick compared to a moisturizing cream. The lotion is excellent for normal to dry skin, whereas a cream is suitable for very dry skin. Creams are more effective than lotions, and cream generally has less water content than lotions. Cetaphil lotion is non-greasy and lighter than cream.
Last update on 2023-05-12 / Affiliate links / Images from Amazon Product Advertising API