Skincare
Mamaearth Ubtan Face Wash Review – My honest review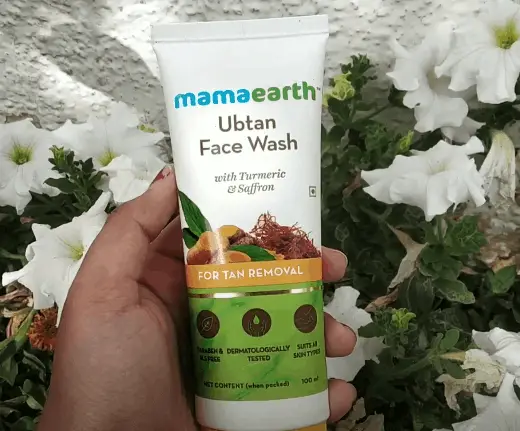 For women, natural cosmetics are important, and any kind of skincare treatment can be effective, regardless of the kind of skin a woman has.
Ubtan is known for its effectiveness in tackling tan. You can apply it to your body, face, and hair.
Sometimes, we don't have the time to use ubtan face pack every day. Instead, we can use Mamaearth ubtan face wash to get a youthful appearance. Therefore, today I will review Mamaearth Ubtan Face Wash With Turmeric & Saffron For Tan Removal.
All mamaearth products are natural and safe to use. I also tried the Mamaearth onion haircare range, including Onion oil, Onion mask, Onion shampoo, and conditioner.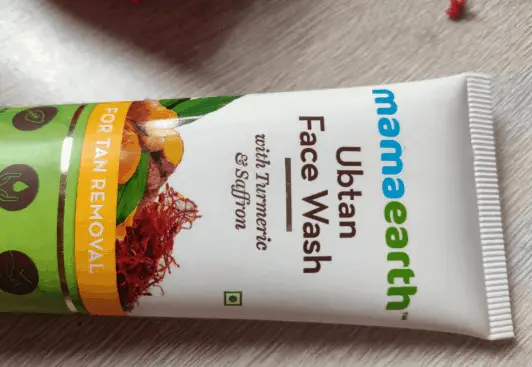 Mamaearth Ubtan Face Wash Review It is a tan-removing face wash that also brightens the skin. It contains ingredients like exfoliating walnut beads, saffron extracts, and turmeric, which are extremely beneficial for the skin.
It is made up of natural ingredients that give my skin a refreshing and rich feel. It doesn't dry out my skin. Also, it has tiny exfoliating beads that work on cleaning out the dead skin cells.
Mamaearth ubtan tan removal face wash would only help you cleanse your skin and leave your skin looking bright and radiant. If you're looking to reduce your acne scars, we'd suggest you try Mamaearth tea tree facewash for acne marks & scars.
This exfoliating face wash is derived from natural ingredients and does not contain harmful chemicals. It is suitable for all skin types as it is a hypoallergenic formula. This face wash can be used throughout any season for a glowing, bright skin complexion.
Product Details
Mamaearth face wash formulated with the goodness of herbal ingredients like Saffron extracts, Walnut beads, and Turmeric. It leaves skin soft and supple.
Also, it moisturizes the dry skin well and prevents early signs of aging. This gentle face wash eliminates tanned skin and skin-lightening cleanser for pigmented skin. 
Last update on 2021-06-25 / Affiliate links / Images from Amazon Product Advertising API
Mamaearth ubtan face wash price
INR 249 for 100 ml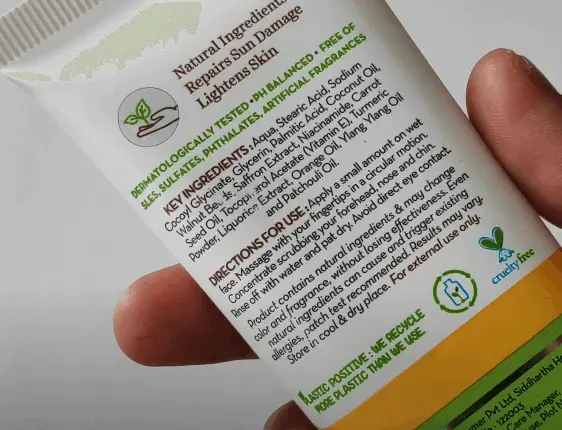 Mamaearth ubtan facewash ingredients
Purified Water, Glycerin, Palmitic Acid, Turmeric Powder, Coconut Oil, Saffron Extract, Niacinamide, Carrot Seed Oil, Walnut Beads, Tocopherol Acetate (Vitamin E), Orange Oil, Stearic Acid, Sodium Cocoyl Glycinate, Ylang Ylang Oil, Liquorice Extract, and Patchouli Oil.
Made without:
It does not contain any harmful chemicals like free from Sulfates, Petroleum, Paraben, SLS, Mineral Oil, Synthetic Perfumes, Artificial Preservatives, & Colours.
My write-up on Mamaearth ubtan natural face wash review
I bought mama earth ubtan facewash that claims tan removal, and it works with the first week. It acts as a scrub since having a walnut shell advanced with the integrity of saffron and turmeric. It helps in opening obstruct pores and doesn't leave any film on my skin.
It effectively removes dirt, pollutants, oil, and impurities from my face. It also helps to lighten my tan and discoloration. So, I can say that it maintains my natural skin color by protecting me from sun damage or suntan.
It is one of the best facial cleansers for instant tan removal. It is not only removing tan but also brightens and lightens the skin and improving my skin tone. But I think Mamaearth vitamin C face wash is more effective for skin Illumination and lightening.
There was no dry or stretchy reaction on my skin post application; it is delicate and leaves it delicate and smooth. It tends to be utilized by both men and women.
This natural face cleanser contains small scrubbing particles which give gentle exfoliation, and the granules are very delicate, so they will not reason any redness or aggravation. However, this face wash is not a complete solution for tan, and it just helps to remove daily tan and dullness.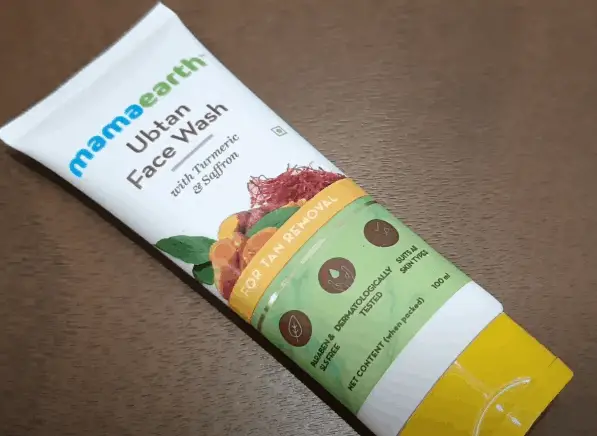 It cleanses the face deeply and clears all the dust from my pores completely. Also, it removes dead cells and deep-rooted impurities from the skin without making it too dry. It does not contain any toxic compounds. The results can be seen quickly than a simple face wash.
The best part of this turmeric face wash is that it works as an exfoliator since it has small and light particles, not too harsh on the skin, which helps in massaging the face more. It lightens up the skin as well as repairs sun damage.
This product has been a skin savior for me since we all know turmeric and saffron have been the main ingredient that brightens the skin and maintains the natural glow.
This tan removal face wash might be suitable for combination skin with freckles, dark spots, and pigmentation made from natural ingredients such as saffron and turmeric that are known to reduce pigmentation and promote smooth and glowing skin.
This acne foaming cream cleanser is also suitable for normal to dry skin, but for the extremely oily skin type, charcoal facewash is much effective than this one.
Many people are confused between Mamaearth ubtan face wash and Wow ubtan face wash. I prefer mamaearth more than wow. Mamaearth is more effective for uneven skin tone.
[Also check – Mamaearth Aloe Vera gel Review]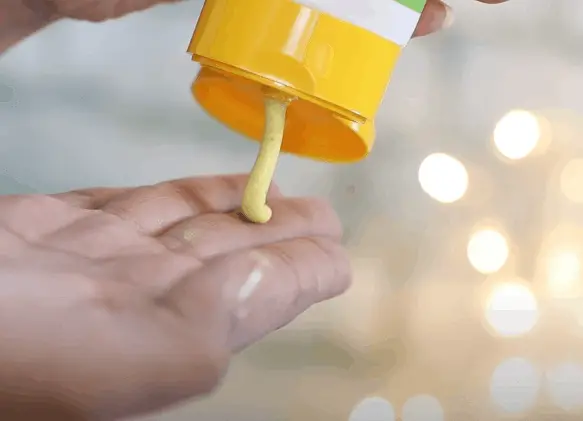 Packaging
It comes in an opaque plastic tube with a flip-open cap. The white-colored tube and green-colored cap are pretty tight, making it spill-proof. The packaging is sturdy and travel-friendly. The product doesn't come off effectively from the tube because of its thick ubtan like consistency, and you need to push hard to get the actual product. So, it very well may be effectively conveyed in a purse while traveling. All the information like ingredients, directions for use, price, etc., are mentioned on the backside of the tube.
Consistency
Its texture is a bit rough and contains some mild scrub particles too. So, it's like a gentle scrub for your face. It is not a foaming face wash, but the consistency of this product is a thick creamy base like thick ubtan paste. It lathers up well and cleans all the dirt, impurities, and oil effectively from the face, and leaves it squeaky clean.
Fragrance
The product has a pleasant Kesar and saffron smell. It has a mild smell that fades off after washing.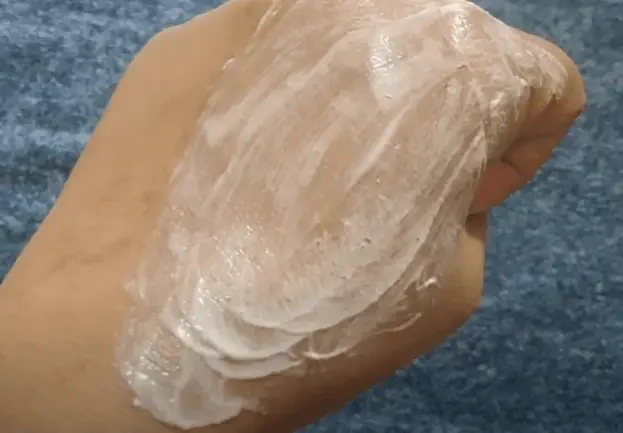 Results
The brand claims it is a skin-lightening face wash, but I felt disappointed after the first wash. However, after few washes, I am fascinated with the results. I noticed the tan remove from the face and my skin look lighter. It leaves my skin squeaky clean and brighter.
After using it for one week, I feel that it cleans my face and is very good for my oily skin as it has granules in this skin cleanser that exfoliates my skin and removes excess oil from my skin, making it an oil-free face. It doesn't dry my skin by any means. Thus, Mamaearth face wash is the best face wash for oily skin in India.
How to use mamaearth ubtan face wash
Apply a coin-sized amount on the wet face. Work up a mild lather and scrub gently with your fingertips in a round movement. Wash off with water and wipe off with a clean napkin. You can use it two times per day for better outcomes.
[Also check – Prolixr Detoxifying Sea Algae Mask Review]
Mamaearth ubtan face wash benefits
Walnut Beads is an amazing exfoliator that removes dead cells from the top layer of the skin to provide a natural glow on the face. It leaves the skin refreshed and smooth.
Saffron extracts (Kesar) rich in antioxidants known for their natural skin whitening properties. It does promote not only natural radiance and healthier skin but also relieves the skin.
Turmeric contains antioxidants that revive the skin cells from free radical damage. Also, it lightens the skin complexion, therefore, enhancing the skin tone.
Stearic Acid has purifying properties that help wipe out soil, sweat, and overabundance sebum from the skin.
Sodium Cocoyl Glycinate produces a natural velvety-feeling foam. It is used for cleansing and skin-smoothening.
The glycerin is used as a moisturizer to heal or prevent dusty, harsh, rough, itchy skin and minor skin sensitivities.
Palmitic Acid is used for softening or calming the skin. It is the most basic soaked fatty acid seen in animals, plants, and microorganisms.
Niacinamide is a type of vitamin B3. It helps control pimples, pigmentation concerns, rosacea, and wrinkles. It additionally has skin easing up the composite.
Carrot Oil is rich in vitamins A and E and pro-vitamin A. It assists with calming dry, dried, and harmed skin, likewise keeping up the skin's dampness. It might also help to lessen fine lines.
Tocopheryl Tocopherol Acetate (Vitamin E) is known for its antioxidant qualities.
Licorice Extract Yashtimadhu, one of the most usually used Ayurvedic herbs. It is derived from Licorice roots. It holds strong calming and anti-inflammatory properties. It gives natural sun protection and assists with controlling the skin's oil production.
Orange Oil diminishes dark spots and patches, controls excess oil that appeared on the skin, has antibacterial healing properties, raises flow in the skin, and more.
Ylang Ylang Oil advances relaxing and eliminates microbes.
Patchouli Oil relieves aggravation, helps the quicker healing of wounds by invigorating the development of new skin, saturates rough and dried skin, and decreases the presence of flaws, cuts, wounds, and scars.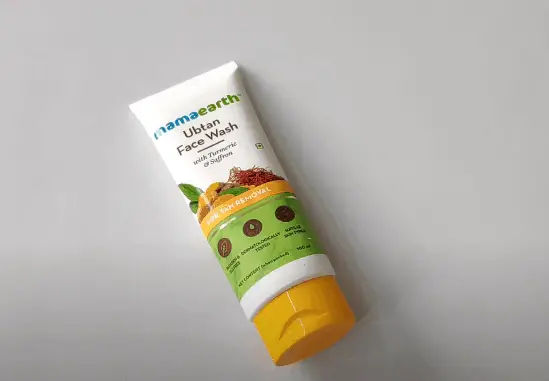 Pros of Mamaearth ubtan face wash
Free from harmful chemicals and parabens
Travel-Friendly Packaging
Cleans oil, dirt, and impurities
Leaves skin squeaky clean
Doesn't give a dry or stretchy feeling
Gentle on skin
Makes skin smooth
Gives mild exfoliation
Brightens skin instantly
Reduce sun dullness with regular use
Cons of Mamaearth ubtan face wash
It has cleansing particles that may feel harsh on sensitive skin.
It probably won't be appropriate for extremely dry or irritated skin because of the walnut beads.
The face wash doesn't come simply from the tube.
The exfoliation provided is not that effective in removing blackheads and whiteheads completely.
It might not be suitable for acne-prone skin as it has walnut beads (scrub particles) which may irritate the skin break out.
Facewash is not that powerful for stubborn and old tan.
Mamaearth ubtan face wash Side effects
It is made with all-natural, toxin-free ingredients, which are perfect for all skin types. However, even natural products can trigger existing allergies, so it's best to patch the test before use. If there should be any disease or hypersensitivity, stop using and advise an expert right away.
Shelf-life: 2 years
Availability: Easy
Where to buy: You can, without much of a stretch, buy online on Amazon, Nykaa, Flipkart, or its official webpage mamaearth. 
Overview
Overall, Mamaearth ubtan face wash is a good face cleanser with a brightening and lightening effect. Mamaearth's claims, there are no toxins or harmful chemicals, so if that's true, then it's a big plus point. Moreover, this Dermatologically tested & verified toxin-free face wash is not a foaming facial cleanser, yet it has ubtan like texture. It is a very mild face wash with small exfoliating beads & scrubbing properties that removes dead skin too. It's velvety on the surface and eliminates all indications of tan.
Last update on 2021-06-25 / Affiliate links / Images from Amazon Product Advertising API