Aloe vera is perhaps quite possibly the most well-known skincare ingredient in the world. Therefore, Aloe vera is a widely used natural remedy for beauty benefits.
Aloe vera is a very famous medicinal plant that people have used for quite a while. It is a key ingredient in most beauty products. This healthy wonder plant has numerous benefits. 
The moisturizing and soothing effects of aloe vera have made it widely used as one of the main ingredients in skin and hair care products.
One of the best herbal brands, Mamaearth, provides organic and natural products. I have tried many mamaearth products such as tea tree face wash, Onion hair oil, Onion shampoo, Onion hair mask. But today, I am going to share a review of Mamaearth aloe vera gel with Pure Aloe Vera & Vitamin E For Skin and Hair.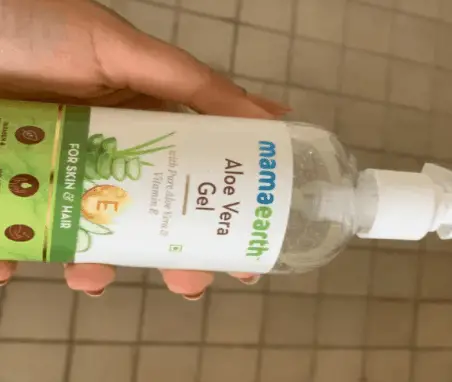 Mamaearth Aloe vera Gel Review
It is made with 100% pure and natural ingredients. The combination of aloe vera and vitamin E enters your skin and scalp to nourish & moisturize deeply. Aloe vera gel from mamaearth works like a miracle for both your skin and hair.
The significant benefits of it soothe your skin and give you a nice glow. This gel blends well and gives a non-sticky feel. 
Aloe vera is a calming agent loaded with vitamins and enzymes; it soothes acne breakouts. Its hydrating properties also help in healing irritated skin.
Furthermore, vitamin E is an anti-inflammatory agent that can assist with the faster healing of acne and acne scars. Glycerine won't make your skin greasy or clog pores, making it an excellent ingredient to moisturize acne-prone skin.
Dermatologically tested and suitable for all skin types, the product does not claim to fight, heal or reduce acne. Yet, it would be a good moisturizer for your skin.
Do remember that individual skin types respond differently to products and that acne is an inside job. So, do perform a patch test, and once tested, give the product at least 4-5 weeks to give you results.
Sale
Last update on 2023-09-14 / Affiliate links / Images from Amazon Product Advertising API
Product Details
Mamaearth Gel is infused with the goodness of pure Aloe Vera, glycerin, and Vitamin E. It helps to soothe inflammation and prevents wrinkles on your skin. Regular application helps to prevent dandruff or dry flakes and gives you a healthy scalp.
Mamaearth Aloe vera gel Price
Mamaearth Aloe vera gel ingredients
Aqua, Aloe Vera Extract, Xanthan Gum, Vitamin E, Glycerin, Allantoin, Sodium PCA, Potassium Sorbate, Sodium Benzoate, IFRA Certified Allergen Free Fragrance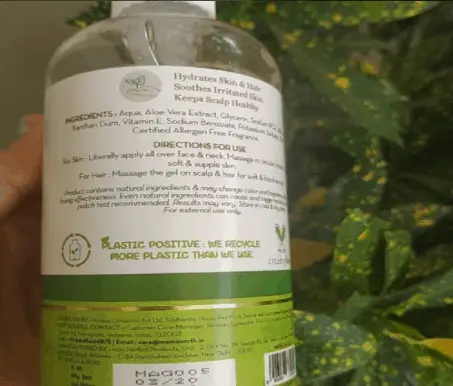 Made without: 
The gel is free from Parabens, Sulfates, Petroleum, SLS, Artificial Preservatives & Colors.
What the product claims:
Regular use will fight breakouts, improve smooth skin tone, and prevent fine lines on your skin. Its constant use on hair retains them healthy, shiny, and nourished and makes the scalp strong. It is appropriate for all skin and hair types.
My write-up on Mamaearth Aloe vera gel with pure aloe vera & Vitamin E Review
I have been using it regularly for the last month. I have tried many aloe vera gels available in the market. But Mama Earth Aloe Vera Gel, by far, is the best aloe gel I ever used. It leaves my skin nourished for a more extended time.
This aloe gel does not make my skin oily at all. It quickly sinks into my skin; however, it does not render adequate moisture.
Mamaearth aloe transparent gel works well for oily skin types as aloe gel is very light. But dry skin beauties may need more quantity of aloe vera as the nourishment content is slightly slow. However, it is an excellent aloe vera gel for the face, body, hair, face pack, or hair mask.
I used it as a moisturizer in both daytime and nighttime as it could have worked on moisture content. It has a gentle aroma that disappears after a couple of moments and gives you dewy-looking delightful skin. 
I've used this to add hydration and lessen my frizzy hair. Additionally, it helps in preserving the health of my hair's roots. I use a generous amount of the aloe vera gel for my length, tips, and scalp after shampooing when I get out of the shower. It eliminates frizz while causing no harm to your hair.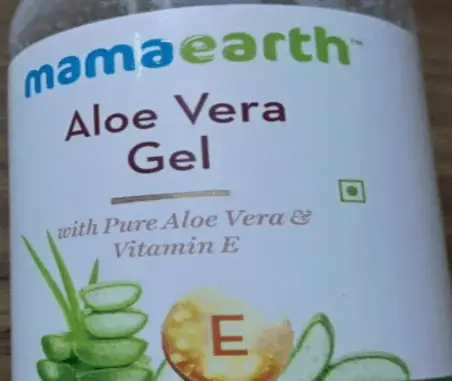 I'm happy to have come across this gel compared to other aloe vera gels accessible in India. It mixes rapidly into my skin and leaves delicate, graceful, and non-oily skin. Also, I have been using wow's aloe vera gel which is also quite well.
I usually apply aloe gel before night as a cream. The overnight application does make the skin smooth and supple.
One siphon is sufficient for my face since it administers a nice measure of the amount. I don't think you need multiple pumps for your face. But if you are used for hair, you need more pumps. Because mamaearth says that this is the aloe vera gel for skin and hair, you can use it for both purposes.
I have used it in my multiple face masks and hair masks. The quantity is decent enough, so it is going to last three to four months. 
The brand says it's the pure aloe vera gel with vitamin E and is suitable for dry skin types. I think it is one of the best aloe vera gels for the face and hair in India.
The best part is mamaearth aloe vera gel with vitamin e is colorless because most aloe vera gel has a green color that has added color, but this gel is transparent. 
This product has good preservatives. They have used sodium benzoate and potassium sorbate, which makes them safe to use on the skin and ensures the long shelf life of this product.
[Read more 9 effective ways to make your forehead smaller]
Packaging
This gel comes in a pump bottle. You can easily dispense the product by pressing it. It's in a plastic bottle, this is not a glass bottle or sturdy, but I don't have any issues with the packaging because it is in my skincare cabinet. I don't keep carrying it around.
It's not travel-friendly because the bottle is large and the quantity is enormous. But it is also available in a travel-friendly tube. 
The packaging is good and sturdy, and the pump bottle is hygienic. The whole list of ingredients is available on the label.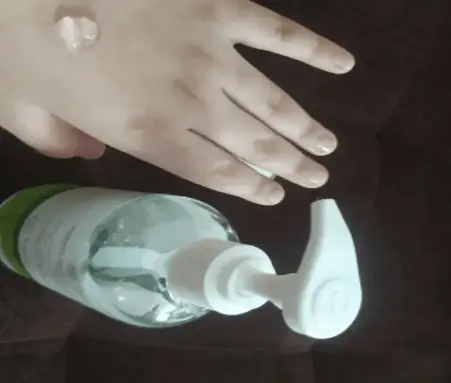 Color: A clear transparent gel
Fragrance: It doesn't have an unnatural smell. However, it has a mild pleasant.
Consistency
The product looks like an original aloe vera gel, a pure, clean gel that you get from the plant, and it is not runny at all.
Absorption
It seems weightless on the skin, so it gets absorbed in one minute of the skin. It won't take a long time compared to any other aloe vera gel.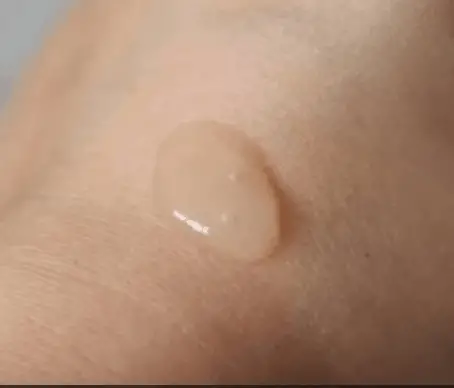 Mamaearth aloe vera gel benefits
Here are some natural benefits of mamaearth aloe vera gel for delicate skin and beautiful hair. 
1. Soothes irritated skin and hair
Aloe Vera Extract has amazingly soothing properties for skin and hair. It is a powerful antioxidant that relieves irritation and itchiness caused by shaving, rashes, or burns from the sun. Also, this gel heals cuts & burns. The ingredient, Allantoin, is a non-irritating agent which soothes your skin.
2. Hydrates Skin
Aloe vera contains approximately 98.5% of water content. So, hydration lasts all day. The gel thoroughly keeps skin intensely hydrated while keeping it strong and lustrous. 
3. Keeps Scalp Healthy
Aloe vera has anti-bacterial properties soothing any irritation and itchiness. The cooling agents present in aloe vera keep the scalp wholesome and strong.
4. Makes hair strong & shiny
Vitamin E has an antioxidant that protects hair from damage, making it smooth, soft, and supple.
5. Moisturize the skin
Glycerin is a great humectant that attracts damp and strengthens the moisture barrier. Glycerin is an excellent humectant for skin types for basically dry skin type. Adding glycerin to this aloe vera gel will make it a super hydrating and moisturizing product for your skin.
6. Heal skin 
Aloe vera has the ability to stimulate the generation of new cells, and eventually, it can heal your skin.
7. Conditions of the skin and hair
Sodium PCA in aloe vera is used as a skin conditioner in a lot of cosmetics. It reinforces hair from the roots and assists decline with frizzing by putting away dampness.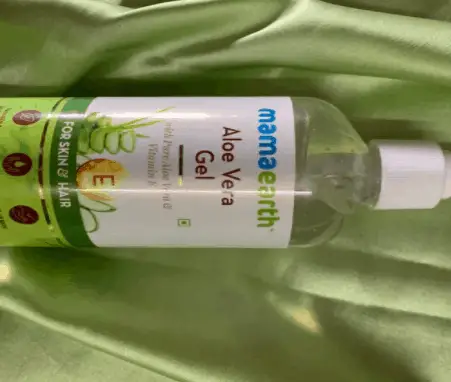 Pros of Mamaearth aloe vera gel
Treat itchy scalp and skin irritation
Nourishes hair & Protects the damaged skin
Dermatologically Tested
Suitable for all Skin and hair types
Relieves skin irritation
Heals cuts & burns
Shields skin against irritation
Cons of Mamaearth aloe vera gel
None for me but for some people, it is pretty pricey.
[Read more Nature Republic-Soothing & Moisture Aloe Vera Gel Review]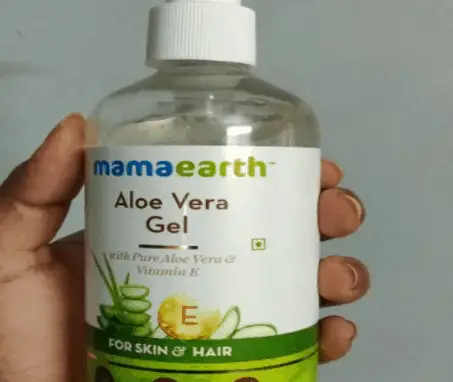 How to use:
How to use mamaearth aloe vera gel on the face
1. Used as a moisturizer:
You can use it directly on the skin for moisturizing the skin for both daytime and night skincare routine. Liberally apply all over the face & neck. For getting smooth and supple skin, gently massage in a circular motion.
2. Used as a DIY face pack: 
Aloe vera face pack for oily skin: Mix aloe vera gel and add some drops of lemon. It eliminates excess oil from the skin. It additionally helps in forestalling skin break out. 
Aloe vera face pack for dry skin: Mix honey, cumber, and aloe vera and make a fine paste. This DIY face pack helps to hydrate dull skin, leaving it soft and smooth. Apply this mask for 20-25 minutes and wash with a natural sulfate-free shampoo.
Aloe Vera Face Pack For Normal Or Sensitive Skin: Aloe vera gel and rose water help light up your skin and improve skin versatility. 
3. Used as a makeup remover: You can use only aloe gel on the face or mix it with rose water for removing makeup.
How to use mamaearth aloe vera gel on hair
1. Used as a conditioner: This gel has nourishing power that helps to give shiny hair. Take some amount of gel and apply it to hair strands to condition hair.
2. Used as a DIY hair mask: All you require is aloe vera gel, banana, and coconut oil for making a hair pack. This pack will help to get frizz-free hair.
3. used as a hair spray: Mix aloe vera gel and water in a spray bottle and make a fragile mixture. It will work as a hair serum.
Shelf life: Two years from the manufacturing date
Availability: Easy
Where to buy: You can easily purchase it online on any e-commerce site, amazon, nykaa, Flipkart, or its official website, mamaearth.
Overview
Mamaearth aloe vera multipurpose beauty gel moisturizing the skin and hydrate the skin. This organic aloe vera gel has no toxic chemicals and is liberated from Parabens, Toxins, and Mineral Oils. I recommend to everyone who is searching for a natural moisturizer can try this. This gel has multipurpose benefits. It helps to soothe the skin, repair damaged hair, heal sunburn and cuts, and give healthy and strong hair.
Frequently asked questions
Is Mamaearth aloe vera gel good?
This gel easily blends into the skin and makes the skin soft. It is formulated for both hair and skin. Also, it gives frizz-free, shiny, and healthy-looking hair. This Mamaearth aloe vera gel with pure aloe vera & vitamin E moisturizes and nourishes the skin and hair.
Is Mamaearth Aloe Vera Gel pure?
Yes, this gel is 100% pure and natural. It is formulated without paraben, silicone, or Mineral Oils. It does not have added color or fragrance.
What are the side effects of Mamaearth Aloe vera gel for Skin and Hair?
There are no significant side effects like skin irritation or breakouts after using it because of organic ingredients. But do a patch test before utilizing it. If you experienced burning, itchiness, or redness, then stop using it.
Last update on 2023-09-09 / Affiliate links / Images from Amazon Product Advertising API