Are you trying to find a hair growth serum that would offer you thicker, fuller hair? Like hair growth oils, hair growth serum is a substance used directly on the scalp to encourage hair growth and prevent hair loss.
I eventually decided to try Pilgrim Hair Growth Serum with the breakthrough ingredient Redensyl after doing a lot of research. Furthermore, it is free of parabens and harsh chemicals and cruelty-free, so why not?
I had heard a lot about the pilgrim advanced hair growth serum through social media, but at first, I didn't think it could help with my hair loss problems. However, I chose to try this serum out of curiosity and mostly because of the worst hair loss I had ever experienced.
So, stay tuned to see if this Pilgrim hair serum works for hair loss or not.
Pilgrim Redensyl and Anagain Hair Serum Review
Product Details
Pilgrim advance hair growth serum contains Redensyl and Anagain, a potent hair growth combination. The composition, a strong anti-hair loss serum, works to lessen hair loss that starts at the root.
This pilgrim redensyl and anagain hair growth serum are meant to increase hair growth. By nourishing the hair from the roots, it can also make the hair thick and strong.
It helps restore damaged hair, maintain its health, and add shine. This hair growth serum is ideal for almost everyone.
Promotes the growth of fuller, denser hair
Increases the hair's strength and fullness significantly
No mineral oils, sulfates, parabens, or other harsh ingredients
Cruelty-free
Strengthens the hair
Boosts thickness and health of the hair
The serum is FDA approved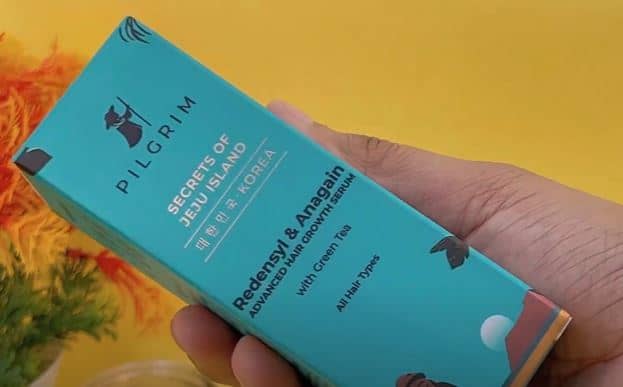 Price
INR 850 for 50 ml
Pilgrim Hair Growth Serum Review Ingredients
Redensyl: It makes waves, a component in hair care that prevents hair loss and stimulates hair growth.
Anagain & Zinc: A effective pea sprout extract lengthens the hair's life cycle while strengthening it with zinc, providing dual protection against hair breakage.
Green tea extract: Rich antioxidants in green tea stimulate hair follicles to encourage hair growth, add gloss, and make hair silky and soft.
Full Ingredients List: Purified Water, Redensyl, Sodium Metabisulfite, European Larch Wood Extract, Glycine, Zinc Chloride, Camellia Sinensis Leaf Extract, AnaGain, Propanediol, Betaine, Sodium Benzoate, Potassium Sorbate, Panthenol, Phenoxyethanol, Ethylhexylglycerin
My write-up on Pilgrim Hair Growth Serum Review
I've been using the Pilgrim Redensyl & Anagain Advanced Hair Growth Serum for quite some time.
I haven't noticed any significant changes after a month of using this serum. However, over time, it helps reduce hair loss and boost new hair growth. Also, I see baby hairs growing where my scalp used to be thinning. In fact, after using it for two to three months, my baby hairs begin to grow. It works if you use it consistently.
By nourishing the hair follicles, this serum is highly helpful in thickening the hair. I did not get an itchy or sticky scalp after using this. It is the best hair serum for hair regrowth in India.
When I apply it twice weekly, it takes a few drops to cover the entire scalp. My hair doesn't look sticky or greasy after using it. I leave it overnight and then wash it the following day.
Pilgrim redensyl serum also makes my hair super smooth and tangle-free. It's a lightweight serum that absorbs fast on the scalp without leaving a greasy appearance.
Pilgrim Redensyl Hair Growth Serum gradually promotes hair growth, lessens hair loss, increases hair density, straightens hair follicles, and lessens itching after washing hair. Also, it may help to grow eyelashes and eyebrows effectively if used regularly.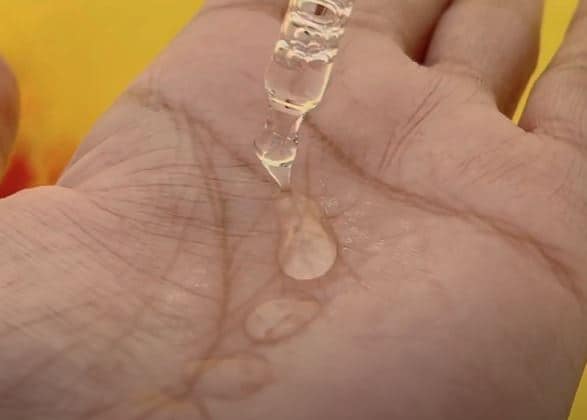 Packaging
Pilgrim redensyl and anagain hair serum comes in a nice green cardboard box and is packaged in a glass bottle. There is a dropper on top of the bottle. We can control the product amount using the dropper, and it's simple to use.
Consistency
It has a very light texture and quickly absorbs into your skin.
Fragrance
It has a pleasant smell that remains for a while.
Sale
Last update on 2023-09-23 / Affiliate links / Images from Amazon Product Advertising API
How to use Pilgrim Hair Growth Serum
Apply a few drops, or as needed, directly at the root of the hair on a clean, dry scalp.
Massage in gently with your fingers for better absorption.
Take a few drops on the hand and gently massage the eyebrows in the area of hair growth.
Pros of Pilgrim Hair Growth Serum
New hair growth
Makes the hair thicker
Made without toxic ingredients
100% vegan
Nice fragrance
Non-sticky and lightweight
Make the hair more manageable
It can be used for both men and women
Cons of Pilgrim Hair Growth Serum
Pilgrim hair growth serum side effects
Skin irritations are a common side effect of using hair growth products. These irritations might range from slight redness to severe itching. In some situations, these reactions might cause rashes and blisters. If you are sensitive to certain ingredients, it is possible that you could experience irritation while using hair growth products. If you experience a skin reaction, discontinue use immediately and visit your doctor.
Conclusion
Say goodbye to very rough and hard-to-manage hair with this serum from pilgrim. Not only has my hair fall significantly decreased, but I can also see little hairs growing on my scalp, giving me dense, thick hair. Also, pilgrim hair growth serum helps enhance hair's overall condition. As a result, I recommend this pilgrim serum to everyone looking for a good hair growth serum.
Frequently asked questions
How to apply pilgrim hair growth serum?
To apply the serum to the scalp, use a dropper or cotton ball. On a clean scalp, gently massage a few drops of Pilgrim Hair Growth Serum. Do not rub vigorously.
Can we use Pilgrim hair serum daily?
Pilgrim Hair Growth Serum should be applied twice a week, with a minimal amount needed for each application. I would not suggest using Pilgrim Hair Serum daily. If you do use it daily, you can have some scalp dryness.