Ayurveda is a blessing in hair care regimen that has helped people overcome various hair and skin problems. Ayurveda treatment is one of the most effective and natural ways to fix your hair problems.
Tru Hair is the world's first ayurvedic hair oil with a heater, which was introduced this year. In our fast-paced world, they have a really beneficial hair care solution.
Tru Hair Oil is a true blend of the goodness of herbal ingredients and heating technology. The tru products are created in India and are cruelty-free and natural. Therefore, today I will share a review of Tru hair oil.
Tru hair oil Review 
It is an ayurvedic hair oil that comes with a heater. Warm hair oil stimulates blood flow in the scalp, nourishing the hair and boosting hair health.
The tru hair oil heater is a good product with good quality. We are not required to check the temperature. The oil will automatically turn off once it reaches the required temperature.
The best thing is that Tru hair oil is a herbal product, full of nature's goodness and all-natural ingredients without any harmful chemicals.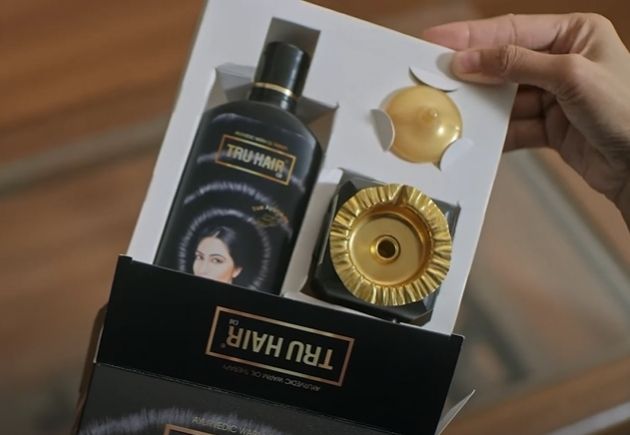 Product Details
13 new herbs are used in the preparation of this traditional hair oil, which follows an ancient ayurvedic script. Within 4 minutes, the Tru Oil Heater warms the oil to a temperature of 65 degrees. As a result, you can relax without worrying about overheating.
As a result of its special formulation, hair is nourished by penetrating the scalp and being protected from hair loss, dandruff, and premature greying. This hair loss treatment oil also helps to nourish and strengthen hair roots, leaving you with silky-smooth hair.
Tru hair oil price
INR 349 for 110 ml ( I got it discounted price)
Buy Here.
Tru hair oil ingredients
Bhringaraja, Japa Pushpa, Jyotishmati, Sesame, Amlaki, Brahmi, Dina Mallika, Jatamansi, Nimba Beeja, kanyasara, Gandha Karcura, Madayanti, & Nyagrodha Jata
Made without: It is free from sulfates and parabens & a cruelty-free product
What the product claims:
Fights hair fall
Delays premature greying
Combats split ends and dandruff
Sale
Last update on 2023-06-04 / Affiliate links / Images from Amazon Product Advertising API
My write-up on Tru hair oil with heater review
About 35-40 days ago, I started using Tru Hair Oil. Rather than buying oil, I purchased the stuff for the heater. But after using this oil, I've noticed a difference.
Because I don't have extremely dense hair, my scalp is always somewhat visible. It looks dense after applying tru hair oil, and it has a good gloss and dark color.
In this monsoon season, I'm having dandruff issues and my hair is falling out badly. When I use it on a regular basis, my hair fall decreases to great extent and my hair becomes healthier and stronger.
However, this oil does not assist me in promoting new hair growth or regrowing my hair. However, it does help in the reduction of dandruff and dry flakes in my hair.
It also helps to prevent split ends from being caused by overheating my hair. I haven't experienced premature greying of my hair, therefore I can't comment on it.
My sister's hair rebounded, which resulted in a lot of roughness and dryness. Her hair grew shinier and softer after using this hair, and the texture of her hair was noticeably smoother after only 6 to 7 applications.
A unique feature of Tru hair ayurvedic oil is its heating device, which is extremely helpful in warming the oil and preventing it from becoming too hot.
To gently heat oil without losing its natural properties, the tru heater is ideal. The heater has an auto-cut mode, so there's no risk of overheating while still providing nice heat. You can also purchase tru hair oil without a heater.
The only issue is that the heater's cap does not fit precisely on the heater bowl, and it's hard to remove the machine plug from the wall once the oil is hot, since it may spill oil. To prevent spillage, the machine's head should have been properly fastened to the machine.
Tru heater ayurvedic hair oil is a great treatment for all types of hair issues, including hair loss, dandruff, and early greying.
This oil contains ingredients that can help to stimulate the growth of new hair. It is based on the warm-oil therapy concept, which is an age-old heating practice for maintaining healthy hair.
The hair oil has not lightweight and non-greasy formulation. It feels quite sticky and heavy on the hair. That is why I never keep it overnight in my hair. I apply it for 1-2 hours before washing my hair.
Tru oil has a thick consistency. It's possible it became stuck in the hair and wouldn't come out despite several washes. If you use this oil, you'll need to use a clarifying shampoo to get it out of your hair. This thick oil needs to be very warm, or else it will stick to your hair.
[Read more: WOW Onion Black Seed Hair Oil Review]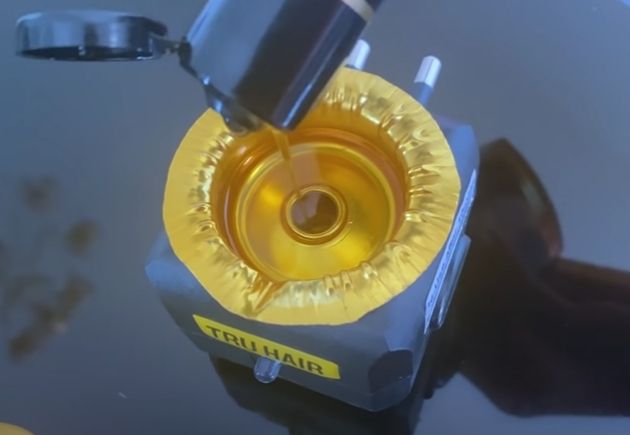 Packaging
Tru ayurvedic hair oil is packaged carefully in a cardboard box, therefore there is no risk of product damage. It comes with a flip-flop cap on a black plastic bottle. It seals tightly and doesn't leak. An electric heater with a cap is included in the package, which aids in heating the oil to the proper temperature and prevents overheating.
The oil cap on the heater isn't closed properly. As the heater's oil is being poured out, oil is dripping out. It is very handy and easy to use. It is very portable and may be carried in your bag while traveling. All of the important details, such as how to use it, the ingredients, how to clean the heater, and pricing, are included in the packaging.
Texture
It has a thick consistency that feels a little heavy on the hair.
Fragrance
It has a pleasant, herbal smell.
[Read more: 13 Best Neem Wood Comb in India]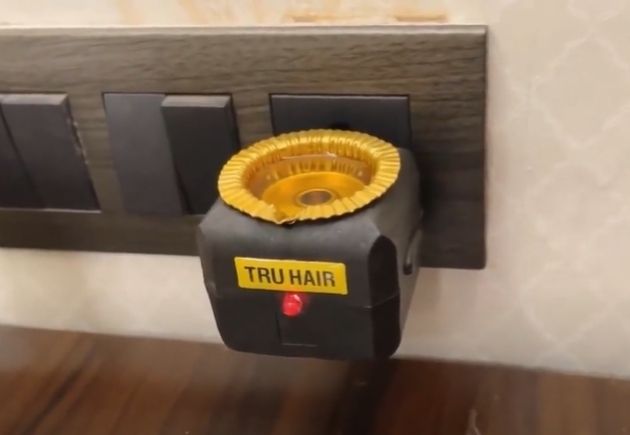 How to use tru hair oil
Fill the container with the desired amount of oil.
Plugin the machine and enclose the container with the cover.
Once it reaches an appropriate temperature, the light will switch off.
After warming the Tru Hair oil and pour it onto your palm.
Massage the heated oil into your scalp gently.
Pros of Tru hair oil
Budget-friendly
Convenient to use
Made up of natural herb ingredients
Making hair healthier and stronger
Nice packaging
Comes with tru oil heater
Effective oil heating technique
Reduces hair fall to a great extent
Cons of Tru hair oil
During the pouring of oil from the heater, oil is spilled on the heater's sides and the floor.
[Read more: Indulekha Bringha Shampoo Review]
Tru hair oil side effects
I didn't experience any side effects after using this oil. Through this, tru oil is free from harsh and harmful chemicals. But, sometimes natural ingredients might cause negative skin sensitivities or reactions, including burns, redness, and itching, so they should always be used with caution.
Overview
Tru hair oil is suitable for all hair types. It's a good herbal hair oil that promoting healthier hair. This hair oil helps to combat hair issues such as hair loss, dandruff, and split ends to a great extent. It makes my hair strong and healthy. The hair becomes smooth after washing on applying this oil. Overall, a good product that works well with my hair.
Last update on 2023-05-06 / Affiliate links / Images from Amazon Product Advertising API