Wow Onion Hair Oil Review
In our busy schedule, we can't give enough time for a hair care routine. Each person facing some hair problems such as frizzy hair, hair breakage, dull and dry hair, split ends, grey hair, dandruff, and hair fall is the most basic.
Excessive hair follicles tend to baldness and make the forehead appear larger. There are many methods to make the forehead smaller. But hair oil is more comfortable to reduce hair fall at an initial stage.
Wow brand offers onion hair oil from the onion haircare range. Onion seed oil helps against dandruff, thinning of hair, hair loss, and early graying. Thus, I will review WOW Onion Black Seed Hair Oil.
WOW onion black seed hair oil Review 
It is a non-greasy, non-sticky, and fast-absorbing formula infused with oils of onion, almond, castor, jojoba, and coconut. They are known to prevent hair fall and strengthen hair follicles.
Regular use of wow red onion hair oil can effectively combat dandruff, reduce hair fall and give you firmer and thicker hair. Since it has a non-greasy formula, this oil can be used on all scalp types.
Wow onion seed hair oil is prepared with 100% real cold-pressed oils, this oil is liberated from parabens, hexane, parafinnum, mineral oil, and silicone for holistic hair care.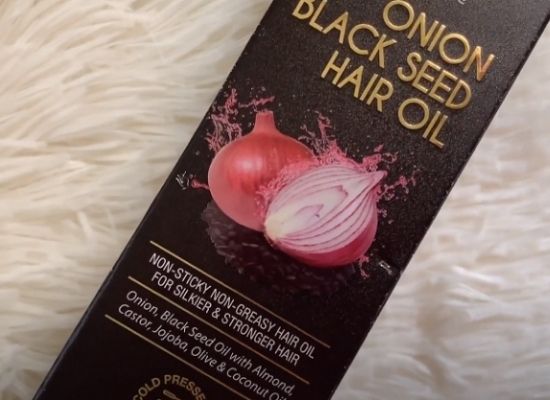 Product Details
Wow skin science onion black seed hair oil is a nutrition-rich oil that assists with controlling hair and scalp issues. It is a mixture of cold-pressed oil.
This oil moisturizes your hair and scalp well. Additionally, it assists with controlling significant hair worries. 
It helps to nourish dull, lifeless, and weak hair. This wow oil is lightweight and fast-absorbing that gets quickly soaked into the scalp.
Because it is high in antioxidants, it promotes the growth of stronger hair roots by reducing free radicals that damage the hair follicles on the scalp.
Price
$14.09 for 200 ml (INR 599 for 200 ml)
Sale
Last update on 2023-11-12 / Affiliate links / Images from Amazon Product Advertising API
Wow onion hair oil ingredients
Onion Seed Oil, Castor Oil, Coconut Oil, Jojoba Oil, Extra Virgin Olive Oil, Sweet Almond Oil, Moroccan Argan Oil, Black Seed Oil, Lemon Oil & Tocopheryl Acetate (Vitamin E).
Made without: It is free of harmful chemicals and toxins such as Parabens, Dyes, Silicones, Mineral Oil, & Synthetic Fragrance.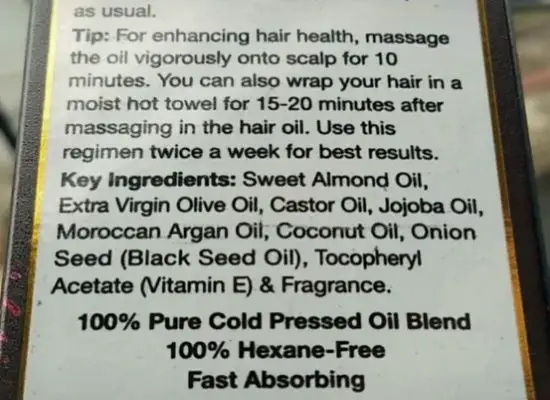 What the product claims
100% Pure Cold Pressed Oil Blend
Non-greasy and non-tacky hair oil
Quick-absorbing
For stronger and silkier hair
100% liberated from hexane, mineral oil, and silicone
This hair oil helps to reduce frizz, diminish hair loss, boost gloss, balance scalp health, and repair hair breakage caused by heat and chemical treatments.
My write-up on Wow Onion Oil Review
After trying Indulakha bringha hair oil, I decided to try another one. So, I purchase wow onion oil. I have been using wow onion hair oil for a month. I did not notice my hair regrowth. But The hair texture has improved as it feels very smooth and soft after application.
Not too much quantity is needed for oiling my hair and for a proper massage. So, it lasts a long time. It is a very lightweight oil and not as greasy as other oils.
I have long, semi-thick, and non-frizzy hair (not much silky). After a few usages, it helps to reduce hair fall to a great extent. But it is not able to stop hair fall completely.
Basically, it is a kalonji oil with a combination of various oils. Kalonji oil is known as onion seed oil or black seed oil because it smells like kalonji.
I have a mild dandruff problem. But it completely removes after 4-5 washes. Wow onion hair oil effectively works against dandruff and itchiness.
After massaging oil, I brush my hair with a neem wood comb that helps to remove dandruff and dry flakes from the scalp. I'm surprised that this combination makes a lot of difference in my dry flakes after only a few washes.
I apply oil overnight, and the next day I wash my hair with wow apple cider vinegar shampoo. I find this combination suitable for treated hair like mine. It leaves my hair manageable, dandruff-free, and healthy-looking.
What I like the most about this product is that it doesn't give me a sticky and oily feel; it aids immediate effects of hydration and moisturization.
Thus, one thing I definitely say is that Wow onion hair oil is perfect for those who face frizzy, rough, and damaged hair.
Also, wow black seed oil protects your colored-treated hair and maintains hair shine color. But, it may not work effectively on split ends, very frizzy, and tangled hair.
Wow hair oil is good for hair, but if you have oily skin, acne-prone skin, or a heat body, you may face pimple problems after using this oil. Because this oil produces more heat in the body after application. So, I do not suggest it for people with skin problems or sensitive skin.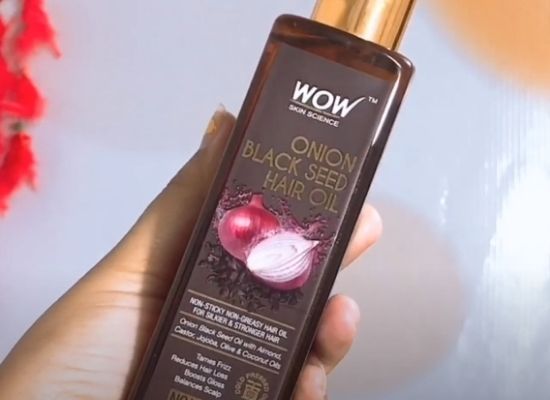 Packaging
It comes in a sleek, chocolate-brown colored plastic bottle that has a pump nozzle dispenser on top. The tight plastic cover cap is making it leakproof. The pump design is beneficial to controlling the quantity of product we take out.
The pump dispenser design is sturdy and looks attractive. All the details are mentioned on the backside of the bottle and on the brown outer cardboard cartoon, such as ingredients, how to use, price, expiry date, etc. Overall, the packaging is eco-friendly and user-friendly too.
Consistency: The texture of the oil is semi-thick, not too thick, and very runny.
Color: It is colorless and transparent.
Fragrance
This WOW Skin Science hair oil does not have any bothersome scent. It actually smells like a mixture of all oils. It does not have a traditional onion smell, but it does smell strong and lasts long.
Wow Onion Hair Oil Results
This non-sticky hair oil easily comes out with shampoo and doesn't leave any stains. It leaves my hair a little soft and smooth after the first application.
After 3-4 washes, my hair becomes less frizzy, but not completely. So, I used an onion hair mask once a week for frizz-free hair. This combo works amazing for my hair.
Also, sometimes I apply wow aloe vera gel with wow oil on my hair for more silky and nourishing hair. This hair pack adds up nourishment and shine to the hair.
After two-week use, my dandruff and itch ultimately reduce, and my scalp becomes clean, clear, and itch-free.
I have a lot of hair fall through the monsoon season. The regular application definitely helps in hair fall as I noticed less hair loss; however, it doesn't mean that it regrows hair again.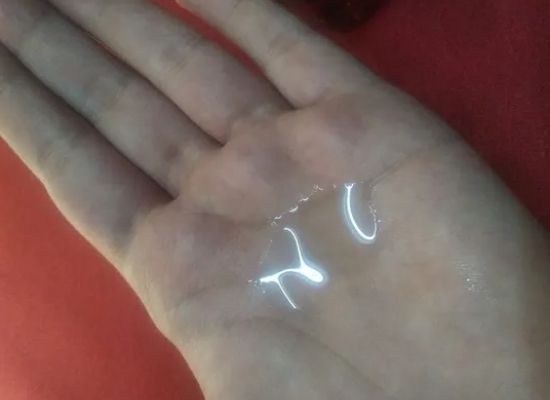 How to use wow onion hair oil
Pump out the necessary amount of oil and carefully massage it into your scalp and hair ends. Leave it for 1-2 hours, preferably overnight. Rinse your hair with a sulfate-free, natural shampoo the following day.
WOW Onion Black Seed Oil can be complemented by shampoo and conditioner from the same range to build on the benefits of the oil. So, you can use wow black seed onion shampoo and conditioner for better outcomes.
Wow onion hair oil vs. Mamaearth onion hair oil
Both oils are pure and free from harmful chemicals. Mamaearth costs 399 INR for 150 ml which is less than wow. Texture-wise, Wow oil is thicker than mamaearth onion oil. The fragrance of mamaearth is calm and soothing, while wow smells strong. As I mentioned earlier, Wow is a black seed oil formulated with seven various oils. Mamaerath is made with a combination of key ingredients redensyl, bhringraj oil, and almond oil. Mamaearth onion oil works more effectively in hair fall, hair breakage, and dandruff problems than wow black onion seed oil.
Wow onion hair oil Benefits
Onion Black Seed Oil (Nigella sativa plant) has antibacterial and antioxidant properties that increase blood circulation on the scalp and improve overall hair health. The blend of Onion Seed Oil and Blackseed oil boosts hair growth.
Extra Virgin Olive Oil is rich in nutrients like vitamin E and essential fatty acids. It hydrates hair and scalp and reduces damage affected by pollution, heat processing, and styling products. It is excellent for decreasing hair fall and increasing hair thickness. Also, soothe dry, irritated scalp.
Sweet Almond Oil is loaded with vitamins A, B1, B6 & E, promoting better nutrient absorption for stronger, brighter, and smoother hair. Also, it helps to moisten and make hair stronger.
Coconut Oil has vitamins and necessary fatty acids naturally. Also, it has nourishing properties that soothe the scalp and condition hair. Also, it prevents hair breakage, scalp build-up, and split ends.
Castor Oil is an excellent hair moisturizer that aids the nourishment of hair from root to scalp. It includes vitamin E, antioxidants, and essential fatty acids with omega 6 to promote hair growth.
Jojoba Oil is full of nutrients and minerals, including copper, vitamins C, B, E, and zinc. It helps to improve hair vitality and leaves softer hair.
Sale
Last update on 2023-11-05 / Affiliate links / Images from Amazon Product Advertising API
Pros of WOW Onion Black Seed Hair Oil
Pleasant subtle fragrance.
Gluten-free, Cruelty-free & Vegan
Easily washable
Dispense pumps make it easy to application
Makes hair frizz-free
Suitable for all hair types
Treats dandruff
Reduces hair fall to a great extent
Convenient packaging (travel-friendly)
Cons of WOW Onion Black Seed Hair Oil
Very expensive, it costs 599 INR for 200 ml. But you can purchase a lowered rate on Amazon.
It has quite a strong fragrance, so sensitive people may not tolerate it.
It may lead to drying up and clamping or hardening hair over time.
Wow growth hair oil doesn't fulfill all its claims.
Surprisingly, only the "Key ingredients" are determined. If it's 100% organic, why not mention each ingredient?
Also, the quantities of each oil used are not specified either. So, the lack of specification of the quantity just adds up to be suspicious.
There is not anywhere specified that it is preservative-free or not.
Wow onion black seed hair oil side effects
WOW skin sciences onion hair oil is a natural and organic product. I didn't experience any unusual reactions like itching, oily scalp, or any side effects. However, I recommend a patch test before use. Because Sometimes, natural or nature-based products also cause an allergic reaction. Discontinue if redness, irritation, or inflammation occurs. 
Shelf life: Two years
Availability: Easy (You can easily buy it on the brand's website buywow or other sites like Amazon, Flipkart, Nykaa, etc.)
Overview 
WOW Onion Black Seed Hair Oil is a non-tacky and non-oily hair oil without the domination of onion smell. Furthermore, this is a natural hair oil with an easy-to-use pump for dispensing the oil and massaging your scalp. The best part is that it is vegan, cruelty-free, and does not contain any harmful chemicals. Worth a try!
Frequently asked questions
Is Wow black seed oil good for hair growth?
Onion helps to increase hair regrowth. But, Wow onion oil helps to reduce hair fall to some extent. But, it is not much effective to stimulate hair growth.
Should I use WOW onion black seed oil daily?
It is made without harsh chemicals. Also, It is non-greasy and non-sticky. It implies that if you can use it daily. However, you need to wash your hair after every use. Otherwise, your hair might look too greasy. And I'm not sure that washing your hair every day is a good idea. Daily usage might make your hair dry and frizzy.
Last update on 2023-10-20 / Affiliate links / Images from Amazon Product Advertising API