Everyone wants their hair to be thick and healthy but keeping it may be difficult. Making the best choice can be challenging because there are so many products and solutions on the market.
When it comes to hair care, natural treatments have always been popular and effective, and the combo pack of Amla, Reetha, Shikakai, Bhringraj, and Hibiscus powder by the STAMIO Brand is one such remedy that has attracted a lot of attention. In this article, we'll go over how to use this Homemade Hair pack for hair growth.
Ayurvedic herbs have been utilized for centuries to improve hair health and growth. The STAMIO combo hair pack contains five of the most powerful Ayurvedic hair care herbs. These herbs are well-known for their ability to nourish the scalp, strengthen hair follicles, and prevent hair loss.
Ingredients of STAMIO Powder combo hair pack/mask
STAMIO Powder Combo Hair Pack is a blend of five different natural ingredients that are often used in Ayurvedic hair care.
STAMIO Pure Microfine Amla Powder:
Amla, commonly referred to as Indian Gooseberry, is full of antioxidants and vitamin C, which strengthen hair follicles, delay premature graying, and reduce dandruff.
STAMIO Pure Microfine Reetha Powder:
Reetha, sometimes referred to as soapnut, is a natural cleanser that helps in clearing the scalp of impurities and surplus oil without removing its own oils. It is also high in vitamins D, E, A, and K, which are essential for hair development.
STAMIO Pure Microfine Shikakai Powder:
Shikakai is a natural hair conditioner that helps in detangling and improves the manageability of hair. It is also well-known for its anti-dandruff effects.
STAMIO Pure Microfine Bhringraj Powder:
The plant bhringraj, commonly referred to as false daisy, helps in preventing hair loss, stimulating hair growth, and minimizing dandruff.
STAMIO Pure Microfine Hibiscus Powder (gudhal ke phool ka powder):
Hibiscus is a flower that is high in Vitamin C and amino acids, which assist to nourish the hair, preventing hair loss, and promoting hair growth. Additionally, it contains anti-inflammatory qualities that aid in avoiding scalp infections.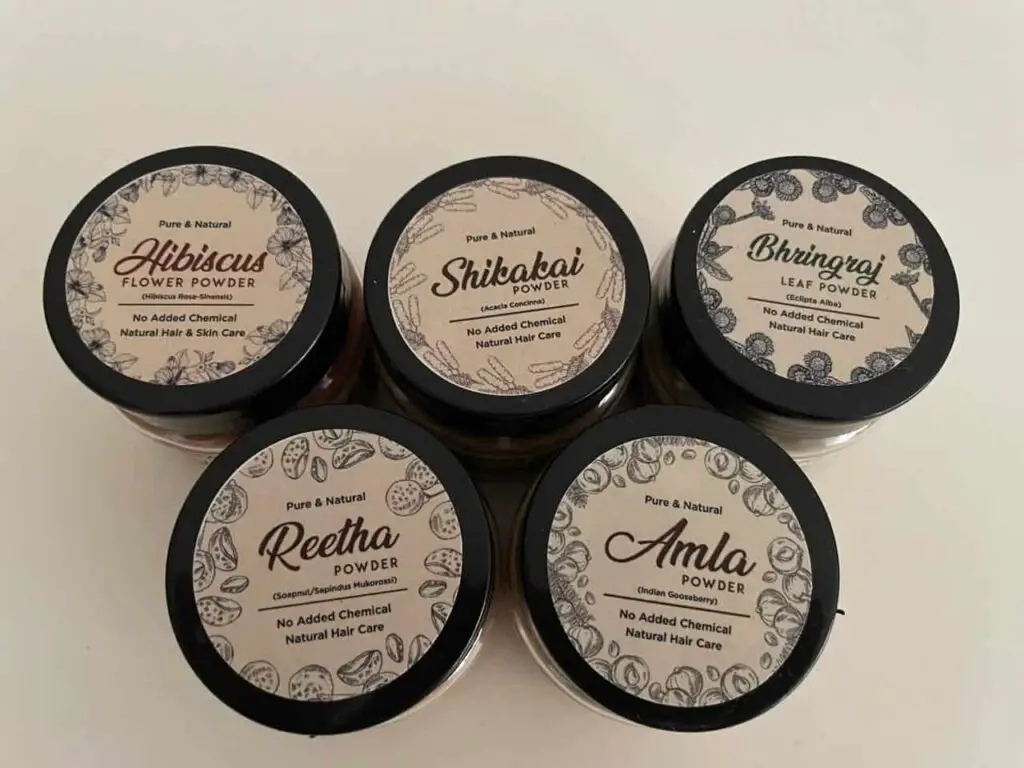 Benefits of STAMIO Amla, Bhringraj, Shikakai, Reetha, and Hibiscus Powder Combo Pack
Promotes hair growth: The organic ingredients in the combo pack promote hair growth by feeding hair follicles and boosting blood circulation in the scalp.
Prevents hair fall: The ingredients in the pack strengthen hair follicles and lessen breakage to help prevent hair loss.
Prevents dandruff: The anti-microbial and anti-inflammatory properties of the pack's ingredients help in the prevention of dandruff and scalp infections.
Cleanses hair: Reetha powder is one of the natural cleansing ingredients in the pack that helps in cleaning the hair by removing excess oil and grime.
Improves hair texture: Regular use of this powder pack can enhance the texture of your hair, making it softer and shinier.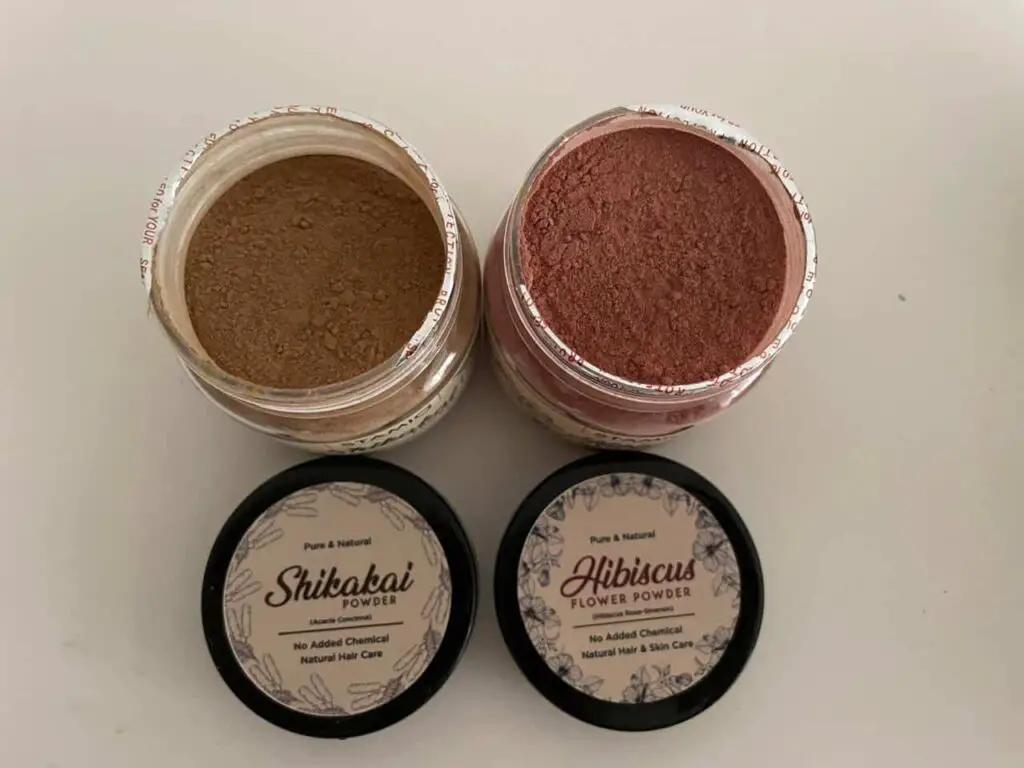 How to Use STAMIO Amla, Bhringraj, Shikakai, Reetha, and Hibiscus Powder Combo Pack
Using Amla, Reetha, Shikakai, Bhringraj, and Hibiscus Powder Combo Pack is quite simple. Use it as directed below to promote hair growth.
Step 1: Mix the Powders
In a bowl, combine all of the powders in equal parts. You can take the quantity according to the length and thickness of your hair.
Step 2: Add Water
Make a paste by adding water to the powder mixture. The paste must be sufficiently thick to adhere to your hair.
Step 3: Apply the Paste
Starting at the roots and moving to the tips, apply the paste to your scalp and hair. To make sure the paste reaches your hair follicles, gently massage your scalp for a few minutes.
Step 4: Leave it on
Give the paste time to work in your hair—about 30 minutes. To keep the paste from drying out, put a shower cap over your head.
Step 5: Rinse it off
Remove the paste by rinsing it with warm water. To clean your hair of any residue, use a gentle shampoo.
Step 6: Condition your Hair
To keep your hair nourished, use a natural conditioner like aloe vera gel or coconut oil.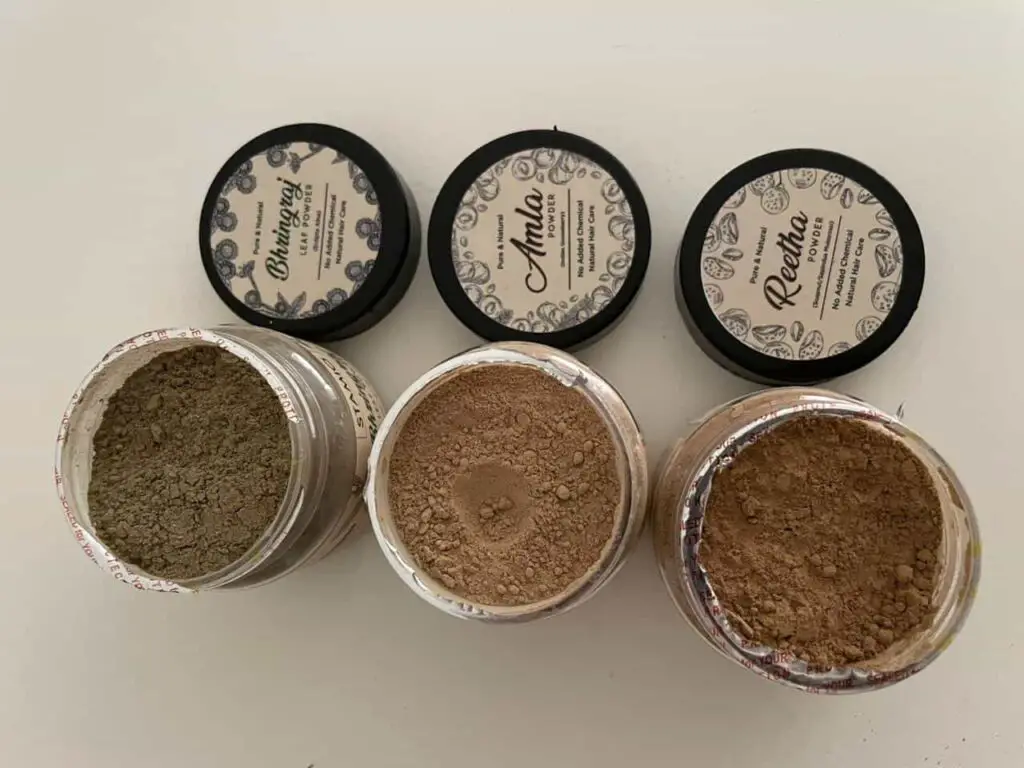 DIY Homemade Hair Pack
Hair Pack for Hair Growth
Combine the STAMIO combo pack with the STAMIO powdered fenugreek. To make a paste, mix the all-powder with water. For 30 minutes, apply this combination to the hair. Rinse the paste away. Nutrient-rich fenugreek seeds help to maintain and build healthy hair.
Hair Pack for Dandruff
Combine the powders of Amla, Bhringraj, Hibiscus, and Shikkai with the curd. Apply a smooth paste for 30 to 40 minutes. Protein and vitamin B5-rich hair pack with curd for dandruff nourish hair while removing dandruff.
Hair Pack for Dry Hair
Combine Reetha and shikakai powder with Aloe vera and coconut oil. This Aloe vera hair pack for dry hair works efficiently and gently cleans the oil, and coconut oil retains moisture and a level of hydration. It can also help to reduce frizzy hair.
PROS
100% Pure and natural
Cruelty-free 
Reduces hair fall
Promotes hair growth
Increase hair volume
remove excess oil from the scalp
Fights against dandruff
Improves the texture of the hair
Suits all hair types
CONS
Conclusion
The STAMIO Amla, Reetha, Shikakai, Bhringraj, and Hibiscus Powder Combo Pack is the ideal all-natural hair care solution if you want to promote hair growth, stop hair fall, and improve the texture of your hair. Its natural ingredients make it suited for all hair types, and frequent usage can result in stronger, healthier, and more beautiful hair.
By following the suggestions and techniques outlined above, you can effortlessly follow the remedy into your hair care routine and gain numerous benefits.