WOW products are very gentle and natural therefore to deliver maximum benefit, they are made without parabens and sulfates.
WOW Red Onion Black Seed Oil Shampoo Review – This shampoo may work on hair loss, scalp build-ups, and dull or weak hair. It is a strengthening and shine-enhancing Shampoo.
Also, its natural ingredients improve the quality of the strands. Sweet almond oil keeps hair looking healthy and lustrous. Also, this shampoo rich in antioxidants, nutrients, and vitamin E that helps to maintain healthy hair.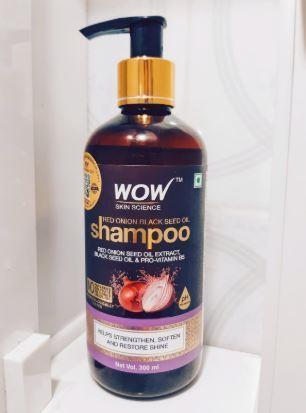 Product Details
WOW Skin Science Red Onion Black Seed Oil Shampoo prepared with natural ingredients and suitable for all hair types. This red onion extract and black seed oil shampoo promote blood circulation.
Also, to deliver maximum benefit, it liberated from parabens and silicones. Red onion extract and black seed oil work on the tired scalp and weak hair.
Price: Rs.499, 300 ml
Wow red onion shampoo ingredients
Black Seed Oil: It has antioxidant properties that help to reduce hair loss, excessive dryness, and dandruff. Also, it has anti-inflammatory properties that help in scalp eruptions, support hair, and scalp health.
Red Onion Seed Oil Extract: It rich in flavonoids, sulfur-rich compounds help to strengthen strands and unclog blocked roots. Also, It has vitamins B, C, D & E which manage scalp infections.
Pro-Vitamin B5: It is an essential nutrient that boosts hydration, and It helps strengthen roots to make hair smoother and stronger.
Features
Contains natural ingredients
Strong antioxidant properties
Made without: Free from color or silicones, Parabens and Sulphates
My write-up on WOW Red Onion Black Seed Oil Shampoo
Today I am going to share with you about WOW Red Onion Black Seed Oil Shampoo review. So, let's talk about this wow shampoo.
The shampoo is really good. It doesn't lather much which is proof that it is sulfate-free and safe to use. It does not lather but cleans hair thoroughly. This shampoo suitable for dry or oily scalp.
This WOW Shampoo enriched with Red Onion Seed Oil Extract and Black Seed Oil. The onion is perfect for oily scalp. It cleanses your hair and makes hairs soft manageable and smooth.
It's a decent mild shampoo so you can use it daily. I have an oily scalp and it suits my hair and scalp type. This shampoo doesn't make my hair dry or frizzy.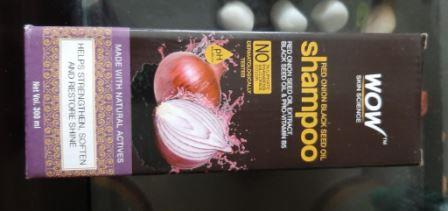 I am a regular buyer of wow products and all products are great. I regularly use wow apple cider vinegar shampoo but before some days I face the hair fall problem.
So, I used this shampoo but after using this shampoo, my hair fall doesn't reduce. Still, I am facing a hair fall problem. Except for the hair fall problem, the product is very good.
The good thing about this product is a soothing smell and packaging. Also, it's a gel form of a shampoo.
Also Check: Oribe Gold lust Dry Shampoo Review
Packaging and Fragrance
When I used it the first time, I have a great feeling and a good, pleasant smell. Its fragrance is mild. The shampoo comes in a pump bottle. You simply need to press the head of the pump to pour the shampoo. Its packaging technique is quite simple and user-friendly, so you must just rotate the handle of the pump to use the shampoo.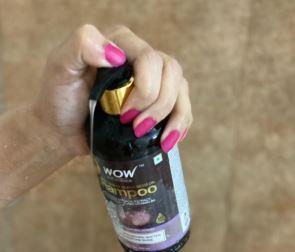 WOW Onion Shampoo Benefits
This shampoo is 100% Vegan and free from harmful chemicals
It enriches antioxidants, nutrients, and vitamin E that support to make healthy hair.
It smoothens hair cuticles and restores shine.
This shampoo clarifies blocked roots and nourishes roots.
Black seed oil rich in fatty acids that moisturize roots and optimize hair health.
It is free from sulfates, silicones, parabens, and color.
Pros
Helps to improve hair texture
Protect weak and dull hair
Formulated to help moisturize
Helps to strengthen the strands
Helps to smoothen hair cuticles
Makes hair glossy and lustrous
Nourishes the hair follicles
Cons
A little expensive
Maybe you have to face a hair fall problem
Normal shampoo vs Wow Red Onion Black Seed Oil Shampoo
There is major difference between Wow Red Onion Black Seed Oil shampoo and Regular ones.
Normal Shampoo has silicons which are not natural ingredients. Also, Normal shampoos have artificial colors that damage the hair's health causing split ends whereas Wow Shampoo has no silicones and no artificial colors.
After wash, normal shampoos dry out hair whereas wow shampoo maintains nourish and moisture even post-wash.
Normal one washes away natural oil which presents on the scalp whereas wow washes away dirt and impurities.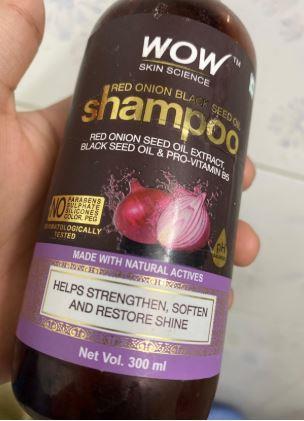 How to use:
Follow these steps to use this shampoo properly.
Step 1: Wet your hair with normal water. Then take a small amount of shampoo in your hand and apply shampoo to your hair.
Step 2: After applying shampoo on your scalp and hair length, massage your scalp with mild pressure. Continue massaging for 2 to 3 minutes to clean hair and scalp very well.
Step 3: Rinse your hair with plenty of plain water. Use cold water to seal the cuticles.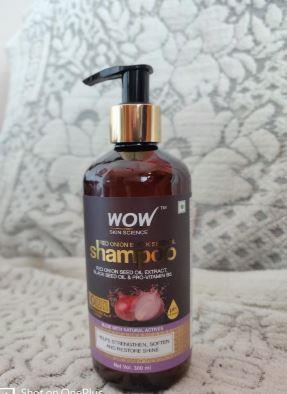 Frequently asked questions
What's the Difference between WOW Red Onion Black Seed Oil Shampoo and Apple cider vinegar shampoo?
Mostly the fragrance and texture of shampoo but not work the same.
Is it good for colored hair or dull hair?
It's good for both type of hair because this shampoo formulated with a natural ingredients.
Is this shampoo can straighten curly hair perfectly?
It's not working that much but after using this shampoo, my dry and rough hair became soft and shiny.
Is it good for hair fall problem?
No, it's not so good solution for hair fall problem.
Final words
Choosing the right shampoo is very important in maintaining your hair. So, with this shampoo, I have a great feeling and It has a good, pleasant smell.
The Best point of this product is that you can't see the result after the second or third wash but after 1st week or in 2nd week you can see the proper results of this product.
Wow red onion black seed oil shampoo gives a nice texture to the hair but doesn't lather much. Overall, the product was satisfactory but if you have a hair fall problem then this shampoo maybe works for you or maybe not.
I hope you found a satisfactory review of this wow shampoo. If you have already used this shampoo, then share your experience in the comment box. Please, do comment if you have any doubts or any queries.
You may also like