Are you looking for stunning, healthy-looking hair? It all begins with choosing the right shampoo for healthy hair. Natural Hair Products from Wow are designed to offer easy cleansing solutions for hair care.
Today, I'm going to share a review of WOW Apple Cider Vinegar Shampoo. It is gentle and natural and made with 100% natural and raw Himalayan apple cider vinegar. It has a lot of benefits for our hair and scalp.
Most people face hair issues like frizzy hair, dull and dry hair, split ends, and hair fall is the most basic one.
Extreme hair loss problems lead to bald spots and sometimes become a space on the forehead and seem more prominent.
There are many ways to make the forehead look smaller. But shampoo is the most convenient to grow hair and manage hair fall.
WOW products give the benefits of nature with effective and non-toxic skincare. Apple cider vinegar for hair growth is well-known for its herbal beauty regime.
WOW Apple Cider Vinegar Shampoo Review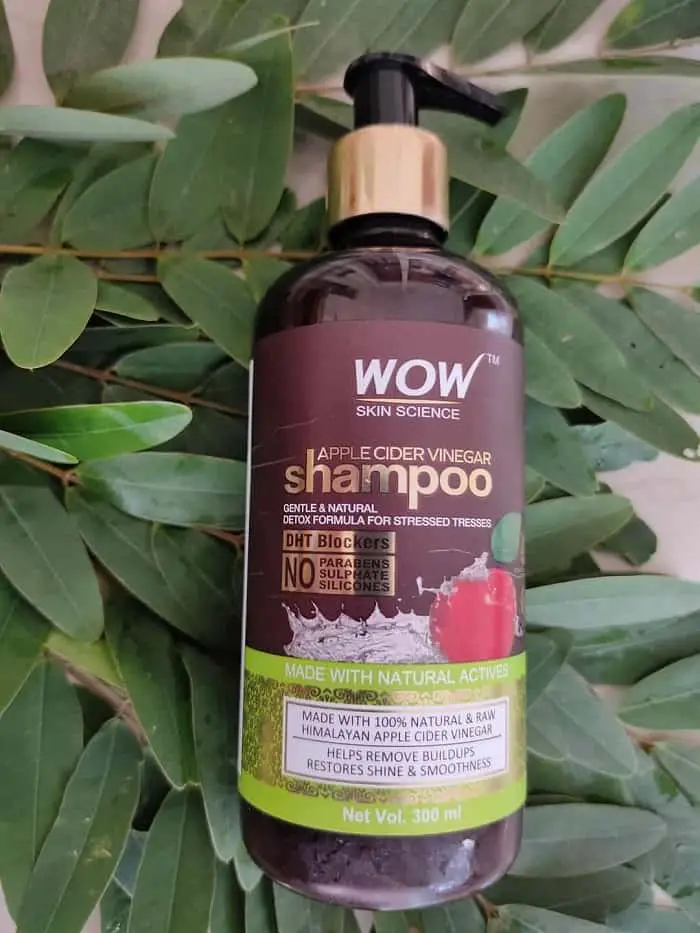 It works gently for all hair types as it doesn't have any toxic chemicals. This shampoo helps to achieve hydration and nourishment. It is reducing the falling of hair strands during the shower.
Dry hair people can use wow conditioner with wow ACV shampoo because conditioner helps maintain the balance of natural oils and natural hair color. So, you can use the wow apple cider shampoo and conditioner combo for better results.
Apple cider shampoo promotes healthy hair growth and removes buildups caused by dead scalp cells, grime, filth, dirt, and styling product. But it is not entirely effective for hair loss problems compared to WOW red onion black seed shampoo. 
Usually, it is complicated to tangle hair after shampooing, especially for those who have curly hair. But, wow shampoo India detangles hair and provides frizz-free hair.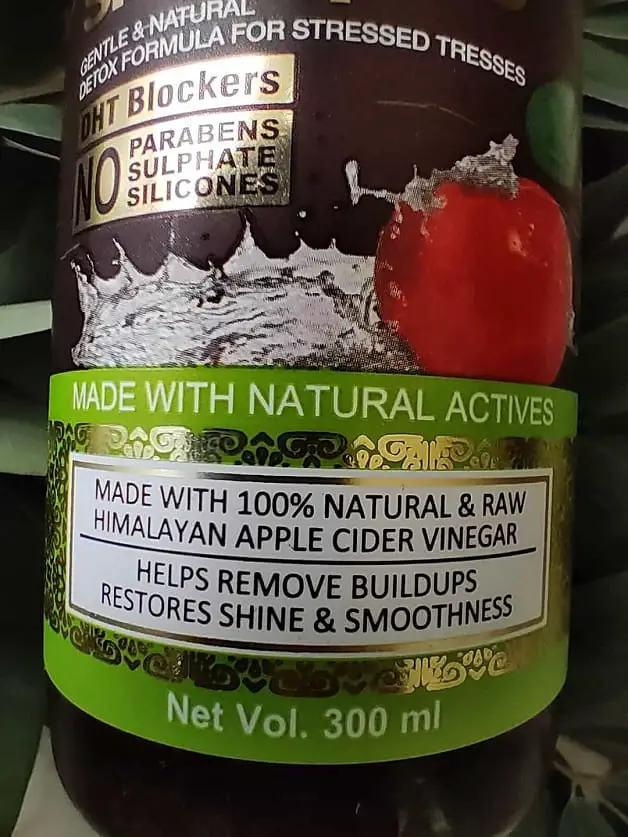 Product Details
It is hypoallergenic and free from Sulphates or Parabens, so it doesn't contain any harmful chemicals. It helps gently detoxify the hair & scalp.
Also, it is made with natural ingredients that help to clean dust and pollution. It is clearing up the buildup caused by dead skin cells and styling products.
It's a detox formula, and it's paraben and sulfate-free made with 100% natural Himalayan apple cider vinegar. It resolves scalp itchiness and leads to a reduction in split ends and breakage.
Price
Rs 299 for 200 ml
Rs 349 for 300 ml
Rs 575 for 500 ml
WOW apple cider vinegar shampoo ingredients
Purified Water, Caprylyl / Capryl Glucoside, Sodium Methyl Cocoyl Taurate, Sodium Lauroyl Sarcosinate, Decyl Glucoside, Cocoamidopropyl Betaine, Disodium Cocoamphodiacetate, Polyquaternium -10, Polyquaternium 73, D-Panthenol (Vitamin B5), PEG-12 Dimethicone, Natural Apple Cider Vinegar, Nettle Leaf Extract, Saw Palmetto Extract, Almond Oil, Argan Oil, Sodium Benzoate, Potassium Sorbate, PEG-150 Distearate, Fragrance & Color C.I 15985.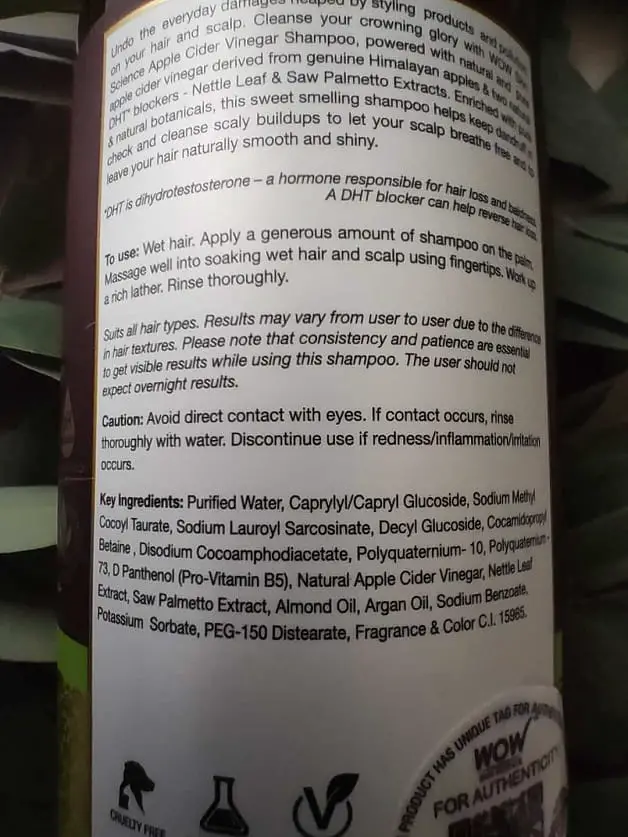 Key Ingredients
Raw Apple Cider Vinegar: Rich in vitamins and minerals that helps to remove flakes. Also, it enriches with antioxidants and enzymes that build up.
Argan Oil: Rich in omega-6 fatty acids that keep hair soft and moisturized.
Sweet Almond Oil: It helps to give nourishment to hair and scalp. Rich in essential fats and vitamin E boosts the gloss of hair.
Made without: Free from Paraben, Sulfate, mineral oil, and silicone.
Sale
WOW Skin Science Apple Cider Vinegar Shampoo with DHT...
Best kept ancient skin and hair care secret, used for hundreds of years
Concentrated all Natural Apple Cider Vinegar - Fresh - Chemical & SLS Free;...
Apple cider vinegar encourages healthy hair growth, reduce hair fall, helps...
Last update on 2023-11-10 / Affiliate links / Images from Amazon Product Advertising API
My write-up on Wow apple cider vinegar shampoo review
I am using this WOW skin science apple cider vinegar shampoo for a while. So now I want to share with you the results that I get from it. Is it worth it or not?
This shampoo lathers up your hair very nicely. But if you have oily hair, you might need to use it two times, but otherwise, one single use is enough.
Like when I have done oiling, I use three complete pumps of shampoo and apply and wash it, and then again I take three complete pumps of shampoo and use it and wash it, then my hair becomes clean.
On the cover of the bottle, it is written that it is made with 100% natural and raw Himalayan apple cider vinegar. It is known for having antibacterial and antifungal properties that cleanse the scalp of any infection.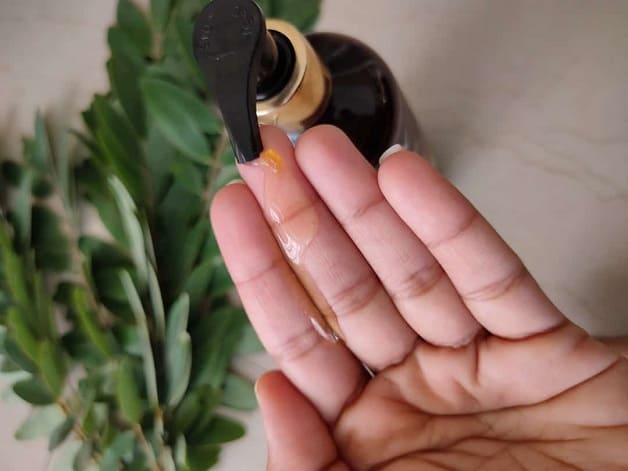 It helps in maintaining the PH balance of our hair and scalp. It also adds shine to our hair and helps in preventing hair fall, and boosts hair growth.
Apple cider vinegar's anti-bacterial properties help in reducing dandruff or dry scalp. This shampoo contains natural apple cider vinegar, so all its benefits can be achieved using this shampoo.
This ingredient claims that this sweet-smelling shampoo gently cleans up dandruff and cleanses the scalp ducts to let your scalp breathe free and leaves your hair naturally smooth and shiny.
WOW apple cider vinegar shampoo price in India is Rs 499 for 300 ml; that is quite expensive, but it is worth the price.
It is written that this shampoo cleans up dandruff, but in the 2-3 months of use, my dandruff has not increased, but it did not go away entirely as well. But I will say it was reduced to a great deal.
Another good thing about this shampoo is that you do not have to use it in large quantities. It cleans up the oily scalp very well but does not make the hair dry and frizzy. Instead, it controls the frizziness of the hair and gives it shine.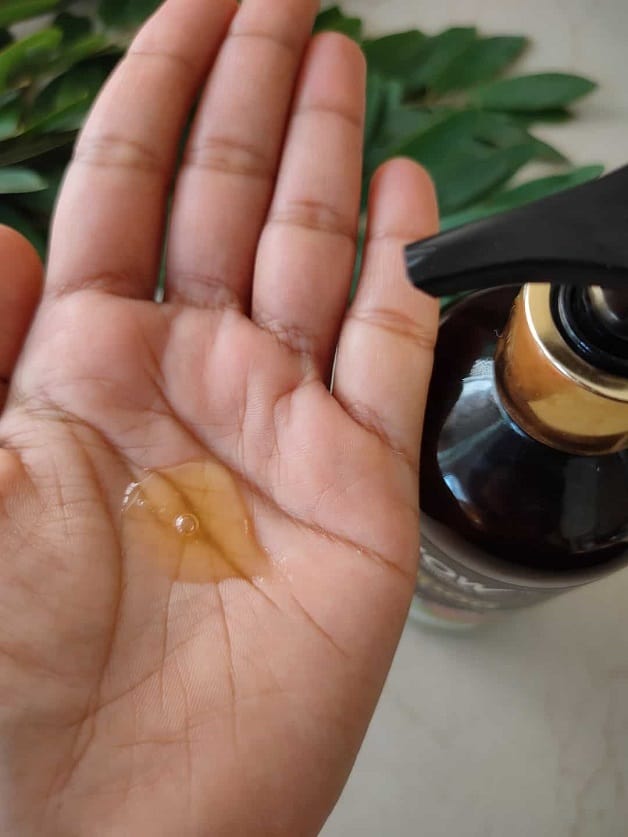 The packaging of the product is good, which I have mentioned earlier as well. But I wouldn't say I like the color of the bottle because it does not allow you to see how much of the product is left.
So you might face a little difficulty in repurchasing the product on time because you cannot estimate when your product will be finished.
If you face severe hair problems, you can use hair oil and a hair mask for healthy hair before shampoo. You can notice the result before and after your hair.
Apple cider vinegar is generally utilized as an option in contrast to conditioner. After using the shampoo, the hair feels clean and soft yet at the same time applies conditioner for a better and silky texture. So, for me, this wow hair shampoo is the best apple cider vinegar shampoo in India.
[Read more WOW Skin Science Aloe Vera Gel Review]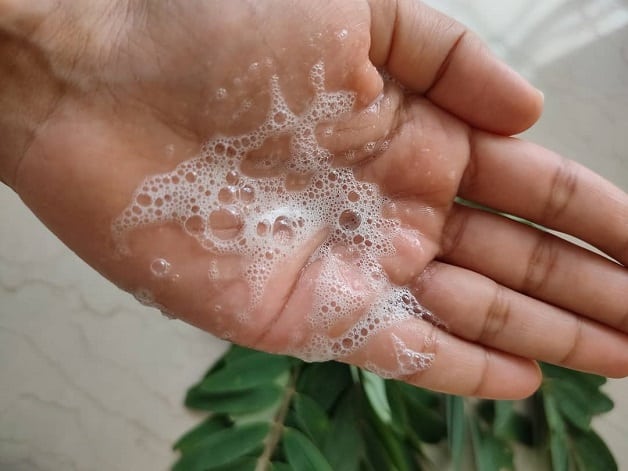 Packaging
The shampoo comes in a pump dispenser bottle. You can lock the handle of the pump so that the product won't come out unless you unlock it. Its packaging technique is quite user-friendly and straightforward. You have to rotate the handle of the pump to use the shampoo. You need to press the head of the pump to pour the shampoo.
Consistency
The texture of this shampoo is neither too thick nor too runny. The shampoo feels like a thick gel. The shampoo is a pale yellow liquid that appears to be translucent. The shampoo has a runnier consistency.
Smell
It has a pleasant fragrance like a sweet fresh apple, that is not at all bothersome.
Wow apple cider vinegar shampoo side effects:
This organic shampoo is made with a gentle detox formula. It is a sulfate-free shampoo that does not have any reverse side effects on your hair. But if you experience any allergic reaction, discontinue using it instantly and consult a doctor.
[Read more Indulekha hair oil Review]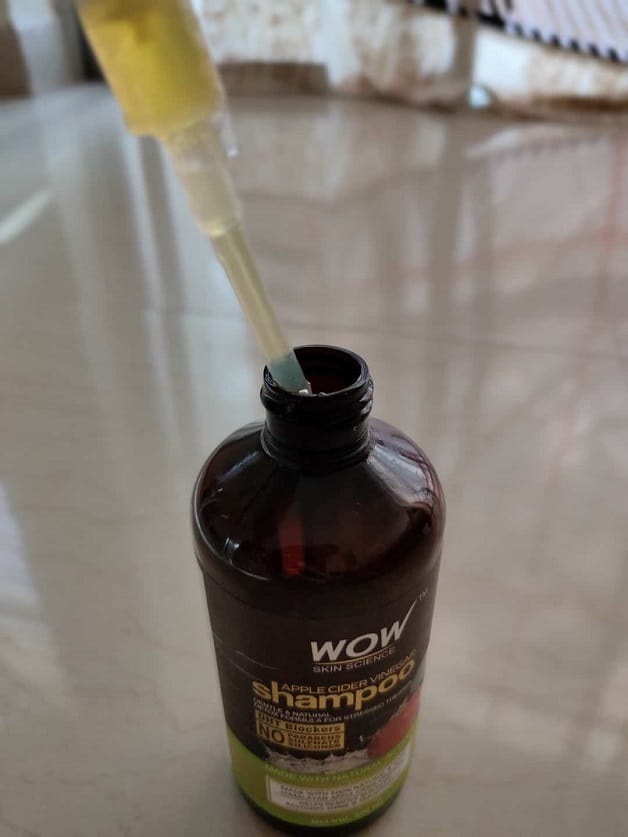 Wow apple cider vinegar shampoo benefits
This shampoo removes buildup and restores shine, so your hair feels fresh.
It is a good cleanser for frizzy hair and reduces the number of hair strands falling during a hair wash or comb.
Wow apple cider vinegar no parabens & sulfate shampoo closes up the hair cuticle, and hair luster, and makes smooth hair.
It is 100 % pure, unfiltered & unpasteurized Apple Cider Vinegar, so your hair can get all the essential nutrients. 
This Wow skin science shampoo detangles hair, clarifies, and repairs damaged hair.
It helps to bring silkiness and maximize hair strength your hair, so it maintains hair growth.
Wow shampoo for hair fall reduces split ends & the number of hair strands. Also, it prevents dandruff.
Stimulate hair follicles and helps in repairing split ends and breakage.
Pros of Wow apple cider vinegar shampoo
Dermatologically Tested
100 % Vegan & Cruelty-Free
Paraben and Sulfate free
Enhances shine
Improves hair texture
Removes build-ups
Lathers decently
Gentle shampoo
Cons of Wow apple cider vinegar shampoo
Expensive
Those with dry hair may find it drying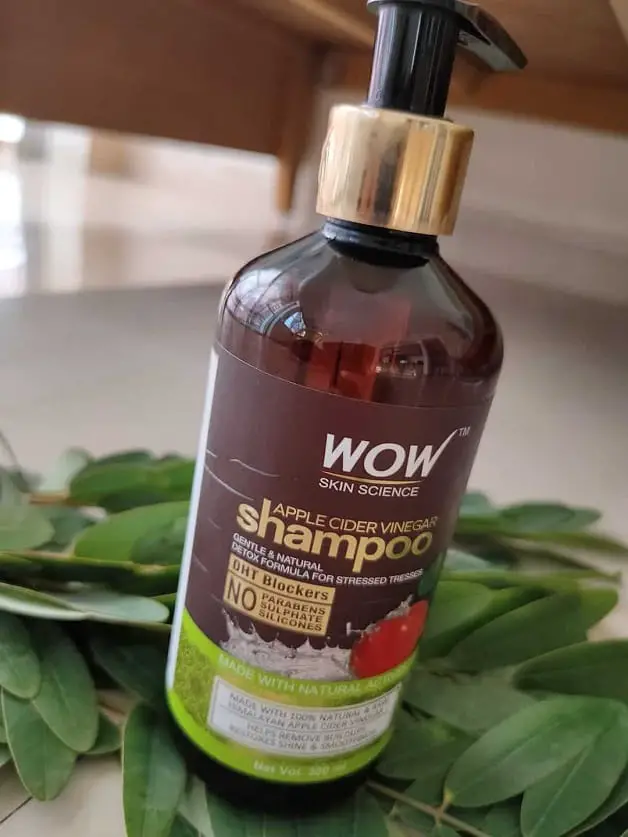 How to use wow apple cider vinegar shampoo?
Follow these steps to use this shampoo properly.
Step 1: Wet your hair with normal water.
Step 2: Take a small amount of shampoo and massage your scalp until it cleans very well. If you feel your hair oily, take a small amount of shampoo and apply it to your hair.
Step 3: Wash it off with plain water.
Shelf life: two years from manufacturing date
Availability: Easy
Where to buy: You can easily purchase it on any online shopping site from amazon, buywow, Walmart, Flipkart, Nykaa, etc.
Overview
Wow organic apple cider vinegar shampoo is made with the goodness of raw apple cider vinegar, argan oil, and sweet almond oil. These natural ingredients are safe for all hair types because it doesn't have harsh toxins. If you are looking for a good sulfate and paraben-free shampoo, I recommend using Wow organic shampoo. 
Frequently asked questions
Is wow apple cider vinegar shampoo safe for color-treated hair?
This shampoo is paraben and sulfate-free. So, if you have coloring and rebounding hair, this product is best suited for you because if you go to the salon, they will ask you to use sulfate-free shampoo. So, if you have done coloring, rebounding, or curling your hair you can use this shampoo.
How often do you use wow apple cider vinegar shampoo?
You can use it twice a week. Also, It's totally safe to use on a daily basis. However, shampooing too oftentimes can strip natural protecting oils from your hair. That is the reason we suggest shampooing your hair no more than twice a week.
Does WOW apple cider vinegar shampoo work for a dry flaky scalp?
Yes, WOW apple cider vinegar shampoo works for a dry flaky scalp because of its pH-balancing and moisturizing action. This shampoo is ideal for all hair and scalp types.
Is wow apple cider vinegar shampoo good?
The smell is quite mild and pleasant. This sweet-smelling shampoo removes all impurities and cleans the scalp thoroughly to let your scalp breathe-free. It is a naturally procured anti-dandruff method using plant extracts to prevent hair loss, thinning, and dropping. So, it is good for your hair to grow.
Last update on 2023-11-09 / Affiliate links / Images from Amazon Product Advertising API