Aloe Vera is not any but wonders for both skin care and hair care. Aloe Vera has medicinal properties, widely used in skin care items, and works well for each skin type.
There are many reasons to include it in your skin care routine as a daily moisturizer because feeds and hydrates the skin.
Natural ingredients give many skin benefits and battles against skin issues for healthy-looking skin. Aloe vera may help speed up the healing of many skin diseases.
Today, I'm going to review the WOW Skin Science Aloe vera Gel. It is a multipurpose beauty care product which is used for healthy skin, hair & scalp care. Daily usage gives an amazing effect on skin smoothening.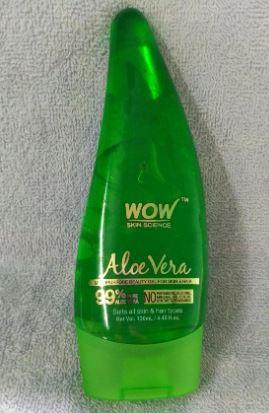 About WOW skin science Aloe Vera Gel
Product Details
WOW Skin Science Aloe Vera Gel is pure Aloevera gel. It is a multipurpose beauty gel product which designed for healthy skin, hair & scalp care. This gel is hygienically extracted. WOW aloe vera gel extracted from ripe, robust & succulent Aloe Vera leaves.
Price: Rs.299, 150 ml
Key ingredients
Aloe Vera Juice (99%): It gives intense hydration to your skin. It works on dry skin and minimizes dryness. Also, It reduces inflammations. It removes germs and microbes.
Xanthan Gum: It is a natural thickener which is based on plant, hence considered safe. It conditions the skin and helps boost the moisture in the skin.
Citric Acid: It Helps to remove pigmentation and tan from your skin.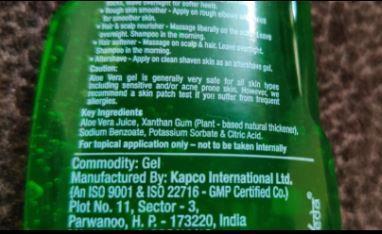 Specifications
Multipurpose gel
Paraben-free and Silicone-free
Free from Sulfate and Mineral oil
No color and No synthetic fragrance
What it is:
Dermatologically tested, 99 % pure Aloe Vera gel
What wow aloe vera gel claims:
The purest you can get in a bottle that hygienically extracted from Ripe Aloe Vera Leaves, & carefully packaged, to retain its natural healing & rejuvenating benefits.
My write-up on WOW skin science aloe vera gel
Today I'm going to share my experience with WOW skin science aloe vera gel on bebeautifulgirls. I am using this aloe vera gel for a while. So now I want to share with you the results that I get from it.
If we talk about the color then wow aloe Vera gel has no color, it is transparent which is the same as original aloe Vera gel. So you can say that It has no added color.
It claims that it has 99% pure aloe Vera gel which is an amazing thing like you are getting the pure product and only 1% preservatives are added which is required in order to preserve it.
In WOW aloe vera gel ingredients are mentioned such as aloe vera juice which is 99% Xanthan gum which is plant-based natural thickener Sodium benzoate, potassium sorbate, and citric acid. Wow Aloe vera Skin science is easy to carry anywhere.
It's one of the best and purest aloe vera gel available in the market in today's world. It contains 99% of pure aloevera gel extracts. It is a multipurpose gel and can be used for both hair and skin.
Also Check: WOW Red Onion Black Seed Oil Shampoo Review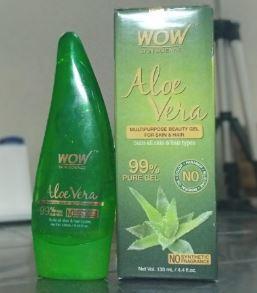 Packaging, Fragrance, and Texture
It comes in a transparent green tube. The shape is just like aloe vera leaf and it comes with a green flip open cap. So, the packaging is travel friendly and user friendly because you can easily carry in a purse or handbag.
It has no special fragrance added which is similar to the smell of extracted gel from the aloe vera leaf. So, It doesn't cause allergic skin reactions for people with sensitive skin.
The texture is smooth and sticky as original aloe Vera, Super light aloe gel. It's been a few days that I'm using it. No issues so far. When started to use I feel changes on my face. It is my must-have skin care product as night care. It acts as a good Moisturizer, as I'm having combination skin it works well.
Also Check: Neutrogena Ultra Sheer Dry Touch Sunscreen Review
It gives my face a supple look, using it daily beauty benefits and also makes my skin soft and very cooling on the skin and good for oily skin people as it blocks your pores and gives a tightening effect. I love to use it in my skincare regime and it's so smooth.
The name of the product is wow and it has wow quality, one of the best aloe Vera gel, without any stickiness, lightweight, quick absorb to the skin, and makes hydrated. also, this aloe vera gel is suitable for all skin types I think it is best.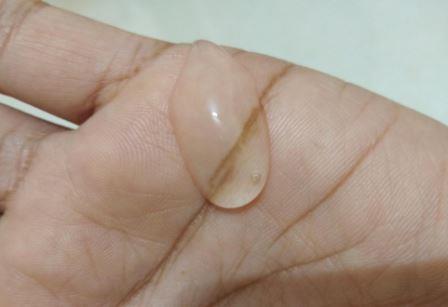 Why we like it:
These are some reasons to like WOW skin science aloe Vera gel.
99% pure aloe Vera gel.
100% vegan and cruelty-free.
It is unscented and transparent, so it's completely free from artificial fragrances and colors.
It can be used as a lightweight moisturizer for the face, skin, hair.
Also moisturizing after shave lotion and hair gel for men and women.
It can be used as a primer.
Helps to reduce dryness, dandruff, and itchy scalp.

How To Use?
There are some easy ways to use Aloe Vera in your daily beauty routine.
Apply aloe vera gel on the skin as required and leave it overnight. Wash it with plain water the next morning. Its antiseptic properties help to reduce dark spots and acne scars.
Gently massage on scalp and hair, leave it for overnight. Rinse off the next morning. Also used as a hair mask by mixing it with coconut oil for healthier hair.
You can be used as a natural scrub. Mix 1 tsp aloe vera gel with 1 tsp rice flour to make a healthy body & face scrub.
Mix it with a fullers earth and pinch of turmeric to make a face mask and apply for 15-20 minutes. As its anti-bacterial and anti-inflammatory properties relieve skin inflammation.
You can also apply on sunburnt skin for a soothing effect.
Apply aloe vera to your rough elbows and knees to smoother skin.
Aloe vera gel is a good heel saver. So massage on chapped heels and Leave it overnight.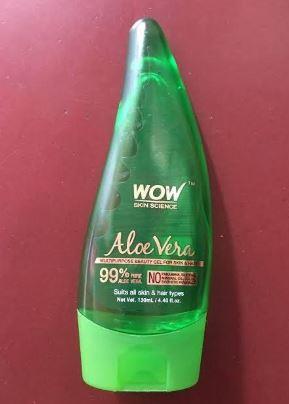 Pros and Cons of WOW skin science aloe Vera gel
Pros
Gets absorbed quickly on the skin
Moisturizes dry skin and scalp
Soothes skin inflammation
Improves hair health
Stay Away From Infections
Heals wounds and Fights acne
Heals and rejuvenates the skin
Makes hair shiny and smooth
Cons
Bottom Line
I would highly recommend WOW aloe vera gel to you. Please try it once and you will see the difference. I have used it that's why I am recommending it to you, definitely after using it once you like it. This aloe Vera gel is the best because this is 99% pure gel and has no added color, no fragrance and it is mineral oil-free and paraben-free.
The choice is your guys, it is up to you. Just try this once, you will love this product. I have genuinely used this and this is honest feedback from my side. I hope guys my review was very helpful and informative for you.
Did you like this article? Please, do comment and share your thoughts with bebeautifulgirls.
You may also like