A concealer is a kind of cosmetic product that is the way to achieve a perfect finish. Makeup artists always use concealer because it doesn't just cover dark circles but also conceals blemishes and age spots.
For getting an expert finish even tone look, add a color-correcting concealer to your makeup routine.
So, let's discuss the well-known product – Jeffree star cosmetics MAGIC STAR Concealer – whether it works or not. There are so many variant shades available at Jeffree star that match your skin tone.
Jeffree star cosmetics magic star Concealer Review 
Jeffree star cosmetics is a magically lightweight, hydrating, full-coverage concealer. I usually wear concealer without foundation that melts somewhat into the skin.
It is a matte concealer. A little bit goes far with this lightweight formula. The shade range is amazing. This dry concealer works well for people with oily skin types.
C0 pure white shade is the lightest color, and the deeper color is C30. I use the second lightest concealer shade for a brightened under the eye, and this single shade is the perfect color matching for me. 
Product details
Magic Star Concealer provides a natural satin-matte finish. The liquid formulation glides smoothly over the skin. It is available in 30 shades to match all skin tones. The smooth and lightweight formula contains aging properties, which gives effortless application.
Price: $22.00, 3.4 ML (0.115 FL OZ)
Jeffree star magic star concealer ingredients
Water, Cyclopentasiloxane, Neopentyl Glycol Diethylhexanoate, Butylene Glycol, Cyclohexasiloxane, PEG-10 Dimethicone, Polymethyl Methacrylate, Methyl Trimethicone, Diphenylsiloxy Phenyl Trimethicone, Phenoxyethanol, Pentylene Glycol, Sodium Chloride, Dimethicone/Vinyl Dimethicone Crosspolymer, Disteardimonium Hectorite, Triethoxycaprylylsilane, Trimethylsiloxysilicate, Cetyl PEG/PPG-10/1 Dimethicone, Disodium EDTA, Ethylhexylglycerin, Dipalmitoyl Hydroxyproline, Glyceryl Tribehenate/Isostearate/Eicosandioate, Tribehenin, Carnosine. May Contain: Mica (CI 77019), CI 77492, Titanium Dioxide (CI 77891), Iron Oxides (CI 77491), CI 77499).
Made without: Free from Fragrance, Paraben, and Talc
What it is:
Jeffree's a unique creamy, high-coverage liquid concealer 
What Jeffree Star Magic Star Concealer claims:
This full-coverage, long-wearing liquid concealer has 20% pigment and can cover tattoos. 
What it does:
Its creamy formulation levels out Skin Tone. Jeffree Star Concealer hides blemishes, dark circles, and other skin imperfections.
Moreover, it has anti-aging properties that help diminish the presence of wrinkles and fine lines. It provides a flawless impact for quite a long time. So, it enhances a self-setting effect and increases wear time.
How it works:
This magically lightweight, blendable concealer works on blemishes, rednesses, dark spots, and other imperfections to even out all skin shades. The hydrating formula blends easily and dries down to a matte completion without building up or wrinkling.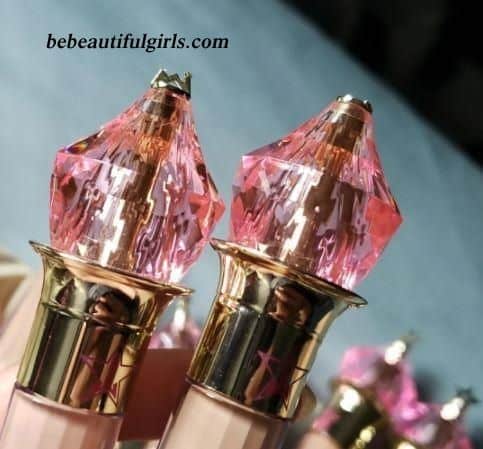 My write-up on Jeffree star cosmetics magic star Concealer reviews
I have used this concealer for cutting wrinkles, under the eyes, and even as a foundation substitute. It creases a little on the lid, but it may not crease on the actual face.
It is an ideal match for my skin color. The doe foot is an excellent shape for getting into the under-eye as well. And as a side note, the component makes me very glad and helps me remember Sailor Moon.
I like using it for a cut crease to get the most punch of pigment. It's additionally incredible to join with a more skin-matching shade for under the eyes and nose. It gives a decent shine.
I don't use it consistently because it is somewhat pricey compared to my Maybelline fit-me concealer, which I used previously. It has a beautiful full-coverage finish that makes my skin look stunning.
It keeps going the entire day and is so lighting up. It has great coverage and doesn't dry out my under eyes. It's so lightweight you don't even feel you're wearing anything besides still giving you so much coverage.
It applies so smoothly, not thick but rather light enough, so it spreads and is easy to work with with a damp beauty sponge. I think I got a shade excessively light for my skin, but I like concealers that are a tad lighter, so it resembles a highlighter as well.
It works pleasantly on my unfortunately large pores and fills them nicely without leaving crater holes. It doesn't appear to cake even night-time of utilization.
Only a little dab with a finger, and it smooths out again. I am wearing this with my elf poreless primer, Estee lauder foundation, and loose powder, and it seems to work well with these products.
The finish is matte and so flawless. It said wrinkles and pores are gone; it had a blurring effect that left my skin looking smooth.
Dark circles completely disappear with this. A few people would state it's incredibly pricey, yet merely like the rest of Jeffree stars products, you're getting amazing quality at the cost.
It positively does not affect how my skin cares for applying and setting it. No other product has done this for me; I'm so glad I purchased it.
[Read more Younique Lash Serum Review & Results]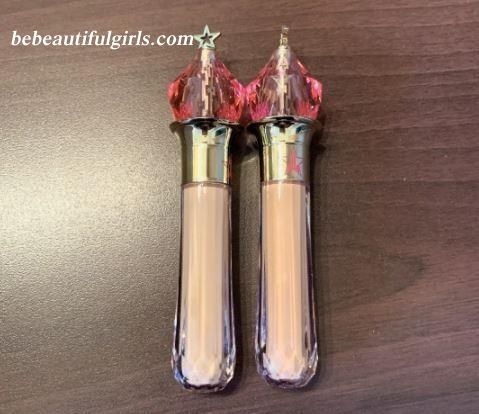 Packaging
The packaging is insanely cute. Jeffree star cosmetics magic star concealer comes with a giant pink crystal lid and a cute little gold star on top, making the product feel more luxurious. The tube has a crystal-like bottom. The doe-foot applicator has a hole in the center to take for different product pickup. The applicator fits completely under the eyes because of its shape. 
Finish: Matte
Consistency: Creamy but thin, unscented, and has a buildable medium to full coverage.
How to apply:
Apply concealer where required using the doe-foot applicator.
Use your fingertips or a damp makeup sponge or brush to blend over your skin.
Jeffree star magic star Concealer Swatches: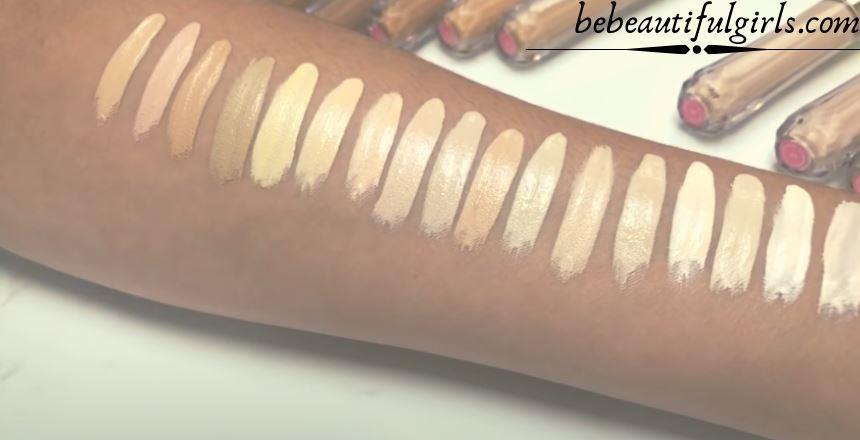 [Read more Renee Fab5 5 in 1 Lipstick Review and Swatches]
Jeffree star concealer shades:
For Fair skin tone:
C0: Pure white
C1: Very light skin with rose undertones
C2: Fair skin with a neutral undertone 
For Light skin tones:
C3: Light skin with vanilla beige undertones
C4: Light skin with rose undertones
C5: Light skin with neutral undertones
C6: Light skin with olive undertones
C7: Light to medium skin with rose undertones
C8: Light to medium skin with yellow undertones
For Medium skin tones:
C9: Medium skin with warm peach undertones
C10: Medium skin with olive undertones
C11: Medium skin with rose undertones
C12: Medium skin with peach undertones
C13: Medium skin with neutral undertones
C14: Medium skin with yellow undertones
For tan skin tone:
C15: Tan skin with golden olive undertones
C16: Tan skin with warm neutral undertones
C17: Tan skin with rose undertones
C18: Tan skin with neutral undertones
For Medium-dark skin tones:
C19: Medium-deep skin with golden undertones
C20: Medium-deep skin with warm olive undertones
C21: Medium-deep skin with golden yellow undertones
For Dark skin tones:
C22: Deep skin with golden orange undertones
C23: Deep skin with rose undertones
C24: Deep skin with warm neutral undertones
C25: Deep skin with neutral undertones
C26: Deep skin with olive undertones
For very dark skin tones:
C27: Very deep skin with rose undertones
C28: Very deep skin with neutral undertones
C29: Very deep skin with yellow rose undertones
C30: Very deep skin with golden undertones
Peach / Color Corrector: equalize dull under-eye circles, dark spots, and acne scars
Green / Color Corrector: equalize redness of the skin
Benefits of Jeffree star cosmetics magic star Concealer
This weightless concealer conveys non-cakey coverage for all skin types.
The liquid formula blends effortlessly and creates the illusion of perfect skin.
Its smooth formula blends effortlessly with just a wave of your magic wand.
Among the wide range of complexion, products are the long-awaited reveal of the magic star high coverage liquid concealer formula.
Its doe-foot applicator helps you get an even amount of concealer.
Pros of Jeffree star cosmetics magic star Concealer
Vegan
Cruelty-free/No Animal Testing
The hydrating formula provides a fresh look.
Lightweight 
Gives an oil-free look for oily skin type
Cons of Jeffree star cosmetics magic star Concealer
Sometimes creases too much and made my foundation separate, doesn't completely set, even with translucent loose setting powder. The star broke off when I got it.
Availability: Easy 
Overview
Jeffree star magic star concealer gives non-cakey coverage, and a weightless even look. However, sometimes it happens to someone, not everyone; it might crease after some time. Other than that, it works very well. It has a hydrating formula and provides a matte finish. Magis star concealer decreases the appearance of wrinkles and blemishes.
Last update on 2023-09-14 / Affiliate links / Images from Amazon Product Advertising API