Are you always on the go? Searching for a natural cosmetic product that can do it all? Just Herbs Herb Enriched Lip & Cheek Tint comes in helpful when you require that immediate elegant appearance.
This one product will refresh your look for the workday or even a date night without taking up much of your efforts and time. It comes in seven buildable shades that complement most Indian skin tones and skin types.
Just herbs lip and cheek tint are used for makeup and skincare because it is all-natural. Because I like organic lipstick and lip balm, I moisturized my lips with Deyga lip balm and exfoliated my dry lips with Bella vita lip scrub this winter.
For a pop of color, I used Just herbs lipstick. But I'd like something that can double as lip balm and lipstick. As a result, I chose to try cheek and lip tints from Just herbs India. Let's go to my own experience with it.
Just Herbs Lip and Cheek tint Review
It's formulated with natural pigments and infused with jojoba oil, javitri, and rice starch to keep lips and cheeks moisturized all day.
The tint is offered in seven different shades to suit all Indian skin tones. Aside from that, it's paraben-free, silicone-free, SLS-free, and beeswax-free.
The brilliant reds, stunning pinks, peaches, nudes, and browns in Just Herbs Tint are just a few of the colors available. However, Pink Forever (06) and rose coral are my favorite shades.
This color, which reminds me of beetroot lip balms, gives my lips a natural pinkish tone and is ideal for a naturally flushed blush effect.
Product Details
This Herb Enriched Lip & Cheek Tint is an all-purpose natural makeup product ideal for everyday use because it is free of artificial pigments and adds a natural sheen and all-day moisture to the lips and cheeks.
This hydrating tint is made up of a blend of effective and wildcrafted herbs sourced from all around India. Just Herbs eliminated unneeded chemicals from the formulation to make it as healthy as possible without sacrificing the 'glam' factor.
Price of Just Herbs Lip and Cheek tint
INR 695 for 4 gm
You can get it discounted price at Amazon.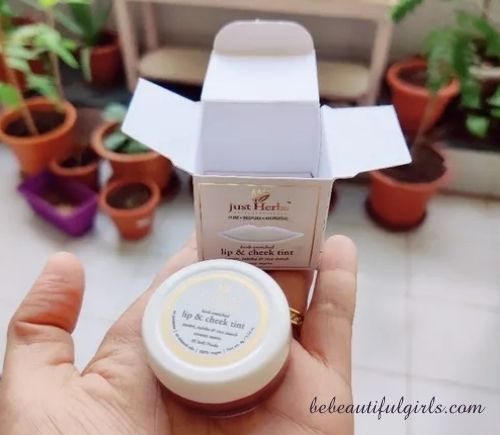 Just Herbs Lip and Cheek tint Ingredients
Key Ingredients
Jojoba Oil: It contains vitamins E and B complex and anti-inflammatory benefits. Because of its nutritious vitamin and mineral content, jojoba oil might help to relieve dry, chapped lips. It helps regulate oil production, leaving the skin wonderfully hydrated and moisturizing.
Rice Starch: It treats skin rashes, dermatitis, and inflammation and is a natural alternative for silicone elastomers. Rice starch contributes to the skin's creamy-matte appearance. This is a safe and effective way to soften and smooth skin. It's also an excellent plant-based texturizing and oil-controlling agent for sensitive skin.
Javitri: It's a unique Indian spice that helps improve skin tone and complexion. Javitri's antibacterial and anti-inflammatory properties assist in the prevention of early signs of aging.
Complete Ingredient List: Rice (Oryza Sativa)starch, Cold Pressed Extra Virgin Coconut (Cocos Nucifera) Oil, Vrikshamla (Garcinia Indica) Butter, Mace (Nutmeg Arils-javitri), Cold-Pressed Moringa (Moringa Oleifera) Oil, Soy Lecithin, Carnauba (Copernicia Cerifera) Wax (Plant Wax), Aamra (Mangifera Indica) Butter, Cold-Pressed Sweet Almond (Prunus Amygdalus) Oil, Shea (Butyrospermum Parkii) Butter, Marigold (Calendula Officinalis) Ext., Cold-Pressed Jojoba (Simmondsia Chinensis) Oil, Candelilla (Euphorbia Cerifera) Wax (Plant Wax), Mixed Tocopherols (Natural Vitamin E).May Contain Ci 77491, Ci 77499, Ci 16035, Ci 77492, Ci 77891, Ci 77004, Ci 73360, Ci 77019, Ci 15850
Made without: It is formulated without parabens, petrochemicals, SLS/SLES PEG/PPG, silicones, genetically modified ingredients (GMO), and beeswax. It is also vegan.
Last update on 2023-10-26 / Affiliate links / Images from Amazon Product Advertising API
What the product claims:
Moisture & hydrate the skin of lips and cheeks
It gives a luster and natural shine to the lips and cheeks
Replenish your skin for a healthy glow
My write-up on Just Herbs tint Review
I chose Just herbs lip and cheek tint because I don't want to put chemicals on my lips daily. The product's texture is soft and blendable. This tint gives my face a lovely natural color, much better than powder blushes. It can be used single or with lipstick as a daily lip tint.
It gives me a radiant, natural-looking face. My dry skin type benefits because it deeply hydrates and soothes cracked lips. A quick touch-up with the little one not only gives my face a dewy sheen but also keeps my skin hydrated throughout the day. It has a light texture and won't clog my pores.
It's buildable and lasts for a reasonable amount of time (about 4-5 hours), after which you may need to touch it up. However, this color appears completely natural on my skin and lips, and it provides the lips and cheeks with a very natural look. It's ideal for a makeup-free or minimal look.
The application is simple; instead of applying it like lipstick, dab it on your lips with your finger until you achieve the desired color. Simply tap and blend the product onto your lips and the apples of your cheeks with your fingertips, then gently smooth it out.
Just herbs lip cheek tint can be used as lipstick, blusher, and eye shadow all in one. This product is matte so that it won't smudge or crease, but it will stay a long time, and the color is quite pigmented as a blush for the cheeks or a lip tint.
This ayurvedic lip and cheek tint are natural, customized, and pure. This tint has a creamy texture that gives it a matte finish, which I like. It moisturizes the lips and heals the cracks effectively. Overall, it's a good product that provides two benefits: natural color and moisture like natural tinted lip balms.
Because of its all-natural ingredients, this organic lip and cheek tint is ideal for everyday usage. You can play around with it and make it look bold or subtle because it's buildable, and I would recommend this over other lipsticks and brands.
I use this tint as an eye shadow and on my lips, cheeks, and nose. It's a fantastic single product with various applications. Overall, Just herbs tint is the best lip and cheek tint in India.
Read more: Maybelline Superstay Matte Ink Review & Swatches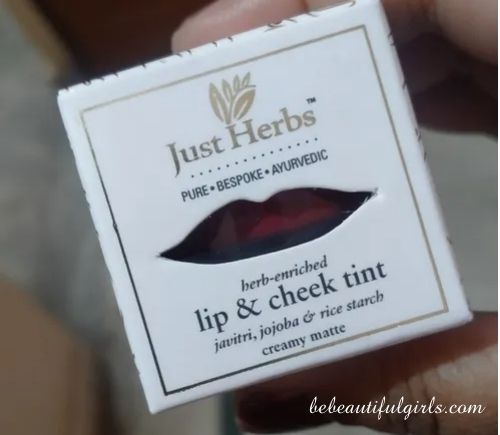 Packaging
The just herbs ayurvedic tint comes in a beautiful small tub, and it packs in a white cardboard box with a uniquely styled lip shape to make it stand out. A translucent plastic tub with a white lid is filled with lovely lip and cheek colors inside the package. The cardboard box contains the product's specifications and information, and the name of the shade is also mentioned on the package. The box is elegant, simple, and convenient to carry.
Consistency
The tint has a creamy, smooth feel with a matte finish. It's incredibly easy to work with and lasts a long time on the skin. It has a powdery matte texture that makes it last a long time.
However, it should not be so creamy that you dislike it. There are no shimmer particles in this blend, so it's excellent.
The color is pigmented, but how well it applies depends on your skin tone, whether you're wearing makeup or not. Overall, the tint has a velvety smooth feel that is great for hydrating your lips and cheeks.
Fragrance
The product has a light shea butter smell, and it has an organic, natural scent that is free of chemicals. Even just by smelling it, you can know it's produced with high-quality ingredients.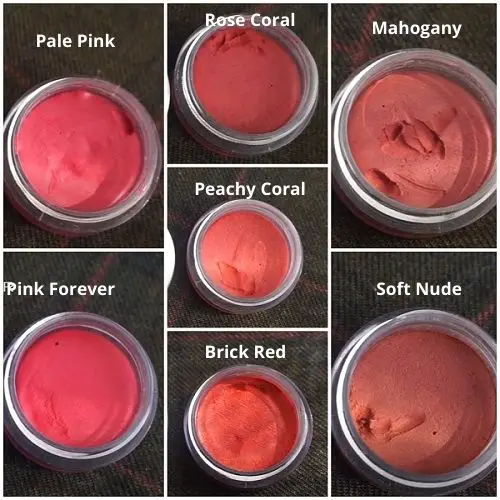 Just herbs lip and cheek tint shades
Just herbs lip and cheek tint all shades are very beautiful and match all skin tones and skin types. For the beautiful sheen on the lips and cheeks, there are seven flattering shades to choose from.
Brick Red: The warmest shade of red, and hence it's a favorite among Indian females.
Peachy Coral: A lovely coral peach color that goes with any skin tone and looks best with cool or neutral undertones.
Pale Pink: A rosy pink shade for a light or fair tone with a warm undertone.
Mahogany: A lovely peachy brown color with a slight bit of pink.
Soft Nude: A light brown color that will be best for ladies with medium and olive skin tones.
Pink Forever: A deep cherry pink color that looks great on everyone from light wheatish skin to duskier skin tones.
Rose Coral: It's a lovely reddish pink (more on the pink side). Also, It will look good on people with darker complexion tones.
Read More: Renee Fab5 5 in 1 Lipstick Review and Swatches
Just herbs lip and cheek tint Swatches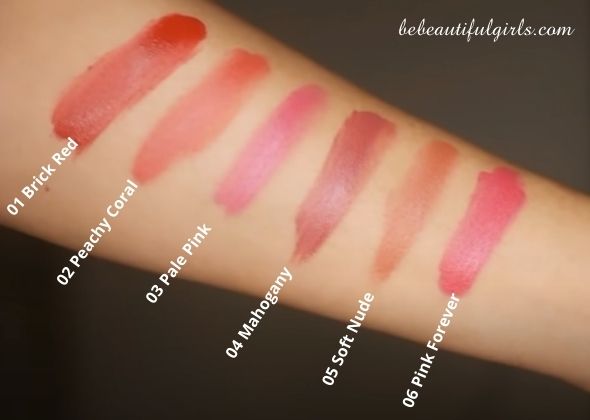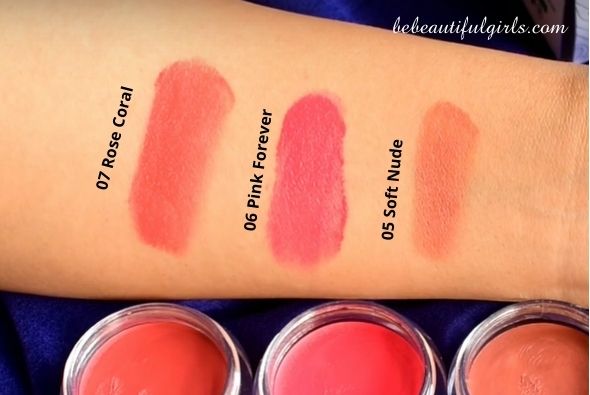 Pros of Just Herbs Lip and Cheek Tint
No harmful chemicals
Travel-friendly
Made from all-natural pigments and ayurvedic herbs
The creamy-matte texture blends easily
Adds a natural flush of color
It gives a buildable sheen
It goes well with pigmented lips
It feels very light on the skin
lasts for at least 4-5 hours without requiring reapplication
Suitable for daily use
Provides a natural-looking glow on the cheeks
Cons of Just Herbs Lip and Cheek tint
For a 4 gm quantity, it's a little pricey.
Shelf life: 3 years from the date of manufacturing. Also, it says "must be used within 6 months after opening," but I guess that depends on how clean you keep your product.
Overview
Just Herbs Lip and Cheek tint is a moisturizing natural beauty product for lips and cheeks. This tint gives the skin a dewy, healthy glow. This multitasking tint moisturizes, hydrates, and nourishes the lips. The coverage is decent, but the pigment isn't overpowering—perfect for a tint. It is pretty light and can be used daily. I would repurchase this tint and recommend it to anyone who frequently wears lipstick and prefers a more natural look. Overall, it's a perfect product for on-the-go makeup.
Last update on 2023-10-26 / Affiliate links / Images from Amazon Product Advertising API